2006 Pontins Championships - Championship Section retrospective
8-Nov-2006
On a day when a musical Blitz took its fair share of casualties, it was Pennine that emerged from the rubble victorious - and a fair bit richer.
---
So how many conductors and players in the Championship Section looked at the composer's own notes and understanding of the definition of 'Blitz'?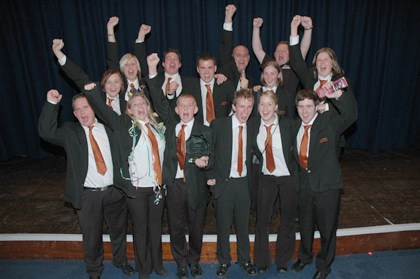 About to get Blitzed - Pennine prepare to celebrate their Championship win
Picture:John Stirzaker

In the opinion of judges Derek Broadbent and David Read in their surmising prior to the announcement of the results, it wasn't many, and as this reviewer was listening as well, the thought passed the mind at regular intervals: 'How many had in fact listened to a recording of the work, let alone dived into the World War 2 history books?'

Good quality recordings of the work are available (the most striking of late being that undertaken by YBS) and if some of the MDs had coupled a bit more accurate research with both the musical as well as historical background of the music and its inspiration then perhaps more would have been successful in overcoming its more obvious hurdles. Both Derek and David were dead right in their summing up in what was a slightly disappointing contest.
Whilst the title of the work was added after it had been written, the composer knew what his composition was intent on portraying and twenty-five years after it had been commissioned for the National finals, once again 'Blitz' proved a very difficult work to perform on the day.
Derek Broadbent reinforced the point that when playing music you've got to portray the right kind of musical picture and (try) to put yourself, if possible, in the position of how it must have felt being an unwilling participant during the 'Blitz'. That is not easy of course its not, but that's what the adjudicators were looking for, and those bands that got as close to producing that 'musical portrait' were the ones that gained reward. It was as straight forward as that.
Most of the bands missed a lot of the musical expression in the views of the judges and once again, too many seemed quite at home in the fast and loud parts of the piece, but a million miles off in the more lyrical, plaintive sections.
A 'Blitz' is a harsh, almost inhuman action, but far too many bands sounded very aggressive and harsh at times even in the slow movement (in the words of Derek Broadbent, the most important part of the piece) where too many bands were uncomfortable and never sound at ease with the work.
Some of the percussionists were intent on being heard on the other-side of the complex let alone the hall and David Read cited just before rehearsal mark 13 as a case in point, where far too often the percussion obliterated the sound of the band. That wasn't required, marked or intended and both adjudicators have to be applauded for speaking so honestly about it. Harsh, unmusical brashness is now the common currency of playing for far too many bands at this level, and even though it might not have been what people wanted to hear, when judges of the calibre of Derek Broadbent and David Read speak in the way they did here, bands, and especially MDs should take note.
David Read also made the point that three or four bands could have won on the day but even the winning performance could have been better. That winning performance came from Ian Porthouse and Pennine Brass and it the closest to what the men in the box were after.
Drawn to play number fifteen, it was a performance that had a fine musical shape to it with an understanding of the composer 's intentions. Laura Hurst on Principal Cornet was a star as was Mark Spears on soprano whilst Rob Woods on euphonium pulled out all the stops. The band sound was so clean and balanced, the funeral section was somber and lyrical and they benefited form having the best cornet section of the day.
Indeed Pennine was the only band for us where the cornet line was prominent towards the end with the bass end and percussion backing off – too many bands never let the cornets shine through (especially the running soprano line) the way the winners did, and it was very noticeable and made for an enjoyable and meaningful performance of merit.
Naturally, MD Ian Porthouse was a delighted man when 4BR caught up with him, 'I'm really chuffed to be honest. We've played Blitz this year on the contest stage, so it wasn't unfamiliar territory to the band or me. In my YBS days I played Blitz at the Europeans a few years ago and one of the things that has always stuck in my mind was the amount of transparency that David King was able to bring from the score into a contesting performance. I would also like to thank Laura Hurst and Rob Woods who have helped us out this weekend too.'
Having conducted Pennine, Ian found himself picking up his cornet to play with Tredegar who were one of three Welsh Contenders who featured in the prizes.
Runners-up, BTM and Jason Katsikaris put the first real marker down on the day. Some fantastic sounds that painted those dark days of the Blitz were certainly heard and the overall performance was enhanced by Principal Cornet, Jeff Hutchinson who took the Arthur Bedwell Memorial Trophy for the Best Soloist (although the actual trophy isn't probably in one piece after it was dropped on stage). Paula Russell, the reigning Ern Keller Champion, and in the UK to compete at the British Open Solo Championships this weekend was on repiano and BAYV's Gavin Saynor produced a corker of a bass sound all on his own. Here was a well constructed and well executed performance, full of drama, plenty of little errors but a sense of menace too. It was an impressive bit of work.
In third were Tongwynlais and Gareth Pritchard who enlisted the help of son Gavin on percussion (and it was some of the most tasteful of the day). Overall, the Welsh outfit put on a very good show that sounded well rehearsed and tight in the ensemble in particular. It wasn't as darkly polished as BTM or as transparent as Pennine for us, with just the odd bit of harshness around the edges, but it was clear it was more than a decent show on the day and it certainly impressed the men in the box.
Tredegar led by Michael Fowles maintained their good form of 2006 finishing in fourth place. The MD has done a fine job with the band this year, who seem a very happy bunch having been through some difficult times. They have been working hard it is reported and that hard work has certainly paid dividends. Ex YBs player, Dewi Griffiths was in fine form on flugel as was David Hale on top man, whilst Jonathan Pippen's trombone section and a solid bass end brought plenty of steel and determination into the performance. Their overall performance was more than worthy of a top sixth place and they should be happy with fourth.
The Welsh monopoly was maintained by ex Cory and Brighouse stalwart Jim Davies, who led East Yorkshire Motor Services into fifth place and who was another MD who it seemed brought his experience of the work to the fore. It was certainly solid and musical enough, and although it just lacked conviction in places it certainly had real signs of being well rehearsed and thought through. EYMS appear to be coming back to the forefront and this performance bodes well for 2007.
So what of the defending Champions, Staffordshire who were looking for that elusive hat-trick of victories on the day? Drawn number eleven and just before the comfort break, this was a fine show that won many admirers and they are one of the few bands who can consider themselves unlucky not too have finished higher up the prize list.
The approach was certainly robust and forthright and they really went for the jugular at times, but the emphasis of trying to get something out of every bar instead of just leaving the music flow at times made it sound over stylized. Although East Yorkshire had played from number nine, along with BTM who drew seven, Staffordshire was the only other band to make a significant impression on us at 4BR, and although it wasn't enough to hep them retain their title, this was one of those performances that on another day and with possibly other judges in the box may have come significantly higher.
With one or two exceptions, the standard outside the top six wasn't that great at times. A number of bands took advantage of the borrowed player rule and at times with some bands there was a bit of egotistical posing with 'I'm a player of note, can you see if you can spot (and hear) me?
In addition to Gavin Saynor, Ian Porthouse & Paula Russell, there was Rebecca Crawshaw (ex Faireys), Kirsty Abbotts, Kevin Holdgate (both Carlton Main), David Moore (Brighouse), Billy Millar (ex-Leyland), Martin Armstrong and Andrew Holmes (Black Dyke) and Richard Brown (Grimethorpe). We are sure we didn't spot everyone either! As long as the ruling is in place, bands will always pull players in, but you can't help thinking that putting them straight into principal positions (as many of them did) is more than a little cheeky and rather plays against the spirit of the rule book.
Cwmaman, Thoresby, United Norwest Co-op Milnrow & Pemberton Old JJB Wigan all put in performances that had promise, but the potential was never maintained and in the end they had to settle for seventh, eighth, ninth and tenth respective.

Cwmaman in particular could be well pleased with their efforts after a pretty poor year contest wise. Here were real signs that they were back to form with a solid ensemble sound and neat solo episodes brought to bear by a very transparent reading by the MD.

You can take it as read that each of the bands benefited from having the odd 'name' amongst their ranks and whilst that quality shone through (Kirsty Abbotts with Thoresby, David Moore with Milnrow, Bill Millar, Pemberton) the overall performances didn't have enough on the day to finish higher. There was something missing about the basics in each that did for them – poor intonation at ties, lack of balance and an infuriating number of little, but noticeable errors.
Three bands prior to the contest whose performances on stage were going to create interest were Timperley, BHK (Horden) and Bactiguard Wire Brass. It was known in advance that Timperley would have the likes of Ben Rapp and Morgan Griffiths in their ranks whilst rumours of a couple of Black Dyke players playing with BHK had filtered through whilst Bactiguard Wire were making their debut in the Championship Section.
Looking very dapper in dark red shirts and black waist coats, Timperley led by David Evans put in a performance that showed promise, but it never really got close to reaching the heights required for a chance in the prizes. Ben Rapp and Morgan Griffiths were both on good form, but overall it had an under-cooked feel about it on the day and although coming where it did was still an impressive achievement, here is a band that is very much an ongoing work in progress.
BHK (Horden) were led by the knowledgeable Norman Law and whilst they had plenty of experience within the ranks that shone through, overall it was a little harsh in its execution and not as already stated, what the judges were looking for. Too often it was too loud and as a result the sense of pathos in the quieter sections was lost.
Plenty of positives though for Bactiguard Wire Brass and Paul Andrews and 13th place is very commendable for their first outing against decent Championship opposition. What was notable about the band's performance was that the MD didn't stretch them beyond their limits – the lighter quality of sound was different than some of the other bands on show who have far greater experience at this level, but by not taking risks, the band showed that it's full potential is still someway off. Paul Andrews and his band will continue to improve as a unit and it's going to be interesting watching the Warrington-based outfit over the next year or so.
Longridge produced a nice sound overall but the direction from the middle cost them dear – it seemed at odds with both the music and what some of the players were trying to produce, whilst Neil Jowett's Lindley never seemed comfortable from the number two draw and Blackburn & Darwen were another band who found it tough going on the day.
Friary Guildford Brass should be delighted to have taken a handful of scalps having finished 17th of the number one draw. The band is a forward thinking lot and has desires to get into the Spring Festival. It didn't have the cutting edge required but once again with a new MD at the helm, they'll have benefited from the experience of playing here.
Jackfield (Elcock Reisen) and Langley both really struggled with the piece whilst the experienced Graham O'Connor has to be commended for keeping Old Silkstone going as they found it tough going in places. The same went for Soham Comrades and Kidlington too who never quite got to grips with either the musical or technical challenges laid out in the score. Towards the bottom end, the error count and interpretations will have been critical factors in the bands overall placing.
'Blitz' was a hard but good test for the bands here, with a winner very worthy of note. Pennine created the musical picture the judges were looking for and sounded on the day a solid Championship Section Band (although they remain in the First Section for the Regionals next year). Hopefully that will be rectified at Bradford for as they showed here they are more than capable of 'Blitzing' a fair amount of higher ranked opposition.
Malcolm Wood