2006 Pontins Championships - Second Section retrospective
8-Nov-2006
What was needed in the Second Section it seems was an understanding of all things Swiss. Kippax seem to have eaten a whole mountainful of Toblerones then in claiming a well earned victory.
---
The Darrol Barry piece 'Swiss Excursion' proved a very good choice for the Second Section and early in the contest it produced a clear winner for the White Rose county of Yorkshire in the form of the Kippax Band.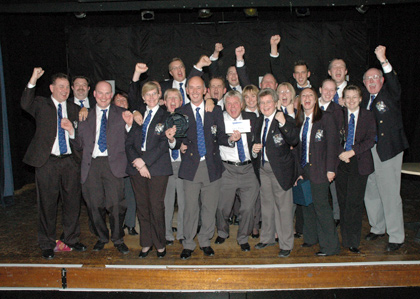 No Swiss Miss here: Kippax climb every musical mountain to success
Picture:John Stirzaker

Under experienced MD Keith Wardle they gave a brilliantly controlled performance that found great favour from the judges and their compelling and detailed account was justly rewarded with the top prize of £1750. There was little to fault in either the approach or the execution and a great deal of the credit must go to the MD who laid out a very persuasive reading from the score. It left you wondering if the band had feasted on Toblerone chocolate before they took to the stage so commanding was the precision of their playing.
Solid accounts from both runners up Phoenix West Midlands Brass and third place Wakefield Metropolitan came next in the prize list and there must have been only a small margin between these prize winners. These two interpretations were again top notch and both David Maplestone and Russell Gray delivered warm and expressive interpretations from their bands that caught the atmosphere of the Alps and the sense of fun and jollity when required. Both were fine accounts.
Overall the contest produced some intelligent and thoughtful playing (as well as direction from a whole host of MDs) and whilst Roy Roe took time to give a clear insight into what the adjudicators had critically analysed, it must be said that the occasional listener was nicely entertained throughout the contest process without having to delve deep into any sort of musical analytical research. This was a nice, well written unpretentious piece, nothing more, nothing less.
The South Yorkshire Police performance was a little bit mixed but on the whole it was nicely delivered whilst Unity Brass had to rely on some solid early work to offset a somewhat troubled final musical statement that must have robbed them of any greater chance of coming further up the prize list.
The final top six place went to Hawk Green (Marple) and they too set out a good stall that was uncomplicated and simply stated and let the music flow.
All top six bands can take a great deal of credit away with them on the day, for their efforts were hallmarked by good ensemble work, balance and decent tuning. It's not often you can say that in such general terms in the Second Section at times, but this was the case here.
Silk Brass AstraZenica (Macclesfield) and Boarshurst Silver two of the really fancied bands, delivered with lots of quality, but just missed out on the day. The performances from these two bands which both ended up mid-table underlined the strength of this section where the bar was certainly raised in performance standard from the word go. On another day at another contest they could have featured in the top six without a problem.
There was little to separate many of the performances on the day and that was demonstrated clearly as Greenalls and Conwy Town came with very determined shows that were alert and full of spirit yet finished what appears on paper to be a little off the pace. That would be a little unfair on both, as the dup diplayed much of the same virtues of the bands that finished above them. Perhaps the overall band sound wasn't in the same class as the top three, but they were not too far off.
They finished ahead of United Co-operative 2000 Brass and Royal Buckley Town who gave accounts strong in personality, led by well known band figures namely Jamie Meredith and Paul Lovatt-Cooper. Both though just had an annoying amount of nasty little blips and blobs which robbed the feel of the music in places, but overall these two were also performances that had many more plus points than minus ones.
Hoover (Bolton) and Audley Brass captured moments in the work that unquestionably satisfied, but in a contest when, as we say, the standard bar was heightened more than a little they were just that bit off the pace. Both though are solid bands with much to admire about their playing and they will return much the better for this outing.
There was little doubt at the end of the day that Kippax were deserved winners of the 2006 Pontins Second Section Championships. On a day when a fine test piece selection suited very nearly all the bands who took to the stage, the result was a closely fought contest of equals with just that added bit of class and musical insight resulting in the winners coming out top of the pile. A very enjoyable contest this – why can't everyone be like it?
John James