2006 Pontins Championships - Third Section retrospective
8-Nov-2006
In a very enjoyable contest it was Eccleston Brass who took the honours on Gareth Churcher's exciting new work.
---
Adjudicators David Loukes and Steven Pritchard-Jones laid out very clearly at the end of this contest just what they were looking for in the interpretation of the new piece used for this section, Gareth Churcher's 'Episodes in Brass' and after they spoke there was little to disagree with them about come the results too.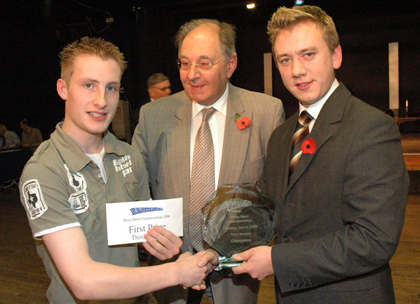 A winning episode: Eccleston's rep takes the money and the trophy
Picture:John Stirzaker

Eccleston Brass directed by Ian Bateson took the winners spot ahead of Whitworth Vale & Healey conducted by John Bins, and these two bands gave quite different performances than the two bands that followed them in the prizes, Flixton and Rainford.
All four in their own way could have won the contest, but given that the approach of Eccleston and Whitworth Vale was just what the judges were looking for, all could go home knowing they couldn't have done much more to change where they came.
Eccleston, and to the same extent Whitworth Vale & Healey, did provide the judges and the listeners with very personal interpretations of the set work. They were clearly in a different mould to many on the day and both bands chose quite soulful accounts, particularly in the Solenne middle movement. Both MDs just relaxed the tempo here enough to bring a real plaintive sense of sadness that was excellently realized without ever going too OTT and becoming cloying and over sentimentalized. Both MDs should be congratulated for their intelligent and well thought out approach as in other hands (and we have heard many a performance in the top section around the country this year), slow, quiet sections of lyrical playing tend to become sugar coated and over stylized.
Ian Bateson for instance used all his experience and the band dutifully followed his lead, whilst runners-up Whitworth Vale & Healey adopted a similar style to that of Eccleston and were directed in splendid fashion by John Bins.
Flixton conducted in rather straighter style by Kevin Gibbs took third place. Rather than take the risk of pulling the music around more like those taking top honours, this was a less poignant and a more technical and dynamically clean approach. It certainly brought out a great use of dynamics that was contained within the score and it was a confident show and third place was not undeserved.
Rainford and Neil Samuel in fourth place have been nip and tuck in contests with Flixton all this season and after they put in a decent show from the number 6 draw. There was another little contest within a contest between Rainford and Flixton in the offing again – and so it proved. Rainford produced a performance not dissimilar to Flixton and although not as a neat and tidy as they had perhaps hoped they produced a interpretation that was quite pleasing on the ear.
Wardle & District Anderson Brass and Pemberton Old Wigan JJB "B" produced performances that had a lot of merit but were not quite as forthright as those above but still well sustained and well shaped and both contained extended periods of high quality playing which justified their eventual placings in the prize list..
Meanwhile out of the top six, Valley Brass (Haydock), conducted by David Chadwick turned over the recent disappointing result in Fleetwood. This band can produce excellent results when they play with a good compact ensemble, solid soloists and good intonation, and they got very close here in Prestatyn with a performance that perhaps just needed a bit more attention paid to dynamic contrasts.
Progressing down the field Skelmersdale gave a little bit of a mixed bag. They produced a good middle section but at times, in the outer sections, some of the detail wasn't quite as evident as it could have been and it just tired towards the end. BMP Europe Goodshaw under the baton of experienced adjudicator and bandmaster Dave Ashworth took the piece in quite deliberate style and it may have been the very steady choice in tempo that influenced their final position in the mid-table.
Mark Condron gave his Dearham Band every chance to score a higher position than tenth as he worked well inside the music to give a detailed account, although they just had too many nasty little errors that at times spoilt the intended flow of the music.
Campbeltown Brass worked really hard on stage and although quite a young band, nearly earned enough to finish higher than mid-table. If this performance is a marker for the future they could have some rosy contest success before long.
The last movement, that wasn't as detailed as many, may have proved costly for the band taking the stage in the last draw number 19, and added to that, it was very late in the evening for Rivington & Adlington Brass to take to the stage.
Given that bands drawing quite early didn't, on the face of it, seem to gain an unfair advantage it may be pure speculation to suggest that a 10.30pm stage appearance didn't help. However, you can bet no other band at the weekend would have exchanged places with them for love nor money. They were of course not alone, and it could easily have been an influencing factor for those bands with a late draw and young players around the stands.
Colin Morrison, Contest Controller here and to be fair a very experienced Regional organiser from the London & Southern Counties did acknowledge the quite critical impact that the time factor had played here. One can but hope that when new music is picked a lesson is learned, once and for all, and that airing on the cautious side in the number entries is the prudent decision.
Middleton Brass with Carl Whiteoak gave a positive opening but odd slips and a slightly tired sound towards the end saw them slip down the field, whilst Noel Barr Junior with the Irish team St Joseph's Brass Band had a few tuning issues during the performance but a broad style and real conviction around the stands helped their cause somewhat by the end.
Fairfield (Buxton) under the guidance of C W Kitchen improved as the piece progressed and they produced a smooth and steady middle section and really came into their own in the finale, whilst drawn 1st in the section were Carwyn Evans and the Harlech Silver Band. They delivered a performance that whilst carrying a nice band sound could have just benefited from a little more strength and authority.
Holywell Band just lacked a little cutting edge in performance whilst Newhall Band suffered the fate of having to hang around and wait very late to take the stage. It is pure speculation that this influenced proceedings but they took time to settle and the opening movement was somewhat troubled but that combined with some uncertain tuning all through meant a finish at the base of the section.
Overall James Scott, Musical Advisor to the Championships, set the bands in the Thirdd Section a real challenge picking 'Episodes in Brass' and it proved a good test for the MD's as well as the bands.
Congratulations go to all the prize winners for producing warm, expressive and interesting readings and in particular Ian Bateson and Eccleston Band who showed that when they are on form they can post a serious challenge in any contest at this level.
John James