2006 Pontins Championships - Fourth Section retrospective
8-Nov-2006
It was a battle of two Fourth Section giants on the weekend, with Oldham Brass (Lees) gaining revenge over Dodworth MW to tkae the title in a great contest.
---
When 'Facets of Glass' was chosen as the test piece the immediate thoughts were that this was going to be a real test for the Fourth Section bands here. Well it certainly was, but overall the standard was pretty good indeed with two bands in particular producing performances well above Fourth Section standard, and which for us would have been quite comfortable in the Second Section.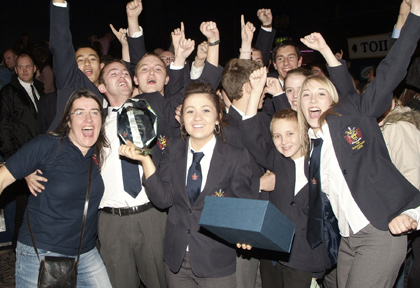 Faces and facets of victory for Oldham (Lees) Band
Picture:John Stirzaker

The winners were Oldham Brass (Lees) playing from the number 16 draw, and they gave an excellent performance that had conviction from the very opening of the piece and was superbly directed by John Collins. After a good 'Prelude' they had a lively 'Scherzo' with some fine playing from the cornets and soprano capturing the style perfectly. The 'Meditation' had space and time (as well as good tuning and balance) and featured some lovely flugel horn playing, and the movement captured the Chapel Scene so well. The 'Finale' rattled on at a wicked pace, but with clarity and control to bring to an end a very fine performance indeed.
Deserved winners and retaining their title, Oldham are a band with a very rosy future and even though they were disappointed at not winning at Harrogate this more than made up for it. It was a performance of real merit.

In second place came another fine band that would be quite comfortable in the Second Section - Dodworth MW Brass. They, like the winners gave a performance of real quality and it was a joy to listen to a band that had the basics of good brass band playing well mastered.
Playing from the number1 draw they put down a marker that you'd thought would take some beating. With a good all round band sound allied to fine detail evident throughout the performance theirs was a little gem of a showing. Just like the winners they have a young conductor in Elliot Darwin who knows what he wants, and indeed conducting without a score his charges responded to his direction superbly. The 'Meditation' section just didn't quite have that lovely peaceful feel that so earmarked the winners and perhaps that was the difference between the two bands in the minds of the adjudicators too. Still, it was a performance to savour.

With these two bands some way ahead of the rest of the field the rest of the top six placings were more difficult to judge. In 3rd place though came Uppermill Band conducted by Alan Widdop. From the number 15 draw they too had some fine moments especially in the 'Scherzo' where they showed plenty of contrast and in the 'Finale' that just had the right feel of pace and style. It wasn't quite up there with the top two for certain but 3rd place was well deserved and showed a band with a great deal of promise.

In fourth, fifth and sixth places came Goldborne, Croft Silver and Coppull & Standish respectively and all three had some special moments that made you sit up and listen and appreciate good quality brass band playing. Each of the conductors chose sensible tempi and allowed the music time and space, but as is the case at this level there were some nasty moments in tuning and balance and the style at times wasn't consistent throughout the bands.

The flugel horn player of Coppull though was the star player of the day and was a beacon of clarity, lovely tone and pin point articulation.

As for the rest we had a mixed bag of playing with some bands producing decent performances to some who found the going a bit tougher and struggled.
In seventh, eighth and ninth places we had Barton Town, Wellington (Telford) and Lostock Hall Memorial. All three can feel proud of there efforts with performances they can build on and once again it was noticeable that all three MDs chose sensible tempi. Just a bit more work on mastering the basics in terms of tuning in particular will give each of these three a boost, but there were signs in this trio that all the basics are in place – it's a question of polishing them up a bit.

From tenth place downwards the standard fell away somewhat with too many conductors having there heads buried in the score when you could see the bands looking out for more direct communication and direction. Talk about ostriches burying their heads in the sand! We won't name them but the bands will know. Players at this level need to be shown that the MD is in control and that if something goes wrong can be rectified quickly by clear beat patterns and direction. Some MDs chose to stay in their own world and let the problems wash around them.
Tenth, eleventh and twelfth placings fell to Blackley, who we thought deserved a little higher, Eaton Farnworth and Besses Boys respectively with poor intonation in the latter two being the downfall that cost them higher placings. Blackley though had extended periods in each section of the work that made you appreciate a good MD and decent players working well in tandem, but as is the case too often the consistency wasn't quite there as much as both would have hoped. The signs are there though that this is a band heading in the right direction.

The bands placed 13th, 14th, and 15th, Greenfield, Newport Borough and Phoenix all had their moments too but all three were lacking in dynamic contrast with intonation again being a major problem. It may seem over obvious to state that getting the basics in place first can count for a great deal in the Fourth Section, but it is true, and too often in these performances a little bit more care getting those right would have paid greater dividends than trying to blow away hoping for excitement through volume.

The bottom five placings were a mixed bag that could have fallen in any old order. There really was nothing much to chose between them. Carrbrook, Denton, Ratby, Gwaun Cae Gurwen and Sale Brass all just failed to get to grips with the music and can have no complaints about the results. All had those inherent problems with the basics that meant that the good sections of playing amounted to little as they were offset by too many basic errors. The raw material is here in each though, but this may be a lesson learnt especially for the MDs.

Summing up the contest overall the playing was, certainly from the top dozen, of a good standard with the first two a class apart. However, the bottom end was at times for us very poor both in the playing and direction from the middle.

The two adjudicators gave a great insight in to the music and what they had been listening for and with an audience that had been large for most of the day. (Yes, other bands came in to listen to their rivals)! That was something that the bands and supporters appreciated immensely.

The contest ran smoothly apart from one band who withdrew without informing the contest, but the day was a good one overall. The Fourth Section continues to provide rich entertainment and playing that fills the heart with joy, even if it may be sometimes a little out of tune.
Dave Tinker