2006 Pontins Championships - Mortimer Championship - Introduction and Prediction
1-Nov-2006
Can the Staffordshire Band become only the second band in the history of the contest to make it a hat trick of wins here? If they do it will be some achievement.
---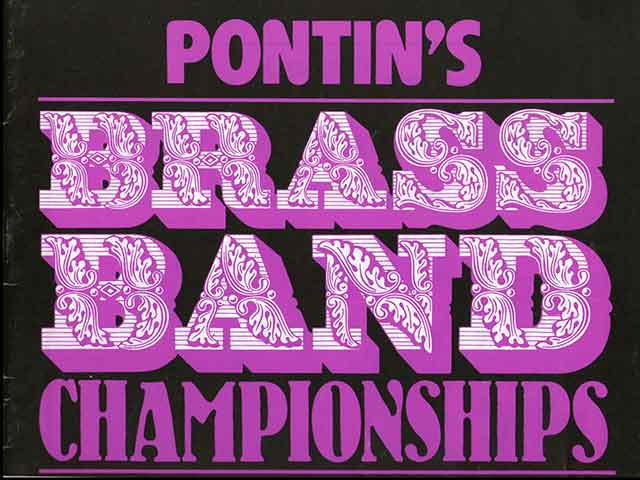 Sunday 5th November
Venue: Fun Factory Ballroom
Draw: Pre-Drawn
Commence: 10.00am
Test Piece: Blitz – Derek Bourgeois
Adjudicators: Derek Broadbent & David Read
First Prize: £2,500
Second Prize: £1,300
Third Prize: £700
Fourth Prize: £450
Special Award to Youngest Player
The Arthur Bedwell Memorial Prize to the Best Soloist
---
Whilst it still doesn't attract the very top ranked bands from around the country (the highest placed being Tredegar in 20th) the Harry & Margaret Mortimer Championships continues to attract a large and well matched field of quality bands who all fancy their chances of picking up the title and the still hefty winners cheque of £2,500.

Some of the bands will come to Prestatyn having had an indifferent year and use it as a much needed confidence booster whilst some will want to continue the fine form they've had during the past contest season and look ahead to 2007 in good heart. None of the bands on show here will be at Brass in Concert, or for the Scottish Open at the end of November.
Picking the winner here is never easy and along with the Grand Shield its one of the toughest contests to call. Steve Bastable's Staffordshire return this year looking to do what only one other band has done in the 32 yeas since this contest first took place in 1974 – do a hat trick.
Some have come close – Cory in 1978/9; Kennedy's Swinton in 1988/9; BTM in 1991/2, UES Stocksbridge in 1994/5 and Tredegar in 1997/8, but only the now defunct Jones and Crossland Band conducted on all three occasions between 1983 and 1985 have come away from Prestatyn as champions three years in a row. Can Staffordshire repeat that triumph 20 years later?
Staffordshire have had another great year, their only blip was at the Regionals in March when they surprisingly came 7th. Since them they have won at Buxton and narrowly missed out on a trip to the British Open, finishing 3rd, not to mention a solid performance at Wychavon of late. The band's time at to make it to the British Open might not be too far away, but if they can win three on the trot here, it will be a fine achievement and with one of the real 'form' conductors at the helm in Steve Bastable they will be one of the favourites for sure.
Four more bands who have been at the Open or who have just missed out on of late should also push for the title if they play to form. Pennine, Tredegar and Cwmaman Institute have it in them to do very well here and it was Pennine who finished the highest (5th) then Tredegar (11th) and Cwmaman (16th) at that Grand Shield contest. A repeat of that order could well be on the cards again here.
It's been a grand old year for Pennine and Tredegar though. Pennine must still be wondering what they did wrong not to make it to Harrogate in September, but they've played 'Blitz' already at Brass at the Guild and Tameside, and they won the latter contest with a real quality show.
Tredegar are a rejuvenated bunch and have had a solid year of retrenchment and rebuilding that could bear important fruit here. Victories at Yeovil, Porthcawl and Ebbw Vale were all thoroughly deserved and if that form can be repeated here, there's every chance of a podium place, although if they play as they did at the Grand Shield with too many nasty clips and blobs they could well miss out. Cwmaman have had a bit of an up and down year and will be looking to give themselves a bit of a boost before the new year.
Joining Staffordshire from the Midlands are Langley and Thoresby, with Langley making the step up this time to the Championship Section and Thoresby making a return for the first time since 2002 to North Wales. Both are ambitious outfits and could well fancy their chances of doing very well here.
Apart from the five already mentioned, there's a sprinkling of bands on show who are looking to climb the ladder at the Spring Festival in a bid to finally get to play at the Open and who certainly see this as a main chance to show their mettle against future opposition in Blackpool. BHK (Horden) who came fifth in the Senior Trophy return to North Wales having been absent last year under new MD Norman Law and they will be joined by Blackburn & Darwen led by Welshman Nick Sheppard.
The Senior Cup representatives from 2006 are BTM, Lindley, Pemberton Old JJB and Tongwynlais. Each one of them will fancy their chances of doing well and all have the quality in the ranks to come away with at least a podium finish. BTM has won here before in 1991 and 1992, and seem to picking up form under Australian Jason Katsikaris, whilst Pemberton Old have made significant progress under Mark Peacocks direction in the past couple of years. Lindley and the experienced Neil Jowett are always a solid and competitive outfit, whilst Tongwynlais can blow very hot (and sometimes very cold) on the contest stage. This one may well suit them though and they have done well here just a couple of years ago.
East Yorkshire Motor Services make the trip down from the North East and will travel with confidence as since Jim Davies has taken over the baton they have made significant progress on an upward curve. Meanwhile Friary Guildford and Soham Comrades, conducted by Robin Norman make long trip too and could well have a say in matters if they really hit their straps and play above themselves.
The dark horse to look out for though is perhaps Bactiguard Wire Brass. Paul Andrews' band is a remarkable success story and since they gained Championship Section status just over five years it has been upwards, upwards and upwards. Their step-up to the top level is going to be one worth keeping your eye on as far as this band is concerned as to borrow that old cliché - they go to Pontins with 'nothing to fear and everything to gain'. It could well be plenty of the latter.
In addition to Bactiguard Wire Brass, Timperley will know doubt create a great deal of interest in the hall. The signing of Morgan Griffiths certainly raised a few eyebrows and with Ben Rapp on top man, they've got plenty of experience, ambition and talent, and none more so than the MD, David Evans. They could be the unsurprising, surprise package if you know what we mean.
That just leaves Kidlington who just missed out on a trip to London earlier this year at the Regionals, Jackfield Elcock Reisen, Old Silkstone, United Nortwest Co-op Milnrow and Longridge, all of which will be looking to take more than their fair share of scalps.

Just before we give you our predictions, (or as some of you see it, the kiss of death) mention has to be given to the test-piece itself, 'Blitz'. Credit must go to James Scott once again for picking a work that will certainly test the bands – no doubt there will have been a few wry smiles when it became apparent the contest was to be held on Guy Fawkes Day itself.
Written for the Nationals in 1981, it has featured down the years at the Regionals (1999) and was the own choice for YBS at the European's in 1998. It's one of those works that players will either love or loathe to play and /or rehearse.
At just over twelve and a half minutes, it's in one continuous movement which covers all the emotions of a time in London when 'Lightening War' struck, and struck with real vengeance from the sky. The emotions of the writing are raw and at times plaintive in their bleakness, whilst the almost mechanical drive leading to the final ferocious climax and chilling silence before a final bomb falls from the sky to explode with a deadly, deathly thud of destruction can chill the blood.
60 years after the Blitz (and it is proper to remember ahead of Armistice Day that the Blitz was as severe in places as diverse as Plymouth, Liverpool and even Swansea) and 25 years after it was used in London at the Nationals, it still retains its shock value as well as its musical integrity.
4BR Prediction:
Who will come away from Prestatyn then crowned as champions, and who will head home disappointed?
For us we opt for Staffordshire to make it a hat trick, followed closely by Pennine and Tredegar, whilst Timperley could well push the top three all the way. BTM are a band that has it well within them to do well here, whilst Wire Brass could be a real contender. Our dark horse though is EYMS.
4BR Prediction:
1. Staffordshire
2. Pennine Brass
3. Tredegar
4. Timperley
5. BTM
6. Wire Brass
Dark Horse: EYMS