2006 Pontins Championships - First Section Preview
1-Nov-2006
It should be a keenly fought fight in the First Section as a whole raft of bands will make the trip to Prestatyn confident of picking up the top prize on Kenneth Downie's 'Music For the Common Man.'
---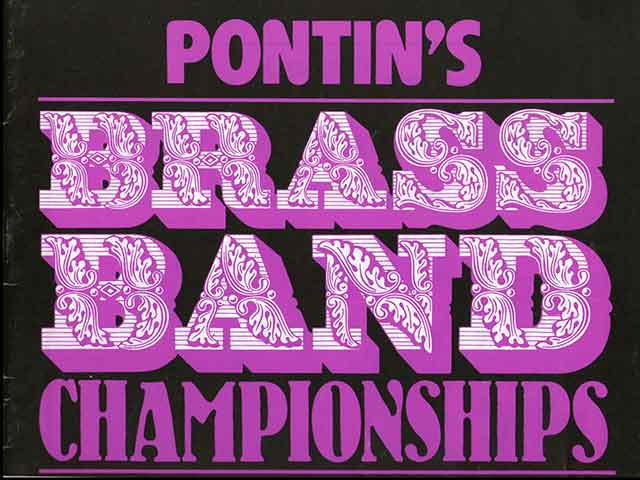 Saturday 4th November
Test Piece: Music for the Common Man
Draw: Pre-Draw.

First Prize: £1,750
Second Prize: £900
Third Prize: £650
Fourth Prize: £450
Special Award to Youngest Player
---
The First Section on Saturday Morning will see the competing band's tackle Kenneth Downie's popular work, 'Music For The Common Man'. The word 'popular' is apt it seems as since the work was used in the First Section at the Regionals in 2000 it has regularly appeared on the contest stage an is on the agenda once again for First Section bands at Butlins in 2007.
That may sound strange in a way that its been chosen for two major contests in close proximity but it is testament to the quality of the piece itself and the high regard for which the movement holds Kenneth Downie's music. Hopefully it will have been an enjoyable work to rehearse and bands will enjoy playing it – those performing it at Pontins and Butlins will know doubt benefit from playing it this forthcoming weekend.

Roy Roe and Barry Thompson will have there work cut out with over twenty bands to adjudicate and no doubt the odd comfort break will come in handy, but like anyone else who takes time to listen, they'll be set for an enjoyable day.

In his notes on the piece Kenneth Downie writes: "The theme, stated at the outset, is largely reflective in mood, albeit with underlying moments of tension. Fragments of it re-emerge between the fast section which all derive from the opening material. The theme returns triumphantly near the end, and after a series of changing moods, serenity and repose are re- established.
The title has a three way aptness. It indicates the unpretentiousness of the nature of the music, it alludes to a universally known fanfare and symphony, and it makes a fitting tribute to my uncle who dies whilst I was writing the music, and who did much to encourage me as a composer."

If a band can make the connection between the composers thought process and the music written on the page then they could have cracked it, but if they don't it could be a hard days work.

Two of the bands here will renew their rivalries after competing at the Lower Section National Finals at Harrogate. Marsden (Riverhead Brewery) from Yorkshire and Northop Silver from Wales will be hoping for better fortunes than they got at Harrogate when they drew next to each other on contest day itself. Both will be well fancied here as they have more than a liberal sprinkling of top quality players in the ranks and two conductors who know what it takes to perform and direct at the highest level. Both could very well be in the mix come the results.

Marsden return as defending champions and will want to bid a bon voyage to the First Section by retaining their title. They've had a good year in 2006 with the runners-up spot at Butlins, qualification for Harrogate and with it promotion into banding's elite Championship Section. Meanwhile, Northop won down in Swansea at the Area in March and like Marsden will be looking to finish the year in good form after the disappointment of Harrogate.

There is a good geographical spread of bands in the section from around the UK, and they'll all be vying not just for making a mark in the prizes but also to take the bragging rights for their respective areas.

In addition to Marsden, Yorkshire's contingent comprises a three of Barnsley Building Society who compete again here as well as Hebden Bridge. Professor Philip Wilby will lead Hebden's challenge and they'll certainly fancy their chances of doing well. They gave a good account of themselves at the Regionals in March despite finishing tenth and are certainly a band to look out for. Meanwhile, Stannington, conducted by Peter Ratnik should also be capable of putting up a strong challenge and have come a long way since winning the Second Section title here in 2001.

For the North West, its Maxilead Metals Tyldesley and Vernon Building Society Poynton who'll be hoping for glory. Tyldesley have struggled here over the past couple of years (24th in 2004, 22nd in 2005) and so they'll be hoping for a far better show this time around whilst Poynton will be led by Steve Beardsmore whilst Alan Lawton MBE takes a back seat here; they will be looking for a higher placing than last year's 9th. They narrowly missed out on a place at Harrogate in September finishing 3rd at snowy Blackpool in March, but if they play to their potential, they'll be a band worth getting into the auditorium to listen for.

The Midlands sends four bands north to compete here. Bedworth, Ibstock Brick Brass, Stourport-on-Severn and Tintwistle. Whilst they haven't distinguished themselves on the contesting platform this year, all three of the bands are familiar with Pontins and have competed here in previous years. Bedworth came sixth on 'Lorenzo' last year with Tintwistle midway and Ibstock sadly in the bottom three. All of them will be looking for a better return this time around.

Great to see Wantage Silver 'A' up from the London & SC Region. Wantage finished 3rd at the Area's and narrowly missed out on a lucrative trip North. They are a bands who like others competing here will fancy their chances of finishing in the top six.

The same applies to St Keverne, Swindon Pegasus and Chalford Bands from the West of England. St Keverne came third in Torquay in the First Section and showed that they are continuing to build and progress well, whilst Swindon who came 4th and Chalford under the watchful eye and experienced baton of Steve Tubb also showed good solid form.

Newmilns & Galston are the sole Scottish representatives at the contest and will be looking to be the first Scots band to take a Pontins title back over the border since Bathgate in 1998. Finally, home country pride should be well served by two experienced outfits here, Thomas Coaches Mid-Rhondda and Wrexham Brass. The pressure will be off Wrexham this time around as last year they were going for a hat-trick of wins in at Pontins only to finish tenth, but they will be keen to get back to winning ways, whilst Mid Rhondda have had a few ups and downs of late but could well spring a surprise or two here.

4BR Prediction:
We've told you who is involved, but whom do we think will be crowned winners on Saturday?
This is going to be a close old contest to call. Lots of the bands here can more than take this piece by the scruff of the neck and shake a winning performance out of it, but a lot of them may just shake the living daylights out of it and find themselves out of the reckoning.

Still, form and quality should tell and that is why we have gone for the following top six and dark horse.
4BR Prediction:
1. Marsden (Riverhead Brewery)
2. St. Keverne
3. Northop
4. Wrexham
5. Stannington
6. Ibstock Brick Brass
Dark Horses: Vernon Building Society Poynton