2006 Pontins Championships - Second Section Preview
1-Nov-2006
In addition to the Championship Section, Sunday's offering comes in the form of what promises to be an entertaining Second Section with a well matched up field of bands tackling Darrol Barry's 'A Swiss Excursion', adjudicated by Roy Roe and Barry Thompson
---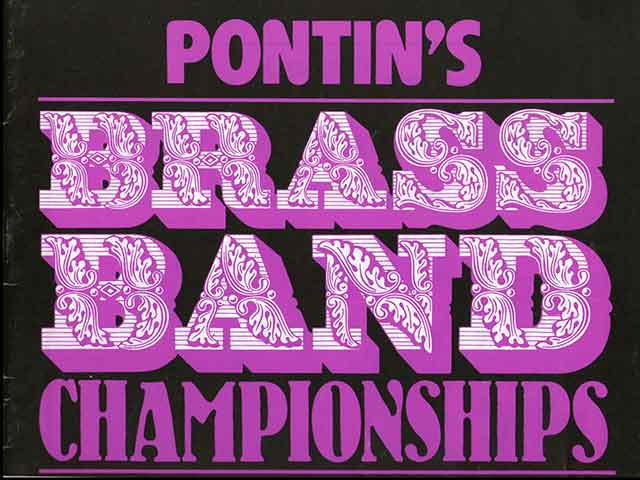 Sunday: 5th November
Test Piece: A Swiss Excursion – Darrol Barry
Adjudicators: Roy Roe and Barry Thompson
Draw: Pre-draw
First Prize: £1,750
Second Prize: £900
Third Prize: £650
Fourth Prize: £450
Special Award to Youngest Player
---
Last year, twenty-six bands competed in this section but the numbers are reduced this year with just sixteen bands doing battle on what should prove a good test. Darrol Barry's work was used here in 1999, when Oldham Brass 97 were victors. Commissioned by the National Youth Brass Band of Switzerland for their annual summer course when they were conducted by Howard Snell it makes a welcome return and should prove popular to it very open and transparent writing style, good tunes and just enough technical hurdles to keep even very good players on their toes.

The North West provides a strong line up of contenders with Boarshurst, Greenalls, Hawk Green (Marple), Hoover (Bolton), Silk Brass/Astra Zeneca and United Co-operative 2000 Brass. Such is the standard of lower section banding in the north west area that it would not be a surprise to see the winners emerge from this bunch come the results – all are more than capable of producing a winning performance.
Boarshurst should also prove to be serious contenders and they will be conducted by Brighouse's Eb Bass, David Hebb. They had the misfortune to draw number one at Blackpool in early spring and gave an admirable account of 'Images of the Millennium', followed by a commendable 3rd place at Tameside and 5th at Buxton. Ones to watch out for then it appears.
Greenalls meanwhile struggled at the Area's in March and like Boarshurst they competed at Tameside. They really found form at Buxton when they finished runners-up and most recently they came 4th at Fleetwood. Hawk Green (Marple) is another band whose contesting results have got better as the season as gone on. They brought up the rear in the Areas at Blackpool but found form at Buxton where they came 3rd and will fancy their chances of making a mark here we are sure.
The post Chris Wormald era at Hoover (Bolton) hasn't been bad at all with a notable 3rd place at Blackpool and under ex-Fairey's man, Robbie Cargill. A very well reheared and prepared band they have won just about every contest there is to win in the past, but have yet to add a Pontins title to their CV. That could change this weekend.
Silk Brass/Astra Zeneca and United Co-operative 2000 are two bands who really will be up for the fight. Silk Brass's highlight this season was first prize at Buxton where they gave a fine performance of the difficult 'Images of the Millennium' set work whilst United Co-operative 2000 will be hoping to finish off the year well having spent 2006 adjusting to life in the Second Section. Third Section Champions in 2004 here they are very well led by Jamie Meredith and with a couple of late signings in the bag they will travel with confidence to Prestatyn once more.
Away from the North West hopefuls, there are representatives from the Midlands, Wales and Yorkshire, all keen to take home with them the title. Audley Brass, Phoenix West Midlands and Unity Brass represents the Midlands, South Yorkshire Police, Kippax and Wakefield Metropolitan fly the flag for the White Rose and Conwy along with Royal Buckley carry the Welsh hopes.
Audley have a new MD in the form of ex Denton Brass's custodian, Clive Fox following Kevin Birch's decision to step down after twelve years service, whilst Phoenix West Midlands Brass haven't quite found the form they've had in previous years but will still pose a threat. Unity Brass meanwhile are a very consistent outfit who'll be looking to feature.
The lads and lasses from South Yorkshire Police will be out in force (sorry we just couldn't resist) to make an impression and so will Wakefield Metropolitan under the other gentleman in banding named Russell Gray. Kippax under the experienced direction of Keith Wardle could also be another band to feature if they do hit top form.
Wales also sends two strong contenders in the form of Conwy Town and Royal Buckley, the latter led by Black Dyke's Paul Lovatt-Cooper. Both Conway and Royal Buckley didn't have a great time at the Area but they'll be hoping to give a better account of themselves here.
Finally, the musical joker in the pack and Brass Band Bacchus from Belgium. What they will bring to the contest is anyone's guess, but we thick they wouldn't have been prepared to make the long journey to the wild and wintry sands of Prestatyn in Novemenr without knowing that they felt they had a good chance of returning with at least some sort of prize to their name. A dark horse if ever there was one then.

4BR Prediction:
So who do we fancy will come out on top then in what promises to be a closely fought contest? This could be a hard one to predict, but somehow the strength in depth of the bands from the North West may just swing it their way. You heard it here first though.
4BR Prediction:
1. Silk Brass Astra Zeneca
2. Boarshurst
3. Hoover (Bolton)
4. Phoenix West Midlands
5. Conway Town
6. Royal Buckley Town
Dark Horse: Brass Band Bacchus