2006 Pontins Championships - Fourth Section Preview
1-Nov-2006
The fun and games start out with the Fourth Section and coupled with a fine test piece and cracking line up of well matched bands it should be a great contest.
---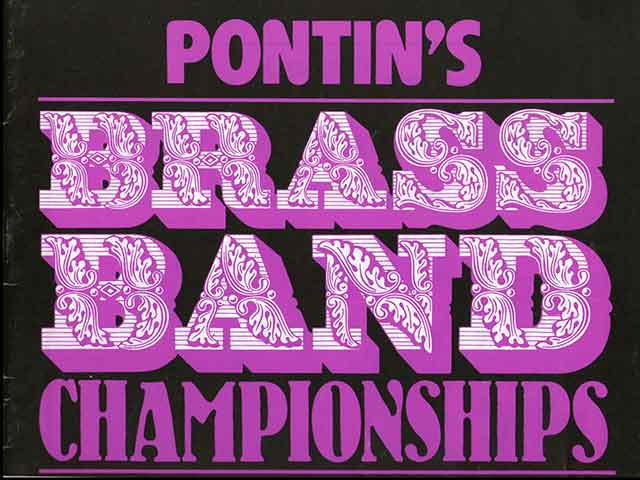 Saturday 4th November
Test Piece: Facets of Glass - Gordon Langford
Adjudicators: David Read and Derek Broadbent
First Prize: £1,750
Second Prize: £900
Third Prize: £650
Fourth Prize: £450
Special Award to Youngest Player
---
The Fourth Section contest is always one of the most enjoyable at any brass band event and this promises to be know different as the bands tackle a piece commissioned for the old Pilkington's contest – 'Facets of Glass'.
We aren't intentionally repeating ourselves but Saturday's Fourth Section like other sections here, has a familiar ring to it - a large contingent from the North West and five competitors who competed at Harrogate. This has the potential to be an absolute cracker of a contest and one the bands, audience and adjudicators are bound to enjoy.
Those famous five who made it to Harrogate and compete here are: Barton Town, Dodworth Colliery MW, Lostock Hall Memorial, Oldham Band (Lees) and Wellington (Telford).
Dodworth make the trip as National Champions and whilst they'll be on a high, they will be careful that they don't let a great year finish on a low-note. They are the band everybody will want to beat mind you and in addition to winning by the preverbal country mile at Bradford in March they were a little less convincing at Tameside later in March although the quality returned in time for Harrogate. Arguably one of the bands of the year, Eliot Darwin has done a cracking job and they should be up there come the announcement of the results.
John Collins' Oldham Band (Lees) is probably still smarting from finishing in the runners-up position at Harrogate. Oldham, like Dodworth is a fine band and whilst they've already got promotion into the Third Section, they'll want to go out on a high especially as defending champions. Listen out for John Chalker (anyone within the Manchester area will be familiar with the Chalker name in business) on soprano who produced a corker of a performance at the Nationals to take the Best Soloist prize.
Barton from the Humberside area gave a good account of themselves at Harrogate under Mark Bentham and Gary Oglesby takes them here. That experience would have done them the world of good and we think it may well hold them in good stead here. Lostock Hall Memorial from the North West will be led by Iain McKnight, the Leyland bass player, and they'll be looking to finish higher than below half way at Harrogate. The put in a decent enough show there and may well fancy their chances of a top six place here at least.
The final 'National' contender is Wellington (Telford) once again led by the knowledgeable Stephen Curtis. Wellington is another band that's done well here of late (4th last year) and they'll want to close out the year on a high. If they can play to that kind of form once more then who knows?
Besses Boys, Blackley, Carrbrook Brass, Coppull & Standish, Denton Brass, Eaton Farnworth & Walkden Band, Golborne, Greenfield, Sale Brass and Uppermill make up the remainder of the representatives from the North West.
Uppermill are one of those bands that are either bang on the money or disappoint – there doesn't seem to be much of a halfway house with them. With ex-Marsden MD Alan Widdop at the helm, they're a capable outfit and the band weren't too far away at the Regionals earlier in the year, but were a touch of the pace at Tameside. They came up against some strong opposition at Fleetwood in October but if they can find that brought them third here last year, they'll be more than happy.
Blackley are a solid outfit and could more than make a mark, whilst Coppull & Standish came 11th here last year and will be keen to improve on that. Carrbrook Brass will head here hoping to make a mark also whilst Eatons Farnsworth came 12th here twelve months ago and so will also be looking for a slightly better return. Sale too will like to show that they are a band capable of taking at least a few scalps along the way.
Besses Boys are a band with a famous past and a rosy future it seems and could be looking to push their way into the frame this weekend whilst, Golborne and Greenfield are two very capable outfits, well led and always well rehearsed who've got potential to make an impact if it all gels together under two of the best MDs at this level around.
Denton Brass are certainly heading in the right direction under Clive Fox and improving with every outing and they will be keen to make more of a mark than last year when they propped up the field off the number 1 draw.
Croft Silver and Ratby Co-operative Mid Band join Wellington from the Midlands and have had decent enough results over the past year or so to come here confident of doing well whilst Nantlle Brass and Newport champion the cause for the Welsh from differing ends of the Principality. Both though could well feature if they play to the top of their game. That just leaves Phoenix Brass a thriving group of musicians from Wiltshire who could rise from the flames so to speak and take home with them the title. It's all in the lap of the Gods.
4BR Prediction:
If this goes to form, it promises to be a good scrap between Dodworth, Oldham Band (Lees) and Wellington (Telford). There's every good chance the likes of Lostock Memorial Hall and Barton will have a say as could Uppermill. The decision though will be down the experienced duo of Derek Broadbent and David Read.
4BR Prediction:
1. Dodworth MW
2. Oldham (Lees)
3. Wellington (Telford)
4. Barton
5. Lostock Hall
6. Uppermill
Dark Horse: Greenfield