2006 Pontins Championships - The Adjudicators
1-Nov-2006
There is an impressive line up of judges this weekend to cast their ears over the performances.
---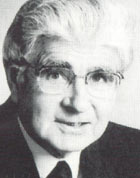 David Read:
Championship and Fourth Section

David Read made his debut as adjudicator at the National Finals way back in 1985 when he shared the adjudication on "Cloudcatcher Fells" with Bram Gay and Sir David Willcocks. Since then he has been the most regular of judges at the Finals in addition to adjudicating at the British Open (debut 1982), the Masters, the European and many other major brass band contest all over the world.

2005 sees his 16th appearance as adjudicator and his 11th in a row in the box at the Royal Albert Hall.

He is a most highly respected judge, who's written comments are constructive and detailed and who has an acute ear for musical shape as well as technical clarity. More importantly he is seen as a "safe" adjudicator in the eyes of the bandsmen themselves, in that he invariably gets the vast majority of decisions concerning the prize-winners correct.

David Read was born in Wales and did his Military service with the Regimental Band of the Welsh Guards. His playing career came to fruition with the Askern Colliery Band, followed by a spell with Carlton Main Frickley Colliery. He later joined the Munn and Feltons Band (later named GUS) later becoming Principal Cornet. During his time with the band, GUS became National Champions on four occasions and World Champions once.

He was also assistant principal cornet for the Virtuosi Band of Great Britain and Kings of Brass and was three times Champion Cornet Player of Great Britain and once outright Solo Champion. He was also a member of the famous GUS quartet that with John Berryman, John Cobley and Trevor Groom who on a number of occasions were British Quartet Champions.

He has been an educationalist as Senior Instrumental Teacher for Cambridge Area Education Authority, and in 1983 was honoured by the Worshipful Company of Musicians and in 1996 by receiving the English Masters Dedicated Service Award.
---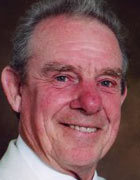 Derek Broadbent:
Championship and Fourth Section
Derek commenced playing the cornet at the age of 9 with the Thornton Cleveleys Silver Band. After a services career spanning almost nine years, during which time he studied at Kneller Hall, the Royal Military School of Music, he returned to civilian life as a professional arranger.
He returned to the world of brass bands as a conductor in 1966 and in 1973 became Resident conductor of the internationally famous Brighouse and Rastrick Band. In his ten years with Brighouse, Derek enjoyed enormous success and in 1980 conduction them to a premier place in the National Championships. He was also responsible for their chart topping success of "The Floral Dance".

In 1984 he moved to the equally famous Black Dyke Mills Band and played an integral part in their 1985 "Grand Slam", a year which saw them take every major title in brass band contesting. Since 1990 Derek has worked as a freelance conductor, composer, arranger and adjudicator not only in the United Kingdom but all over the world. He was also Associate Professional Conductor with the Williams Fairey Band who also won every major title in the years 1993/1994.

His association with the Manx Youth Band commenced in 1984 and has been relatively unbroken ever since. He conducted the band on their successful tour of New Zealand's North Island in 1990 as Ian Clague was unavailable owing to the illness of his father. Apart from composing the Youth Band's signature March, Derek has also produced two major works commissioned by the Douglas Corporation "Music for a Centenary" for the 1996 Centenary of the Corporation and "Millennium Fanfare and Variations" premiered in 1999, both these works being for Band and Choir.

Derek now spends much of his time training bands all over the globe. Much of his time is devoted to the youth of the brass band movement. He is also the Music Editor for Wright and Round Ltd. and in 1988 was awarded the prestigious Isle's Medal from the Worshipful Company of Musicians for his services to brass music and youth education.
---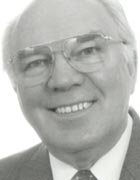 Barry Thompson:
First Section and Second Section
Barry Thompson was born in Doncaster and began playing at the age of nine, becoming an accomplished horn player with such bands as Grimethorpe Colliery, Carlton Main Frickley, BMC Morris Motors and Harry Mortimers Men O Brass and recently The Kings of Brass. As a player there have been many highlights including wins at the British Open, Nationals and Granada TV festivals.

He has been teaching children for over 30 years and is currently employed as a peripatetic teacher with the Instrumental Music Service of the Wakefield Metropolitan District Council.

He began conducting in 1969 having studied harmony and conducting under George Thompson MBE and has enjoyed notable successes in all sections of banding. He has toured as a player/conductor visiting such places as Sweden, Denmark, Switzerland, Germany, Belgium, Holland and Norway. Over the past ten years he has been Musical Director of the West Yorkshire Police Band who perform at many prestigious engagements throughout the county of Yorkshire.

For many years Barry has been much in demand as an adjudicator at Festivals and Contests throughout the country and abroad. He is a member of the Association of Brass Band Adjudicators and is on the B.F.B.B. approved list. He has also adjudicated at the Nationals, Pontins and C.I.S.W.O. Finals.
Barry is a member of the National Association of Brass Band Conductors.
---
Roy Roe
First Section and Second Section

Roy commenced his playing career in the Salvation Army, moving at 16 years of age to Fodens Motor Works Band and at that time was the youngest soprano player ever to occupy a soloists position within the band.
His next move was to the Fairey Band and whilst there achieved the unique 'Double' – the winning of the British Open and the National Championships in the same year – 1965.

1969 brought a move back to Yorkshire to the Yorkshire Imperial Metals Band where again he was a member of the winning band at the British Open and National Championships. He then moved to Brighouse and Rastrick and gained more contest titles together with opportunities to extend his solo career as a guest artist at the Bergen International Music Festival as well as many other solo engagements.

After concluding his palying career he fulfilled conducting and coaching opportunities and an ever increasing demand for him to adjudicate at various brass and music festivals in the UK and oversees.

Roy is an active member of the National Asociation of Brass Band Conductors and of the Association of Brass Band Adjudicators, which compliments his inclusion on the panel of recommended adjudicators for the National Brass Band Championships. Roy has officiated at the Championship Section Finals held at the Royal Albert Hall.
---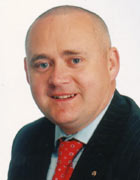 Steve Pritchard Jones:
Third Section

Steve started playing a brass instrument at the age of eight with Porthywaen Silver Band and went on to study music at Liverpool and at Trinity College of Music, London before beginning a career in the performing arts as a conductor, player, composer, teacher and adjudicator.

As Head of Expressive/Performing Arts and Community at Belvidere School in Shrewsbury he heads a large department specialising in Art, Drama, Dance and Music. He is also the Shropshire Learning Representative for the National Union of Teachers and in his spare time Steve is Chairman of Shrewsbury Round Table.

An active musician Steve guests with many of the countries finest brass bands as conductor and player. Alongside freelance work Steve is Musical Director of The Band of West Mercia Constabulary and until June 2006 was Musical Director of North Powys County Youth Band. Steve plays trumpet and keyboard regularly in theatre productions and has performed with the brass section of the Royal Liverpool Philharmonic Orchestra and has worked for both Granada and the BBC.

Steve has recently worked with both Tredegar Town Band and Cwmaman Band. In October 2006 Steve is engaged to conduct a major concert at Symphony Hall in Birmingham involving Tredegar Band, West Mercia Constabulary Band plus representatives from Midlands bands to form a 170 strong brass band with a 320 strong male voice choir and the Birmingham Symphony Orchestra Young Voices.

Steve tutors on brass band courses and workshops throughout the UK and is house tutor with the National Youth Brass Band of Great Britain and the National Children's Band of Great Britain.

Steve was one of the first recruits on the Adjudicator Training Scheme organised by the Welsh Regional Committee and directed by Brian Buckley. His adjudicating schedule is very busy and adjudicates all over the UK at local and regional contests. In 2004 he adjudicated the 3rd and 4th Sections in Wales, 2005 Championship and first sections in Scotland with David Read, 2006 2nd and 4th sections West of England with Alan Morrison and in 2007 booked to judge at Yorkshire, Midlands and London and Southern Counties regional championships plus many local association contests.

Steve is booked to adjudicate the 2006 3rd section Lower Section Finals in Harrogate. In July 2006 Steve graduated with a Licentiate Diploma in Brass Band Adjudicating from Salford University in association with the National Association of Brass Band Conductors.

A member of the National Association of Brass Band Adjudicators and the National Association of Brass Band Conductors.
---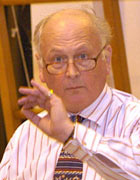 David Loukes:
Third Section
David Loukes received his early musical training in the Salvation Army, becoming Solo Trombonist with the Chalk Farm Band. He was awarded a scholarship to the Guildhall School of Music where he studied Trombone with Denis Wick and Brass Band scoring with Frank Wright. In 1967, he was appointed Assistant Principal Trombone with the Halle Orchestra. After seven years with the orchestra, during which time he also free-lanced with many of the country's leading orchestras, he turned to the world of education, joining the staff of the (then) Salford College of Technology.
He played a major role in the establishment of the groundbreaking course in Band Musicianship. During this time, he also started his career in brass band conducting - which would lead to appointments with such bands as Black Dyke – combining full-time positions with professional conductorships and adjudication throughout Britain.
David moved to Cornwall in 1990 for his first spell as Musical Director of the St. Austell Band. Prior to returning to St. Austell Town Band in May 2003, he had held regular positions with Redruth, St. Keverne and JAG Mount Charles. He has always enjoyed teaching and conducting young musicians, and so was delighted to be asked to become Senior Tutor to the Cornwall Youth Brass Band.
Away from education and brass bands, David enjoys cooking, using ingredients and recipes from all over the world.