2006 National Championships - Retrospective
31-Oct-2006
Every now and again, Grimethorpe Colliery (UK Coal) face a bit of an uncertain future and every time they produce a wonderful performance to win a National. Is it too much to ask they do it a bit more often than once every 14 years though?
---
What is it with Grimethorpe and the possibility of an uncertain future?
In 1992 they came and conquered in the face of Mrs Thatcher's pit closure programme, and now with the loss of their substantial financial backing from UK Coal looming large at the end of the year, they have done it again. You would be forgiven if you didn't think that they only reserved their best for when the outlook for them was at its bleakest, for this was only their third National title in their history, and some 14 years after their last. Perhaps they should live on the edge of financial insecurity more often, for the musical pay off is something special.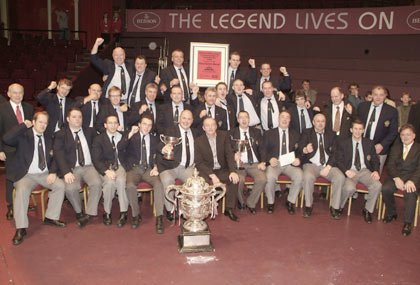 The Legend lives on: Grimethorpe enjoy that winning feeling
Picture: John Stirzaker
The good news from this 2006 triumph is that the long term future for the band does look so much better than that in the immediate aftermath of 1992. A great deal of good work has been done bringing on board a raft of sponsors to underpin the long term financial security of the band, whilst some excellent PR work has been undertaken in the national media to give them the chance to bring more on side too. The concert bookings are up and the band has a solid feel about the personnel.
The big plus point though is that they have Allan Withington as their MD. Here is a real class act, and coupled with the recent partnership with Philip McCann they now have a conductor who has a well deserved reputation for winning the big contests and a man who has an equally well merited reputation for preparation. It may seem an unlikely partnership, but on the evidence of Saturday it is one that could have an excellent long term future as well.
The old contest itself had a pretty good day too and there were real signs that something of a renaissance is occurring. It may be too early to tell if it will continue, but there seemed to be more people with their bums on seats this year (adding to a trend that was noticed last year), more sat in the hall even for the so called 'cup of tea' bands and more going home happy that they had heard a top class contest with a test piece they could readily relate too.
'Judges of the Secret Court' proved to be something of an inspired choice. It may remain a poor arrangement of a second tier Berlioz work, but as an old fashioned test piece, one to stretch the best bands and their players, it more than held its own. Using an old 'classic' as a set work certainly has its place even for a contest such as this (possibly in a more updated arrangement though) and there is a great deal to be said about using another in the future. Every third or fourth year perhaps may be ideal, as long as it is flagged up well in advance as part of a structured approach to the selection of test pieces in a cycle of perhaps, new commission, classic original, arrangement and modern original repertoire. It is perhaps an idea worth exploring.
A mention too for the three men in the box, Bill Relton, David Read and Geoffrey Whitham who on the day had a very difficult job to do, especially in separating out the very best bands. Unfortunately they didn't speak (on instructions from their Association) and although that was a disappointment they did take the time to explain to the media the reasons behind their decision. Looking at the results table, there may have been a couple of gripes from one or two bands who felt a touch hard done by, but overall there was little that left you scratching your head in disbelief. They knew what they wanted, they heard it in varying degrees and they made their decision accordingly. You can't ask for anything more than that.

Back to the contest though and it all kicked off at 10.00am with an intriguing draw. The two debutants, Newstead Welfare and Jaguar (Coventry) were first and second on, whilst Staines, who had just the one previous appearance in 1996 to their name made up an opening trio.
The 'fancied bands' were well spread out too with YBS, Fairey, BAYV and Dyke in an early batch before the comfort break, and Fodens, Grimethorpe and Leyland in the final third. It gave the audience, with the turnover of bands running at about three and a half an hour something of interest throughout.
Thankfully, a sizable audience had gathered in the hall to start and decided to stay even though each of the opening three performances didn't really set the pulses racing.
Newstead Welfare sounded a touch nervous and it too a little while for things to settle down. Duncan Beckley had obviously worked his band hard in preparation, but the opening section just lacked that hint of dark malevolence required to portray the nasty judge Olmerick, whilst the more lyrically inspired Allegro Assai didn't quite have the feel of lightness. It was a decent show although tiredness crept in during the final few sections. 17th was about right (we had them in 19th).
Jaguar (Coventry) also had their moments but they were the first (but by no means the last) band to fall foul of rhythmic inconsistencies and a slightly harsh approach in style. The opening section veered towards the compound in feel, as did the lyrical main theme later on, but they benefited from the obvious input from their MD Dave Lea and 15th place, although a tad high for us (we had them in 20th place), we think would have made them happy.
Staines for us were marginally better and produced a confident performance (featuring a fine soprano) that was marred somewhat by some overblowing in the opening section and some sloppy rhythmical playing later on. It was the first performance to really capture the air of menace to open and that must have impressed in the box as they placed them in 11th. We had them down a bit further than that in 15th but on a day when there was a whole batch of midfield performances, it was hard to disagree too much with the judges.
The first class act came with YBS under Professor David King, who started in superb style. A nasty moment in the rep line just put things out of kilter for a second or two, but the recovery led by Bert van Thienen on soprano was of the highest class. It was the style that so impressed, and so by the time the MD stuck his neck out and went for a very deliberate rallentando just before the final introduction of the theme it would have been difficult to have found any additional minor errors to rob them of points.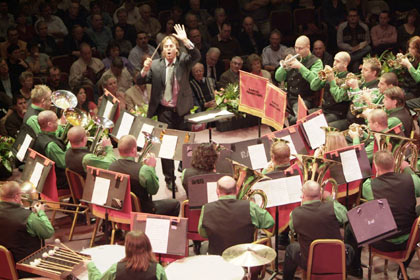 Give me five! David King hands out a musical reading from his YBS Band
Picture: John Stirzaker

That risk though (the MD did much the same thing at the Open, which was also penalised by the judges), and just a couple of minor errors was enough to leave the door open and they had to be content with 3rd place.
YBS though are a band very much back to their very best form and with the long term soprano chair problem now seemingly fixed (and Bert Van Thienen took the Best Instrumentalist Award on the day for his fine efforts) they are once more challenging for majors. We had them 4th, but 3rd was a justifiable return for a very impressive performance.
Burry Port will be disappointed that their efforts resulted in them coming home in 20th and last place. Theirs was a decent show, no better or worse than a whole handful on the day and they did have an excellent solo cornet player in David James. We felt the plus points outweighed the more obvious minus ones enough to have given them a midfield placing of 16th, but the men in the box felt differently. A touch unlucky.
How Fairey's must have wished they could have made a better start to their performance. Throughout the day the opening two statements, marked pianissimo and piano caused all sorts of problems both with nervous note production, tuning and rhythm (too many played it in 12/8) and Fairey's fell right into the trap. It soon recovered, but the damage was done, and even some excellent soprano work from Allan Hobbins and a well laid out reading from MD Simon Stonehouse couldn't recoup those valuable lost points.
We still had them in the frame in 5th place, but the judges had them a touch lower in 7th. It was a tale of what might have been.
That though was an aperitif to what was to come from BAYV and Black Dyke at 7 and 8.
Buy As You View were for us the most impressive band on the day, full of technical brilliance and rock solid security. It was however the opening that for the judges robbed them of a chance of victory. Some poorish tuning was evident, but didn't seem to unduly effect the sense of dark malevolence that was required. Michelle Ibbotson on soprano was superb and with a real sense of excitement and drive right through to the huge end it was a performance that really did grab you by the throat and didn't let go.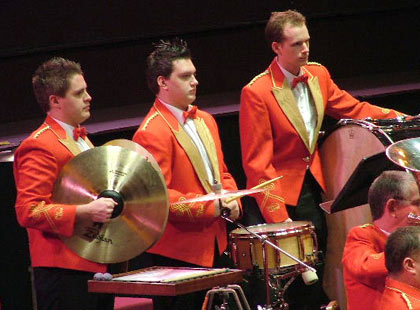 Waiting their turn: BAYV's percussion team wait to play their part

The difference between victory and defeat (although that would be a harsh word to describe their eventual 4th place) is so small nowadays at the highest level and for the judges those tuning and some diffident ensemble playing was enough to make them miss out again.
If Black Dyke had won on the weekend then it would really have been a performance that would have gone down in folklore.
The main talking point of their performance was the use of Richard Marshall to play the two main soprano solos instead of Peter Roberts, but that would get away from the fact that overall it just didn't quite have enough about it to win. The detailed, broad and lyrical approach certainly meant that you got to hear every little bit of detail from the score, but it also meant that come the final sections it didn't quite set the hairs on the back of your neck on end. It reeked of class though and on any other day may have won, but not Saturday, and Dyke had to be content with a second successive runners up spot. We had them in 3rd, but anyway you look at it, there was no double and they couldn't really say they were robbed.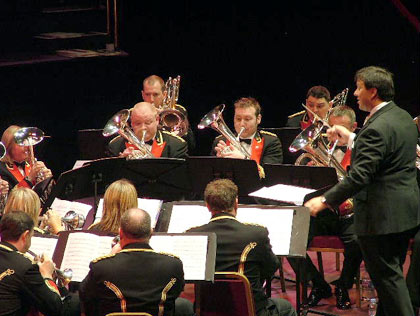 Seconds out: Black Dyke battle their way into another runners up spot

After these two top notch performances came a pair before the comfort break that didn't capture the imagination.
Reg Vardy are a fine band, but one that at the moment seem to be digging their own graves with a marked insistence in blowing their way to victory. It is a strategy that isn't working though and all the good work that was in place with their performance was too often just submerged by sheer volume. They could have few complaints with 16th place, we had them 18th.
Aveley and Newham certainly didn't play to the form they showed at Blackpool in winning the Grand Shield but theirs was a decent enough effort that was spoiled by lapses in concentration and sloppiness in the ensemble. It deserved perhaps better than 18th place, but again it was no better or worse than a whole handful of rivals who made up the midfield places. We had them in 14th place, but they are still a band who has a lot of hard work to do if they are to really make an impression at this level on a consistent basis.
That was the halfway mark of the contest, and we took stock of the ten performances to try and put them in some sort of running order. In the event we opted for a top four of BAYV, Black Dyke, YBS and Fairey, whilst the judges had already plumbed for Dyke, YBS, BAYV and Fairey.
With the contest moving on at a fair old lick, the break was still welcome but it didn't do Rothwell any favours.
We were a bit mystified that they came as low as 14th after producing what many thought was a good old fashioned, solid, no nonsense performance that may really have appealed in the box. We had them up in the top six, but the three judges were a bit underwhelmed by the possibly safety first approach and placed them down in the midfield. Every contest throws up one performance that leaves you in disagreement with the judges and this one was it for us.
Scottish Co-op will we think be pleased with 10th place, although the look on some of the faces of the players as they left the stage after they produced an error strewn performance may have suggested at that point they felt they would have been lucky to come in the top 20.
They were saved by the obvious quality of sound, and the moments when it did go right being bang on the mark in terms of style and approach with a well constructed reading from the MD. The errors though mounted up quicker than the empties in the Goat Tavern later that night. We had them in 13th – just think how high it could have been if they had even got off to a poor start instead of a completely awful one.
Parc and Dare suffered in terms of overall depth of sound against their rivals on the day. Major Parkes certainly brought an interesting performance out of the Welsh band but it was one that had too little dynamic variance and lacked that bit of fizz and exuberance that he usually brings out of an orchestral score. 19th place was about right in the event, (we had them 17th) but they are a band on the up and we may well see them here again next year due to BAYV coming in the top four and gaining an automatic invitation.
Camborne delivered the most orchestral performance of the day in terms of style and approach and they could possibly count themselves a touch unlucky that they didn't eventually come higher than 13th. We had them in 10th, but the slightly annoying and noticeable errors may have just taken the sheen of what had a lot of promise.
The two big boys of Fodens Richardson and Grimethorpe were up next and the anticipation levels in the hall rose markedly too as Fodens got off to a cracking start under Garry Cutt.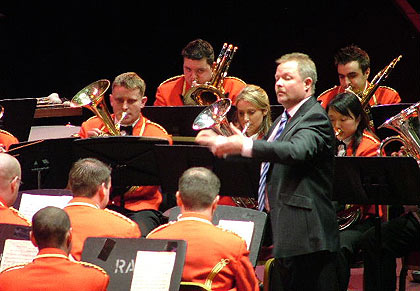 Careful now lads: Gary Cutt keeps things under control for Fodens

Just when you thought it was going to turn into a real humdinger the wheels started to wobble, although they never fell off, as uncertainties in some of the lead lines cost them dearly. By the time it recovered the chance of victory had gone and those noticeable clips meant that they had to be content with 5th place – a touch high for us, as we had the in 7th. It's been one heck of a rollercoster year on the contest stage so far for the band to say the least and it certainly continued here.
Grimethorpe meanwhile opened with a tonal quality that sent shivers down your spine and with a hint of menace that was the musical equivalent of intended GBH. It was the best opening section of the day by far, and even though there were moments of uncertainty in some lead lines later on, the foundations had been put in place for victory. In fact the foundations of the Albert Hall were nearly rocked by the sound of the bass end at the close and it was all topped off with a really sense of swagger by a reading of immense style and superb execution.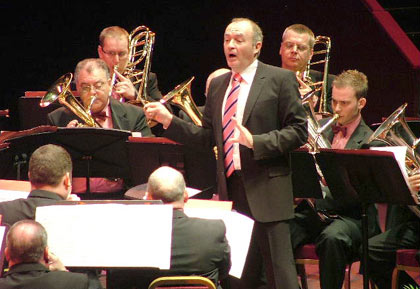 Class act: Allan Withington leads Grimethorpe to victory

We had them right up there in 2nd spot behind BYAV but there was little to quibble about when it came to the announcement of the results. This is some band. And some conductor – five wins in nine years and just seven attempts.
Mount Charles had the unenviable task of following Grimethorpe on, but in the event did themselves a great deal of credit with a performance of solidity, well laid out and executed under Nigel Weeks. It was never going to be one that really had enough about it to come any higher than it did in 9th place (we had them 11th) but that was impressive enough on the day given the quality of the rest of the field.
Fishburn too had much to take home with them in terms of credit after producing a well worked account under Richard Evans that hinted at a possible top ten finish until it just fell away when the stamina levels waned in the last quarter. 12th place (we had them12th too) and four places ahead of local rivals Reg Vardy would have pleased them no end.
That just left the final two bands and there was a bit of a treat in store for the audience with two notable efforts.
Kirkintilloch are one of the most improved bands around and under Steve Bastable they once again showed why with a very musical, dramatic and colourful performance that just perhaps fell away from a higher place by the MD trying a touch too hard to bring something of interest out of parts of the score that didn't need it. The final few bars for instance didn't quite need the old on/off emphasis, but elsewhere they were some memorable little touches and nuance that other MDs failed to recognise. 8th place (we had them 9th) was another indication that if they continue to improve then regular major success could be on the cards pretty soon.
Somehow it was appropriate that the reigning champions, Leyland were drawn last to defend the crown they won twelve months ago, and after hearing what their rivals had to offer they put up a brave, bold and at times a touch brash defence that ultimately saw them come home in 6th place.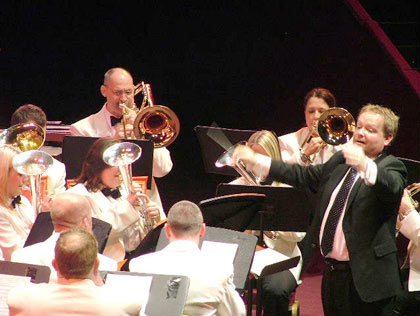 Brave defence: Russell Gray draws out the music for the defending champs

We felt they suffered with balance problems (but that again may have been to do where we were sat in a direct line from the powerful trombone section), but in the box Russell Gray's dramatic and atmospheric approach found favour. Not enough to win in the end, (we had them in 8th) but one that showed that they had held onto their crown with honour.
With that it was all over, and it wasn't 4.30pm either.
The concert prior to the announcement of the results was perhaps a good idea that went on too long (having both IP Brass and Leyland do two overly similar programmes was a bit short sighted) but it did mean that you could get a quick cup of something before the results were announced with a cracking fanfare (you can take that with both meanings as well) from the lads of the Royal Marines.
Cue Sheila Tracy dragging out the suspense in fine style, Bert van Thienen taking a well deserved soloist prize, an audible gasp or two with BAYV announced in fourth, and a sigh of anticipation when Black Dyke were called out in second spot. It would have been a major surprise if anyone other than Grimethorpe had won, and with a clear two point margin they were duly announced as the 2006 Champion Band of Great Britain.
Perhaps the only gripe on a day when Grimethorpe once again produced a musical fairy tale end to a possible bleak story about their financial future is that they do it only every 14 years or so. On this evidence, nobody wants to wait that length of time to hear them as good as this again.

Iwan Fox