4BR Interview - Professor Edward Gregson
7-Oct-2006
Christopher Thomas catches up with Edward Gregson to find out if after 16 years away from the brass band test piece genre he may be about to return.
---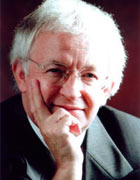 It is difficult to believe that it is now sixteen years since Edward Gregson last put pen to paper to produce a brass band work for the contest platform. That particular work, Of Men and Mountains, remains one of Gregson's most characteristic and charismatic works for band, although in recent years the concert works The Trumpets of the Angels and An Age of Kings, have shown that his music has lost none of the vitality and essential excitement that first marked him out as an important new voice in the brass band scene back in the 1960's.
It was in those early years, with his experiences of playing in a brass band still fresh in his mind that Gregson was at his most productive. Concert pieces such as March Prelude, The Pacemakers and Prelude for an Occasion became highly popular for their mix of rhythmic vigour and cutting edge yet accessible melody, the latter a hallmark that despite stylistic trends since, Gregson has never allowed to desert him.
Within six years of his first brass band piece being published, works such as the Concerto for French Horn and Band, (written when Gregson was only twenty five) demonstrated a remarkably swift rise to creative maturity as well as marking a period of considerable activity on the contest scene. Essay, Intrada and Partita were amongst the works that galvanized Gregson's reputation and made him one of the most performed young composers around at a time when new, dynamic compositional talent was perilously thin on the ground in the brass band world.
First Ten Years

In many ways the piece that summed up Gregson's first ten years as a composer was Connotations. Written in 1976, the same year as the Tuba Concerto and the fine though less often heard Variations on Laudate Dominum, Connotations was to quickly establish itself as one of the seminal test pieces of the 1970's, a decade that with hindsight can possibly be looked on as the first of the "modern" brass band era.
The reasons for the success of Connotations were quickly evident. Gregson had almost single handedly lifted championship section banding out of the stagnant musical impasse that was threatening to engulf it. Until this time Eric Ball still reigned supreme, but after its use at the 1977 National Championship Final, Connotations heralded a new era that brought with it new technical challenges as well a musical breath of fresh air.
In its thirtieth anniversary year Connotations has withstood the test of time in its popularity if not entirely in its stylistic aura. It can hardly be considered surprising that the piece has dated in the context of the vast variety of music around today. Even at the time however, Gregson's music was moving on, both in terms of its language and its wider musical direction.
Type Cast?

As if Gregson had realized that he was in danger of type casting as a "brass band composer" the years after Connotations were to see him gravitate towards a more diverse creative output. Although he had always written music outside the confines of the brass band, the orchestra and chamber music were now to become the focus of his attention.
It was to be eight years before his next major work for brass band, by which time Gregson's music had developed more angular melodic lines and a somewhat more astringent approach to harmony. Yet like Connotations before it and from which Gregson quotes in the Eb bass solo of the first aria, Dances and Arias arrived with considerable impact.

With composers such as Derek Bourgeois and John McCabe now having made an appearance on the scene, Dances and Arias did not shock in its content although as the composer explains in the following interview, the piece was to achieve a certain notoriety for its deviation from the norm in utilizing two flugel horns. The music remains however, pure Gregson and its flamboyant use of percussion, vigorous rhythmic drive and abundant energy have made it a firm favourite amongst bands people whilst often also being cited by a new, younger generation of composers as a work of considerable wider influence.
With the exception of Occasion, written for the National Youth Brass Band Championships in 1986, the six years that followed Dances and Arias saw Gregson once again concentrate his energies on music away from the sphere of bands as well as his dual career in the field of education. When the Netherlands Brass Band Championships commissioned him to write Of Men and Mountains in 1990 it was therefore inevitable that the piece would stimulate considerable interest.
Of Men and Mountains

The music did not disappoint, its first notable departure from much of Gregson's previous work for band being evident from its title. To this point the large majority of Gregson's music (one notable exception being The Plantagenets of 1973, one of his earliest successes) had been formed around abstract titles, Partita, Essay, Connotations and Dances and Arias amongst them. Of Men and Mountains drew its inspiration from the natural imagery of a journey taken through the Canadian Rockies by the composer and his wife on the Trans Canadian Railway, the music brilliantly conveying in an almost filmic manner, the awe inspiring majesty of the mountain landscapes that surrounded them and amply demonstrating Gregson's gifts as a lyricist as well as a composer of brilliant dynamism.
And so, sixteen years on, Of Men and Mountains remains Gregson's last dedicated brass band test piece. Yet perhaps somewhat ironically, his ten year involvement with the Royal Northern College of Music has brought the composer into closer contact with bands once again.

The "Northern's" hosting of the annual Festival of Brass is the most notable example of this and whilst Gregson has not written for the contest platform, in 2000 he did respond to a request from Foden's to provide them with a work to commemorate their centenary. The Trumpets of the Angels is based on a work for orchestra and choir written in 1998…and the seven trumpets…and in its new scoring for brass band, organ and percussion, provided a suitably celebratory vehicle for the Fodens anniversary concert.
Age of Kings

In similar fashion, Gregson's most recent brass band work, An Age of Kings, written in 2004, draws the origins of its material from incidental music written for a production of Shakespeare's Plantagenets trilogy by the Royal Shakespeare Company in 1988. Gregson subsequently used the incidental music as the basis for two large scale works for symphonic wind band, The Sword and the Crown and The Kings go Forth and it is from these two works that the music was adapted to create An Age of Kings.

It also gave the composer an opportunity to expand the band on an unprecedented scale, with the addition of harp, piano, solo mezzo soprano and male chorus. Gregson wrote the work specifically for Doyen's fourth volume in their Edward Gregson series, although it was at the 2005 European Championship Gala Concert that the work made an unforgettable impact, a performance that was magnificently captured by Doyen in their subsequent release of the highlights of the championship weekend.
Immense Credit

Gregson is a composer whose trade was initially formed during his early involvement with brass bands, yet it is to his immense credit that unlike many others before him he has shaken off the possible shackles to forge a successful composing career away from the confines of the band world. None of this erodes the fact that Gregson learnt about bands from the inside, a fact borne out by the clearly idiomatic nature of his writing for the medium. It is as much for the nature of this understanding as for the quality of the music itself that Gregson has endeared himself to bands and brass players the world over.

Summed up simply, the band world needs composers of Gregson's quality and with the new millennium having already seen two impressive works for the concert stage, it is to be hoped that he can be persuaded to end the sixteen year hiatus since his last foray into the contest scene.

Chris Thomas: Could you tell us something of your earliest musical experiences and influences?
Edward Gregson: I was brought up in the Salvation Army and played in a brass band from an early age (around 9 or 10 if I remember correctly). I started on the tenor horn and eventually moved down to the euphonium where I ended up as Principal Euphonium in the Tottenham Citadel Band during the first year of my studies in London.
About the same time as starting to learn a brass instrument I also started to learn the piano and this soon became my real passion. In addition, I started to learn about classical music (not having parents who were particularly literate in this area) when I went to grammar school. Hearing Brahms' 1st Symphony as an 11 year old had an overwhelming effect on me and my musical development. From that time onwards I somehow sensed that I was always going to be a musician and composer.
Chris Thomas: So writing for brass came naturally from your playing involvement?
Edward Gregson: Having been brought up with the sound of a brass band around me it was obvious that I was going to write music for brass band when I became musically literate. I started sketching my first piece at about the age of 16 but never completed it. My first completed composition was a march: Dalarö (1964) which was published by the Salvation Army. My first non-Salvation Army work for brass band was the suite Voices of Youth (1967).
Chris Thomas: How does a new composition initially start and formulate for you?
Edward Gregson: The process with a new work is always elongated and somewhat frustrating. Once I know the detail of the work I have been commissioned for (duration, instrumentation, date of first performance etc) I start thinking about it (the "gestation period") before I write anything down. Then slowly there emerges a series of sketches, not necessarily in the chronological order of the work itself, but eventually pulled together into some kind of preliminary draft. This then becomes the basis of the orchestration and eventually a final version is arrived at. However, there is often a period of reassessment after the first performance which sometimes leads to some amendments.
Chris Thomas: What are your usual working methods? Do you compose in silence or at the piano or computer?
Edward Gregson: I compose at the piano. I think it unlikely that I will ever compose at the computer, although the software is of great help when one needs to sketch out and listen to some complicated chord or passage work.
Chris Thomas: Do you find yourself able to sit and listen to all of the performances at a contest and how do you feel about adjudicating performances of your own music?
Edward Gregson: I don't think I have every sat through all of the performances at a brass band contest. It is many years since I attended one of these, mainly because I have not written a test piece since Of Men and Mountains (1991) which I wrote for the Dutch championships where I also adjudicated. I do not enjoy adjudicating my own music (or indeed anyone else's) at brass band contests because the conditions with closed adjudication are inhumane. I am vigorously opposed to closed adjudication and believe that the brass band world ought to modernise itself and bring itself in line with all other international competitions where the jury is in the open and is trusted to produce an honest and fair assessment.
Chris Thomas: On the whole do you feel band contesting to be a healthy musical pursuit?
Edward Gregson: There is much that is positive about brass band contests, not least that they have a beneficial effect on standards of playing. There is also an element of sport in the competitive situation and that is not necessarily unhealthy. Conversely, and more negatively, contests induce a blinkered attitude towards playing and musicianship and do not reflect well on enhancing and developing the concert platform dimension of brass band performances.
Chris Thomas: In Dances and Arias and Contrasts (Concerto for Orchestra) there are certain musical motifs and ideas that are common to both works. Do you often cross fertilise ideas that have formulated in brass band works in other instrumental music and visa versa?
Edward Gregson: Well spotted! Both these works were written within one year of each other and there are always likely to be shared ideas between pieces. It is not that this is intentional, but inevitably the subconscious outcome of working on two pieces so closely together.
Chris Thomas: Your greatly varied output includes many shorter concert works as well as large scale pieces. Do you gain as much satisfaction from writing works on a smaller scale?
Edward Gregson: Most of the works that one writes are dictated by the terms of the commission. I gain as much satisfaction from writing a short work as a long work, but if you are commissioned to write an overture or an extended fanfare this will inevitably lead to a shorter work than say a major test piece or an orchestral concerto.
Chris Thomas: You have written band works for players of differing technical abilities over the years. From a musical point of view do you approach a piece any differently when writing for bands of lower sections?
Edward Gregson: I have not written works for lower sections for many years (in fact since 1974) so I cannot remember the processes I went through. However, as a professional composer you constantly have to adapt your ideas to corresponding technical levels. If I am commissioned by the BBC Philharmonic then obviously the sky is the limit, but if I'm commissioned to write a Grade 3 piece for oboe, then clearly that restricts me in a number of ways. I try to both successfully and professionally.
Chris Thomas: Have you ever felt musically limited or restricted by the rigid make up of the contesting brass band instrumentation and did you find An Age of Kings an opportunity to express yourself on a different scale in this respect?
Edward Gregson: Yes! There is no reason why brass band contest works have to be so rigid in their instrumentation. I tried to break the mould of this in a simple way in Dances and Arias by using two flugel horns. In The Trumpets of the Angels I broke with tradition completely by altering the nature of the band as well as exploring notation in a more adventurous way. In An Age of Kings I found another opportunity to break the mould in that this music was originally written for the theatre and then orchestrated for symphonic wind band. Even within this context I used recorders, voices, harp, piano etc and so when I turned to the brass band version (different from the two versions for symphonic wind band) I tried to utilise the same enhanced instrumentation. I think it works well and I only hope it encourages other composers to break the mould that has been so rigidly contained by the formula for contesting.
Chris Thomas: You have conducted recordings of your own brass band music on several occasions. Do you find conducting your own music an enjoyable and rewarding experience?
Edward Gregson: I used to find conducting my own music for recordings an enjoyable experience but I now prefer to sit back and place the responsibility and trust in other people. I find this works very well!
Chris Thomas: Amongst your own works for brass which do you consider to be your finest and for what reasons?
Edward Gregson: In one sense your last piece is always your best piece. However, I believe the most adventurous and progressive of my works for brass band is The Trumpets of the Angels. Nevertheless I realise that this is a rather difficult piece in many ways and outside the 'mainstream' of brass band repertoire. Of the more 'conventional' works that I have written I still enjoy Dances and Arias.
Chris Thomas: And your favorite works for brass by other composers?
Edward Gregson: I am a great admirer of Wilfred Heaton's music. I also like Ray Steadman-Allen at his best and most adventurous, although I think he has suffered from being a 'house composer' for the Salvation Army for so many years. Needless to say, I admire those works by composers such as Robert Simpson and Elgar Howarth which break the mould of convention in particular ways.
Chris Thomas: Are you conscious of your music having changed stylistically with the passage of time?
Edward Gregson: Yes – inevitably any composer develops and changes his or her style. Mine has changed enormously if one looks at early works such as Essay or The Plantagenets and compares them with say The Trumpets of the Angels. However, I hope there are Gregson trademarks in all of these works that give them a commonality.
Chris Thomas: In taking on the post of Principal at the Royal Northern College of Music you became part of a college with a strong brass tradition. Are there any ways in which you would like to develop this strength still further?
Edward Gregson: There is, and always has been, a strong tradition of brass band training and performance at the RNCM. During my time here as Principal (since 1996) I have tried to enhance and develop brass band studies and I think we have achieved that, particularly if one looks at the way in which we have taken over the Festival of Brass from the BBC (with the help of Paul Hindmarsh) and turned it into probably the most progressive festival of brass band music in the world. I am very proud of that, just as I'm very proud of all the alumni who are now an integral part of the top brass bands in this country. We also intend to announce a new structure for brass band study at the RNCM in the near future and I think that this will lead to even further exciting developments.
Chris Thomas: Although in recent years you have written fewer test pieces do you still feel that there are new brass band works waiting to get out?
Edward Gregson: I thought that after The Trumpets of the Angels I wouldn't wish to write another work for brass band because everything in my development as a composer was summed up in that work. However recently, whilst working on my new Saxophone Concerto, a number of ideas which I discarded for that particular work formed themselves into an obvious new work for brass band. I am currently discussing the possibility of this becoming a new work for band in the near future. Watch this space!