2006 Lower Section National Finals - Harrogate Impressions
27-Sep-2006
4BR looks back at the weekend in Harrogate when some things went more smoothly than others.
---
The Lower Section National Finals have now been held at the International Conference Centre in Harrogate for the past three years. It may not be the most glamorous venue in the world to hold a brass band festival, but there again there doesn't seem to be too many others actually queuing up to offer themselves as much of an alternative either. Love or loathe it, it seems Harrogate could be with us for some time to come.
This year the Lower Section National Finals gave us plenty to mull over once more – good and bad.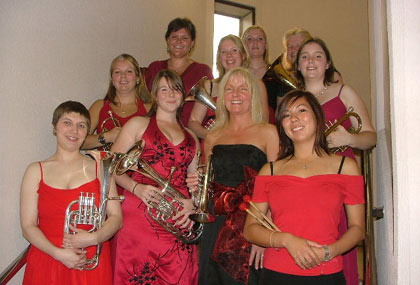 Photo: Steve Jack
If only there was open adjudication: One of the best things about of the Lower Section finals
It is always worth bearing in mind that it was just a few years ago that this contest reached something of a nadir in its existence at Torquay – the year of the brass band world's equivalent of cricket's 'Timeless Test Match' when the last performance of the weekend started on the Sunday night and finished on the Monday morning. No one wants to return to that organisational fiasco and it is fair to say that since Kapitol Promotions took over the running of the event, the mechanics of organising a structure and timetable that ensures that each of the four contests runs to time has been exemplary.
On the weekend, both morning contests started bang on time at 9.30am, whilst both afternoon ones ended within 5 minutes of the appointed 9.00pm and 9.15pm end. That does take some doing and congratulations should go to Kapitol and its team of backroom staff, stage crews and hired help such as the indispensable Ray Payne who ensured that everything ran smoothly and to time.

This of course meant that bandsmen and women of all ages could have a day at the contest without panic and hopefully take the time to go and listen to others bands as well. That would be great as at present there are only a few old heads, long suffering journalists such as us and Keith Farrington who records every band at Doyen who get to hear every performance.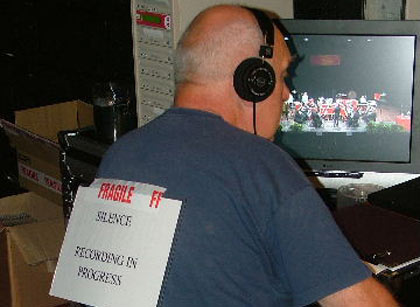 Photo: Steve Jack
Keeping an eye and a ear on things: Keith Farrington of Doyen records each of the bands efforts for posterity

That not too many did is not a problem exclusive to this event, but it is the one contest more than any other that needs and deserves to be better supported by its own competitors. Fourth Section adjudicator Ian Brownbill make the excellent point that perhaps players should spend a little less time in the search of liquid refreshment and more listening to fellow competitors, but it is asking a lot when the same players are asked to put their hands deep into their pockets to fork out for a ticket costing up to £10.00, when perhaps it would be a better idea for the promoters to up the entry fee for the contest from its current £45.00 to say £100.00 and give each band 30 complimentary tickets.
No one wants to play to an empty hall, and even though the promoters must recoup some overheads by getting people to pay on the door, a balance must now be struck.
It also meant that lots of people missed out on the chance of hearing a great number of fine performances from the bands in each of the sections and getting to both hear and see some fine players on top form.
This year was no exception and it was great to be able to see the likes of James Gourlay and John Millar, two of the UK's finest brass instrumentalists playing their parts in the Third Section with Tullis Russell Mills Band as well as Gareth Small, Principal Trumpet with the Halle Orchestra performing with his home town band, Penclawdd Brass. All of them seemed to having a great time, so it's a real pity so few were there to enjoy it with them.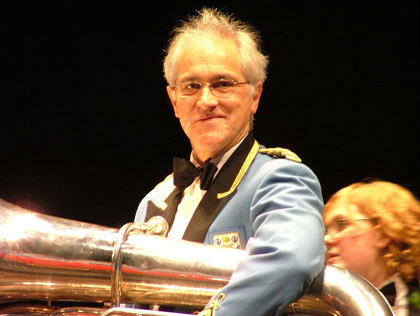 Now where have we seen this man before? Jim Gourlay lands a hand to Tullis Russell Mills

It was also great to see young talent breaking through the ranks in the form of Eliot Darwin at Dodworth, the hard work of Sharon Stansfield getting richly deserved dividends, the brilliant long term planning of St. Dennis gaining reward and one of the movement best band trainers and musicians, John Berryman claiming a bit of long over due glory.
There is also connected to the slightly more complex issue of hotel rooms. There were some complaints from bands about the cost of booking their bands into hotels and guest houses in the town and surrounding area, but to be fair that has nothing to do with the promoters. Market forces dictate room prices, not events themselves and unfortunately it is a fact of life that it is easier for hotels to be booked through travel agencies and companies than it is to try and get your band secretary to do it themselves.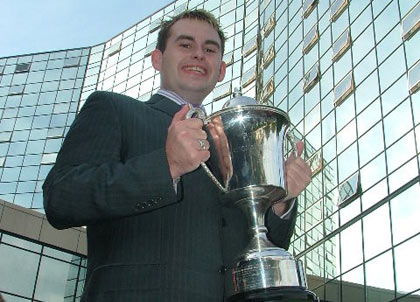 Photo: Steve Jack
Reflected glory: Eliot Darwin, MD of Dodworth picks up his first national trophy

Harrogate is a conference town with a conference mentality and it doesn't really matter to the hotel proprietors if it's a brass band, pop band or rubber band contest taking place at the Conference Centre – prices reflect the demand, and when you have 2000 people in need of a bed for at least one night, they can charge just about what they want. It is unfortunately, a necessary evil.
Back to the contest itself though and the question of the music that was played.
It is important to make clear that the music chosen is done so by the independent Music Panel. Each of the four pieces were in themselves fine choices, even the First Section set work, Peter Parkes's arrangement of Holst's 'The Perfect Fool' ballet music.
What is also important however is to make clear that this panel never makes such a complete horlicks of picking a totally useless and inappropriate piece such as 'The Perfect Fool' ever again.
It would be easy to blame the publishers for the amount of errors, wrong notes, and even missed bars in both the parts and score for this work, but that does not excuse the panel from choosing it in the first place.
Didn't anyone in any capacity in relation to the panel contact the publishers to find out if there were any problems with the piece before it was announced as the set work for the finals? Surely someone knew that it was full of more wrong notes than could be found in a premiership manager's back pocket or didn't anyone bother to give the score and parts more than a cursory examination? Were any of the panel not up to the task of proof reading a score of this quite simple nature and working out that not all was right with it?
Surely the publishers could have informed the panel that there were problems (that is if they actually knew that there were), but if they didn't, shouldn't the alarm bells have started to ring when literally hundreds of errata errors surfaced. 'The Perfect Fool' should never have been used here and a substitute piece – and there was plenty of time for it to have been dropped for a more suitable choice - used instead.
Away from the contest stage the traders seemed to have had a decent weekend of it, although it was commented by some people that they felt that it was strange to see a cookery book being sold at a brass band contest!
It was good though to see Buffet Crampon, the owners of Besson back supporting the event and offering four great prizes to the bands in the form of £1000 vouchers off future purchases of instruments to the Best Instrumentalists. The overall prize money may not have risen here this year, but this was really good news, especially as we were reliably informed that it was a substantial amount of sponsorship support.
What wasn't so good however was the way in which the presentations were made at the end of each section this year. It is appreciated that no one really wants to go back to the 1950's approach, but neither do we suspect do people want it to become a brass band version of 'The Price is Right' either.
This year, for whatever reason it was sloppily handled, sounded and looked amateurish and more than anything lacked any sort of dignity. The promoters have been pretty good at this sort of thing in the past, but this year it just didn't work.
Throw away comments and double-entends apart, there was also the surreal appearance of the Mayor of Gateshead (supporting the Felling Band, she told us) who appeared on stage to present prizes in one of the sections (wasn't the mayor of Harrogate available then?) and the misunderstanding over the contents of the letter from ABBA which could have been a PR disaster for all concerned, but was averted by the excellence and quick thinking of Kevin Wadsworth and Steve Pritchard Jones.
That episode wasn't helped by the unfortunate mistake made by Peter Bates in announcing the bands in draw order whilst the two adjudicators were still in the box. Somehow it summed up the air of lack of preparation and structure to this important part of the event this year.
The adjudicators in fact had a good weekend and all eight came away with reputations enhanced, especially for the way in which they engaged with the audience with their remarks. Long may it continue and the organisers deserve credit for the choices made – it was a good mix of youth and experience.
All in all Harrogate and the Lower Section National Finals still have lots more plus points than minus ones, although this year the negatives were more noticeable than before.
Iwan Fox