2006 Lower Section National Finals - Third Section retrospective
27-Sep-2006
If you were looking for all the emotion, passion, excitement and even a touch of farce then forget the Ryder Cup on the weekend, the Third Section contest had it all and more.
---
Given all the sporting shenanigans that were going on in Ireland at the weekend at the Ryder Cup, you would have thought that golf had a monopoly on emotion and excitement, passion and unpredictability, controversy and even potential farce. Not so.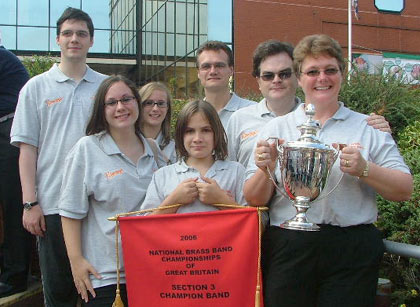 Photo: Steve Jack
Family portrait: Sharon Stansfield and her bandning family enjoy being crowned National Champs

Here at the Third Section Finals we had the lot and more besides, as the Long Eaton Band conducted by Sharon Stansfield lifted the trophy to become National Champion Band in their 100th year of existence. Not even the preposterous over hyped multi millionaire golfing circus at the K Club in County Kildare could really better that.
What we had here was an honest to goodness brass band contest between 17 pretty evenly matched bands, playing a stern but fair test piece. It was immensely enjoyable as a result.
Long Eaton may not have been the universal choice of everyone in the hall who listened to all the bands on the day (and disappointingly, there were not that many who actually did), but those who did (and of course that included the all important men in the box), certainly had them in the top two or three with many tipping them for a win.
In a neat twist of adjudicating fate, the top three band placings of Long Eaton, Rainford and Tullis Russell (The Papermakers) Mills were replicated in the minor positions too, with Leicester Co-operative Charnwood from the Midlands, Flixton from the North West and Broxburn Burgh from Scotland filling in the prizes.
The adjudicators, Kevin Wadsworth and Steve Pritchard Jones clearly felt that the winning performance was the one that combined both consistency of approach throughout its three diverse movements with security and musicality. "The overall standard was pretty good," Kevin told 4BR: "The winners had a sense of security and consistency though throughout all three movements, something that too many others lacked on the day. It was a fine performance, very well led and a deserved winner in our opinion."
In an emotional interview given to 4BR, Sharon said: "It's been a fantastic achievement for the band and the organisation as a whole. We have worked so hard and overcome a number of setbacks, but this is just the perfect way to enable us to celebrate 100 years of the band at our anniversary concert later in the year."
It has indeed been a year of highs and lows for the band, with personal tragedy of family bereavement hand in hand with the excitement of the launch of the bands well received CD. "What a night that is going to be," Sharon added. "We have had a great year so far with the launch of our CD and now this win, but we have also suffered some set backs too. It says a great deal about the people we have in the band that we have overcome these and it makes this achievement so much more special."
The Third Section kicked off the contest weekend at Harrogate in fine style, even if, to borrow a golfing analogy from the weekend, quite a few bands found themselves starting their bid for glory with a bogey on the first hole with the treacherous opening to the first movement. By the time they made it up the fairway to the clubhouse after the final few holes of their round, the damage had already been done to their chances of success. Consistency was the name of the game and for every birdie chance taken by some bands with one or possibly even two good movements of playing, far too many dropped metaphorical shots elsewhere.
The opening few bands found life quite tough going with an early teeing off time of 9.30am.
Radyr and Morganstown (Mellingriffith) conducted by Gareth Rittter opened proceedings and put a decent enough marker down, and even though it was the first performance of the day the indications were made clear enough that this was going to be a real test for the bands.
The opening bars of the first movement were treacherous, whilst the rhythmic complexities that followed and the need to maintain a consistent flow to the music were not always overcome with any sense of ease. Some of the conducting techniques employed didn't help matter either, with too many conductors falling into the trap of overbeating, whilst it was disappointing to note how many MDs failed to recognize that some cornet and flugel players were playing the wrong rhythms in their solo lines.
The second movement provided the fulcrum of the whole piece and once more too many MDs failed to allow time and space for the music to settle in a relaxed lyrical feel. Some of the tempos chosen defied belief.
Finally the third movement that on the whole was well played. It was still disappointing though to note that basic rhythmic mistakes had not been addressed (many an opening statement sounded as if the second quaver at the end of the bar had been replaced by a semi).
An amalgam of these problems were evident both with Radyr and with St Pinnock conducted by Darren Hawken who followed on stage. They may have come higher up the prize table if it wasn't for the weak starts to each of the three movements of the set work, although they did have a fine flugel player in Sharon Banbury who was a stylish presence. Both Gareth and Darren are young and talented MDs though and there is much more to come from both of these lads and their bands in future.
Norfolk Wherry then upped the ante a little with a performance that had its moments (some classy euph playing from Ed Latham in particular) and neat touches but suffered with too many individual and ensemble errors, before Broxburn Silver directed by Colin MacKenzie set the early marker with a solid approach that grew in confidence after a slightly rushed first movement. A fine piece of soprano cornet playing from Hugh Scullion was a feature throughout and sixth place was well deserved (we had them in 6th too).



Scots delight: Broxburn's Principal cornet Susannah Downs leads by example
Broxburn were immediately followed onto the rather dry and arid stage at the Conference Centre by Leicester Co-operative Charnwood conducted by Graham Jacklin who almost replicated their Scottish rivals with a performance that recovered well after a real messy start. Some fine euph playing from Steve Barham was a real feature but also too was the intelligent direction of the MD, which allowed time and space in the second movement especially. We had them in 7th come the results, judges in 5th, but once more it was well deserved.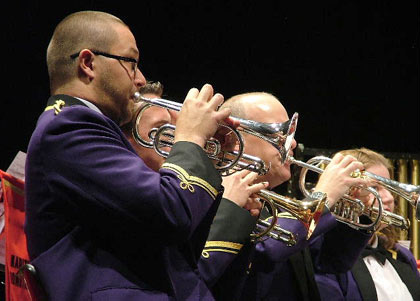 Dividend payment: Leicester Co-op's top man Nick Lear makes sure of a top class prize winning divi

Two other solid performances followed. Horbury Victoria under Bob Walker delivered a performance not short of confidence and containing some wonderful flugel horn playing from Sarah Warner that deservedly won her the Best Instrumentalist Award of a 1000 pound voucher from Buffet Crampon. Perhaps the boldness which they brought to each of the three movements was a touch misplaced in the more delicate second section, but overall it was one to admire and they may just feel a touch disappointed that they didn't come higher than 7th (we had them in 4th).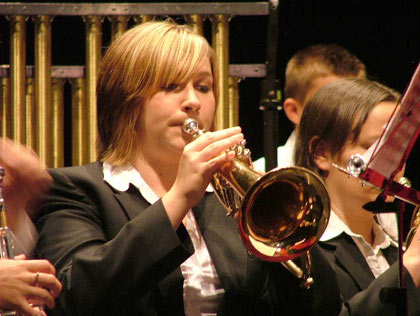 Queen Victoria: Horbury's Sarah Warner shows her class to take the Best Instrumentlaist prize

Beaumaris B directed by Paul Hughes also had their moments too, but a few too many annoying errors in both individual and ensemble cost them valuable points. The percussion team though was the best of the day.
Gillingham Imperial Silver killed off their chances with speed. Gordon Langford's work asks for a degree of subtlety in tempos (the first movement is marked dotted crotchet = 100 – 104: the second, chrotchet = 84 – 88, and the third, minim = c 96), and whilst many performances didn't quite show the differences required, MD Eric Haines rather inexplicably chose to up the metronome markings in each one to the point where control was always in danger of being lost. The result of 14th couldn't be argued against.
Much was expected of the Flixton Band prior to the contest and to be fair they delivered what appeared to be a quite outstanding performance on the day, which at the halfway point we had 10 points clear and at the end 3 points clear.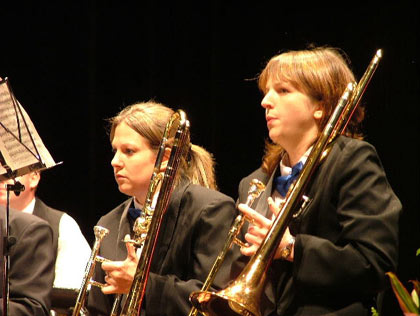 Eyes front: Flixton's trombone section wait their turn to impress

Kevin Gibbs produced an accomplished reading of the score, and for us, his players responded in kind with Katie Tyson on solo cornet on tip top form. Not so the all-important judges who didn't quite like the approach as much and found the tempos slightly erratic, and as a result they had to be content with 5th place. Contesting can be a mysterious old game at times, but it does go to show that it is always the men in the box whose opinion is ultimately the one that counts. Unlucky though.
At this point the contest was still very much up for grabs, but neither Durham Constabulary nor Moulton '77 Brass who followed could do enough to push their way into the prize list. Durham just had a harshness of ensemble tone that robbed them of points (although it must be said they had to overcome the loss of a player on the morning of the contest due to illness), whilst Moulton produced a bit of a mixed old bag which had the makings of a cracker but just could stick together long enough for it to gell.
Long Eaton then took to the stage and set out their stall in impressive fashion. Sharon Stansfield allowed plenty of time for the music to flow and whilst there were little blips and blobs along the way it was a performance that always drew the listener in with some excellent individual playing (former Desford soprano Clive Purnell was very classy indeed) and ensemble work that revealed a warm and broad bass led sound.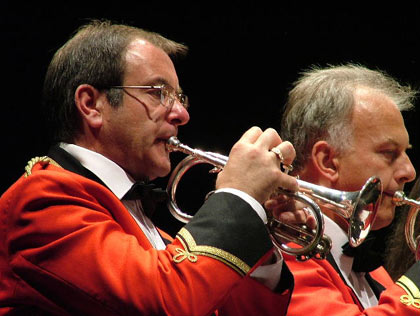 Age does not weary them: Clive Purnell shows off his ageless class for Long Eaton

At the end the smile on Sharon's face as she turned to accept the applause has only been bettered by the great Francis Lee, once of Man City and then of Derby County when he won Goal of the Month in 1974 (Barry Davies yelling 'Look at his face… just look at his face!"). It was also a smile that we believe never left her face until she went to bed that night too – and quite right too.
We had the band in 2nd place at the end of the day, but there were few grumbles as it was a very accomplished performance indeed.
What would Tullis Russell Mills directed by Alan Morrison given just to have produced a decent opening to their performance? Whether it was nerves, dry lips or just over enthusiasm, the opening minute of their performance was blighted by errors that in the end must have cost them a chance of victory.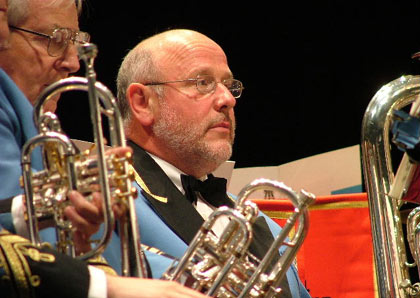 Millar Magic: John Millar waits to add his bit of class to Tullis Russell's 3rd place performance

Their second movement however was sublime – the only one shaped by any MD in the entire contest with true intuitive understanding of the music and delivered with such aplomb by his players. By the end of a fine third section they were back in the hunt, but oh for that opening! We had them in 3rd and that is what they came. It was also nice to report that the efforts of Jim Gourlay on 2nd Bb bass no less and John Millar on 4th man down playing the solo cornet part on a soprano enhanced a performance where the lesser lights really did themselves proud.
LGB Brass followed the Scots on stage, but after a decent opening they fell away somewhat. Some excellent work by Simon Emberley on solo cornet was a highlight but its eventual midfield placing of 12th was about par for the course.
Rainford were also talked about as a band to listen out for prior to the contest and so it proved after they certainly caught the ear of the judges with a performance notable for a robust sound (a little too robust at times perhaps for us) and some excellent individual contributions, especially from the MD himself, Neil Samuel. It was a solid non nonsense approach where the good points far outweighed the minus ones and even though we had them in 5th at the results, they would have been more than happy to take the opinion of the judges above 4BR!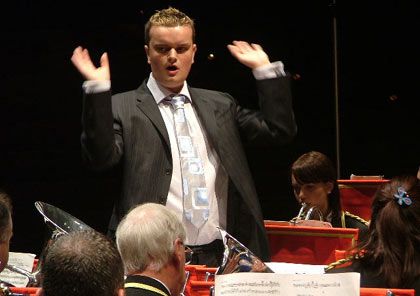 Photo: Steve Jack
Look - No hands! Neil Samuel doesn't need a baton as he leads Rainford into the runners up spot
The last two bands to take the stage didn't quite have the best of days, but Clifton and Lightcliffe and Stape Silver certainly looked as if they both enjoyed the experience.
Both performances also benefited from intelligent conductors using their resources to the best of their abilities, and whilst the more mature and secure performance came from Clifton under John Clay to come home in 11th place, there was also much to admire about the brave effort of Stape too. They also had a cracking little euph player in Bethany Breckon (the MDs daughter perhaps?) who was a beacon of security and musicality throughout. Both bands will take a great deal from the experience and we will be hearing more from them both in the future we are sure too.
With all the contesting over it was time for the results, but not before a misunderstanding over the contents of a letter from the Association of Brass Band Adjudicators (ABBA) led to the incorrect announcement that Kevin Wadsworth and Steve Pritchard Jones wouldn't be talking to the audience. This was met with universal and vocal disapproval, and it was only the quick thinking of both Kevin and Steve to take the opportunity to speak that staved off a potential PR disaster. To make matters worse however, the conspiracy theorists had a bit of a field day when compere Peter Bates made the uncharacteristic error of announcing the names of competing bands in draw (rather than alphabetical) order whilst the adjudicators were still in the box at the end of the contest.
Thankfully, Kevin confirmed that although both found the announcement strange it had no effect whatsoever on the results (and would not have had either) as by that time they had already filed away their paperwork for the scrutineers.
It was an unfortunate end to what had been a thoroughly enjoyable and engrossing contest and one which saw victory and a fantastic centenary present go to a hard working band that has enjoyed both the highs and lows of banding life in the past twelve months.

Iwan Fox.