2006 Lower Section National Finals - Fourth Section retrospective
27-Sep-2006
A cracker of a contest saw plenty of great playing and a young man and his band take the title back to Yorkshire.
---
9.30am Sunday morning, the day after the 2nd and 3rd Sections had completed their challenge for the National title saw the 4th Section bands converge on the Harrogate International Centre in their bid to for glory.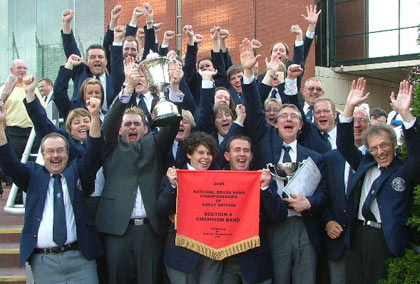 Photo: Steve Jack
Dodworth delight: Dodworth Colliery MW celebrate their national win

They were faced with a quite excellent test piece in the form of 'Valerius Variations' by Philip Sparke that started with as challenging an opening with just muted cornets leading away. Nerves of steel were required to ensure a good start, and for the most part the bands coped admirably with this bum-clencher of an opening.
The thinly scored development proved a severe test across the section but once that few minutes of music was dealt with it moved into the spirited vivo and one could feel the tension ebb away quite noticeably.
Adjudicators, David Lancaster and Ian Brownbill used all their experience and gave a very interesting insight into their expectations for the music. Ian highlighted the need to master the basics first and foremost but he was generous with his assumption that overall it had been a pretty good contest: "The top two performances were very good indeed and the winners did have the bit of extra class. There was a great deal to admire about their performance and the way in which they approached a difficult work."
The winners were the Dodworth Colliery MW Band conducted by a real rising star of the movement, Eliot Darwin. This is a band and conducting talent that has a very bright future ahead of them both and a clearly emotional Eliot was full of praise for the hard work his band had put in to become National Fourth Section Champions: "I thought we really put in a great performance today. We have put in a great deal of hard work in the past month and it has paid off. I'm delighted of course, but really it has all been about the players."
The contest opened with Formby who unluckily repeated the number 1 draw they picked out of the hat in Blackpool at the Regionals. In taking 8th place here they didn't quite find a repeat of the form they showed there in winning the area title but under their talented MD Louise Hough they gave a performance that contrasted buoyant vivo and allegro playing with delivery that was just a little less commanding in the slower variations.
Thundersley Brass were handed an early draw that contrasted totally with the late draw they fished out of the bag at the Regionals. Conductor Kevin Schroeder encouraged some rich and full bodied sounds, but it was early in the piece that some insecurities caught the ear. Nonetheless this was a worthy show and although it came a mid table result (13th) the band did show glimpses of the scholarly discipline Kevin Schroeder brings to the band that bodes well for the future.
A well deserved fifth place was taken by Bream Silver who produced a crisply articulated and thoughtful performance. MD Huw Cole looked to give the music shape and style and the band worked hard to follow his direction and the concentration was duly rewarded. Although bands later in the draw picked up the actual trophies and prize money, Bream Silver produced a very decent show to finish in the frame and can take a great deal of confidence from a fine account.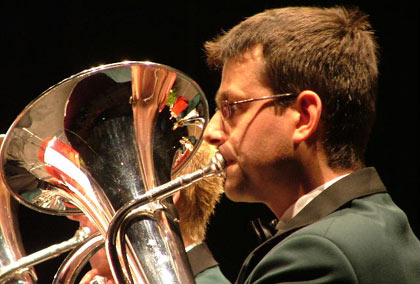 Breaming in: Tony Hayes helps Bream Silver into 5th place

Waterbeach Brass under James Utting was the second of the London and Southern Counties bands to take the stage early on. They produced a satisfyingly straightforward, yet carefully considered performance that certainly improved as it progressed. The band came into their own at the end but a mid-table 14th place was a little unkind taking all aspects of the performance into account.
If the draw was conspiring to exert an influence on any Region it would have to be on that of the London and Southern Counties. Again early doors, fifth up on stage, under Martyn France were Watford. Overall there were a few too many uncomfortable moments for the playing to feature on the day and it finished at the foot of the table, but the signs as with many others bands were there that the foundations are in place and long term success isn't that far away.
The North of England had a good day here and Barton Town under Mark Bentham playing off number 6 in the draw gave an account of the music that had that hallmark vitality and a structural grip only to be expected with such an authoritative MD in the middle. We had them in 3rd place, the judges in 6th but a place in the frame was fully deserved in pulling out a performance of the basic variants that were simple and effective.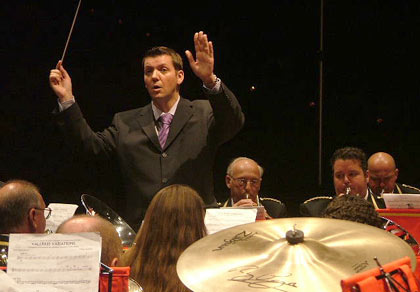 Photo: Steve Jack
The Bentham touch: Mark Bentham helps Barton Town into the prizes

Whilst Wincanton Silver under Joanne Sykes, drawn 7th, produced some attractive colouring in their performance it was some insecure tuning that in the end must have cost the band a higher finish that the 16th in the results order. That was a bit unlucky for us as there was much to admire in both the approach and the execution, but in a large field it was a performance that slipped down the prize list the longer the contest went along.
Wincanton made way for the Midlands band Amington conducted by Wesley Kendrick. The MD looked to bring quite a free interpretation to the music and placed quite a strong lead on accentuating the main beats. A mid-placed 10th was about right on the day for a bit of a mixed bag of a show that also had many signs of good foundations being laid.
Next on the stage and just two places behind them in the results (12th) came Emley Brass from Yorkshire. The band under Garry Hallas took time to settle and the latter variations were certainly a lot stronger than the opening two. A word of mention must go the backrow though who produced a supportive sound to the whole that was noteworthy and they certainly more than played their part in a decent effort on a difficult set work.
Our pre-event prediction to win was Verwood Concert Brass. MD David Marshall brought some great moments to their performance, notably with the Andantino where the expressive writing was sensitively handled. We thought it could be there or thereabouts, but perhaps not a winner and 7th place, just out for the frame was so close. They sounded very classy in qualification in Torquay and at times showed that calibre here too, but on the occasion it wasn't to be.
The contest paused at this stage to give an opportunity for the judges to take a comfort break and with the resumption of proceedings there was a fair gathering in the hall to hear the next band, as many would have known they were one of the possible favourites to take the title.
Oldham Band (Lees) under John Collins came to Harrogate in commanding form after winning the Regionals for a second year in a row and they showed just why they are so highly regarded from the very first notes of the piece. John Collins expects high standards and his band didn't disappoint producing music that contained an expressive andantino and a punchy vivo.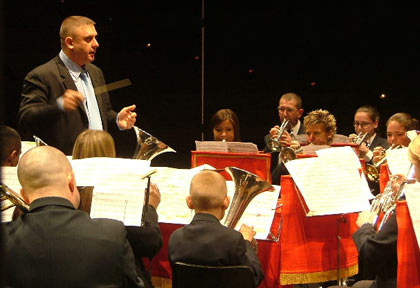 All players great and small: John Collins leads his young band into the runners up spot

It wasn't error free, but then again you don't expect that at this level, but it was fine playing from all involved, especially the soloists (John Chalker was a fine winner of the Best Instrumentalist award on soprano cornet) and the many youngsters in the ensemble positions. What a future lies ahead for this band.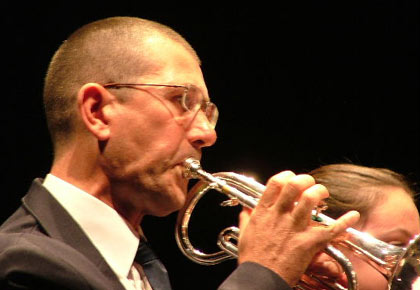 Super sop: John Chalker takes the Best Instrumentalist award for his efforts with Oldham Band (Lees)

We had them in first place just in front of the eventual winners Dodworth Colliery M.W. and these two bands really did stand out on the day for their control and balance, warmth of sound and almost nerveless execution.
The contest had reached the true half way stage and the performances were of a standard that made the prospect of sitting in for another eleven bands a delight. The piece was not overlong and contained just about everything you needed to enjoy and dissect each performance.
Finishing absolutely mid-table (11th) was the Midlands band Wellington (Telford). Under their MD Stephen Curtis they took time to find the strong melodic vitality and interesting colour that he obviously sought in their overall sound picture, but there was a fine sense of musicality about their show even if they had a few too many errors to have pushed them higher up the prize table.
Sidmouth Town meanwhile produced a little bit of a mixed bag for us and a 15th placed mid-table finish was not unexpected. Generally speaking this was a quite a solid performance that sat comfortably amid many others on the day that just about got all the basics right and showed that they had been well rehearsed, but just didn't have enough overall quality in both individual and ensemble to push any higher.
The Welsh contingent had to wait well into proceedings to see a representative of the Principality take the stage in the guise of Crosskeys Silver lead by Keri Bowden. Finishing in 19th place was not perhaps as high in the prizes as might have been had they not taken a long time to settle. One can only conjecture what could have been with a more consistent performance overall and perhaps few less nerves. It was a promising show though for the future.
Newstead Youth with Paul Whyley just failed to completely master the technical demands posed by the Philip Sparke test piece. A very enthusiastic approach was full of vitality and youthful vigour but it also gave way to an unsteady performance on the whole and was it was this element that failed to raise it higher than the 20h place awarded. The future does look bright though and we are sure we will hear more about this up and coming band in the years ahead.
Three-quarters through and Lostock Hall Memorial took to the stage. Achieving 17th in the frame, Phil Edwards and the band produced a little bit of an unsettled show overall and it would unquestionably be this inconsistency that kept lower in the results table.
Hungerford Town led by Tim Crouter represented the London and Southern Counties with real credit. Very spirited in places it may have been a touch too pacy at times, but it did come very close to a higher placing. 9th in the results order was about right, but a touch more control and a little less haste in places may have seen a good top six place at least.
Dodworth Colliery M.W. under Eliot Darwin to quote our live coverage produced, "A little corker". This was a performance that was a model of good style and was beautifully articulated. There was no lack in detail and this, together with the Oldham Band (Lees) that ran it so close, deserved every bit of their success for their efforts.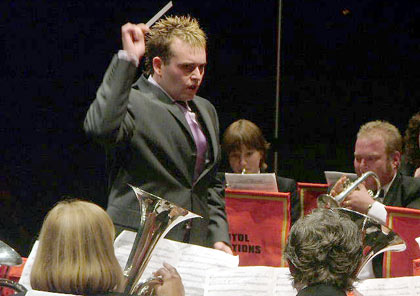 Photo: Steve Jack
The Darwin evolution: Eliot Darwin takes the lead and the winners glory

Eliot Darwin laid out the piece in mature style (he is still only a very young man) with an emphasis on control and balance. The band responded in kind and produced a wonderful full bodied bass led sound with admirable security in the leading lines in particular. It was playing that would not have been out of place in a couple of section higher and it was a performance of real merit and worthy of a champion band.

With four bands left to play Scotland had to wait even longer for their attack on the National title than the Welsh bands.
Turriff Silver had to wait till 19th in fact and the long wait just took the gloss off their efforts with a performance that lacked consistency and clean detail that could have raised it higher than their resulting 21st place.
Bon Accord Silver B conducted by Bruce Wallace similarly took time to settle and they seemed to opt for intriguing tempos in comparison to many others. It didn't quite deliver although there were those same signs as many others that here was a band with bright future ahead of itself. In the end it was not the best day for the Scottish bands as they too finished a little down the results in 18th place.
Llwydcoed Band gave Wales a very nice reward finishing 3rd. Alan Davies brought to the performance a great expressive vitality and a reading full of character. We fancied it for 4th place and it scored highly in the mind of the judges as well as it contained some lovely little touches from all the leading players and a nice well balance ensemble sound.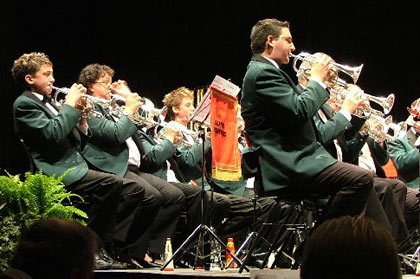 Welsh wonders: Llwydcoed give their all to claim third place

Scoring high with the judges, and taking the 4th prize, Barnard Castle Band produced a performance where sonority and blend certainly gave pleasure. They were the last band to play in the section and we had them 5th and they certainly rounded off the contest on a very good note indeed, and they were justly delighted when their name was announced at the results. A famous old band is certainly making a comeback on the right roads here.

Photo: Steve Jack
Blowing for Barnard: Wayne Filer leds the way for the north east challengers

In summary then, this was a long but a most enjoyable contest. 22 bands is a huge field, but time flew by due to the fine selection of test piece, MDs who all tried to bring the music out without sacrificing the basics of good brass playing and players who responded in kind. There were variable performance of course but it is not patronising to say that every band brought something to, and out of the music here on the day, with the winners and runners up in particular delivering very fine accounts. Most listeners, 4BR included, concurred absolutely with the judges and the six bands in the frame, and that tells you more than anything that this was a contest to relish.
John James