2006 Lower Section National Finals - Introduction to Harrogate
19-Sep-2006
The Lower Section National Finals hits the genteel well heeled town of Harrogate this weekend. 4BR will be there and enjoying it even if the Conference Centre is a souless place and the cream teas are a tad on the expensive side.
---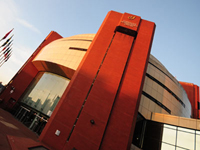 Was it really a year ago that we were all here in the sleepy Yorkshire town of Harrogate listening to 68 bands as they tried to become National Champions in their respective sections? How time flies, especially when you consider that from all the bands who played here last year only a handful return this time around.

That of course may well be due to the fact that nearly all have gone onto bigger and better things since qualifying to get here, but it would be interesting to take a straw poll and find out how many of those bands are actually in better shape now than they were then. Qualification to the Lower Section National Finals can bring short as well as long term benefits or course, but it is still a pretty amazing achievement for any band to play here, not just musically, but also financially too; Harrogate ain't a cheap place to come and spend a weekend – just try and get and buy a cream bun in Aunt Betty's tea room.

That said, the venue itself is a rather soulless place to play. They do get lots of top quality acts and conferences here throughout the year, but they also get a decent audience too – something which has been in short supply in the past couple of year here at the brass band contest. There are the usual grumbles about ticket prices etc for players, but given that Harrogate isn't exactly a buzzing hip place at the best of times, let alone a cold September weekend, and that the organizers have tried to encourage more people to stay in the auditorium to listen to the bands, it would be great to report that the hall was packed to the rafters for each of the sections.
That may not be the case this year (even many a lower section bandsman tends to rather spend their time whiling away the hours after they played with a glass or two of local brew and a widescreen television showing Premiership football), but there were encouraging signs, especially in the Fourth and Third Sections that there is a potential for a growing audience.

Perhaps it is also time to really take the example of the Norwegians on board and literally open up the Championships to encourage a much more 'user friendly' atmosphere. There they have open adjudication and the compere introduces each band to the auditorium with a short five minute, light hearted biography of the band, its MD and players as they set up on stage ready to play. It works wonderfully well and the halls in Bergen are pretty much full for the whole contest as a result. It's worth a go.
The music the bands will tackle this year should also make for interesting listening too, even if in a couple of cases the bands would have been heartily fed up of receiving reams of errata from the publishers – especially for the First Section set work, 'Ballet from The Perfect Fool'. Bands don't mind flogging themselves to death over a test piece if they like the music, but even when they do, even that becomes a pain in the backside if you have to waste 20 minutes in a rehearsal sorting out the dodgy parts. Something for the organizers and Music Panel to look at and sort out in time for next year.
Still, Harrogate should provide us with a clear indication to whether or not playing standards are improving. The youngsters of course will bring all the verve, joy and talent (and plenty of noise) to the weekend, and it really does warm the cockles of the most sceptical of old hearts when you see how much enjoyment there is to be had in playing in a brass band for these kids. Sales of crisps, red pop and Haribo sweets will go through the roof as will hair-gell and girls bits and bobs from the local 'Claire's Accessories' shop, whilst many a mam and dad, uncle, aunty, gran and granddad will have a tear in the eye after seeing their offspring do themselves proud. They will also be knackered too after trying to get them to bed on time.

Lets hope the youngsters set the tone for what should be a great weekend. There is pride as well as honour at stake and every band will be determined to head home crowned as National Champion. We wish them all well, and 4BR will be there covering the event live too so check us out somewhere in the foyer and say hello.
Many thanks also to all the bands who provided us with invaluable information to help us prepare our coverge - it was very much appreciated and we hope you enjoy what we have done and intend to do what with our live coverage and podcast, news, views, interviews and snippets from each winning performance later next week.
4BR Team