2006 Lower Section National Finals - Second Section introduction and predictions
19-Sep-2006
It may well be about which of the 16 bands here can really get into the Goths if they are to end up as National Champions. Marilyn Manson look out then!
---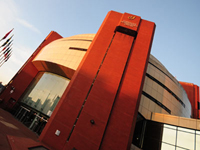 Test Piece: Gothic Dances (Alan Fernie)
Adjudicators: Alan Fernie and Graham O'Connor
Saturday 23rd September
Commences after award ceremony for Third Section

Whereas the First Section has yet to make a real mark for itself perhaps due to its relative youth, the Second Section has a real sense of history about it since it first took place in 1945 when Camborne Town were winners. In a neat twist of fate, the trophy returned to the West of England 60 years later last year with the St. Keverne Band conducted by long time Camborne MD, Derek Greenwood at the helm.
Since 1945 some pretty decent bands have had their names engraved on the winners trophy here including the current Champion Band of Great Britain, Leyland who in winning in London last October became the first band ever to go on a win the National title after winning a sectional one: Their Second Section win mind you was in 1979. Will one of the 16 bands here go on one day and emulate them – you never know?

That though may be the stuff of fantasy at present, but there is certainly a strong line up of competitors here this weekend all determined to carry away with them the title. Of the 16 bands here last year, only one, Wire Brass has gone on to make a mark in the First Section and qualify once again, whilst Lockwood Brass returns for another bite of the cherry this time around. Three bands that competed in the Third Section Finals last year though make it back again this time.

All 16 bands should enjoy Alan Fernie's 'Gothic Dances' much more than the rather ill advised 'Belmont Variations' which made for some uncomfortable listening last year and adjudicators Graham O'Connor (who has won the title here on three occasions) and the composer himself, Alan Fernie should have plenty to enjoy in separating out what on paper looks some pretty well matched bands.

Just a note though - this piece has nothing in common with the music of spotty teenagers who dress head to toe in balck and want to look like Marilyn Manson - thank goodness for that! This one is a classy and very clever bit of work from the Scotsman once more (although we did wonder what he would look like dressed as a undertakers assistant with black mascara!
It will also be interesting to see what the conductors make of the chance to impress the composer with their individual interpretations and amid the ambitious youngsters with the baton are a few older heads. These could be inspired choices, such as composers Bruce Fraser and Philip Sparke as well as two stalwarts in the shape of Stan Lippeatt and John Roberts and two leading current players Chris Bradley (top man at Whitburn) and Geoff Hawley (sop at Riddings) and a couple of old Dyke stars in Paul Holland and Peter Christian.

Yorkshire last won the title here when Graham O'Connor took Hatfield to victory in 2003 and the White Rose County has a proud record of achievement over the years. This year their representatives are Grange Moor and Meltham and Meltham Mills – both with long and proud histories too. Grange Moor was a clear winner at Bradford (their third successive regional title) under the direction of Duncan Beckley and they could well the same here as well and they are many people's tip for a top six place at least. Meltham meanwhile continue to make fine progress under Stuart Fawcett and they too could be worth a bob or two at the Harrogate bookies.
The North West sends two strong representatives in the shape of Blackpool Brass and Bollington both of whom will be looking to return the trophy back over the Pennines for the first time since Oldham's Millennium victory in 2000. Blackpool surprised many by the quality of the performance on their home patch where they were clear victors ahead of their rivals. Andy Wariner though has done sterling work in bringing the band on and they will head to another more relaxed holiday destination full of confidence. Bollington meanwhile continue to prosper under the astute direction of Peter Christian and they too should be entitled to head east with high hopes of doing well.
Scotland meanwhile hasn't tasted success here since 1997 when the Bathgate Band repeated its 1989 victory, so perhaps Barrhead Burgh or City of Discovery can change that this time around. Bruce Fraser led City of Discovery (who hail from Dundee) to victory in Motherwell with a very accomplished performance and if they can repeat that form again here they could well feature highly. Barrhead meanwhile are led by the talented Chris Bradley who brings all his experience and musicality to their performances. They too could well feature if they play to the top of their form.
The Welsh last tasted succession 2001 when the Ammanford Band took the honours from the number 1 spot, but regardless of the draw this time, they do send perhaps the hot favorites to take the title in the shape of the Newbridge (Celynen) Band. Packed to the gunnels with ex top section players they could well be the band to beat. Joining them will also be a strong contender in the shape of Tylorstown Arriva Trains under the direction of Gary Davies who have started to hit some good form of late and could well be a dark horse for honours.
Further south and the West of England will surely be keen to repeat the success of last year. There is a real sense of youthful vigour in the region at present and both St. Dennis who won the Fourth Section title in 2002 and Lympstone South West Telecom are two bands that have their fair share of talented youngsters in the ranks. Led by two very experienced MDs both more than have the capability to returning home with at least a top six prize for their efforts.
London and the Southern Counties are also fortunate to be able to send two very good bands in the shape of Jersey Premier Brass and Denham Hendon. Jersey of course took the honours in the Third Section here last year under the baton of Welshman Tim Pritchard who is doing remarkable musical missionary work on the channel island. Even with a huge turn over of players and a massive task of raising the funds to get here they return once more and they are determined to make it a double. Denham meanwhile are led by Philip Sparke no less and with a good mix of youth and experience in their ranks they too could have cause for celebration come results time.
The Midlands last tasted success here in 2004 when the Hathern Band won, and the two qualifiers in the shape of Foresters Brass 2000 and Hopkins Solicitors Blidworth may have two of the longest names on the entry sheet, but also have a good chance of making a mark too come the contest itself. Foresters took the honours in Burton in March but it was Blidworth that came out on top at Butlins when they came runners up in the Second Section. Both benefit from excellent MDs in front of them and plenty of talent in the ranks so they could well fancy their chances of a possible one/two on the weekend.
That just leaves the bands from the North East, and Lockwood Brass who came 8th here last year and Wansbeck's Ashington Colliery. Both qualified from the smallest field of competitors at Darlington (just 5 bands made it to the starting line up), but both were good value for their qualification nonetheless. Lockwood continues to make good progress under the stewardship of the talented John Roberts whilst Ashington are also benefiting greatly from the sensible leadership skills of Nigel Steadman.
As can you can see them, there are plenty of good quality bands on show here this weekend here, and even though one or two do stand out from the rest on paper, that won't count for much as soon as they take to the stage. We have to make a prediction though and putting any Welsh partisanship aside it will take a good band to beat Newbridge (Celynen) for the title. They have plenty of old (and graying) heads in the ranks and should be too strong for the opposition if they play to form.
Chasing them in case their come a cropper though should be the likes of Grange Moor, Lockwood, Blackpool Brass, St. Dennis and Hopkins Solicitors Blidworth with our dark horse being Tylorstown Arriva Trains.
4BR Prediction:
1. Newbridge (Celynen)
2. St. Dennis
3. Grange Moor
4. Lockwood
5. Blackpool Brass
6. Hopkins Solicitors Blidworth

Dark Horse: Tylorstown Arriva Trains