2006 Lower Section National Finals - Third Section introduction and predictions
19-Sep-2006
Which one of the 16 bands here this weekend can recapture all the glory of the balsa wood sets and biased presenters of the 1970s Best of Brass and claim victory on Gordon Langford's 'Sinfonietta'.
---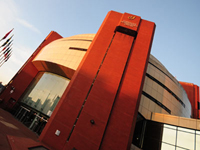 Test Piece: Sinfonietta for Brass Band (Gordon Langford)
Adjudicators: Kevin Wadsworth and Steve Pritchard-Jones
Saturday 23rd September
Commences 9.30am
Gordon Langford's 'Sinfonietta for Brass Band' is one of the most easily recognisable tunes ever written for the medium. It has seeped into the collective consciousness not because it was a great test piece (although it is a very good one), but because it was used as a theme tune to a television brass band knockout programme called 'Best of Brass' which used to be the BBC's flagship effort to show that it hadn't lost touch with its supposed grass roots licence fee payers.

The programme was crap mind you. Sets made out of balsa wood and plastic flowers, presenters dragged from the death zone that was regional television and two judges in Bernard Keefe and Trevor Sharpe (who used to say the word ensemble in an accent reminiscent of the English gendarme in 'Allo 'Allo) who were mind boggingly useless. The music though that introduced the programme was great, and always sounded very hard. We bet that hasn't changed.
The piece was used here at this level in 1996 and its great to see it back (although not the Best of Brass programme of course – the BBC would consider celebrity monkey tennis before it was even think of putting brass bands back on our screens nowadays) and it still sounds hard, especially for Third Section bands. That said it is no harder than Entertainments which was the regional piece, although that was made to sound a lot harder by many MDs having no idea how to approach it in the right manner.
This year 17 bands do battle to see if they can take back home with them the title of Champion Band of Great Britain and the two judges, Kevin Wadsworth (who played on the original recording with Black Dyke of the piece in the mid 1970s) and Steve Pritchard –Jones should enjoy the task of trying to separate them out.
Last year Jersey Premier Brass took the title and has gone on to return back here in the Second Section, whilst former winners include the likes of British Open winners Marple (1986) as well as Ashton under Lyne (who were at the Open this year). That shows that winning here can be the first step to greater things, whilst a number of more recent winners have more than held their own at a higher level.
There are no returnees this year but both Broxburn and Norfolk Wherry Brass competed in the Fourth Section Finals (both coming in the top 10).
Yorkshire last had a winner here a little while ago and their two representatives will be keen to get their hands on the trophy for sure.
Horbury Victoria won the day at Bradford in March and were very good value for it too under the astute baton of the experienced Bob Walker (who if we remember had to cancel a wedding anniversary trip because of the qualification). His band has been on good form since and we are sure his wife has even forgiven him by now, so they could be in with a shout come the results if they play like that once more. Clifton and Lightcliffe also benefit from an experienced man at the helm with the former Black Dyke cornet player John Clay doing a grand job with them. They too could well feature if they play to form.
The North West has a fantastic record of achievement at the contest in recent years and that could be set to continue this time around too if Rainford and Flixton produce the type of form they have shown now for some time on the contest circuit. Flixton in particular are a very well drilled outfit with a fine young MD in the Welshman Kevin Gibbs, whilst Rainford also befit from the expertise of a quality trombonist in the shape of Neil Samuel. These two strong contenders could very well feature in the prizes come the results.

Scotland perhaps sends the most intriguing band down in the form of Tullis Russell Mills under the baton of Alan Morrison. Their ranks have been boosted by three former 'old boys' in the form of James Gourlay, John Wallace and John Miller. Not a bad trio to have at anyone's disposal especially in the Third Section! Whether or not that pays off remains to be seen, but it won't half help and the band was pretty good in winning the area contest without them anyway. Joining them will be Broxburn Silver, who may not have the celebrity helpers but are a solid band under Colin MacKenzie and should more than hold their own in this company.
Wales in due a winner here. The last time a band from the Principality was successful was way back in 1992 when Beaumaris and District took top honours. Beaumaris are back (in the shape of the organisations B Band) and were classy winners in Swansea under the baton of Paul Hughes. Time for a repeat performance perhaps?
They will be joined this year by a band with a famous old name - Radyr and Morganstown (Mellingriffith) who have been making good progress under Gareth Ritter and have a fine mix of real old heads and youthful vigour to call upon.
It's now a decade since the last band from the West of Engalnd were triumphant at the contest when Yeovil won in 1996, but there is real confidence that both St. Pinnock under the talented young Darren Hawken and Gillingham Imperial Silver under Eric Haines can do well. Both were very good in qualifying in Torquay and if they can both repeat that kind of form they may well push for honours.
The Midlands also send three strong contenders in the form of Long Eaton Silver, Leicestershire Co-op Snibston and Moulton '77 Brass. All three were very good in qualifying – Long Eaton especially in winning and all three have MDs of experience and good musical sense at the helms. All three have had good years so far on the contesting front as well and they will be determined to add further honours to their CVs here. Watch out for all three.
London could however provide a winner with both their qualifiers, Norfolk Wherry Brass and LBG showing excellent form at Stevenage. Norfolk Wherry are certainly a band on the up and last year they won the 4th Section area title and were more than a touch unlucky to get an early draw here in Harrogate and still come 5th. LBG meanwhile have only returned to the contesting scene after a 30 year break in 2002 and have made remarkable progress under the baton of Ian Stewart. More of the same could well be on the cards here for both bands.
Finally the North East is represented by the lads and lasses from Durham Constabulary and Stape Silver. Keith MacDonald has really set Durham on fire of late and they were in resurgent form at Darlington. The good times are beckoning once more for a band that not so long ago was in the Championship Section in the North East. Stape meanwhile are making excellent progress under the talented Mike Breckon who returned back to conduct this year. This very young band worked their socks off in qualifying, bringing in Garry Hallas to conduct and getting Mike Breckon to play flugel and it worked a treat. If they can show that kind of spirit again you never kow what might happen.

Who will win then?
Unlike the Second Section there is no real stand out candidate here but there is a whole handful of bands that could take the contest by the scruff of the neck and win it well. With standards varying at the different regions around the country we think the traditional strength of the North West may pay dividends the most and we opt for Flixton to carry off the honours.
They will be hard pushed though we think by the likes of Long Eaton, Beaumaris B, Rainford, Norfolk Wherry and St. Pinnock with our dark horses Horbury Victoria.
4BR Prediction:
1. Flixton
2. Beaumaris B
3. Long Eaton
4. Norfolk Wherry
5. St. Pinnock
6. Rainford
Dark Horse: Horbury Victoria