2006 Lower Section National Finals - Fourth Section introduction and predictions
19-Sep-2006
Philip Sparke has provided the 22 bands here with a great test piece. So which of them will be celebrating with lashings of pop and crisps for the youngsters and something a bit stronger for the olders heads come Sunday.
---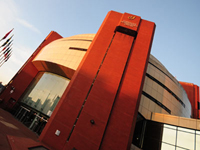 Test Piece: Valerius Variations (Philip Sparke)
Adjudicators: David Lancaster and Ian Brownbill
Sunday 24th September
Commences at 9.30am
The real highlight of the whole Lower Section National Finals weekend will of course be the Fourth Section contest. It's easy to drop in the overused clichés that its all about happy smiling youngsters cajoled by older heads, weeping relatives and bucket loads of enthusiasm outweighing the poor tuning, dodgy balance and wrong notes, but its still a pretty accurate assessment nonetheless.

There is course plenty of the aforementioned things on view but overall the standard of the bands playing here has generally improved in the past couple of years thanks mainly to excellent choices of test pieces. This year is no exception either with Philip Sparke's neat 'Valerius Variations' full of the type of challenges both performers and listeners alike enjoy.
All 22 bands will have approached the piece knowing that it would take some playing, but once they got into it we are sure they found that it was certainly not beyond them and rewarded those who put in the hard graft and paid attention to the basics of good brass band playing. Adjudicators David Lancaster and Ian Brownbill are knowledgeable musicians and are both constructive in their remarks without ever resorting to unwarranted plaudits for the sake of them. All the bands will get detailed and very accurate assessments of their efforts telling them exactly what they did right and where they went wrong. Both tell it to bands and listeners straight – and we like that.

Both men should enjoy themselves in the box too for there are a whole batch of bands here who could very well take the contest by the scruff of the neck and get their mitts on the Nationals Trophy. Winning here has also been a good indication of a band very much on the up and in recent years the likes of Beaumaris B, Shirland, St. Dennis, Wardle and last years winners Valley Brass have all gone onto bigger and better things. Lets hope the same is true for whoever is successful on Sunday.

Yorkshire sends two highly competitive bands this year both led by exciting conducting talents and both hoping to come away with at least a top six placing for their efforts. Dodworth Colliery MW sounded a well drilled outfit in Bradford and really responded in kind to the directions of their MD Eliot Darwin. If they can repeat that type of form again they should feature highly. Emley also sounded an accomplished band under the baton of Gary Hallas and even though they may be one of the youngest bands in terms of average age here this weekend they won't be put off and they too will be confident of doing well.
The North West meanwhile sends three strong contenders in the shape of Oldham (Lees), Formby and Lostock Hall Memorial. Oldham has made remarkable progress under John Collins tutelage and was on commanding form in winning at Blackpool for a second year in a row. Last year they came 4th and were good value for it, and they will return all a year older and all a year more experienced with it. That could mean even more good news come the results.

Formby meanwhile made something of a splash on their contesting return after a few years away rebuilding and off a number 1 draw too in Blackpool. If they can repeat that type of form once more (although we think they would prefer a later draw perhaps!) they should continue to impress, especially as they have a talented MD in the form of Louise Hough. Lostock too will be out to make a mark and although they were just a little way behind the other two qualifiers in March at the Winter Gardens they have certainly been busy and will fancy their chances under Phil Edwards.

Wales last tasted success at this level in 2000 when Beaumaris B took the title back to North Wales, but their two representatives, Llwydcoed and Crosskeys Silver showed fine form in qualifying from a 15 band field in Swansea in March. Llwydcoed are certainly a band moving in the right direction (they were 10th here last year) under the experienced Alan Davies and have in their ranks 67 year Valmai Davies who plays the organ at the local crematorium and a bit of percussion in the band. She is certainly used to impressing the person in the box then! Crosskeys meanwhile are also making good progress under the guidance of Keri Bowden and they may well fancy their chances too of making the right impression on the judges.

Scotland hasn't tasted success here since 1973 we think, when Dundee was triumphant amid the three day week, entry to the Common Market and Cliff Richard losing the Eurovision Song Contest. Time for a change then and their hopes of victory rest on the backs of Turriff Silver led by Frank Cranna and Bon Accord Silver under Bruce Wallace. Both qualified well enough at Motherwell, although the overall standard of playing wasn't that high in the small seven band field. If they can up their game here though then better things await.
Where there were few in Scotland there were many (and we do mean many) at Burton on Trent where 23 bands took to the stage to impress adjudicators Geoffrey Whitham and Alan Hope. Wellington (Telford) were impressive in winning there under the baton of Stephen Curtis, and will be keen to improve on last year's 17th place here at the Finals whilst Amington, who had only just returned to the contest scene after a period away were equally solid and secure too. They were joined here by Newstead Youth and all three bands will be looking forward to pitting their musical wits against bands from further afield. Midlands banding is on an upward curve at the moment and these three bands are living proof of that. All three will provide stern opposition.
There was also a decent turn out of bands in the North East and both Barton Town and Barnard Castle were excellent value for their qualification in Darlington. Barton, conducted by Mark Bentham overcame a real 'heart stopper' of a moment in qualifying when things could have gone disastrously wrong, but they showed great character or no little skill in overcoming the pitfalls and winning through. That could prove invaluable here this weekend. Barnard Castle meanwhile are a band really making a comeback and its nice to see such a famous old outfit returning to the National stage.

The West of England has a great record here over the past few years and their four representatives will be keen to keep that going for sure. The reason for the four is that there was a massive 26 band field in Torquay and all four bands were well worth their qualification in what was a very good contest. Verwood in particular will be fancied by many to feature and are led by David Marshall once one of the army's top musicians and conductors and now enjoying a musical retirement in the West Country. They are many people's tip for the title and will surely better last year's 6th place if they play to form.
They will be hard pushed though by their local rivals, with Sidmouth under Adrian Harvey a very competent and solid band, Wincanton directed by Joanne Sykes (wife of you know who) determined to better her husband and claim a National title in her own right and Bream Silver directed by Huw Cole all capable of doing well.

Finally London and the Southern Counties who also provides four bands due to their mammoth 25 strong qualification pot in Stevenage. Thundersley were impressive in winning there late in the day and have since maintained a fine record of form under conductor Kevin Schroeder, whilst Waterbeach Brass is a band full of confidence after being revived by the appointment of James Utting a few years ago. Hungerford too are a band that should more than hold its own and returns to the finals for the second time in four years under the baton of Tim Crouter. The London line up is completed by Watford directed by Martyn France who is another MD who has revitalized a seemingly moribund band and with some experienced old hands in the ranks to supplement the talented younger players they too will be confident of doing a bit better than their local football team in the Premiership at the moment.

With a field of so many decent bands it is always hard to pick out who we think is going to win, but in for a penny in for a pound and these are the bands we think mat well feature come the results.

Verwood Concert Brass did sound very classy in qualification in Torquay and we think it could well be a scrap between them and Dodworth Colliery as both had that little extra about them that may just separate them away from the rest of the field. Oldham (Lees) too are a band that has made huge strides in such a short space of time and we think they will be well up there come the results too. Emley seem a good pick, but we also liked the sound of Lostock Hall, whilst one of the London bands we think could well feature and so we opt for Thundersley. Our dark horses (rather appropriately given their location) are Wincanton Silver.

4BRPrediction:
1. Verwood Concert Brass
2. Dodworth Colliery MW
3. Oldham (Lees)
4. Thundersley
5. Emley
6. Lostock Hall
Dark Horses: Wincanton