2006 Lower Section National Finals - The Adjudicators
19-Sep-2006
These are the eight men in the box this weekend - and there is plenty of experience in a nice mix of young and...not so young to get all important decisions right.
---
First Section: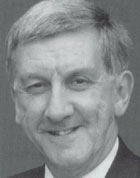 Malcolm Brownbill:
Malcolm Brownbill has more than 40 years involvement as player, teacher, conductor and adjudicator within the band movement. His wide musical experience has involved brass and military bands plus orchestral and choral work.
Originally staring to play the cornet in the Salvation Army, he became solo cornetist with several bands, and has conducted brass bands with prolific success since 1974, winning many prizes at all levels.
He is a former Police Inspector and Musical Director of the Merseyside Police Band, completing over 20 years in a position that involved him organising and directing many highly prestigious engagements. At the same time Malcolm has been professional conductor of such bands as Wingates, Cory and Laporte Industries. He has also proved over the years to be a very successful instrumental teacher and many of the young people who benefited from his guidance are now playing with our finest bands.
His experience as an adjudicator is widely appreciated. Malcolm has officiated at numerous prestigious events throughout the UK, including Area contests and National Finals. A council member of the National Youth Brass Band of Great Britain and a member of the British Federation's approved Adjudicators Panel, he holds the position of Public Relations Officer for the Association of Brass Band Adjudicators.




David Horsfield:
Born in Rastrick in the town of Brighouse, David can certainly claim ot come form brass band country. He began playing with his local Clifton & Lightcliffe Band and after graduating to Principal Cornet with them he became a member of the Brighouse & Rastrick Band at the age of 13 years that was very young for a Championship Band in those days.

In 1960, aged 16 years he was appointed Principal Cornet of B&R and made his British Open debut as principal that year under Alex Mortimer. During this time he won many solo competitions, was solo cornet of the B&R quartet that became National Champions in 1962.

After nine years with B&R he moved up the road to Black Dyke with whom he played for 9 years taking three National titles and two British Open wins. He was the band's Repiano Cornet.

When James Shepherd formed his Versatile Brass in 1972 David Horsfield was a founder member and played with them for 12 years featuring as Flugel Horn soloist. In 1984 on retiring form playing he decided to concentrate on his music publishing business 'Kirklees Music'.

In recent years he has turned his attention to conducting and adjudicating and is the Secretary of the Association of Brass Band Adjudicators. Work in this field has led to engagements all across the UK and in Europe including Belgium, France, Holland, Norway and Switzerland.
---
Second Section: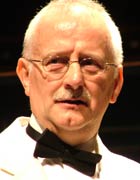 Graham O'Connor:
Graham was born in Dodworth, Barnsley in 1948 and started playing the cornet in the local village band at the age of seven.

At the tender age of thirteen he joined the world famous Grimethorpe Colliery Band, and then progressed under the guidance of Mr George Thompson to become assistant Solo cornet.

He kept an association with Grimethorpe for the next twenty years. During that period Graham had a spell with Brodsworth Colliery Band as principal cornet and simultaneously started conducting the Brodsworth Junior Band. In 1977 Graham became Musical Director with Andrews Heat For Fire and in 1980 gained success at the Pontins Grand Shield Contest.

1981 saw Graham taking the reins at the Rockingham Band as Musical Director and the same year won the 2nd section area championships,the subsequent London National Finals the Pontins Contest the C.I.S.W.O Area Contest and the C.I.S.W.O Finals contest at Blackpool, a record that has not been equalled since.
IN 1988 Graham was appointed Musical Director of Dodworth Band and achieved numerous successes in both the contest arena and on the concert platform.

Graham has conducted numerous bands over the years including Stocksbridge Engineering Steels Band, The Cory Band,British Telecom Band, Marple Band, E.Y.M.S Band, Fishburn Band and The Ransome Band. Graham's ability as an adjudicator and band trainer is well known and his success rate has put him in demand with bands all over Europe.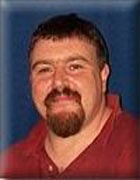 Alan Fernie:
Alan Fernie hails from Newtongrange, where he joined the local brass band as a youngster. He went on to study trombone at the Royal Scottish Academy of Music and Drama and played for many of Scotland's leading orchestras.

Today, he is best known as one of the UK's leading arrangers and composers of brass band music. It is virtually impossible to find a brass band anywhere in Britain that has not played at least one of Alan's arrangements, and he continues to be asked to write new material for the UK's leading brass bands (e.g. arranging numbers for the celebrated Brass in Concert championships at Spennymoor).

Meanwhile, his work as a conductor has taken him all over Scotland and abroad. He regularly travels to Norway to conduct a band in the Norwegian Championships. Having first taken up the baton at Jedburgh some five years ago, Alan Fernie has lifted the standard of the band to unknown heights for which we respect him enormously. Alan is a consummate entertainer, and is extremely popular with band members and audiences alike.
---
Third Section: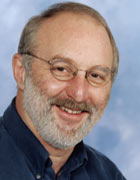 Kevin Wadsworth:
Kevin started his playing career on cornet at the age of six. He is probably best known for his time as the solo horn player with the Black Dyke Mills Band, joining them at the age of 14 - the youngest player ever to play for them.

Kevin was accepted into the National Youth Brass Band and was the first recipient of the Pye Records Award as outstanding soloist. He attended King Alfred's College, Winchester during which time he was a founder member of the City of London Band. His concert work has included Royal Command Performances, the first appearance at the Proms of a brass band and appearing as guest soloist at the Bergen International Music Festival. He has conducted Nigel Kennedy and Julian Lloyd Webber and has worked with many people from the world of light entertainment including Antony Newly and Petula Clark.

Kevin's brass band conducting experience includes directing Meltham and Meltham Mills, Lockwood, Carlton Main Frickley, Dobcross, Holme Silver and Innovate Skelmanthorpe.

Kevin is also a busy brass band adjudicator and is an Executive Member of ABBA, the U.K. panel of adjudicators.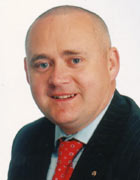 Steve Pritchard Jones:

Steve started playing a brass instrument at the age of eight with Porthywaen Silver Band and went on to study music at Liverpool and at Trinity College of Music, London before beginning a career in the performing arts as a conductor, player, composer, teacher and adjudicator.
As Head of Expressive/Performing Arts and Community at Belvidere School in Shrewsbury he heads a large department specialising in Art, Drama, Dance and Music. He is also the Shropshire Learning Representative for the National Union of Teachers and in his spare time Steve is Chairman of Shrewsbury Round Table.
An active musician Steve guests with many of the countries finest brass bands as conductor and player. Alongside freelance work Steve is Musical Director of The Band of West Mercia Constabulary and until June 2006 was Musical Director of North Powys County Youth Band. Steve plays trumpet and keyboard regularly in theatre productions and has performed with the brass section of the Royal Liverpool Philharmonic Orchestra and has worked for both Granada and the BBC.
Steve has recently worked with both Tredegar Town Band and Cwmaman Band. In October 2006 Steve is engaged to conduct a major concert at Symphony Hall in Birmingham involving Tredegar Band, West Mercia Constabulary Band plus representatives from Midlands bands to form a 170 strong brass band with a 320 strong male voice choir and the Birmingham Symphony Orchestra Young Voices.
Steve tutors on brass band courses and workshops throughout the UK and is house tutor with the National Youth Brass Band of Great Britain and the National Children's Band of Great Britain.
Steve was one of the first recruits on the Adjudicator Training Scheme organised by the Welsh Regional Committee and directed by Brian Buckley. His adjudicating schedule is very busy and adjudicates all over the UK at local and regional contests. In 2004 he adjudicated the 3rd and 4th Sections in Wales, 2005 Championship and first sections in Scotland with David Read, 2006 2nd and 4th sections West of England with Alan Morrison and in 2007 booked to judge at Yorkshire, Midlands and London and Southern Counties regional championships plus many local association contests.
Steve is booked to adjudicate the 2006 3rd section Lower Section Finals in Harrogate. In July 2006 Steve graduated with a Licentiate Diploma in Brass Band Adjudicating from Salford University in association with the National Association of Brass Band Conductors.
A member of the National Association of Brass Band Adjudicators and the National Association of Brass Band Conductors.
---
Fourth Section: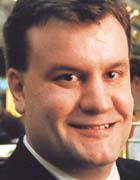 Ian Brownbill:
Ian started playing the cornet and piano at the age of ten and his career as a performer with brass bands culminated in him joining the Black Dyke Mills Band on flugel horn in 1993. Hi-lights with 'Dyke' included winning The British Open, European and National titles in 1995, under James Watson. In more recent years, Ian has 'guested' in some of YBS's recent successes, with his former cornet tutor and great friend, David King.
With the baton, Ian enjoyed successful spells with Ifton Colliery, Rhos and Co-op Milnrow, gaining major prizes in National finals with all of these bands. In 2001, Ian was delighted to be asked to conduct one of his local bands in St Helens, The Haydock Band. In 2003, following numerous contest successes, Haydock made it to The Royal Albert Hall for the championship section finals of The National Championships of Great Britain.
Ian has adjudicated at numerous contests and music festivals across the UK, including the North West and Yorkshire Regional Championships, The British Open Championships (Senior Cup), The British Open Solo Championships and the inaugural Scottish Open Championships.
Having gained a degree in the performing arts, he enjoyed many years teaching and mentoring young musicians, including five fantastic years at St. Vincent's School for the Blind in Liverpool.
Ian now works with 'Metal', helping to develop large and small scale creative projects, across artistic disciplines. In September 2007, The Lowry and Liverpool Culture Company are producing 'King Cotton', a piece of music-theatre which tells a powerful story of 'Tom', a mill-working bandsman from Lancashire and of 'Sokoto', a cotton slave in the deep south of America. The two men's lives collide dramatically, during the American Civil War. It's a project Ian conceived and has been developing with the screenwriter, Jimmy McGovern for several years and which Jude Kelly OBE will direct.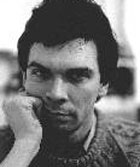 David Lancaster:
The Musical Director of The Harrogate Band, David Lancaster, began playing the cornet at the age of 11 with the Pemberton Old Band from Wigan. He subsequently played for several bands in the North West of England and won the Alexander Owen Memorial Scholarship in 1976. David went on to study music at York and Cambridge Universities before moving South to take up the post of Composer in Residence at Charterhouse School (1985-88). During this time his compositions were played all around the UK and he worked as a freelance trumpet player in London and Paris.
In 1990 David was invited to become the Musical Director of Runnymede Brass, in Surrey. Together they enjoyed many successes, qualifying for the National Championship Finals four times in succession and gaining promotion to the First Section. David returned to Yorkshire in 1994 to take up the post of Senior Music Lecturer at the University College of Ripon and York St John.
As Musical Director at Harrogate Band, David has shared many competition and concert successes with the band, including three overseas tours, two successful CD recordings, four appearances in the National Finals and, in January 2003, promotion to the Championship Section.
David is becoming well known as an adjudicator and he regularly works with other bands though his loyalties remain firmly at Harrogate! He is currently serving as External Examiner for the University of Salford's degree courses in Band Music.
He continues to compose and arrange extensively for Band, regularly undertaking commissions, and his work 'Cuba!' won the Leeds University/Black Dyke Band composition award in 2001. Several of his recent compositions are available on CD recordings and works are available from Dragon Music Publishing.
David looks forward to many future successes with the Harrogate Band.