2006 British Open Championships - Retrospective
13-Sep-2006
It's all a question of hard work and graft if you want to win an Open and gain all that glory. Just ask Black Dyke how they did it...
---
To obtain glory you have to put in the hard graft. Success doesn't come on its own accord however talented you are, so it should have come as no surprise to hear that Black Dyke had either been in rehearsal on Philip Wilby's test piece, or performing at a concert with a rehearsal on it built in, for 18 out of the last 21 days before the British Open.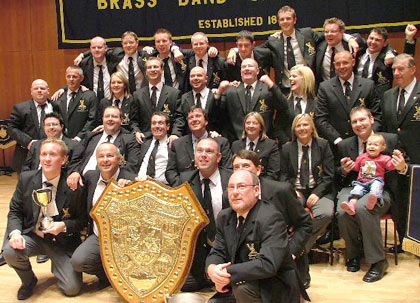 Hard work pays off: Black Dyke enjoy the glory of an Open vcitory - again

That's what it takes to win major brass band contests nowadays, and however hard you may think other bands tackle the preparation of an Open test piece, none do it quite to the same level of intensity like the band from Queensbury. The resulting glory is as predictable as it has been hard earned, and on Saturday it was also fully deserved. It was a win that was never really in any doubt after their last thumping climatic notes of 'Vienna Nights' rang out over Symphony Hall.
The contest itself was made all the more memorable by that test piece. Philip Wilby's skill in bringing together the differing strands of musical thought was touched by greatness – not genius – that belonged to Mozart and few others, but it was an example of a brass band composition of the very highest calibre. Lyrical yet taxing it explored every facet of the genre yet always had that ultimate sense of musicality at its heart. It also came as no surprise that performers and listeners greeted it with such warmth alike.
If there was a question mark about the piece it possibly surrounded the need for so many of the solo lines to be played standing. You could certainly see and hear why the cornet/euph duet in the Notturno was enhanced by it, but why not the solo lines in the recitative? Getting the basses, horns and baritones to get up and down made it look like a high class version of Hootenanny and made little or no difference to the music or the projection of the sections played. It would be better perhaps that these are made optional in future?
The contest itself started bang on 11.00am with the obligatory as weak as milky tea rendition of 'The Queen' by the band drawn number 1, Yorkshire Imps.
The draw itself was kind enough to the fancied bands what with Dyke at 11, BAYV, 17, YBS and Grimethorpe at 3 and 4 and Fodens at 9. It did however mean that there were going to be large chunks of the contest where occasional listeners would take time away to make use of the ample refreshments available in and around the Symphony Hall complex. Unfortunately that also meant that a number of bands were faced with such a sea of red seats staring back at them as they sat on stage that you could have taken time to introduce each listener to the band members in the time Bob Kerwick the compere had time to say 'and good luck to band number…'.
Yorkshire Imps gave a fair enough world premiere of 'Vienna Nights' that benefited greatly from Chris Houlding's understanding of the Mozartian genre but little to the lack of genuine quality of ensemble sound and numerous errors that blighted it from the word go. In the end it saw the band come home in 18th place (we had them 19th) and the band will return to the Grand Shield next year to try and get back here again.
Their performance also highlighted the fact that became more and more obvious throughout the day that even though the general standard of playing was pretty good, the gulf between the best bands and the rest is now even greater than ever.
The 2006 Grand Shield champions, Aveley and Newham certainly found that experience to be true when they took to the stage later in the day off draw number 18. Winning the Grand Shield is one thing, making a mark at the British Open is quite another and the difference in quality between that second tier contest and this premier league is now vast. Since 1996, Wingates, Rothwell (Leeds), Flowers, Carlton Main (twice), Todmorden Old, Cwmaman and now Sellers have failed to survive at the contest for any appreciable length of time, and you get the feeling that its going to get harder and harder.
Aveley's was a nervous and underwhelming performance that saw the band almost visibly shrink as they took to the stage as the players gazed out into the auditorium. They will have their work cut out if they are to survive the drop here next year. 16th place was about right for their efforts (we had them 18th)
Talking of disappointments however, there were quite a few notable bands that didn't either perform to form or just didn't get to grips with the test piece and its musical inspiration this year.
Most notable amongst these were Brighouse and Rastrick who many fancied to possibly make it into the top 6, but who delivered an error strewn account that sounded very much like it was under prepared. At one stage it even appeared that the MD was either lost or at least a bar behind his band, whilst the raggedness of the ensemble and the number of unforced errors throughout the ranks spoke of poor preparation and lack of communication between players and MD.
That it came 12th was much to do with the recovery in the last third of the piece (we had it down in 15th place), but given the way the results panned out this year they will not want to allow themselves a repeat performance in 12 months time. Brighouse are a fine band, but they are in danger of losing their way fast if they don't get their conducting team sorted out pretty pronto.
Reg Vardy is also a band that has seemingly gone backwards slowly in the last couple of years. The high water mark of the Nationals a few years ago has not seen them really kick on and become forceful contenders for the major honours as they would have hoped and although there are flashes of real class about them at times, this was another disappointing performance.
It is hard to suggest why they opted for such a muscular and brash approach to the music on this occasion (Ray Farr is a very cultured MD) but he misread this one completely with too much emphasis on the Wilby elements and not enough on the Mozart. The result was an account that at times hurt the ears and 17th place off the judges (we had them 16th) meant they had little to complain about and they will have to really up their game next year if they too are to avoid the drop back to the Grand Shield.
It's too late for Sellers International however, and after they produced an account that didn't quite meet the demands of the music both technically or musically they ended up in 15th place (we had them 14th) and dropped through the relegation trap door with Yorkshire Imps and Ashton under Lyne.
That was a little unfortunate perhaps given some of the accounts that beat them, but although there was evidence of real quality in many individual performances (notably from Iain Culross on solo cornet, Gary Bates on soprano and Mark Bousie on euphonium) it was a performance made up of too many individual parts and not enough team bonding. You also get the feeling that perhaps this is one band that looks at the minutia of a test piece in such detail that the broader musical picture is sometimes lost. Sellers have the ability to get back here quickly, but only if they learn to just play the music and let the rest take care of itself.
Back at the top end of the contest and things certainly warmed up early in the day when Kirkintilloch took to the stage as band number 2.
Steve Bastable once more opted for the lyrical approach and even though there were some moments when brashness robbed the quality it was a most persuasive account with the operatic Scena and Notturno is particular very well handled. It was one of the more stylish performances of the day and even though it was an early marker it fully deserved its end result of 7th. We just had them a bit further back in 11th, but one again Kirky showed themselves to be a high class band and the applause from a pretty full hall was genuine and appreciative of a fine effort.
Perhaps those with weak bladders or a penchant for an over priced cream cake and pack of bland sandwiches had already planned to stay in for the next two performances and then shot off out, but it was a healthy audience who sat transfixed for both YBS and Grimethorpe at 3 and 4.
They would have also left the hall after they played pretty damn certain that they had heard two performances that even though they may not be dead certs to win the contest would at the end of the day still be good enough to appear in the prizes. How wrong they were! (and 4BR for that matter)
YBS under the direction of a much more hirsute David King than we have been used to seeing for many a year were on thrilling form – in fact back to the type of form that they used regularly to show here for many years.
YBS have been rebuilding and have desperately searched in vain to get a soprano player to fit into the band and play somewhere near top form for the past two years or more. Here Bert Van Thienen from Brass Band Willebroek stepped into the breach and almost at once the sense of confidence that the band and the MD felt in having a player of this quality playing so well rushed through them like a surge of musical adrenaline.
The MD was back jigging like Phil Bennett for the Barbarians against the '73 All Blacks, whilst his players upped their games so that the error count was minimal and the thrill factor up in the stratosphere.
The MD also chose an interpretation that would stick in the memory too and he did take noticeable chances in one or two places as well as setting his band up in a slightly different formation taking the troms away from their usual position. The seating plan worked but for the men in the box (David Read, Nigel Boddice and Michael Ball) the interpretation and possibly some of the tuning didn't and they spanked them for it.
By the end of the final note we thought it a performance that would be difficult to beat, but the judges already had them in second place (we had them there at the end of the day) and falling and eventually they came 8th. It was a bit harsh perhaps but then again when you do take risks you can sometimes come a cropper. Watch out for YBS in London though as on this form they could be hard to beat.
There were quite a few people in the hall who also felt that they may have heard the eventual winning performance with Grimethorpe off number 4.
With Allan Withington in a splendid shirt and tie to match the famous purple ones of his band this was a very controlled and classy account that although impressive on the ear never quite set the pulse racing as was the case with YBS.
It was as if the soul of the music was missing, and although everything was done in the best possible taste and with a touch of refinement, the Mozart sections were a little heavy handed and it just didn't quite have that lightness of touch. It was one of those ones for us that just didn't quite come off as you would have hoped and even though we thought it well worthy of a prize (we had them 5th) it was still a bit of a mystery why they ended up in 9th place. Perhaps the draw may have counted against them, but Grimey haven't had much luck here in the past two years and they can now only look forward to London to see if they can win a major in a year that had promised so much.
If both Grimethorpe and YBS could count themselves a touch unlucky then Fodens Richardson must have run over a black cat in the band bus, broke a mirror in the changing room toilets and walked under a ladder before they got onto the stage. 13th place was a complete and utter mystery to those who heard them produce a well crafted, wonderfully balanced and very musical account under Garry Cutt.
It wasn't a winner for certain, but it wasn't worthy of 13th place either. Why the judges came to that conclusion we don't know, but it wasn't a performance that had a high error count, wayward intonation, a risky interpretation, poor soloists or dodgy ensemble. If it did have a fault it was perhaps it was too worthy and solid an account that it lacked character and that sparkle that so epitomised the winners. Still, we had them in 4th place and just about anyone who we spoke to had them in the prize list. In the musical poker game that is contesting Fodens either seem to be dealt a full house to win or get a pair of two's to lose their chips from the judges. The London Casino beckons and they can only hope they get a good hand to play from the men in the box there.
With the bands that played below form and those who played above and had no luck came the bands who to nick some golfing parlance, played a par round.
Chief amongst these were Hepworth (Lanson Homes) who did what they have now been doing for some considerable time and produced a solid account that more than justified its eventual placing in the results table.
It was a performance that did have its problems, most evident in the quieter sections where nerves and a high error count in some of the solo lines detracted, but in the general ensemble playing at the higher dynamics they were admirably precise and sounded very well rehearsed. Mark Bentham also kept something back in reserve for the final Alla Turca section and so it didn't sound brash and hard and tired. 11th place once more (we had them there too) showed that they are now a band that feels at home at this level of contesting and one which hopefully will improve even further.
The same could also be said of Rothwell Temperance, who although they would be disappointed with 14th place (we had them 13th) once again showed that they are a band that is certainly not out of place here. It was a piece perhaps that just didn't quite suit them in terms of style and approach and the high error count in the more exposed sections may have cost them valuable points, but there is a very good band here and they are more than capable of doing well at this contest over the next few years and in London in a months time.
Two bands who could certainly leave Birmingham with their heads held high though were Ashton under Lyne and Whitburn, both of whom have found life tough in recent months.
Ashton did themselves proud with a hard working performance that although lacking the quality of many of their rivals on the day befitted from an excellent approach by MD Philip Chalk and some neat and spirited playing from his soloists and ensemble. Yes they get relegated, and perhaps in hindsight their initial promotion may have come a bit soon in their development, but the signs are there that they are a band with a very bright future. Coming 19th was a touch harsh for us as we had them in 17th, but we think they may be back sooner rather than later.
Whitburn on the other hand will definitely be back next year and if they keep up the type of form they showed here they will be looking for a top six place next time round. From the mess of Cambridge to the solid non nonsense safe as a Volvo outing here, this was a different band entirely.
MD Andy Duncan placed everything on show without asking too much of his players and in return they responded superbly with their little soprano player Scott Forrest in particular having a great time. Come the end they knew they had played well and even if it did just lack that sparkle required to get it much higher up the prize list it was well worth the 10th place it eventually came (we had them 9th).
That just left the prize winners and on a day when people didn't think there was going to be much scope for surprises the judges did manage to pop in a couple even if the winners were as clear cut as any who have won here in the past 154 years.
Sixth place went to Carlton Main Frickley Colliery and really it wasn't that much of a shock at all after they had produced a very well constructed and lyrical account from the number 19 draw that made a final impression on what would surely have been three tired men the box.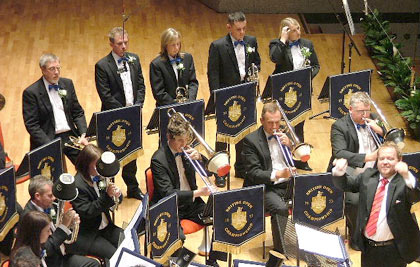 It seems Russell Gray enjoys standing his band to attention - it certainly worked!

Russell Gray opted to ask his cornet sections to stand rather than be seated and although it didn't quite come off it certainly made the players concentrate. The pros certainly outweighed the cons with this one and as such fully deserved its place in the top 10 and its squeeze into the top six (we had them 7th). A special mention must also go to young Ben Dixon on tuba who played his part like a demon and with so much artistry for one so young.
On a day when the standard of tuba playing was outstanding (there wasn't one poor example form any of the 19 players) he was right up there with the best such as Gavin Saynor, Les Neish, Shaun Crowther and solo prize winner Joe Cook. No higher praise indeed and fully justified.
Just in front of Carlton Main came Fairey who once again showed that they are fast approaching the standard that should make them one of the favourites to add to their list of titles here in the near future.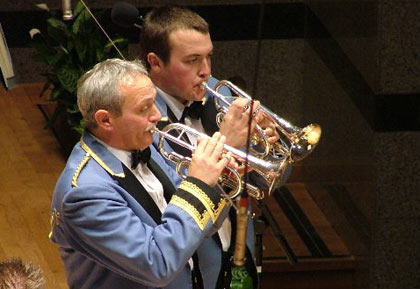 A fine mixture of youth and experience: Brian Taylor and Steve Wilkinson share the cornet load

Simon Stonehouse opted for a broad and lyrical approach that also had a clearly defined structure and a sense of precision in the more technical sections. His players too responded in kind and although there were a number of uncomfortable moments in some of the more exposed places, the sense of musicality always shone through. We had them in 8th due to that error count but it was good to see that such a well thought out approach had gained a reward as it did. They too are another band to watch out for in London, although they will be without their soprano player Rebecca Crawshaw who bowed out in fine style.
Fourth place went to Scottish Co-op, whom many liked (although we must say it was one performance that didn't quite register with us) and who showed a great deal of character and concentration to overcome a potentially disastrous PA system blow out about a third the way through their performance.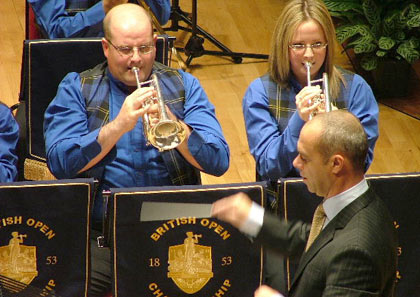 Sleeves rolled up for the hard graft: Allan Ramsay leads Scottish Co-op to 4th place

Allan Ramsay certainly set out his musical stall the way he felt he wanted and his players really did do what were asked of them. There were excellent individual and ensemble contributions too and although we felt that perhaps they played around too much with the Mozart interludes with a heavy rubato it was not seen that way by the three important men in the box – and that's what counts.
Allan is a gifted conductor and this performance once again proved that he has the knack of bringing the best out of his bands. Scottish Co-op is a fine band and cannot be discounted at any major contest, even if 4R may not like what they did with the music. They had the last laugh and not us.
That left the top three, and perhaps the one shock that people were not expecting. That said, many (including 4BR) had Desford in the top six (we had them in 6th place) but the announcement of the Midlanders in third place did send a shock wave around the hall.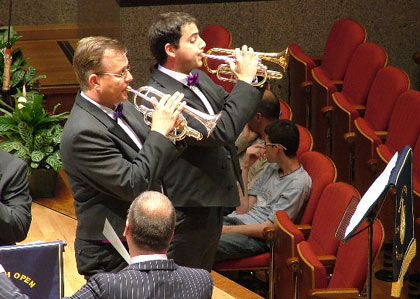 That operatic touch - Desford's top two men play to the crowds

Theirs though was a very cultured performance, notable for the direction of MD Nigel Seaman who allowed the music time and space but still kept a vice like grip on the more technical sections. It was also a performance that held your attention from the word go, and even though there were moments of uncertainty and a little discomfort, as a listener you were always drawn back to what they were trying to portray.
David Smith was superb on solo cornet with his operatic interlude one of the highlights of the day (he even walked on stage like a prima donna) and was playing of the very highest class, whilst other soloists in the band were not too far behind either. It was though that approach by the MD that really put the cherry on the cake and even if third place was a bit high for some in the hall it was still deserved. The good times are back for Desford and they can now jet off to the delights of the far east safe in the knowledge that they don't have anything to worry about here if they can continue to play like that next year.
Prior to the contest most people would have thought it was going to be a fight for the title between the brothers Childs and their respective bands, and in the event they were not wrong.
Both men have the same work ethic, comparable players of immense ability and a real desire to win. At present it is the younger of the two siblings that has the upper hand, but there is little to choose between them and it would come as no surprise if the tables are turned come London.
Buy As You View were excellent and on any other day would most probably won the British Open for a third time. That they were beaten (and beaten well it must be said) was due to a quite astonishing performance from Black Dyke. They can however be very proud of their efforts even if it did mean that they came runners up here for a third successive year.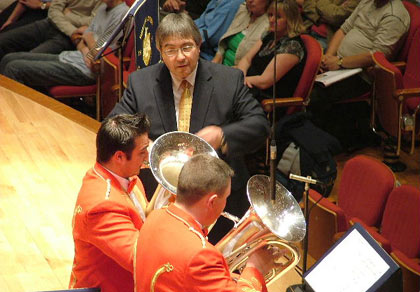 Just the three of us: Bob Childs directs his duetting euphoniums

Theirs was a tremendous performance enhanced by some wonderful individual playing (notably Ian Williams on solo cornet, Gavin Saynor on tuba and Michelle Ibbotson on soprano) and a technical ability that at times was breathtaking. If it did have a fault it was a slightly dodgy opening bar and little unease in some of the opening variations, but we are talking the most minor of quibbles.
The acid test though in comparison between them and Black Dyke came in the Notturno section where BAYV were merely (if that is the right word) superb whilst Black Dyke were magical. At this level that is the difference between coming first and second, and even though on this occasion there was a bit more than that between them, you do wonder if anyone could have done anymore to deny the Queensbury band the title. We had BAYV 3rd on the day but many others we spoke to had them either higher or lower. They head for London keen to renew their rivalry with Black Dyke once more.
And so to the winners and what can there be said about a performance that was stunning even by Black Dyke's highest of standards. After they had played we stated that it would be almost impossible to beat, and although there were some in the hall who felt Grimethorpe or possibly BAYV or YBS may have pipped them, they all acknowledged that Dyke had been at the very top of their form.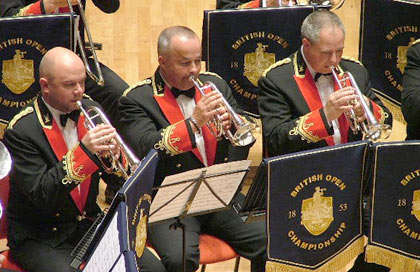 Back to front: Dyke's back row boys enjoy their spot in the limelight

The highlight was of course that Notturno section where the MD elongated the main solo lines with just a perfect and subtle amount of flexibility. Underpinning it was a quite sublime accompaniment whilst the soloists were of course outstanding. The technical hurdles were overcome with such facility that it left you wondering just how quick this band could play them if they so desired (listen out to the podcast and you will be amazed at the clarity of the semi quaver work on show in the Gallop).
By the time Joe Cook had delivered a real heart wrenching tuba solo in Variation 8 and Peter Roberts had been, well just Peter Roberts, the Alla Turca was just a joyful explosion of riveting colour and excitement. The MD did milk the last couple of bars but by then it was academic and all his preparation work, insight and skill in preparing his band to perform to such a level of near perfection had paid off in full.
Black Dyke were worthy 2006 British Open Champions, and even though we didn't get to hear why from the judges there were not many who disagreed with their decision. Symphony Hall had heard a truly world class musical performance that may not be bettered for some considerable time either by a brass band or a professional orchestra. It really was that good, and showed once and for all that to gain the glory the hard work of 18 out of 21 days of solid rehearsal is all worthwhile. That is now the benchmark for everyone else to try and emulate.
Iwan Fox.