2006 British Open Championships - Postcard from Birmingham
13-Sep-2006
Whatever the result, the lack of audience for some bands and even the judges not bothering to tell us why they made their decision, you could always end up back at the bar at Jury's Hotel and get the lowdown on the 154th British Open.
---
The British Open in the 21st Century may not been quite the heaving mass of brass band humanity that it once was, but it is still in pretty good health nonetheless.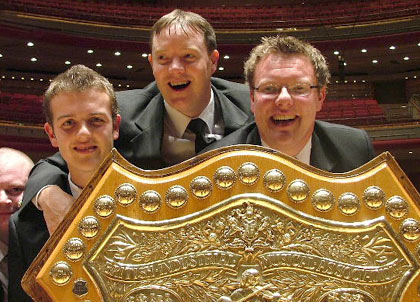 Happy faces: Lee Rigg, Tom Hutchinson and Richard Marshall try to hide their glee at winning

Anyone who was in the vicinity of Jury's Hotel near the hall into the small hours of Saturday night would have witnessed a scene that resembled the Star Wars cafeteria. The brass band fraternity descends on its foyer and bar area here by some sort of communal osmosis to celebrate and commiserate whilst generally chewing the contesting cud into the wee hours as the British Open is relived in an ever more alcohol induced recall as the evening wears on.
Add to the mix the local high life, police, sinister doormen and the general pandemonium of a city centre and it has quickly become a 'must be seen at' mecca for the good, bad and ugly of all walks of life. It is though, fascinating to watch and listen, even if the bar prices lighten your pocket very quickly indeed.
This year there must have been players from just about every competing band trying to blag their way in, get a drink and generally air their opinion about how and why the 154th British Open was won or lost.
The general opinion though was that Dyke was just about unbeatable on the day – a mixture of technical brilliance and musical knowhow that although it elicits some pointed envy is generally accepted at present to be the bench mark for all others to try and emulate. Respect is the word for it.
It was good to see people such as Allan Ramsay, conductor of Scottish Co-op enjoying the atmosphere as well as the congratulations from rivals and supporters for his efforts in directing his band into fourth place. He knew he had done well, but he still had the good grace to make sure he went out of his way to congratulate players and the conductors of the bands who beat him, and many who didn't. It was a good job his band didn't come 18th then!
There was also Ian Williams, principal cornet for the past 15 year of the BAYV Band and a player who has tasted his fair share of success making sure he congratulated players from Black Dyke and commiserated with others who didn't even come in the prizes. Dressed as neatly as his playing, this was a class player behaving in a class manner and representing his band, even with the disappointment of a third successive runners spot with real pride.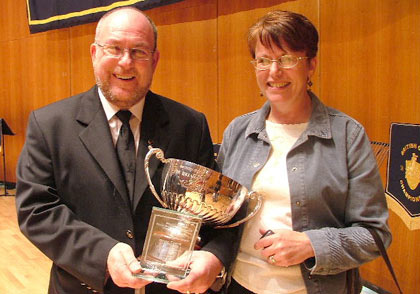 Look what I've won this time! Mr and Mrs Roberts celebrates yet another prize

The winners though had plenty to be proud about. Peter Roberts may be the elder statesman of soprano playing but you would be hard to find anyone who doesn't believe that he is still the 'Daddy' and by some considerable margin even if he had just won his 9th British Open title in his long career.
'It's every bit as good my first,' he told 4BR on the stage of Symphony Hall as well as picking up the Brian Evans Memorial Trophy as Best Soprano on the day. When it came to respect though, Peter was quick to point out that when it came to soprano playing, Brian was the man he looked up to. 'It's an honour to win this prize,' he added. 'Brian was such a brilliant player and a great friend and a player we all admired him.'
Joe Cook, Black Dyke's principal Eb tuba and the winner of the Stanley Wainwright Memorial Trophy also spoke of respect too. This time it was the other 18 tuba players who he felt had done the image of bass playing a power of good after tackling the treacherous solo lines in Philip Wilby's test piece.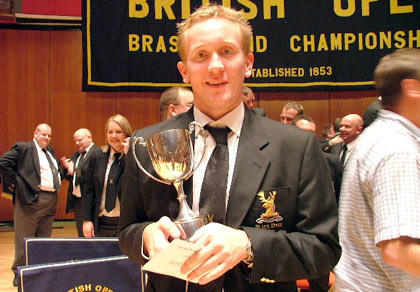 Tuba star: Joe Cook of Black Dyke gets his hands on the soloist prize

'I'm delighted to have won the prize of course, but I'm more pleased that tuba payers were given the chance to shine on this test piece by the composer. Euph players and cornet players get their fair share of the glory, but the standard of tuba playing this weekend from all the soloists was exceptional. We are very lucky in the brass band movement to have such great bass players – now everyone knows how good we are.'
That said, many people wouldn't have heard some of the excellent efforts that were performed after the curse of the 21st century – the 'cup of tea band' syndrome break meant that the hall at times resembled a spot the supporter competition.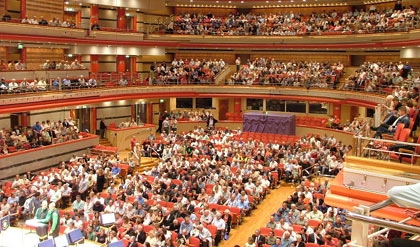 Come listen to the band - the audience get ready for YBS

We took two pictures of two bands – one for YBS and one for Hepworth and the difference was startling. YBS are of course one of the 'favourites' here and would gain a sizeable crowd even if some of the people were just coming in to witness David King's latest hairstyle, but Hepworth are a fine band too and would have been many people's tip for a top six place at least given their recent form. Why then the difference in the size of the listening audience?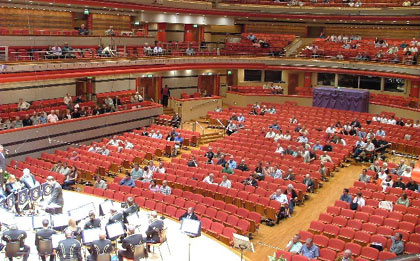 Cup of tea anyone? Hepworth suffer from the fickle nature of an audience

Hepworth were not alone as both Sellers and Whitburn in particular seemed as appealing as a re run of 'Maunsell Forts', whilst it must also be mentioned that the hall was never more than two thirds full even for the very best bands (Dyke included) as well as for the results. It's a modern phenomena that shows no sign of going away – people are becoming more and more choosy and want to intersperse their listening nowadays with trips to the café's, bars and restaurants that are to be found in and around Symphony Hall.
The organisers must now realise that the time has come to accept this as part and parcel of the contest day and make amendments accordingly. Less bands, one or two 1 hour comfort breaks, time slots for bands and better use of the in house PA system (rather than the gun shot moment when Scottish Co-op were on stage) would go some way to preventing such a mass exodus when bladders are weak or palettes are dry.
Get an audience in more often and they could also enjoy the more surreal moments of the British Open contest too. We all knew Philip Wilby had paid something of a musical homage to the three great geniuses of Vienna in Mozart, Freud and Mahler, but it was still great to see the conscious and sub conscious at work with many conductors as they tried to wrestle some sense from the score. Freud would have had a field day with some of them.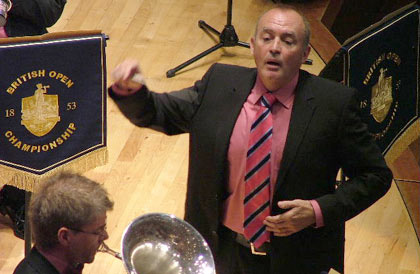 Suits you Sir!: Alan Withington displays a refined sense of dress sense to match his band

There is a reason behind everything we do Freud said, so it would have been interesting to find out why so many conductors still can't bear to allow their players the time and space to perform even stand up solo without having to contend with them beating every last quaver under their noses. There was also the stranger cases of MDs trying to be with one with their players by wearing the same shirt colours (a bad fashion mistake in the case of Allan Withington), strange ties (Russell Gray on fine form once more) and even one player (who shall remain nameless, but it was a trombone player whose dad directed the same band), we are sure wore no socks at all!
Time wise some MDs did opt for a more relaxed tempi when playing and the difference between some performances was anything up to 3 minutes. Most opted to settle around 15 and a half, but there were a couple quicker and quite a few slower. Interpretations did vary, although there were none thankfully that took their inspiration from the famous Glenn Gould performance of the Piano Sonata which sounded as if a Grade 3 seven year old was playing it at a school concert at such a speed to ensure that not one wrong note crept in!
There was also the strange acceptance by the organisers who actively encouraged the audience to show their appreciation of the bands efforts before they had actually played a note! Given that the programme notes actually requested that they didn't, and that as usual it was spoilt by the moronic tendency for some supporters to wail like banshees, it perhaps should be a trend that should be stopped in its tracks before it really does start to get out of hand.
That said, it was no worse than the slightly moronic tendency of some conductors to milk the applause by introducing every last member of the band to the hall after the last note as if it was the final curtain call at the Royal Opera House. Some of the attempts to squeeze a few more seconds applause out were faintly embarrassing.
With the action all out of the way then, we could sit back and wait for the results and the views and opinions of the judges. No we couldn't, and even though Nigel Boddice did give a very entertaining little speech he didn't exactly mention much about the test piece or what made their minds up about the winners. To say that it was disappointing would be an understatement – it was patronising in the extreme and another example of why so many people are no longer going into the hall to listen to the results. With quite a few fancied bands (and we after they played, not before) not getting within a mile of the top prizes it would have been very nice to have heard first hand why so many failed. Why bother wasting half an hour in the hall when they are not going to be told anything of value when you can get the result on their mobile phone anyway.
They 154th British Open however was a fine event despite all that. As always it was expertly organised, the test piece was a cracker and the standard of playing (especially from the top end) was truly memorable. There are still disappointments though, although it is always encouraging to hear that the organisers here are prepared to listen and implement if they feel it will enhance the contest. Certain things are now starting to look as if they are required quite urgently.
Still, there is always next year to look forward to.
Iwan Fox.