2006 British Open Championships - Time for a shock?
4-Sep-2006
4BR looks at the odds of an unexpected shock result occuring at the Open this year - 10 years after Marple. It has happened on more than one or two occassions you know.
---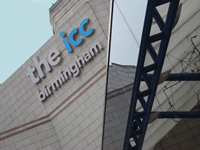 We are always told to expect the unexpected: Natural phenomenon such as earthquakes, volcanic eruptions, a new Ice Age, even a meteorite the size of Belgium hitting the earth, are, we are unreliably informed by the men in white suits, due to occur at any time between now and the end of next Millennium.
Call me old fashioned, but one of the great joys of the unexpected is that,
well – they are unexpected. Knowing what is likely to occur at any given time in the future rather defeats the fun of the shock of waking up to find that the prescribed order of things has been turned upside down, even if it is only for a day or two.
What would be the point of watching sport if you knew the result in advance? Chelsea football fans may disagree, but it rather takes away something of the thrill of competing if you know before a ball is kicked, bowled or hit in anger that the result is going to be pre determined.
The joy of competing

Where is the joy of competing if we didn't have Foinavon at the Grand National, England against Australia in last year's Ashes or Muhammad Ali against George Foreman in the Rumble in the Jungle? More to the point, what would be the point of practicing a test piece for weeks on end only to know that come the British Open or National Finals the same band was going to win year in year out.
What gives the art of competition its edge is that at any given time and place, the unexpected can blow preconceived ideas about victory out of the water faster than a bunch of swimmers on Scarborough beach faced with a snorkel diver with a plastic shark fin strapped to his back. For the great upsets and shocks in the world provide us all with that glimmer of hope, that despite the odds, even the lowliest underdog can have their day - and the more unexpected, the better.
Shock wins

Take the British Open. In its long and illustrious history there has been many a famous victory from Black Dyke to Bacup, Yorkshire Imps to Yorkshire Building Society. For all those well merited victories however, it is the unexpected shock wins that really stick in the memory and jump out of the yellowing pages of the history books like a forzando accent in a hymn tune: Newcastle Steel (Australia) in 1924; National Band of New Zealand in 1953; Wingates in 1975; City of Coventry in 1981; Kennedy's Swinton Concert in 1989, and Marple in 1996.
And guess what? According to the experts, statisticians, soothsayers and generally slightly strange people who investigate these types of things – we are due an unexpected winner at the British Open any time now. It seems that around every ten years or so, the brass band form book is ripped up and replaced by some strange phenomena that one-eyed supporters of bands who don't agree with the result invariably call 'the most unbelievably luckiest win ever'.
However, are these legendary tales of the shock victories really that unexpected though?
Newcastle Steel Works

There cannot be too many people about today who could make a real case for suggesting that the 1924 Newcastle Steel (Australia) win on 'A Liszt Selection' was a rank 'bad 'un', given that it occurred 82 years ago. Still, I am quite sure that there are those who still begrudge our Antipodean friends their victory, even though they had already beaten a number of our top bands before the contest and did go on to come 3rd at the Nationals, whilst their conductor Albert Baile was actually born in Battersea in London.
National Band of New Zealand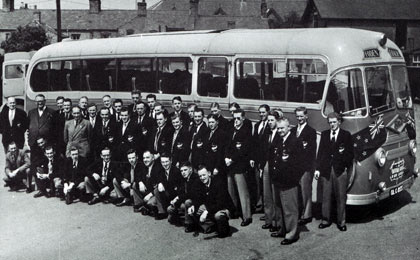 The 1953 victors step out in natty slacks and a lend of Fodens bus

There again the second southern hemisphere winners may well have sent shock waves through the staid and conservative British brass band movement in 1953, but anyone who actually heard The National Band of New Zealand directed by Ken Smith perform on their tour that year knew too well that they were a quite outstanding band. Having won the Edinburgh International Contest prior to the Open, their performance in beating the cream of British banding at Belle Vue on 'Three Musketeers' was made all the more memorable as they were immediately followed on stage by Fairey's conducted by Harry Mortimer himself, and they still beat them by two clear points.
It was a little while before the next seismic shock was registered though – 22 years in fact, but in the interim there had been a few notable tremors or two. Besses won in 1959, some 22 years after their last triumph, whilst in 1964, Fodens won their first Open in 38 years. Both though were still top rated bands even though they were not the giants of old, whilst Grimethorpe's win in 1967 was perhaps more a portent of things to come rather than an unexpected 'one off'. As for the apoplectic arrival of 'Spectrum' as the test piece in 1969, that was a jolt to the system of quite a different kind.
Wingates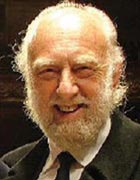 It was in fact 1975; the year of such shocks as the Watergate scandal, Britain entering the European Community and the 'Cod War' against Iceland that saw the heart of the contest movement missed a beat or two. This was the year of 'Fireworks', Richard Evans in a cravat and Wingates Temperance winning their first Open since 1939. The piece itself was something of a shock too. Written by Elgar Howarth as a brass band version of Britten's 'Young Person's Guide to the Orchestra' in concert form it included a narration as well as a plethora of unheard of percussion instruments.
The traditionalists were outraged, with at least two leading conductors (allegedly at Grimethorpe and Fodens) and their bands opting out of the contest, (although both came back the following year when 'Epic Symphony' was used as the set work). The letter pages of British Bandsman were packed each week in the lead up to the contest with correspondence tipped in opprobrium whilst one irate member of the audience at the contest shrieked 'Rubbish' when Howarth and his fellow judges left the adjudicators box to deliver their results.
Wingates were a good, but not outstanding band at the time. They had not featured in the prizes at Belle Vue since 1968 and although they had won the North West Regional title in 1974, they were still seen as something of rank outsiders under the baton of their flamboyant conductor. That all changed on Saturday 6th September 1975 when off the number 22 draw they took the title amid scenes bordering between open hostility and joyous celebration unseen at the contest in its entire history.
Belle Vue itself may have been on its last legs, but the old lady still had a last shock to deliver with perhaps very nearly its last contesting breath.
City of Coventry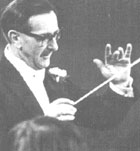 The year was 1981 and the band, City of Coventry. Like Wingates, they too were seen as solid enough outfit, but nothing more. Built up to prominence by Albert Chappell, they had gained entry to the Open in 1969, but had just one 6th place to show for their efforts since. Nationally they hadn't featured in the prizes at the Albert Hall since 1970, so not a great deal was expected of them as they took to the stage as band number 16 under the direction of the diminutive Major Arthur Kenney to perform 'Variations on a Ninth'.
The pocket genius though was perhaps at the peak of his considerable powers and delivered a brilliantly musical account that although not error free certainly made a mark on the men in the box.
It was not a decision greeted unanimously though in the hall. British Bandsman called the win 'capricious' and reported somewhat euphemistically that the result was greeted by a 'show of appreciation that was not immediately apparent' by a 'puzzled' audience. Some disgruntled rivals rather cynically saw it as something of 'rum do' given that Albert Chappell himself was in the box. How myths and legends are made eh?
Kennedy Swinton Concert

If the drama of City of Coventry's win was the stuff of legend, then the victory of Kennedy Swinton Concert in 1989 was touched by tragic myth, for this was the brass banding equivalent of the Icharus fable.
Kennedy's had risen from nowhere to the heights of the British Open in just over four years under the direction of a young Australian conductor called David King. They had reached the Open courtesy of coming runners up at the Grand Shield in 1987 and on their debut came 7th. The following year though they came nowhere, and with their inspirational MD gone many observers felt they were in no shape to make a mark on the set work 'Diversions for Brass Band', especially as they were to be led by a young and inexperienced conductor called Garry Cutt. How wrong they were though, and off the number 9 draw they set the marker that no other band could beat.
It proved to be something of a historic pyrrhic victory however, as within five years the band had folded. British Bandsman described the win as; 'One of the most unexpected victories in the long history of the British Open' after delivering what it termed as a touch patronizingly, 'a tidy performance'. The MD himself was 'speechless' whilst the Bandsman perhaps rather mischievously stated that, '…so too, were most of the capacity audience.'
Marple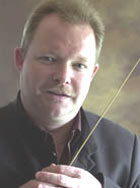 And with a neat twist of irony, it leads us to the last time there was a shock winner at the Open, and Marple's victory in 1996 on 'Severn Suite' at Bridgewater Hall.
This is perhaps the one victory that has achieved almost mythical status quicker than any other, with perhaps scant regard to some of the actual facts of the matter.
Marple were at the time a very good band – good enough to have come fourth at the contest in three of the previous four years and had in their ranks a fine mixture of excellent solo players and experienced older heads. Led by Garry Cutt they were drawn last in the 22 band field, and whilst more fancied rivals such as Black Dyke and Fodens had terrible draws (1 and 3 respectively), immediately before them were to come the fancied trio of Brighouse, YBS and Grimethorpe.
'Gentlemen... we have a winner...'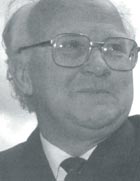 In the box that day though were three very different judges, Bram Gay, James Scott and John Wallace who were not afraid to tell the bands what they thought of their performances in very stark terms (Brighouse who eventually came 20th were shredded for their approach by the Scotsman) and myth has it that it was the Welshman who uttered the immortal lines after just eight bars of Marple's performance; "Gentlemen. We have a winner." Nothing, legend tells us, changed his mind even though there was 99% of the piece still to go.
The result was greeted with a sense of disbelief in the hall, perhaps more so given that another unfancied band Tredegar had come runner up and at times there was a quite unpleasant air in and around the foyer of the hall as disgruntled rivals let their feeling known.
The sense of irony was not lost on British Bandsman who called it, '…the biggest giant killing act in the competition since Garry led Kennedy's Swinton to victory in 1989'. Not quite a ringing endorsement that was it now, and the sense that this was perhaps too much of a one off shock has unfortunately surrounded Marple's amazing achievement ever since.
So. When will the next great unexpected shock come at the British Open then? This year perhaps, or next, or not for quite a while? Whenever it does come, I for one hope it comes right out of the blue with such an unexpected sense of amazement that it leaves us scratching our heads and debating its merits for years to come. Without shocks, even at the British Open, life would be just too plain boring, and no one wants that do they?
Iwan Fox

This article first appeared in the British Bandsman newspaper on 2nd September