A Brass Band Summer School Experience - by Ave Spencer
21-Aug-2006
Pupil and euphonium player Ave Spencer gives a personal view of the 2006 Bromsgrove Brass Band Summer School.
---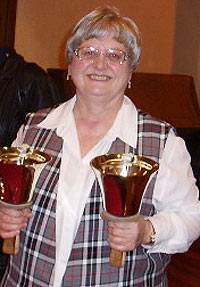 Date: 6th-12th August 2006
Musical Director: Richard Evans
Tutorial Staff: Alan Morrisson, Brian Taylor, Owen Farr, Nicholas Hudson, David Childs, Steve Sykes & Simone Rebello.
Course Director: Philip Biggs
When I booked for this summer school, I had a clear idea in my mind of what it would involve – a lot of hard work preparing to play challenging pieces, with constructive criticism from tutors of the highest calibre and emphasis on private practice to master the difficult bits before the concert. Well, that was partly right – the pieces were challenging and the tutors were of the highest calibre – but I hadn't anticipated just how much fun it would be, and what wonderful examples we would be set. It was emphasized that we were on holiday as well as wanting to learn, and the atmosphere all week was on enjoying the music and companionship as well as improving our skills.
There were over a hundred delegates from all over the world – Belgium, Switzerland, California and Japan – and all were excellent performers so I had a lot to live up to. The accommodation and catering were really good, and the administrative staff extremely supportive and helpful.
World class
And what a line-up of tutors – each a world-class performer, a stimulating teacher and inspirational role model. We were all offered individual lessons with our sectional tutors, which allowed us to pose our questions and benefit from brilliant demonstrations and useful advice on aspects of technique, theory and musicality. What an opportunity! Not only that, but they were real stars when it came to quiz night – my team would have fared much worse without Alan Morrison's knowledge of his subject!
The Course Director, Richard Evans, deserves special mention as he was wonderful to work with – we admired his wit, laughed at his jokes, and really appreciated his interpretation of the music and his ability to draw out the very best in us – an amazing musical experience!
The "Whit Friday" march contest was truly entertaining – three separate teams marched around the grounds, stopping to play at specific points and delighting us with their techniques. It was enlightening to see what goes into making a really good band – not only the quality of playing but also the presentation, and I found it interesting that there were two winners - the band with the best deportment and the band who played best – although it was very difficult to choose.
The concerts during the week were brilliant – the delegates who performed as soloists and in ensembles showed what a talented group of musicians I was playing alongside and the final concert given by both the Shakespeare and Hathaway bands and a massed band attracted a very appreciative audience.
Truly fabulous
The tutors' concert was truly fabulous and included Alan Morrison's delicate rendering of Memory, Owen Farr's incredible last movement of Haydn's Cello Concerto, Simone Rebello's touching vibraphone playing in Blues for Gilbert, Bryan Taylor's superb Glorious Ventures, Nick Hudson's foot-tapping Uptown Blues, Steve Sykes's entertaining El Comanchero and the Rodgers song When you are far away, and the goosepimply gorgeous Myfanwy from David Childs. They also played in two ensembles and a quartet – Fives and Threes, Gilbert Vinter's Elegy and Rondo, and Duke Ellington's "It don't mean a thing" rounded off the morning.
Personal highlights must include the music repertoire – it was such a thrill to take part in playing Fingal's Cave and The Sorcerer's Apprentice in particular, but other pieces I particularly enjoyed playing were Herold's Clog Dance, Tam O'Shanter's Ride and Sandpaper Ballet – the latter with our two percussionists who made such a good job of playing the sandpaper blocks and who were provided with masks so as to conform with Health and Safety requirements! (What a laugh was raised by that masterstroke!)
I must also mention Simone Rebello's moving performance of "A Little Prayer" as a marimba solo in the final concert. Sadly this was Simone's final brass band summer school having been part of the course for 16 years. Her performance was both beautiful and emotional - she will be very much missed.
Farewell
And so we came to the farewell party – I only intended to show my face until the disco started, but thoroughly enjoyed chatting over supper and ended up being drawn into the dancing. I must quote my friend Aidan's comment, when he realised I wasn't tipsy; in actual fact I was just "high on life", and that's exactly what the Bromsgrove Brass Band Summer School did for me.
Ave Spencer - Euphonium
---
Bromsgrove Brass Band Summer School 2006
Next year's Bromsgrove Brass Band Summer School will run from the 12th - 18th of August and course fees start at £340 inclusive of meals, accommodation and top class tuition.
The course will be celebrating its 25th year so places are limited. If you would like further information contact the Course Director, Philip Biggs: philipbiggs@bandstand.demon.co.uk