Brass on record - The Vinyl Years
14-Aug-2006
Tim Mutum looks at the heyday of the brass band record industry, when four major labels produced recordings to meet the demand.
---
We now come to the 'posh' bit of this series I first started around this time last year. Four labels supported brass bands at the top end of the market in pricing terms although all of them eventually decided that brass bands were more of a middle of the road hobby and moved their banding product down a notch accordingly. Anyone with a collection of any size or breadth will have some from the Polydor, EMI, RCA and Decca stables.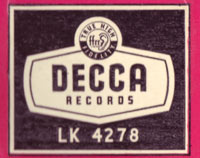 Decca were very early off the blocks producing one of the very first brass band LPs in 1957. It goes almost without saying that Harry Mortimer was involved and in that year his Men O Brass produced three 10" LPs (Decca LF1262/1263 and 1264). Men O Brass was made up of the bands of Fodens Motor Works, Fairey Aviation Works and Morris Motors. All three LPs were recorded in Belle Vue Gardens, Manchester.

Kings Hall

I suspect they were done in the King's Hall which was a venue to be used several times for brass band LPs. HM stayed with Decca and made 12 recordings with them and his massed bands before transferring his loyalty to EMI where he stayed for the next 20 years (although he did return to Decca for his World of Big Brass Bands in 1968 plus a brief excusrion to Polydor for some hymns).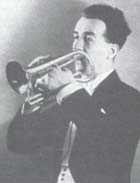 At EMI HM made another 15 LPs with his massed bands. These were broad popular appeal recordings. Harry's favourite recording was Cathedral Brass (EMI TWO 308 – 1970) which was made in Worcester Cathedral with Christopher Robinson on organ. EMI's concluding HM release was a tribute to the great man of brass – Man of Brass – The Best of Harry Mortimer (EMI DUO 130- 1981). This celebrated his playing and conducting career with EMI and included many of his famous solos.
House Band

EMI's "house band" was, without question, the GUS (Footwear) Band. From 1957 until September 1976 the band made 24 recordings including the famous Bandstand series which went for 10 volumes. Once again HM was in the thick of things sharing the conducting with Stanley Boddington up until 1966. The programming was not startling in any way but the longevity of the series certainly was. I think Bandstand Volume 1 (EMI 33 S 1089 – 1957) was probably the first LP issued of a brass band.
World Champions

Without doubt, the finest GUS issue was that with the most cumbersome title – The World Champions Play Test Pieces for Brass (EMI TWO 379 – 1972). If there was a killer title, destined to put off those who sleeve flipped in the local record shop then this was it. What a title! What a programme! Side 1 – Energy (Robert Simpson) and James Cook, Circumnavigator (Gilbert Vinter), both freshly recorded, and side 2 – Carnival Romain and Variations on a Ninth from earlier LPs. OK so only two new pieces but in 1972 to have an LP with the Simpson (the World Championship test from 1971) and Vinter's last work was really quite something.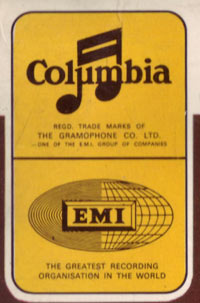 EMI's other major contribution was a series of eight LPs released dutring the 1960s on their full price label. Featured were two LPs apiece from Morris Motors, Fairey's, Fodens and Black Dyke. Morris Motors were a real force in those days and HM took them to the recording studio several times. However, perhaps this long lost band's greatest claim to fame is the LP they made with the RAF Central Band (EMI 3507 – 1966). The LP is devoted to the wind music of Holst. On it Morris play Gustav Holst's A Moorside Suite conducted by his daughter Imogen Holst.
Budget end

EMI dabbled in the budget end with Hammonds Sauce and Williams Fairey Engineering being featured and, of course, there were a number of issues on Music for Pleasure but it is the legacy of HM and also that of the GUS (Footwear) Band that will be remembered.
On completion of the transfer of the ownership of the National Brass Band Championships of Great Britain to Geoffrey Brand in 1971, the late Edwin Vaughan Morris prevailed on Decca to invest in a series of LPs under the banner of Sounds of Brass. He created the Vaughan Morris Recording Agency and later worked with Pye Records. Although budget priced (around £1.50 in the early days of the first releases in 1972) they were produced at a standard and quality of a full price equivalent.

Vaughan Morris

The organisation and administrative skills of Vaughan Morris were readily apparent with well planned recordings, mostly using the production skills of Ray Horricks, timely releases and detailed sleeve notes of bands, conductors and music. I often exchanged letters with EVM (as he was known to many) and he was recepetive to requests for particular pieces to be recorded, when the circumstances were appropriate, and would fill me in on recording plans of the future.
42 volumes

EVM was not responsible for all 42 volumes of the Sounds of Brass series that appeared between 1972 and 1980 but, added to those he organised for Pye, he accounted for over 50 LPs in the 70s and 80s. Quite a feat! The Fairey Band opened and closed the series (Volume 1 and Volume 42) and they made four other LPs making them the most recorded band in the series. Other bands to feature were Black Dyke Mills, Brighouse and Rastrick, Cory, Fodens Motor Works and the Band of Yorkshire Imperial Metals. For several years one of the rewards for winning the National was a recording contract with Decca's Sounds of Brass series.
Elgar Howarth

Good as this series was, the most important releases to come from Decca in the 1970s were indeed full price ones and were the result of the influence of Elgar Howarth. His association with Grimethorpe since 1972 has been well documented. In 1977 Decca released two of the most significant LPs of brass band music both featuring Grimethorpe Colliery Band under Howarth. Classics for Brass Band (Decca SXL 6820 – April 1977) and Grimethorpe Special (Decca Headline HEAD 14 – August 1977) were complete contrasts but they did have one thing in common – quality music – and produced on Decca's classical and avant – garde labels too!
Best music

Writing in the Gramophone magazine in May 1977 Malcolm Macdonald rated the Classics LP (A Moorside Suite, Comedy Overture, Severn Suite and Kenilworth) as "… a highly suitable one to explore the repertory concerned, and a very worthwhile one." He thought the Bliss came off best "perhaps that is because it is the best music". Lionel Markson in the same month's Records and Recordings commented "Apart from a pre-echo in Bliss's Kenilworth, the recording is of outstanding quality. Made in Huddersfield Town Hall, it reproduces a free, open acoustic with perfect smoothness and an utterly natural quality of sound.

Background noise is virtually nil." Find yourself a specialist record store (there are few left I assure you, or try a search on Amazon and you may come across a CD of a Sounds of Brass Grimethorpe Band of the Year programme and A Moorside Suite and Severn Suite).
Grimethorpe Special

Grimethorpe Special was indeed special. The programme was Howarth's Fireworks with narration by Valerie Solti, Takemitsu's Garden Rain arranged by Howarth, the Ragtimes and Haberanas by Henze and Birtwistle's Grimethorpe Aria. This is what Howarth had to say in an interview in Records and Recordings in August 1977. "When I went to Grimethorpe I made it quite clear that, if I was going to be involved with a brass band, I would want entirely new repertoire.

The first person I asked, in fact, was Harry Birtwistle. …quite by chance he knew Grimethorpe (he had an aunt up the road in the next village) and he wrote this piece which absolutely floored the band world (which is very conservative). It caused complete bewilderment….Grimethorpe Aria is a very big, tough, strong piece; very black, very pessimistic. Every single bar of it aches."
Ragtimes and Haberanas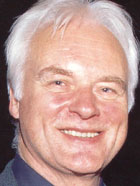 It was Birtwistle's idea that Howarth should approach Henze and the result was the Ragtimes and Haberanas; "very approachable, with lots of dance rhythms, jokes, deliberate cliches, quotes from Mahler, Kurt Weill – scored in an unorthodox way but very effectively." Garden Rain was rescored by Howarth, being originally written for the Philip Jones Brass Ensemble and Fireworks is of course well known to bands, although quite why every one of the few recordings –other than that conducted by Howarth with Grimethorpe – sacrifices the narration is a mystery to me.
By contrast Polydor's efforts were a much more tame affair. Three double LPs from the Mineworker's Festivals appeared and there were many issues in the Pye vein – produced by the Beckingham brothers. One of these is something of a collector's rarity.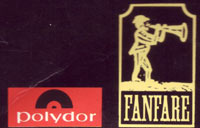 Produced by Tom and with sleeve notes from F J (both described as "Beckenham" on the sleeve, something EVM would have not let slip through) The Triple Champions (Polydor 583 047 - 1969) celebrates Brighouse's National Champions and World Champions victory of 1968 (actually one contest) and their award of BBC Band of the Year. Centre stage is Frank Wright's arrangement of Wagner's Prelude to The Mastersingers, a completely ignored arrangement these days in any shape or form – concert,contest or recording. Yet it seems to me eminently suitable in any of these arenas.
Cottage craft

Which leads me to RCA and Brian Couzens, in my opinion the man responsible for creating the 'cottage craft' record industry for brass bands that continues to this day. Brian Couzens created Chandos Music and was friends with Gordon Langford. He published his music and one or two early examples were used by EMI on the eight LPs I mentioned earlier. How it came about I do not know but in 1972 Couzens entered into an arrangement with RCA Records whereby he supplied recordings to them which the record company then released – rather like the Beckinghams had with Pye. Brian Culverhouse produced the first LP for Chandos featuring Black Dyke under Geoffrey Brand called Brass to the Fore (RCA LSA 3088 – 1972).

One track apart it was all music composed or arranged by Gordon Langford. Culverhouse produced several more LPs for Chandos which RCA released until 1976 when Brian Couzens produced and engineered Black Dyke Plays Langford (RCA LSA 3270 – 1976). This LP celebrated many Dyke contest successes but is most famous for the Rhapsody for Trombone perfomed by Don Lusher.
Black Dyke

I

n total Black Dyke Mills made 13 records for RCA via Chandos Productions.

It is easy to pick one out as it was issued on RCA's classical label – Red Seal. British Music for Brass Band (RCA RL 25078 – 1977) came out as part of RCA's celebration of the Queen's Silver Jubilee.

I think it is one of the most important LPs ever made with its programme of Elgar, Rubbra, Fletcher and Ball. It was well received with Lionel Markson in Records and Recordings (June 1977) saying "if it is champion brass band playing you want to hear, I recommend without reservation this new record by the Black Dyke Mills Band." Malcolm MacDonald in the Gramophone of the same month wrote about Fletcher's An Epic Symphony in glowing terms, "a piece which in the strength of its writing, anyway, has indeed some of the characteristics of its title. It should be better known outside the ranks of bandsmen themselves; and who better equipped to make it so than Black Dyke?" He went on to describe it as a "spanking performance". Couzens also recorded Sun Life and Solna. He then formed his own label Chandos Brass but that is for Part 5 of this series.
Ownership of tapes

Two further points. One is that Couzens wisely kept ownership of the tapes. He licensed them to RCA for a fixed period. What a wise man! Why? Virtually all of these recordings are available now on CD on the Chandos label. Secondly, Couzens signed up Grimethorpe Colliery Band to make a number of LPs for RCA following the band's 1976 Granada Band of the Year win under Bryden Thomson, who had considerable orchestral and operatic experience. I wonder who might have forged that relationship?

For some reason Couzens did not retain ownership of the tapes. Band of the Year – Grimethorpe Colliery Band (RCA PL 25048 – 1977) represented the fruitful and growing association between conductor and band. Alas it was the only LP to come to fruition and has, due presumably to the ownership issue, never resurfaced on CD. Truly, the sound quality is outstanding and the programme includes Ernest Tomlinson's Overture on Famous English Airs and Variations on a Theme of Lully by Cedric Thorpe Davie.
Why did all these companies cease interest in brass bands around the end of the 1970s/very early 1980s? The recording business was going through a difficult period, companies were being taken over and I suspect the hitherto control of music people was replaced by accountants. Certainly, Vaughan Morris told me that Decca suddenly announced that they would make nothing which was not guaranteed to sell 10,000 copies. Goodbye brass bands! The golden age of brass band recordings was well and truly over. Out of this grew a number of specialist producers, including Chandos and Polyphonic, whilst the Grosvenor label of the 1970s continued. But more of this in the final part of Brass on record.
Tim Mutum