Brass on record - The Budget Years
14-Aug-2006
Tim Mutum looks back at a time when you could pick up good quality brass band records on user friendly budget basement labels.
---
Ah yes! The swinging sixties – I remember it well (OK some of it, but my trannie was tuned into Radio Caroline, the summers were always hot and I was playing in the school band so life was, hey, well fun). There was Carnaby Street, England won the World Cup and Crossroads was in full swing on ATV TV.

Now I mention that last point with reason because amongst all this excitement, and Harold Wilson winning
two general election, Pye Records, part of the ATV set up, launched one of the icons of the 60s - the Golden Guinea label.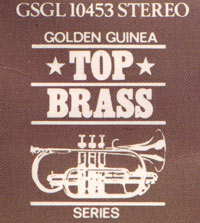 Cornerstone

A cornerstone of that label, well in my view but not theirs I doubt, was their dedication to the release of brass band LPs. Not only that but we were priveleged, indeed honoured I would go as far to say, to get our own sub label within a label – the Golden Guinea Top Brass Series. Pye's use of the sub label was selective until late on in the series when the GSGL prefix was replaced by TB but more of that later.
Between 1966 and 1980 Pye Records released about 50 LPs on Golden Guinea/Top Brass and a further 10 on the Marble Arch label – almost a poor man's version. I have categorised these two labels as the budget years because for the most part they were in the 19/11 (99p) and 15 shillings and 75 p category.

Cracking quality

I acknowledge they did not start at such a low price in the Golden Guinea series but around 1970 they went into that bracket and certainly were in a price band much below the 'posh' labels of EMI, Polydor and Decca although even these later placed their brass band products in a mid range/cheaper position in the market.
Pye produced some of the most astoningishly cracking, quality LPs ever to grace the shelves of the local record shop (yes in those days the local store had its own section "Brass Bands" and even had more than one copy of the best sellers – halcyon days indeed!). They also produced some of the least stimulating programmes you could think of.

Mighty Atom

But I digress – who had the distinction to be the first release in this well loved series? Our good friends The Brighouse and Rastrick Band. So, 1966 was famous for more than England winning the World Cup. This was the year of the first LP for the men in purple and gold and it wasn't a bad one either. Blooming Brass (GSGL 10372) was largely a collection of marches. In fact the whole disc was classical marches (Marche Slave being the most solid), military and three classic brass band marches – BB and CF, Punchinello and The Cossack – and stuck in the middle of side 2 was….The Severn Suite. No rhyme or reason for it but the Mighty Atom - Walter Hargreaves directed this plus some of the rest of the programme with the balance being led by the late Ken Aitken – Jones.
A more substantial disc from Brighouse followed in 1968 (Brass from Brighouse – GSGL 10407) and this was produced by the legendary Bob Auger. Here we had the first outing for the Walter Hargreaves arrangement of Russlan and Ludmilla which still finds a regular place in recordings and concerts to this day,and a completely forgotten piece that really deserves resurrecting.

Contrast

Henry Geehl wrote his Rhapsody – On the Cornish Coast for the 1948 National Finals. This work is based on Cornish folk tunes and has clearly sunk from the highest cliff having never been recorded since and seldom played I would think. In contrast Belmont Variations, on side 2, is often performed and used as a contest piece. Another seldom heard march included is Peace and War by Shipley Douglas. The LP is completed with solos from Tony Whitaker (Una Voce Poco Fa), Lyndon Baglin (Jenny Jones) and Jeff Hirst (Rondo from Concerto No 1 – Mozart).
Dotted throughout the Golden Guinea series are LPs heavily devoted to music from Wright and Round and F Richardson. These two companies were owned by Tom, Jack (F J) and Jim Beckingham. Tom produced the recordings and Jack wrote the sleeve notes and the package was sold to Pye who produced the final product. One of the early, and better, examples of their work is The Virtuoso Band (Marble Arch MALS 1248 – 1966) featuring the Black Dyke Mills Band conducted by Roy Newsome.

Top Brass Golden Guinea

It was virtually all Wright and Round product with the well known trio of James Shepherd, Frank Berry and John Clough providing the solo spots and one Rimmer or other providing most of the rest, including an outing for William Rimmer's famous arrangement of Les Preludes. When Black Dyke won the BBC Band of the Year in 1967 Pye elevated the release and reissued it as a Top Brass Golden Guinea product on GSGL 10391 (1967).
It has to be said that Black Dyke Mills Band made a significant contribution to the Golden Guinea series - some eight LPs plus the Marble Arch issue and three on Pye's full price NSPL series including The Trumpets by Gilbert Vinter. It wasn't just the number of releases but the quality of the music, influenced in no small way I am sure by both Geoffrey Brand and Roy Newsome.

The Champions

The first and possibly most revered LP from this partnership was in 1968 – The Champions (GSGL 10410). Recorded on a very cold evening in January 1968, with weather so bad that one of the bass players never arrived, it was put in the can a player down. This golden LP celebrates Dyke's 1967 National win on Journey into Freedom by Eric Ball.This epic work from the master concludes side 2 but there is much else to celebrate for here there is James Shepherd and Napoli and the immortal John Clough and his trademark solo – Grandfather's Clock. As Pavarotti is to Nessun Dorma, John Clough and this George Doughty air varie go hand in glove.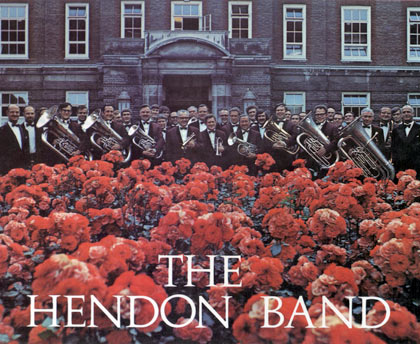 Blooming awful - a fine example of how not to promote your band on a record sleeve

Awful LP

I could write about all Dyke's LPs for Pye but three more stand out from them all and one of those is truly in a stratosphere of its own. I think Geoffey Brand made only one really awful LP – remember the K-Tel label and the National Brass Band? I'll say no more – other than it sold by the bucketful and made all the session players and conductor, yes you have guessed who, a few bob.

Well, we are all entitled to one bad day at the office, especially when you can counter balance it with a portfolio of recordings of the quality of those that Geoffrey put together. What do you follow up from the Champions? Yep, got it in one! Champions Again! (GSGL 10427 – 1969). Geoffrey Brand describd this as "a disc for the connoisseur".

One for the connoisseur

And he was right 100%. Side 1 – Petite Suite de Ballet by Eric Ball – a marvellous little set of four short movements with the feel of the ballet about them. Then the title piece, Gilbert Vinter's highly descriptive and neglected John 'O Gaunt, a concert overture written for the 1968 Belle Vue contest which Dyke under Brand won. On side 2 Fletcher's An Epic Symphony – conducted by Roy Newsome and Eric Ball's masterly Resurgam. What more could any lover of quality brass band music desire?
Could they better this? You bet they could. In 1969 after the Belle Vue contest, and actually a week before the National Finals, Black Dyke under Brand and Newsome recorded perhaps the best of all the LPs released by Pye. And I would dare to venture that it is one of the finest LPs ever released.

High Peak

It was High Peak for Brass (GSGL 10453). A bold statement? Perhaps, but those who have it will I think agree with my assessment. How he managed it I don't know but Geoffrey Brand was able to secure the services of the late Isabella Wallich, a vastly experienced producer, to produce several of Dyke's LPs on Pye including this one which has the great Jim Shepherd, resplendent in his Dyke uniform, plastered all over the sleeve.

The LP opens with High Peak (Eric Ball), the National Finals test piece of 1969 (Dyke were second a week later) and until 2003 this remained the only recording. Indeed even now Dyke are the only band to have recorded it! A gorgeous suite by John Carr, Four Little Maids, completes side 1. Side 2 opens with James Shepherd and perhaps the finest example of polka cornet playing with Damare's Pandora. Here is a legend, a player of exceptional ability and flair.

Definitive performance

And then, to conclude, a tribute to a musician of rare quality, a man who changed brass bands through his style of writing – a watershed in composing. Gilbert Vinter – he died on 10 October 1969. First, his haunting Elegy from the Suite Entertainments for Brass Band. And then, to conclude this LP, probably Vinter' s most controversial, talked about and ultimately most successful composition for brass band, Spectrum. Recorded upmteen times since this is still, I think, the definitive performance. And, sadly, incapable of reissue as the original tapes were found to be damaged when Geoffrey's son, Michael, sought to include it in a two CD package of The Golden Sound of Black Dyke Mills Band in 1992.
The third LP is an example of something bands shy away from today. Piano and band or, in this case, Ivory and Brass (GSGL 10463 – 1970). Brand's super arrangement of the Berlioz overture The Corsair opens this (Dyke played this in the Royal Albert Hall alongside the LSO a few years later and the string players turned in amazement that a brass band could actually play this!).

Piano and Band

The happy and bright Scherzo form Concerto Symphonique by Litolff with Keith Swallow on piano concludes side 1.The same soloist joins the band on side 2 for one of the few original works for piano and brass – Roy Newsome's Concerto for Piano and Brass Band. This was commissioned for and received its first performance at the National Brass Band Championships concert of 1969.
I have written much, and could have done more, on Dyke's major contribution to this label. It is justified but there were other bands contributing and I need to mention some of these, comment on a few, shall we say strange releases and reflect on the change of direction and ultimate demise of this important label in the brass band disocgraphy.
Notable inclusions

Some of the other bands who made notable contributions included Grimethorpe Colliery Band under George Thompson, Yorkshire Imps, Besses 'o 'th Barn and City of Coventry. Grimey's initial contributions were Black Diamonds (GSGL 10392 – 1967) on which the conductor's now almost famed arrangement of Fingal's Cave overture made its first appearance and a young David Moore dazzled with La Belle Americaine.

They followed it with Belle Vue Brass (GSGL 10418 –1968) celebrating their Belle Vue win of 1967 and promply forgot all about recording the winning music – Comedy Overture. Instead we had a very heavily orientated Wright and Round music publishers programme with plenty of Rimmer programmed! This was the band that inlcuded Peter Roberts, Brian Cooling, Stan Lippeat, Bryan Smith, David Moore, John Pollard, Ralph Lowery and Roy Batty.
Of the four from Yorkshire Imps Highlights in Brass (GSGL 10488 – 1972) is perhaps the best and includes Eric Ball's Festival Music and Graham Walker performing Rossini's Una Voce Poco Fa. Besses under the late Ifor James contributed two programmes of Englsih Music (English Brass Volumes 1 and 2 - Pye TB 3012 and 3016 – 1976 and 1978). Paul Patterson's Chromascope would even now be considered a brave choice but in 1978?
Disappeared

It was in September 1975 that Top Brass became a label in its own right and the Golden Guinea series seemingly disappeared. It lasted until November 1980 when Cory's simply titled The Cory Band (TB 3023) brought the curtain down. Nearly half the releases occurred in that 5 year span and some of these bore the hallmark of the Vaughan Morris Recording Agency as the ex Nationals organiser spread his wings from Decca.

Vaughan Morris was painstakingly accurate and well organised and was frustrated at some of the delays in releases and ultimate shoddy art work – Cory's last release has a reverse picture of the band on the back of the sleeve. He should have not been surprised as Pye's reputation for poor sleeves was nothing new.
The worst?

Undoubetdly, the worst of these was the LP made by the Mirrlees Works Band from Stockport. It was I believe one of the bands that effectively 'fed' Faireys and existed from 1949 to 1980. Mirrlees Makes Music (Marble Arch MALS 1317 – 1970). Here was a band, according to the sleeve notes, that "achieved Championship status in 1965 by winning the National Second Section Final at Kensington Town Hall in 1966,67, 68 and 69." Hmmm, William Runner was a contributor to the programme and Jack Atherton and Eric Pinkerton swapped names. I could go on but you get the drift….
The final three LPs on Top Brass never made it. They were due out in 1980 having been 'put in the can' but they never saw the light of day – Cory, CWS (Manchester) and GUS. The latter band licensed the tapes and produced a cassette but there is now the chance to hear some of those never released tracks plus some other Pye material. Well, it depends on your luck really!

Compilations

Pop down to your local HMV store and proably the only brass band music you will find is a few compilations. Look out for Best of Brass (Pulse PBX CD 450 – 4 CD boxed set) and 100 Brass Band Favourites (Pulse CD 427 – 4 CD boxed set). On the Best of Brass there is a CD of Black Dyke (Grandfather's Clock, Napoli, The Merry Wives of Windsor etc), Grimethorpe (including Fingal's Cave, Silver Threads Amongst the Gold and La Belle Americaine) and Yorkshire Imps (Rhapsody in Blue, Frolic for Trombones and Valdres March etc). The fourth disc is Brighouse's Floral Dance LP – so there is a real bonus!
100 Brass Band Classics is more of a mixture but there are 7 of the CWS (Manchester) tracks never released on LP, some Crossley Carpet Works Band, 1966 Brighouse and Rastrick and two tracks from the Mirrlees Works Band. There is plenty more with H G and the Ettaswell Band grabbing some space but you can't have everything! So, there you have it, a chance to relive some nostalgia if you missed it first time round or don't fancy a trip round the charity shops. And neither set will cost you more than £10.

Tim Mutum