Brass on record - The Paxton Years
14-Aug-2006
Tim Mutum starts a new series on 4BR about the history of brass band recording. He starts with a look at the most sought after records of all - those on the classic Paxton label.
---
The Paxton Years
Paxton, to the brass band record collector, is what Royal Doulton is to china and Pavarotti to opera. This is a name to drool over – a complete Paxton collection, of which more later, is akin to having a unique set of football programmes or whatever takes your fancy. Well, if you are not a mad collector, you will consider me and others in that mind frame, mad that is, and switch to another page on 4barsrest – maybe 198th in the top 200 rankings catches your fancy.
Me, I'd rather be here wallowing in nostalgia so stay a while and capture some of the magic.
Wallow in nostalgia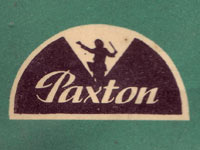 Shame on me but I cannot tell you when this label exactly started. I would guess at the beginning of the 1950s as the early output was 78 rpms of 'All Star Brass' conducted by Harry Mortimer, and Fairey Aviation Works Band recorded 'The Frogs' by Granville Bantock which was the National Finals test piece of 1952.
I believe Paxton were the first of many music publishing companies in the brass band market to record their own music to promote sales. For the purposes of this first article their early recordings on 78s are of passing interest as it was the EPs and 10 inch LPs that have gained collector cult status. However, it is significant to point out that many of the early 78s subsequently reappeared in vinyl format often as side 2 to a 10" LP where side 1 was a new recording.
But, before passing on, let me give you just a taste of what you could get just over 50 years ago from W Paxton and Co Ltd of 36 – 38 Dean Street, London W1 (I went there once – through an on the street doorway and up a narrow flight of stairs in a well known part of London!!).
Shaggy Dog

In addition to those mentioned above the CWS (Manchester) Band had four titles available – how about 'A Wooly Tale' or 'Shaggy Dog'. Munn and Felton's had more attractive offerings – 'Tournament for Brass', 'Resurgam' and 'Blackfriars'. These were double 78s effectively – a bit of a cumbersome exercise to hear a mere 10 minutes of music as 3 turns of 78 were required!
Of significant interest even now would be the Fodens 'Champion Quartet' of E. Gray and D. Thomas on cornet, A. Webb on horn and D. Morris on euphonium conducted by Harry Mortimer playing Edrich Siebert's 'Bees-a-Buzzin' and the same composer's 'Merriment'. These 10 inch 78s would set you back about 6/11d each (incl 1/11d purchase tax) and cost around 2/3d to post to your home. That's about 35p plus 10p postage.
First 10 inch LP

By 1957 the first 10 inch LP had arrived on the Paxton label. "The Voice of the Cornet" was a 30 minute tutorial by Frank Wright who had written some forty superb examples of the varied techniques covering most aspects of playing.
They ranged from the execution of trills, scales and arpeggios to double and triple tonguing, legato and staccato playing and the rendering of "free – style" music, cadenzas etc. The commentary is by Harry Mortimer and the soloist is Ken Smith described as "a young man widely held to be the finest virtuoso of the instrument we have." Ken Smith recorded the musical examples in New Zealand and HM the commentary in London. An early example of mixing it would seem.
There was also a separate six page leaflet of musical examples. I have this LP and leaflet and the quality is quite remarkable, both the soloist and the recording. Indeed I doubt there exists anywhere else a recording of Ken Smith and of HM talking at such length?
Big names of the time

Paxton's stable of bands was quite small but reflected some of the big names of the time (1957 – 1969 was the period of vinyl release) - The Fairey Band, Fodens Motor Works, Black Dyke Mills, the All Star Concert Brass Band. There were contributions also from Cresswell Colliery Band, Barry's Championship Trombone Quartet and Crossley's Carpet Works Band. John Harrison conducted the latter and he told me once: "We recorded 'The Force of Destiny' on one side and 'Marche Militaire' (Schubert arr Rimmer) and 'Glastonbury' (Denis Wright) on the other. I remember making this in Manchester, one Sunday morning. One microphone and in a hall which would seat approximately 200 people. Not great conditions."
Cresswell Colliery were conducted by Ernest Woodhouse. Sadly, 'Brass in Rhythm' from 1965 (PEP 128 – 7"EP) is not in my collection, as I would like a listen, but probably only once, to 'Dixieland Stomp', 'Brass Band Bounce', 'Butterfly Boogie' and 'Hawaiian Samba'!
A rarity

A rarity, not just as an EP but as a format is, I think, Barry's 'Champion Trombone Quartet' (Band of Barry, Ostlere and Shepherd – this I presume to be a well known Scottish band of the time?) directed by John Faulds. They made two EPs and the one I have (PEP 121) from 1963 features George Gilmour (1st trombone), David Rankine (second), Arthur Brown (third) and Joe Todd (bass). To quote the sleeve "To those who have never heard the celebrated Scottish trombone quartet, this disc will prove a rewarding introduction, and to those who know the quartet through their many radio, television and concert hall appearances, it will be a permanent reminder of the playing which has won them international fame."
Out of this vast miscellany of recordings I think there are two that any collector would say were the ones to really want. They are both by Black Dyke Mills Band and are only really half LPs! In 1962 Paxton released (LPT 1010) Black Dyke and Jack Emmott playing 'Judges of the Secret Court' (Berlioz arr Wright). This was the 1961 Daily Herald National test piece and Dyke won under Major Willcocks. Here you have a rare opportunity to hear Maurice Murphy on principal cornet. On side 2 there is a mid 1950s 78rpm recording of 'Blackfriars' by Eric Cundell (arr Frank Wright) played by Fodens under HM.
Le Roi d'Y's

But the one LP (LPT 1029) coveted by any serious collector is 'Le Roi d'Ys'. If you are a pedantic like me then you actually need the 7" EP (PEP 111) because this is the original release from 1960, and to be even more pedantic I think you need the blue sleeve and not the pink one to have an original!
The 10" LP came later (coupled with 'Devon Fantasy' by Eric Ball played by Fodens under HM – 78rpm reissue) and it has the enormous benefit of not having to turn it over at the moment of the euphonium solo.
My first visit to the Royal Albert Hall Finals was in 1970 as a rather innocent 15 year old who had been thoroughly trained in the school brass band. My diet included 'Eine Kleine Nachtmusik', Eric Ball's 'Indian Summer', 'All in the April Evening' and Eric Ball's 'Quartet for Tubas' – we were certainly not into the dizzy heights of Lalo!
The LP for me!

What's more I had never heard of him. I remember to this day a man on the trade stand – probably one of the Neil brothers who owned Paxton - trying to persuade me to buy this 10" LP of the Lalo overture. There were stacks of them and so I wondered why they had so many copies if it was such a good piece. No, I got my priorities right – I was studying my grade 8 euphonium. I was practicing the euphonium part of 'Comedy Overture' as if there were no tomorrow without a clue as to how the piece sounded. And there was an LP of this John Ireland overture played by Fairey's. That was the LP for me and off I went very contented. It was the only Paxton I ever bought new.
A year later and this French overture by Lalo was the Nationals test piece. Well, I wasn't going to make the same mistake again. Off to the trade stands I went – no Paxton stand! Can you believe it, Novello had bought Paxtons and their first action was to throw all these LPs and EPs on to a skip and they were gone. Can you imagine such an act of wanton vandalism? It took me 15 years to get hold of that LP. It is regarded as one of the great Dyke recordings with Tom Waterman (soprano), Maurice Murphy (solo cornet), Sam Smith (flugel), Grenville Richmond (trombone) and Geoff Whitham playing the soaring euphonium solo.

Stereo recordings

Paxton went on recording until the end of the 1960s. Their final releases were by Black Dyke Mills under Geoffrey Brand and Roy Newsome. LPT 1027 has a Suite from 'The Mastersingers' (Wagner arr Wright) on side 1 and Denis Wright's overture 'Glastonbury' on side 2. LPT 1028 features Allan Street's 'Rococo Variations', Malcolm Arnold's 'Little Suite No2' and 'Bandology' by Eric Osterling and they were stereo recordings!
Roy Newsome remembers the sessions vividly. "We did these recordings on the same weekend as 'Thingumybob' and 'Yellow Submarine'. The Paxtons on the Saturday and Apple on the Sunday. All recorded by Bob Auger and as far as I know on Pye equipment. They were made on Saturday and Sunday 28th and 29th June 1969." The two Beatles numbers were recorded on the group's Apple label and produced by Paul McCartney; the single is quite a rarity and valuable but that is another story.
Distinctive quality

Writing this article prompted me to sift through the Paxton bundle and listen to a couple of recordings, notably Faireys. Of course the quality varies and you get oddities such as plenty of trombones and cornets and basses sounding a mile away. You also get some gems. I had completely forgotten I had a Drake Rimmer arrangement of 'Johann Paul Aegidiius Schwartzendorf's' (he changed his name to 'Martini') 'Plaisir D'Amour'. It's a cornet solo played by the legendary Norman Ashcroft and the distinctive, quality sound of the soloist who graced this fine band is a joy to hear.
One final thought on this interesting phase in the history of brass band recordings. I still do not have a complete set. I am missing a couple of 7" EPs, LPT 1014 ('Black White and Brass' – Ken Smith – trumpet and Maurice Till –piano) and LPT 1025. On this Leonard Lamb conducts the Fairey Band – 'Carol Sinfonietta' (Denis Wright), 'The Land of the Ever Young' (Bantock) and 'Dancing Valleys' (Kenneth Wright).

More to the point I have never spoken to a collector who has it. A friend of mine told me recently that he had heard that although this Fairey LP is featured in the catalogue "Brass Ensembles on Paxton Records" it was never actually recorded. Can anyone throw any light on this? It would clear up once and for a little mystery and stop me searching for something that doesn't exist!
Tim Mutum