2006 English National Championships - Retrospective
5-Jul-2006
Fodens Richardson finally got what they deserved on the weekend at the English Nationals. A far cry from what happened to Englands footballers in Germany, although the result wasn't as nail biting.
---
One of the most revealing things to come out of England's dismal exit from the World Cup on the weekend were the interviews, given to the press by both players and manager that continually used the phrase that England 'deserved' to be in the semi finals and final.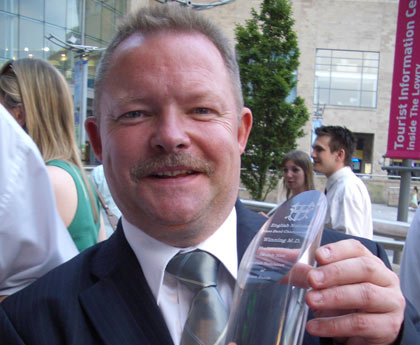 Look what I've won!: Garry Cutt celebrates with his conductors trophy.
In any contest where the object of taking part is governed by an easily defined outcome (ie, the ability to score more goals than the opposition), this pathetic, bleating self denial spoke volumes about English footballs failure to understand that in a sporting contest, being 'deserving' gets you absolutely nowhere. Live a life of cosseted pampering, fawning acolytes and a complete lack of realistic understanding of exactly how good you are and the end result will always be the same - failure. England certainly got what it deserved – it was just a pity they didn't understand why.
In the brass band world there is no easily defined outcome to gauge success. Subjectivity rules. There is no penalty shoot out if things are equal after all bands have played; no nail biting extra time waiting for one band to 'score' the winning goal. No. It's all down to the opinion of the judges. Just ask Fodens.
In May they should have won the Masters at Cambridge. They didn't. The reason was of course that matter of subjectivity. The audience loved their performance, the players thought they had done enough to win and even the press was in agreement. That they 'deserved' victory was perhaps not in doubt, the judges (rightly or wrongly) though, thought otherwise.
There was no bleating, no looking for rival scapegoats or pre planned passing on of a metaphorical captain's armband, no claims of being robbed of a victory that was theirs by right. Garry Cutt rounded up his troops, put them in the rehearsal room and worked their guts out. The result? A victory at the inaugural English National Championships.
It was a deserved victory too. Fodens slammed the door shut on their rivals after giving a performance of the highest class on a test piece that extended even their considerable talents to the full. On a day when there were a number good performances and a couple of very fine performances, Fodens had that extra touch of class to win, in footballing parlance, by a comfortable two goal margin.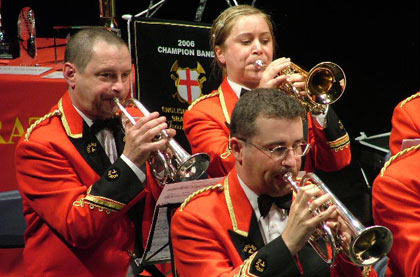 Wych way to victory? Alan Wycherly leads the line for Fodens
That judgment was rather confirmed by the judges written remarks with Chris Wormald describing it thus; "This really did the score justice – and some". Derek Broadbent added, "Thank you for a performance of great quality," whilst William Relton's closing remark was an emphatic one too: "… a most musical ending – such a good band."
Interestingly, those initial impressions made in the box were reinforced by the judges when given the opportunity to re evaluate excerpts of a number of bands performances on tape at the conclusion of the contest. "We were unanimous in our decision for all placings when we left the box," Chris told 4BR. "However, we did take the opportunity to listen to some sections from some of the bands again, but it reinforced our initial impressions made at the time. Nothing changed that, although we felt it was a good idea and one that should be tried again."
The contest itself benefited enormously from a fine choice of test piece, Philip Sparke's 'Dances and Alleluias'. This was his 24th set work for a major contest, and although it may not have been as strikingly original as some, it was still a little cracker. It was typical Sparke through and through, with tests of technique mingled around broad lyricism and fantastic subtle patterns.
Philip certainly enjoyed the performances of it too, telling 4BR: "I thought all the bands brought something out of my work today. I thoroughly enjoyed the best bands of course but was a little surprised that so many baritone players struggled with their solo contribution. Overall I felt the standard was very good indeed, especially given the on stage conditions, which must have been very uncomfortable for the performers."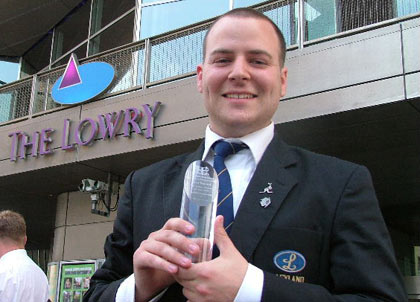 Lowry Sketchbook: Brenden Wheeler enjoys that solo moment
The main individual tests came in the form of demanding hurdles for solo cornet, euph, trom and rather surprisingly, baritone, whilst the detailed ensemble taxed the ability to control balance, colour and texture, and above all in the Scherzo section, precision and clarity. Some achieved some or whole, many didn't, but overall the standard of the 14 competing bands was petty good indeed.
It all started though in rather a strange manner.
YBS were drawn number 1 (there was a split draw – 7 bands in each sector with an hours break between both) and produced one of the most oblique renditions of the National Anthem you are ever likely to hear.
David King doesn't often get things wrong, but perhaps he misjudged the acoustic of the stage at 'The Lowry', thinking it to be lively and resonant. It was in fact as dead as a Dodo, and so the decision to get the cornets to play with bucket mutes made them sound as if they were playing from a different stage altogether. On a day when English souls had the patriotic blood pumping through their veins, this was rather an anemic musical infusion to say the least.
The acoustic then put paid to the conductors finely balanced reading of the score too.
YBS were the only band on the day to really go out on a limb dynamically, especially at the beginning and Scherzo were the dynamic marking was as low as ppp for extended periods. The acoustic completely scupperred any chance of their fine approach working though. 4BR was sat just twenty feet or so away from the stage on the first tier, and even there, hearing the detail come through audibly (which was definitely being played and played well) was difficult. The judges (who were about 60 foot back and enclosed) had just about no chance and so their opportunity of claiming the title fell on deaf ears so to speak.
The good news for YBS is that they sound as if they are really on the verge of a major return to the form that saw them become such an imposing contesting band. The weaknesses have been addressed and there is sense of control and balance about their playing. They may have made a mistake here in not judging the acoustic too well, but that won't be the case come Birmingham we are sure. They eventually came 9th, but we had them up in 4th.
There then came a bit of a flat period in proceedings with Sovereign Brass and Ransome, with performances that varied in quality.
Sovereign didn't give a bad performance by any means, but it was a lack of stamina especially in the last section of the work that starts with the baritone cadenza that saw them fall away.
That baritone cadenza was a real bugbear just about all day, with perhaps just three performers really nailing it. Why it caused so much of a problem was a bit of a mystery, as it wasn't technically too demanding. All those years when baritones bemoaned their lack of opportunity to step into the spotlight, and when the chance came, most blew it like Frank Lampard and Steven Gerrard.
Back to Sovereign under Stephen Roberts. It was just the last section that undid them as all that went on before was pretty solid and featured some fine playing from Mark Hadlington on euph and the evergreen Phil Green on tuba on the tricky solo in the first dance section. It never quite suggested that it was going to right up there come the results, but we had them in 11th place and 14th was perhaps a touch harsh for their efforts.
No real complaints for Ransome we don't think under Peter Parkes, although it must be said in their defence they did have to borrow two players from Sovereign due to sickness and they had a couple of deps in the ranks too.
In the end the Major coaxed a pretty good show from his depleted resources, and even though it was a struggle at times they never threw in the towel and opted just to blast their way to the end. There were signs of encouragement however with a fine bit of euph playing and the usual impeccable trom work from Chris Jeans, and they may well be pleased in coming home in 13th place. It was just about what it deserved, whilst Chris Brice aged 14 showed that the future of Ransome is in safe and talented hands as he picked up the youngest player award.
With Philip Sparke appearing on the big screen above the stage between bands to explain a little about the piece and its inspiration (although we did wonder when it was recorded as he rather neatly gave the football team a bit of encouragement for the evening game) it gave time for the rather sparse audience to sit back and have a glance at the excellent study scores – or they would have done if the hall management had decided to put the house lights up!
Reg Vardy under Ray Farr didn't start too well with a horrid first note, but thereafter they produced a solid and competent account of themselves and the set work. It was a little overdone dynamically in places, but that northeast sense of pride ensured that all the technical hurdles were overcome, even if the some of the musical ones were a touch rough and ready.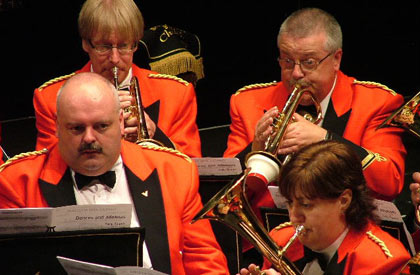 Leave it to the rest of them: Reg Vardy's Les Palmer takes a breather
Paul Robinson on solo euph was excellent, as were the percussion team, and it was confident and secure even if the depping of some of the solo cornet solo was rather too obvious and it lack a touch of tenderness at times. Still another good show from a band that appears to be ready to mount a serious challenge at the majors later this year. The judges had them 6th, we had them 8th, but there wasn't much to differ.
Leyland was a different kettle of fish altogether.
Russell Gary really went for the music in the score and produced a very elegant and lyrical reading in a performance that perhaps lacked just that real sense of precision at times, but nevertheless was playing of a high class indeed.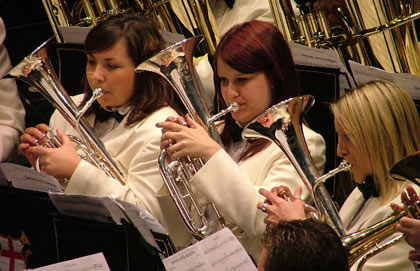 Girl Power! Leylands all female horn section lead them into third place
The individual playing from the likes of Brenden Wheeler, Runar Vaernes and Andy Lord was top notch, with Brendan eventually taking the 'Best Soloist' award for his excellent overall contribution. After a couple of difficult years when he seemed an unsettled player, he is now fast maturing into a real star amid the relaxed atmosphere found at Leyland.
In the end a performance full of broad strokes, real colour and texture with just the right degree of security in the nuts and bolts department put them up right up there, and deservedly so. We had them as runners up, the judges in 3rd come the results, and it was just deserts.
No one really knew what to expect of Brighouse. Rumours about them fielding a new soprano (sorry about the pun) were true as Peter Roberts became the first man in Black Dyke history to play in a contest for their rivals whilst still a fully paid up 'Pondasher'.

Not a bad dep eh? Peter Roberts dons the famous purple and gold jacket

It was rather like England getting Thierry Henry to come on as a sub against Portugal, and the result would have been about the same too. He was on his usually inspiring form, hitting the top Ds out with the élan of Arsenal's 'Va, Va, Voom' man, but on this occasion even he was overshadowed by some wonderful solo cornet playing from Alan Morrison. Here was Zinedine Zidane in purple and gold. Just when some obituaries were being written he rolled back the years and gave a real masterclass of the art of cornet playing. Long may it last.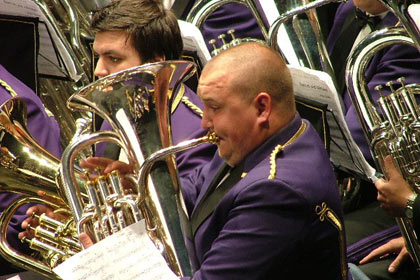 Howlin' euph: Michael Howley gives it his all for the lads from West Riding

Brighouse in fact were on the best form we have heard them for some time, and it may no coincidence that they were back under the baton of Ian McElligott whose detailed approach placed emphasis on the Brighouse strengths of boldness, big sounds and lots of excitement. The result was a cracking performance and a runners up spot (we had them 3rd), with a possible invitation to the Europeans next year. It seems Brighouse may have retraced their steps back to potential success.
The last band in the first half of the contest was Hepworth (Lanson Homes) who took the step of taking to the stage in shirt sleeves (all well ironed as well) and who once again produced a well engineered performance of merit.
If they do have one major weakness however it is that they are not the biggest sounding band in the world, and when they do try to match the likes of Brighouse in terms of sheer volume they tend to sound harsh and hard and blow themselves out. That was what happened here, with them producing a really high class show for three quarters of the piece and them like some sort of musical marathon man, hitting the wall at 21 miles and rather limping home slightly the worse for wear.
It was a real pity too as in James Fieldhouse on euphonium and Mark Smedley on soprano they had two of the best individual players on show all day, but the final long haul section starting with the baritone and leading through the extended cornet solo never quite matched what had gone before and they fell away as the stamina faded. That said we still had them up there in 5th place whilst the judges were a touch harsher and had them in 7th.
The second half of the contest started after a well deserved hours break for both audience and judges alike.
Redbridge were first on so to speak and under a hard working Melvin White rather deliberately went for a safety first approach that was rewarded eventually with 10th place. We had them a couple of places lower in 12th, as it rather lacked variance and warmth especially in the last section, but given the poor form they have endured of late it was a decent enough return. It seems they are getting back on the right track.
Sellers International meanwhile were another band to take to the stage in shirt sleeves (not all ironed too well) and with the MD in a rather fetching long black shirt which he wore outside his trousers. Very fetching it was too, and so was the performance, which was solid and unpretentious, and had all the basics in the right place.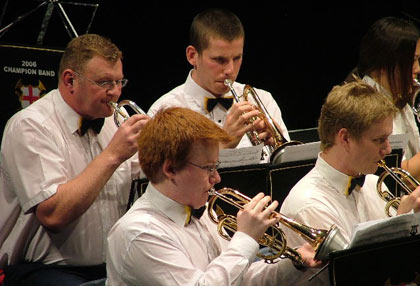 Ironing out the mistakes: Sellers cornet section show off their mums ironing expertise
It just lacked that real touch of finesse – surprising given that Phillip McCann had it in spades as a performer, but there is a real solidity about Sellers that makes them a band that cannot now be discounted at any contest. They just need that extra dab of gloss on their finished product, but that my soon come. In the end the judges had them in 5th place, whilst we had them a touch further down in 7th. You couldn't really disagree too much with that.
There was certainly more than a touch of class about Fodens Richardson.
Garry Cutt coaxed a superb performance out of his band. It wasn't always technically 100%, but the scope and breadth of the musicality and the sheer precision of the Scherzo dance earmarked it out from the rest of the field. By the time the final section had opened with an excellent baritone refrain from Helen Tyler, Mark Wilkinson then took up the baton and was ably supported by the rest of the band. It ended quite thrillingly and fully justified its place at the top of the pile.
Fodens are also a quite superb sounding band at present. Garry Cutt has made subtle changes to the ensemble sound giving it a warmer middle topped with a bright and vibrant cornet section that never seems stretched. Alan Wycherly is enjoying an Indian Summer of red hot proportions.
Come the final bar it was obvious this was the performance to beat, and so it proved. They will be a formidable band come Birmingham and London later this year and as Garry Cutt told 4BR: "We worked exceptionally hard to make the subtle difference in light and shade, as well as the tempo changes come off. I couldn't have asked for more from the band, especially under such conditions and I think they fully deserved the victory. It makes up somewhat for previous disappointments and we are delighted to be able to represent England at the Europeans next year. "
Much was expected from PolySteel, but in the event they rather disappointed with a performance that was error strewn and uneven in quality.
Why this was so we don't know – perhaps they left their best in the rehearsal room, but this was not the PolySteel of Cambridge or Butlins for certain. At times it was very classy indeed, but then again at others it sounded plain average and the beginning was certainly not helped by an overlong wait for the timp player to get ready. 8th place (we had them 9th) was about right in the end for a mid table performance.
Much the same could also be said of Mount Charles who really did give a curate's egg of a performance under Nigel Weeks. After a poor opening it recovered, but the lack of dynamic variance was its most obvious flaw throughout. The Scherzo never quite captured the lightness and deftness of touch required to make it skip along and even though a superb baritone seemed to get things back on track towards the end it all petered out with a big, bold and a touch brash ending. We had them 10th, the judges had them 11th.
Bournemouth Concert were the third West of England representative at the contest and the lowest ranked band, but they certainly didn't seem outclassed especially after a good start which promised much. Nigel Taken opted for a safety first approach that seemed to pay dividends, but as the stamina wilted in the heat of the hall so came the unforced errors and the quality dipped somewhat.
It was all a bit of a struggle in the last section in particular, but that fine start certainly showed that here was a band with plenty of potential. In the end they can be very satisfied with 12th place. We had them 14th, but you can guess which opinion they felt was more accurate.
That just left Fairey and with David Thornton depping on second euph they really did lay down a gauntlet under the baton of Simon Stonehouse.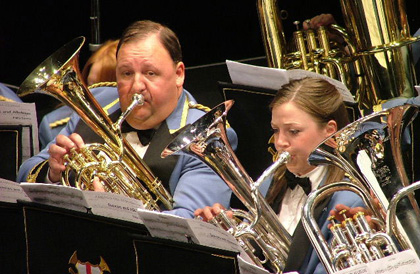 Logan's run: Bernie Logan and Katrina Marzella lead the Fairey baritone sections contribution
There was much to enjoy about their performance, one in which their stable of young soloists especially Steve Wilkinson on solo cornet, Rebecca Crawshaw on soprano and Katrina Marzella on baritone were outstanding. It was the Scherzo that perhaps undid them on the day – it was never quite under control, but the final section led by the baritone was playing of a very high class and found favour with the three men in the box.
We just had them a few places lower in 6th place than the fourth spot they eventually came, but there was evidence aplenty here that they are fast maturing into a very good band with an excellent blend of youth and experience and led with such good sense by a talented MD. Watch out for them later in the year.
With the contest over as such, the audience had the chance to sample the slightly overpriced delights of the hall cafeteria, whilst those with half a minds eye on Germany opted to go over the road and see England stutter to defeat. On their return a short and rather sweet Gala Concert took place and the results were announced by the fragrant Melanie Sykes.
Unlike England's football heroes who had no one to blame but themselves, Fodens put any sense lingering disappointment from a previous campaign behind them and claimed victory. Both got what they deserved on the weekend.
Iwan Fox.