2006 English National Championships - Introduction and Predictions
26-Jun-2006
This weekend sees the inaugural English National Championships. About time too. Lots of talking points too, from the judging process to the 4BR possible choice of winners.
---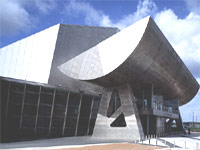 England expects. In fact, and to totally misquote old Nelson; England expects every band to do its duty.
The inaugural English National Championships are upon us. It's about time too.
For years the brass band movement in the UK has cried out for a contest such as this. The Scots (being the great inventors of things as they are) have had one for nigh on 100 years plus, whilst the Welsh (being the great talkers and fiddlers of things) have had a version of sorts since the end of the last War. The Northern Irish do things their own as well. Finally, and after many years of backbiting, incomprehensible decision making and short sightedness, the English has one of their own too.
There is of course a perfectly feasible argument that from 1989 to 2004, there was an unofficial English Championships held under the name of the Masters in Cambridge each year, but somehow the powers that be and the organisers of the contest could never agree that however big, bold and successful that was as an event, it should be given the stamp of 'officialdom' placed upon it. It's time has now passed and that particular argument now closed following the contest's of emphasis, but it has been one of the great missed opportunities that there hasn't been an official English Brass Band Championship until now.

That has now changed, although not every English band that could do its duty, has scrubbed up and put on the battle fatigues to take the opportunity to compete here this year. That's a pity, as this has the making of a true top tier contest.
4BR has been a bit of a trenchant critic of the BFBB over the past couple of years, although you do have to take your hat off to them on this occasion (pre contest that is – post contest may be another matter). They have worked very hard indeed to try and ensure that this inaugural event is both a musical and financial success and have taken the long term step of allying itself to the EBBA European cause with the decision to nominate the first prize winner as the English representative at future European Championships.
This is an excellent decision and gives the BFBB the chance to show its teeth somewhat to those bands that at present feel that the contest does not need to feature on their musical horizons. After the European in Belfast, the route to European glory for English bands (whoever they are) now lies through this contest. EBBA itself quite forcibly inferred that it would not want to see any other English representative getting to Birmingham by any other route, and so it was good to hear that even if a second English band could be nominated to attend in 2007, it will be the band that comes runners up here. Let's hope EBBA sticks to its guns on this decision, because it doesn't the BFBB could find itself between a sharp rock and a very hard place.
One of the reasons why there is a real sense of optimism about this contest is that the BFBB has stuck its neck out somewhat with the format to try and give the brass band contest as a concept a new and refreshing boost.
Qualification was decided well in advance, giving the bands plenty of time to prepare. Automatic qualification went to those bands that won their respective English regional Championships in 2005, and although that has meant that Grimethorpe took the decision not to attend (although they may do next year in light of their loss of sponsorship) after winning in Yorkshire, five of the six remaining winners do.
In addition, invitations the went out to the eight highest ranked English bands in the World of Brass World Rankings (rankings endorsed and supported by both 4BR and British Bandsman newspaper), who had not already qualified by right at that time. This has meant that only Black Dyke has refused its invitation to compete, although, what with that European decision, next year could also be a different story.
The result has been a very encouraging top class line up of bands.
The Regional winners are represented by Bournemouth Concert (West of England); Leyland (North West); Redbridge (London and Southern Counties); Reg Vardy (North East) and Woolley Pritchard Sovereign (Midlands). The top ranked bands come in the shape of Brighouse and Rastrick; Fodens Richardson; Hepworth (Lanson Homes), Mount Charles, PolySteel; Ransome; Sellers International, The Fairey Band and YBS.
Not a bad line up is it now, and whoever wins will have doe so against a high quality field.
The other encouraging news about the contest comes in the form of the adjudication process, the contest format, test piece and Gala Concert.
The judges for the contest are William Relton, Derek Broadbent and Chris Wormald and all are top notch musicians with plenty of experience who are not afraid to make their opinions known on how the bands have played. They will also have the added benefit of being able to listen to any of the performances a second (or even third time if they wish) in their decision making process, as each performance will be recorded and made available to them if they wish. This is a progressive approach and will allow the judges to refresh their memory banks at a crucial time. Being drawn number 1 or 2 then will not now be as much of a handicap as it could have been. The bands should surely welcome this!
The format too has been given a welcome twist with the use of multi media presentation enabling the audience to feel much more involved in the contest. Philip Sparke will comment on his set work for instance and there will be information about the bands. The need for a 'cup of tea' when an unfancied band takes to the stage should be greatly diminished.
The test piece promises to be a good 'un too with Philip Sparke delivering a compact and enjoyable work that has all the right ingredients to test the bands to the full and give the audience a enjoyable musical experience.
Finally, the Gala Concert, which hopefully won't be too long and should be an enjoyable occasion, especially as it is hosted by someone who actually knows a thing or two about bands and isn't just a pretty face!
So who will win the inaugural English National Championships then and take away with them a nice fat cheque for 4 grand and the rather neat new trophy.
Of the bands on show, some do have that touch of class about them that should stand them in good stead, whilst others have some pretty good form of late to fall back on.
Foden's were very unlucky at Cambridge and we are sure this will have fueled their desire to win here. If they display that type of form once more then they will be the band to beat we are sure. Meanwhile, YBS have been quietly going about its rebuilding process over the past year and with the additions of a couple of new faces to fill some important roles they too could be in line to add another major honour to their CV. Fairey's have also been in the rebuilding process over the past year or so and with so much excellent young talent in the ranks this could well be the occasion for them to step up to the mark.
Close on their heels we think it could be the rejuvenated talents of PolySteel who were outstanding at Cambridge and will be flying higher than Kate Moss at a birthday bash, whilst Leyland seem to be a band that is maturing with just the right amount of quality under Russell Gray. Hepworth (Lanson Homes) is a band that now has high expectation wherever they go and should at least make it into the top six.
Dark Horses? Well give the strength of the field it could be anyone of the rest, but we opt for Brighouse if they can find that form that they used to show the last time they got together with Mr McElligott at the helm.

4BR Prediction:
1. Fodens Richardson
2. YBS
3. Fairey
4. PolySteel
5. Leyland
6. Hepworth (Lanson Homes)
Dark Horse: Brighouse and Rastrick