2006 English National Championships - Test Piece Review
26-Jun-2006
4BR has a look at the Philip Sparke set work 'Dances and Alleluias' and finds a link between it and a pair of womens Monolo Blahnik shoes. Read on....
---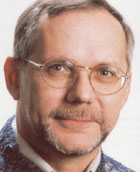 When you know you are about to hear a test piece by Philip Sparke you can be forgiven for thinking its going to be like popping on a nice old comfortable pair of slippers that have been warming by the fireside for the past half an hour. You would be badly mistaken.

Mr Sparke does in fact make musical slippers like Manolo Blahnik makes wonderful shoes for women: Colourful and great looking, sharp and brilliantly engineered, with just the right hint of danger and the unexpected. You know exactly who made them and what they will be like to wear. If you can carry them off they make you feel like a million dollars, but if you suffer from chubby ankles and toes like mini hammer head sharks then beware. You will come a very expensive cropper.
However well you think you know what Philip Sparke does, he still has the priceless gift to put a few drawing pins in the bottom of your socks just in case you think he's producing just a run of the mill piece of high class music. Try running before you can walk on any test piece he has written and you will soon suffer musical blisters the size of dinner plates.
'Dances and Alleluias' is a case in point.

On the face of it here is a piece that has all the familiar Sparke hallmarks splashed right across just about every page of the score. The technical side of the music is supremely well engineered, whilst the flow of lyrical, warm and subtle musical themes continues to capture the ear in its endless varieties of style and timbre.
You may think you have heard it all before, and with this work there are similarities in style to previous compositions such as Harmony Music, Partita and Tallis Variations in particular, but just when you thought you were entering that comfort zone, he gives you the equivalent of a Chinese Burn or a stamp on the toes and off you shoot in a different direction. Clever ain't the word for it - brilliance is.
The composer writes in his preface to the score that he felt he had gone as far as wanted when he composed 'Music of the Spheres' and that he wanted to write what he describes as 'absolute' rather than programmatic music. He wanted to keep the same degree of emotion, but perhaps not all the bells and whistles that he employed with Spheres to achieve the same goal. He seems to have succeeded.
The crux perhaps comes with how he interprets the 'Alleluias' of the title. These are not interjections of praise in their religious sense (and not to be confused with the interjection 'Halleluiah', which is more of a specific exclamation of praise). Here he uses it in a more liberal sense – that of the vocal expression of joy, possibly religious, but not entirely so.
There are a number of these throughout the work, separated as they are by various faster and slower episodes of thematic material. Again it is important to point out that there is no religious context to these sections of the work either and it perhaps more appropriate to suggest, as the composer notes, the music is much more about the relationship between the thematic material, how it links and develops and how it changes in structure, form and musical feeling towards its magnificent climax.
The work opens with a real test of ensemble quality. In fact quite a few performances will either be earmarked for success or failure here by the three judges for certain. There is no escaping the need for quality of balance, warmth, dynamic control, and above all, tuning. The first of the 'Alleluias' comes quickly thereafter.
The first of the 'dances' is reached at figure 51 marked Allegro Vivo that is marked for its need for ensemble clarity and balance. The first echoes of 'Tallis' appear here before the energy of the music disperses before figure 116 and euphonium solo. The music develops with all of Sparke's superb use of lyricism with the trombone leading the way and in turn answered by both the soprano and euph again at figure 139. The climax at 156 is huge with a joyous afterburn.
For those with a keen ear the section marked Vivace at 169 brings back memories of Harmony Music and this moves on with a real sense of fun and enjoyment, but with some pretty difficult technical hurdles to overcome for the euph at 299, followed by baritones and horns. This is all about lightness of touch, especially right at the end where the xylophone leads with a touch of real delicacy allied to precision from the brass ensemble.
A point to note with regards to percussion is that its use in the piece is quite sparse compared to most test pieces for this level. The cleverness though is that what they have to do is always intergral to the music and not just for slap dash effect. Mr Sparke is perhaps the best percussion writer for the medium we have ever had – so perhaps others should make a note of what he does and doesn't need to use here.

Back to the music, and the baritone then proclaims the final section with a quasi cadenza that requires great flexibility of thought and execution. This then leads to the start of the fabulous build to the end with huge demands made on the solo cornet at 440 in particular. The final choral like Alleluia then appears before the composer really goes to town and allows the best bands to display their ability to play at full voice, but with balance and warmth.
'Dances and Alleluias' is typical, yet untypical Sparke. You feel at home and at ease with the sounds you hear, tense and anxious at the technical tests for the band and soloists, and fulfilled when they are overcome and a fine band is playing to the top its form as it reaches the huge ending. It asks all the right questions and gives us plenty of right answers too.
Philip Sparke is a wonderful composer for brass. Now well into his fourth decade of test piece composition for the medium (Land of the Long White Cloud appeared in 1979) he continues to surprise and delight with the intuitiveness of his work. You can enjoy his compositions time and time again without ever getting bored, even though you somehow in your minds eye know what you are going to get even before the first note is played. That is no cheap trick – it is a sign of a true master craftsman. Even Manolo Blahnik might agree.
Iwan Fox