Whit Friday 2006 - Retrospective
14-Jun-2006
4BR's Malcolm Wood was out and about to take in the sounds of the bands and some rather peculiar sights.
---
The words of Reginald Spofforth's 'Hail Smiling' Morn' were very apt this year as glorious blue skies heralded the beginning of one of the longest but greatest days in the banding calendar.
Summer in the UK had finally arrived the week before and the temperatures were in the 70s throughout the day with large crowds in attendance for the Walks of Witness in Saddleworth and in Mossley during the morning and around the twenty-two contests at night.
139 bands did battle across the Saddleworth & Oldham circuit whilst many of them also paid a visit to Tameside where 90 were registered to have battled for the prizes.
Despite a few of the 'big-name' bands being absent this year, bands such as Besses, Faireys and Leyland put their reputations on the line competing against rivals from the championship section, lower sections and the traditional Whit Friday scratch bands; all of them competing for the sheer thrill of enjoying the night. Results on the night can be a lottery, but once again, those bands that were consistent, well prepared and had a sprinkling of quality players on the night succeeded.
Brighouse & Rastrick in their 125th Anniversary Year added around £5000 to their coffers after being declared as the Saddleworth Champions. Under the direction of Ian McElligott, B&R's impressive performances of 'Ravenswood' were enough to give them the title on the night. Victories at Greenacres, Grotton, Lydgate and Scouthead & Austerlands were accompanied by a second place at Greenfield and a third at Lees & Springhead. They only missed out on a prize at Delph where they came in fourth (a venue where they have won on a record 23 occasions since 1945).
Success on the night coincided with the band being accompanied by a production company who were making a programme for Radio 4 about Whit Friday, to be broadcast this Friday (16th) at 11.00am and can be heard via the web at www.bbc.co.uk/radio4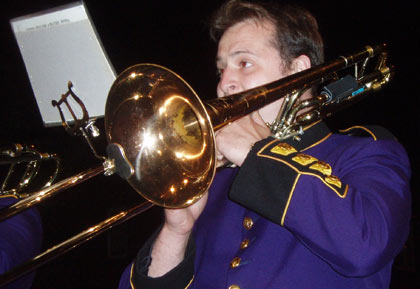 Listen to the Pips: Jonathan Pippen helps Brighouse to Saddleworth victory
Second place in the Saddleworth Championships went to Marsden (Riverhead Brewery) Band. With Professional Conductor Glyn Williams already committed with Fodens for the evening, perhaps the most experienced conductor of the entire Whit Friday this year, Geoffrey Whitham fronted the band, directing them in fine style with some very impressive performances of 'Honest Toil'.
Performing at eight venues throughout the Saddleworth district, and with four third placings they reserved their best performance till last with a cracking rendition that brought them the runners-up spot at Delph.
Third place overall went to Dobcross Silver who opted for the old favourite, 'Mephistopheles'. Resplendent in their red hats, they took the honours at Denshaw along with Best Local (Delph), Best Saddleworth (Dobcross & Greenfield) and a fourth overall at Grotton.
In addition to the main prizes, awards were given to the Local Champions for the night based within an eight mile radius of Uppermill. The winners in this category were United Co-op Milnrow with Mossley coming in second and Holme Silver led by the energetic William Rushworth in third place.
For the first time, a prize was given for the Best Youth Band who competed at six or more contests. The prize, in memory of Uppermill stalwart, Haydn Bradbury who died last year was won by Rochdale Borough Youth Band under Eric Landon courtesy of their performances of 'ORB'. They were both a credit to themselves and to the contests they attended and the standard of the playing was never anything other than excellent.
Throughout Saddleworth & Oldham as a whole, the attendance of bands drew some very healthy numbers. Lees & Springhead in its 70th contest got a new record of 51 bands for the night, whilst 57 bands competed at Dobcross, Lydgate and Uppermill.
Greenfield and Scouthead both had over 60 bands in attendance but it was again Delph that had the biggest number of the night with an enormous 75 in attendance. Bands were going through at around ten an hour and there were over 80 bands booked in ready to play. The Police though decided that 75 was sufficient with Marsden being the last band to play at 12.30am!
Obviously, this led to a bit of disappointment from bands that wanted to perform, but if everybody had played, it would have been 1.30am and beyond when things were completed, and although Delph is known for bands playing past midnight, it was the Police who had the final say.
One of the bands due to play at Delph's 60th year celebrations were Hepworth (Lansom) Homes, who were in with a great shout of featuring in the main prizes after wins at Dobcross and Greenfield and runners-spots at Lees & Springhead, Scouthead and Uppermill.
Over in Tameside the atmosphere was just as buoyant at the various venues with over a thousand people watching and listening to the action at Hurst Village. Six venues had over 40 bands in attendance and Carrbrook celebrating twenty-five years were delighted with their 39 bands where Freckleton took the first prize of a £1000. Fodens Richardson, for the fifth year in a row took the Tameside Championships having competed at ten out of the eleven venues (only missing out on the chance of a nice pick up at Carrbrook) before going into Saddleworth.
Whoever plans the route for the band deserves credit because whilst Tameside is logistically easier to get round than Saddleworth, it still needs someone with great local knowledge, a fine undertadning of local parking sports and a cabbies knowledge of the highway code!
Garry Cutt's band found 'The President' to be to the liking of the judges at Droylsden, Dukinfield, Micklehurst and Stalybridge whilst Denton saw them finish second and third places were gained at Hurst Village and Upper Mossley. Whit Friday wouldn't be what it is without the odd curate's egg of a result - the band finishing eighth at Heyrod!
Fodens weren't the only band to gain a surprise result at Heyrod. National Champions, Leyland came in thirteenth on the night, but they were more than consistent enough elsewhere to come runners up in the Tameside Championships. Playing 'The Wizard', Russell Gray's band took victory at Denton, Hurst and Upper Mossley, a second at Droylsden and a third at the picturesque setting of Stalybridge Celtic Football Club.
Not content with ten contests, Fodens then took victory at Uppermill and a third at Delph – so a busy night for the band, and a very happy treasurer.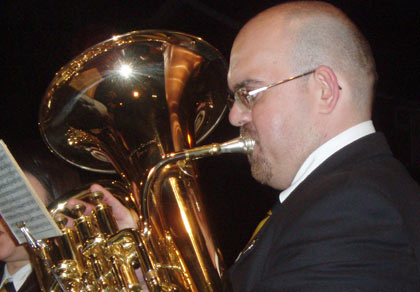 Wonderful Mr Williams: Glyn Williams leads Fodens on their way to Tameside victory
Pennine Brass finished overall in third place, finishing in front of newly crowned Masters champions, Rothwell and one of the Whit Friday favourites Faireys. Ian Porthouse's band was in fine form all night with fifteenth position at Delph being their worst result. With a second place at Upper Mossley, three was their lucky number for the night, with bronze medal placings gained at Broadoak, Carrbrook, Denton, Heyrod and Micklehurst.
As with Saddleworth, prizes were given to bands based within 11 miles of Ashton-Under-Lyne. Victory here went to BT who competed at all eleven venues where they featured in the prizes at Tame Valley and Droylsden with three fourth placings for good measure.
Faireys were another band whose main focus for the night was Tameside. The Stockporters had a mixed bag of results though with third place at Stalybridge being their top placing, along with a treble of fourth places elsewhere on the circuit.
Ashton Band benefited from having legendary James Shepherd in the cornet ranks, with the band conducted by his son-in-law, Phil Chalk. Victory for Ashton came at Broadoak with two fourth places at Carrbrook and Upper Mossley. The band's consistency on 'Mephistopheles' was maintained at Delph where they performed at around 10.30pm to finish fifth.
Once again, Whit Friday saw visitors from far and wide along with a variety of 'Scratch bands'. Brass Band Berne from Switzerland gave a very good account of themselves in Saddleworth where they came fifth overall. It was midnight when they performed 'The President' at Delph, finishing sixteenth, but after a long day when they had played in the Processions of Witness in the morning, they will have been thrilled to take home with them other prizes of fourth, fifth and sixth at other venues on the day.
Scratch bands were on show from Yorkshire (Tension Brass), Henstag Brass and Half a House (from the Isle of Man) and Tartan Brass from the Mull of Kintyre. Within Tartan's ranks was YBS's Rob Richardson on tenor horn instead of baritone, Morvern Gilchrist in the cornet ranks and fellow Black Dyke player, Danny Sinclair on bass. Danny really got into the spirit of the night with his Scottish colleagues by wearing a kilt and a Tartan shirt!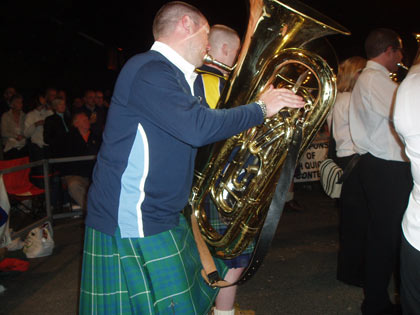 Wonder what's under his sporran? Black Dyke's Danny Sinclair goes all Scottish
Danny and Morvern weren't the only members of Black Dyke that were spotted around the circuit. John Doyle was with Besses, Paul Lovatt-Cooper with Wardle, Phil Goodwin with Delph and even the MD, Nicholas Childs who conducted Hebden Bridge and Delph during the evening. Also out and about was Malcolm Brownbill with Diggle and Brisbane Excelsior's Howard Taylor who looked like he was having a great time conducting Marple.
Whilst the temperatures meant plenty of bands just opted for shirtsleeves on the night, there were bands floating around in fancy dress as well. It was a wedding dress that really caught the eye though on the night. It wasn't a gimmick either, as it was the newly married Joanne Luddon from Greenhalls Band.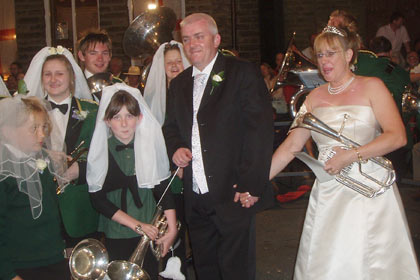 Who says marriage isn't what it used to be? Mr and Mrs Luddon enjoy early married life.
Earlier in the day, Joanne had married the band's conductor, John and later in the day the whole band had an absolute ball on the circuit. Some of their colleagues wore veils and they scrapped the traditional street march, preferring the march to the various contest venues playing 'I'm Getting Married in the Morning'. Nearly spot on eh?
John had openly confessed that Whit Friday is one of his favourite days of the whole year and they certainly had a day to remember forever. Perhaps they will take a leaf out of HM Queen's book by acknowledging their Wedding Anniversary on June 9th and every time Whit Friday comes around have an official Wedding Anniversary.
Once again though, everybody who was out and about on the night had a fantastic time and the hard work has already started in earnest for 2007. www.brassbandphotos.com was on hand at Delph so for any band who played there, there's every chance you'll be on a picture or two, or even three.
Each and every contest works tirelessly throughout the year and is grateful for the sponsorship that comes their way. All of them are unsung heroes as without the help that goes in, the contests wouldn't function.
Another un-sung hero is a gentleman called Peter Dyson from Saddleworth. 4BR has acquired the data that gives you the opportunity to find out which band finished where. All this information is collated by Peter who puts in hours and hours of work as soon as the contests are over to work out the various prizes – thank you Peter!
Whit Friday has been dubbed the 'Greatest Free Show on Earth' - there was no doubt that it certainly lived up to its billing this year.
Malcolm Wood