2006 All England Masters International - Retrospective
1-Jun-2006
Cambridge is a place well known for those who use their brains. Dave Roberts and Rothwell certainly passed the tough exam paper on Paganini, but plenty of others fell by the wayside...
---
Cambridge is a place that is world renowned for people using their brains. Even a quick walk to a local restaurant sees you passing students, overlong scarves draped around their necks on bikes with wicker baskets on their handlebars, pondering the great questions of life in their unfeasibly large craniums full of thinking matter.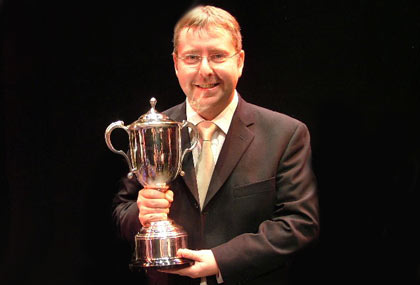 The Paganini Man: David Roberts becomes the Masters craftsman

For the visiting brass band community Cambridge is certainly different, but given that the various universities here all reward excellence, intelligence and sheer hard graft, you were left wondering that come the contest whether some conductors and their bands had left their brains in their practice rooms.
The All England International Masters is now in its second year since opening its doors to the Celts, the Europeans, and for the first time, the Australians. It makes for a very cosmopolitan atmosphere amid the dreaming spires and the languid punters on the Cam River, but, it was the most traditional of 'English', or should that be 'Yorkshire' virtues that won the day.
Rothwell Temperance is no better or worse a band than perhaps 90% of those who took to the stage here on the weekend. However, in the past 9 months or so they have produced a series of quality performances and as a result have come 5th at the British Open, qualified for the National Finals and have now won a major banding title. They do not have a coterie of star soloists in their principal chairs, or are backed by some financial sugar daddy either. They are just a very hard working, honest and spirited band that is led by an intelligent and equally hard working MD.
They also came to Cambridge and used their brains, and as a result went away with a £5000 in the bank, £250 and the 4BR Best Instrumentalist Award, £1000 for the winning conductor and a place in the top 10 4BR/World of Brass Rankings. Come the British Open and National Finals, they will be very strong contenders to add further honours to their growing CV of achievements.
Why others couldn't have replicated their approach was perhaps borne out of misplaced confidence, or in far too many cases, a misplaced preconception of their own abilities.
The contest itself started disappointingly with three performances of the set work, 'Paganini Variations' that wouldn't have mustered a GCSE pass in Cambridge entrance exam.
Whitburn is a very good band that hasn't had much luck when it comes to the draw at major contests of late. That though cannot excuse a sub standard performance never rose above the mediocre and was blighted by an error count that went off the scale. This was sloppy playing, lacking concentration and application and they could have no excuses for ending up in 18th place. Whatever the reasons, they will need to sort them out before they make the even tougher journey south to Birmingham in September. We had them 19th.
They were followed onto the stage by the first European challenger in the form of Brass Band Rijnmond, and they too failed to come to terms with the piece, both musically and technically.
The 'funebre' section (Variation 13) onwards is perhaps the crux of the whole work, and requires an approach that both reflects this subject matter and the following sense of plaintive despair in the flugel led 'sospirando'. Rijnmond however took no account of the dynamic markings or the required style and as a result it came over as cold, harsh and lacking any kind of subtlety.
Throughout the day however, they were not alone and theirs was but the first of many that lacked style and common sense, musicality and any sense of warmth. 4BR may have been harsh in its live comments, but given the abject, clueless playing and direction that was on display at times, we stick by every word we said.
Rijnmond were also by no means the worse, although the celebration of the second man down after the final note was bizarre to say the least. If it had been a decent performance then he might have blown a gasket. In the event they got 14th, and we had them 17th. Not one to go bonkers about though.
It was much the same with 1st Old Boys from Northern Ireland, who produced a performance that had a great deal of endeavour but did lack style and that touch of finesse. They are an improving band though, and Stephen Cairns and his players have certainly learnt the lessons of last year. This time their performance was much more compact and solid and in the event held its own. 15th would please them greatly, as we had them 20th.
With three performances gone it was Scottish Co-op under Nicholas Childs that finally brought things to life.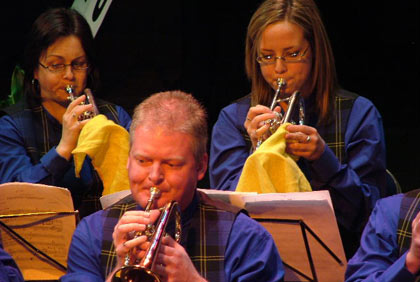 Who said dusting was woman's work?: Scottish Co-op opt for some domestic help

Although not technically always secure, musically it was the first to bring sense to the funeral section and following 'sospirando', whilst there was clear variance in dynamic and tempi between the variations. It was a fine performance, just in need of a bit more rehearsal time, but nevertheless one that deserved to come in the prizes. 4th was perhaps a couple of places too high for us (we had them 6th) but it showed that for all the insistence of relying on technique from others, it was simple, intelligent musicality that will always win over the judges in the box.
Now came two bands with sky high confidence following their ascent to the British Open. Both however, were a major disappointment.
Aveley and Newham started well, and it seemed to be a performance heading in the right direction. That sense of confidence however soon became misplaced. The funeral section and 'sospirando' were approached at first in a slightly pedantic manner, and then with a complete lack of intelligence and nervousness in parts of the band. There really was some gormless playing in places.
They then lost their heads, and the band that we heard and so admired in Blackpool became a shadow of themselves as it all ended with brash and harsh overblowing.
Why certain members of the band then yelped and hollered at the end of the performance like Pavlov's dogs in a display of totally misplaced celebration was beyond us. 19th from the judges, 16th from us. If they play like that at Birmingham, they could be in for a pretty hard time of it.
No such celebrations at the end of Carlton Main's rather inconsistent performance. Perhaps they knew they hadn't performed to their expectations (or 4BRs – as we predicted a possible 3rd place before the event), or perhaps they just felt that such a display of idiocy was below them. Whatever. Russell Gray did what he does best, and let the music flow, but the lack of security and the hint that at times they were really on edge meant that they fell away to a disappointing 16th place. We had them 13th, but they will also have to up the ante if they are to make any sort of impression at Symphony Hall.
Kirkintilloch can always be relied upon to do something a bit different, and this time Steve Bastable had arranged his band with the cornets forming an inner arc, whilst he also took the opportunity to get his euphonium player to come to the front of the stage to play his solo in the funeral section. Neither quite worked and although this was a stylish performance it was the quieter sections that lacked security.
When the muse is with this MD he can produce truly memorable musical performances, but when it isn't he can over conduct, and there were occasions when less would have meant more here – especially the last chord which went on far too long and sounded unnecessary and out of tune. Still, 8th place was a good return (we had them 7th) and watching and listening to Steve Stewart on soprano is always worth the entrance fee to any contest.
Much was expected of Brisbane Excelsior under their conductor Howard Taylor, and there were many who tipped them to come in the prizes before the event. Even though they did eventually come 10th, they would have left the stage somewhat disappointed at their efforts though.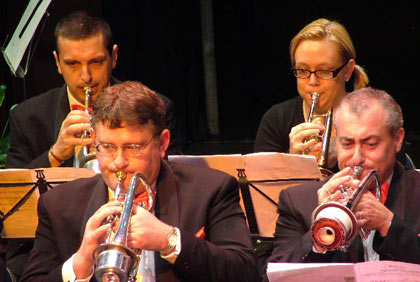 Aussie quartet: Brisbane's cornet section get to grips with Paganini

Howard Taylor gave the music the required variance in both tempi and dynamic and the neat approach (even with four troms and five basses) seemed to be paying dividends. The wheels however came off from about Variation 9 onwards (the euphs and baris rather panicked) and the funeral section was error strewn. The flugel and Eb tuba were very good indeed, but the damage had been done, and by the time they recovered poise it was too late and it just ended a touch tamely.
We had them in 15th place, but if things had gone well it had the makings of a performance that could have knocked on the door of the top six. Still, there was plenty of evidence of a fine band here, with quality performers all around and quality direction from the man in the middle. We will hear more of Brisbane we are sure, but at least they know now how difficult it is to make an impression at a major UK contest if you don't play to form.
Now came a performance that was in a different league from what had gone before.
Rothwell Temperance produced a solid non nonsense opening that was followed by variations that had security, shape and style, as well as crucially, that sense of variance.
The subsequent variations were overcome with a real quality playing and by the time the flugel had craftily turned his back on the audience and the band to deliver an almost detached plaintive style in the 'sospirando' it was clear this was a performance of note. All the soloists were excellent, most notably the euphonium of Andy Marsh who won the 4BR Soloist Prize for his efforts and the soprano of Paul Argyle who won a new born baby boy called Harry at exactly the time he was piping out a top B in the funeral section!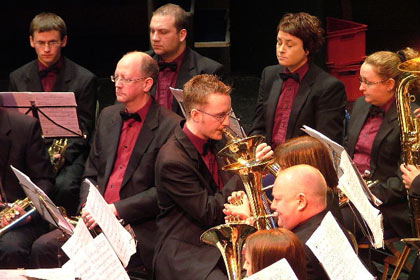 Back to the future: Rothwell's John Ward has eyes in the back of his head

It just got a touch hard in places for us when they really opened up the throttle but it was high class playing and fully deserved to be up there come results time. As personal preference we had them 5th, but given that Fodens didn't make an impression with the men in the box, lots of people had them as their next choice to win. And so it proved.
SWT Woodfalls had to follow the winners on stage and MD Dave Barringer, perhaps knowing that he was going to have a hard workout went on in shirt and tie.
It was never a performance that set the pulse racing, but nevertheless it was no worse or better than many that came before or after it. It was however memorable for the MDs quick thinking when the flugel player decided to hang about too long in the funeral section and gave one bar an extra two beats. Quick thinking and a calm head averted what could have been total catastrophe, although Dave possibly aged 10 years in the process. 17th was the result and was just about bang on for us, even though we had them one place lower.
And so to Fodens Richardson.
It is fair to say that even though they had a couple of nasty blips and blobs in the opening sections, this was a performance of the very highest class, and for us (and we are fairly certain, the vast majority in the hall), it was a clear winner.
Garry Cutt just let the score unfold without any recourse to the crass interventionism that so blighted others, whilst his soloists, especially Alan Wycherely on soprano, Glyn Williams on euph and Helen Fox on flugel were at the very top of their form. It has been a little while since we have heard Fodens play as well as this in fact, and it was a timely reminder that on their day they are one of the very best bands in the world.
Everything had that touch of extra sheen and class about it, especially the funeral and 'sospirando' sections which were something else. We make no apology for describing it as 'wet knickers' stuff – it really was that good.
Come the end, it was difficult to see it being beaten, but in the tent the three judges, David Read, Geoffrey Whitham and John Berryman though it good, but not that good.
All three thought it was rather overblown in places and didn't quite take into account the acoustic of the hall. This was a mystery to us, as it never sounded other than full voiced (as required in the Plena Voce), broad, warm and balanced. Brainless side drum percussion at the end didn't obliterate it either (so many were), so how it sounded so loud in the box was beyond us.
Fodens can be bitterly disappointed for not getting reward for their efforts here, and 7th place seemed to be more than a little unjust.
At the halfway point of the contest Fodens seemed to have produced the marker to beat, whilst Rothwell were close on their heels with Scottish Co-op a little further back. The rest were nowhere.
The second half of he contest started with a decent middle of the road performance from BTM, which was followed by a very poor account from GUS and a real curates egg from Redbridge.
BTM were solid, unspectacular and in all honesty, a touch boring. Given that it had no obvious structural weaknesses except a lack of variance in dynamic and tempi and the occasional touch of untunefulness, 12th place was a very fair return. They are a band that seems to be enjoying their partnership with the Australian Jason Katsikaris, and that could prove to be very beneficial in the long term.
Where BTM were solid and unspectacular, GUS were wobbly and at times plain boring.
GUS is a very good band, but at present they seem to be playing like a heath and safety manual. Their performance just cried out for a bit more risk taking and a degree of subtlety. Playing safe can have much to commend at times, but then again, so can playing with a degree of intuitiveness. The final section displayed this in full – one paced with percussion that simple obliterated, and they cannot have any complaints about ending up in 20th place. We had them 21st and last.
Melvin White and his Redbridge band seemed to be on differing planes of musical thought from eachother at the moment. He tried his socks off to drag music from the score only to be faced with some rather insipid playing from his charges, and as a result it was a sloppy performance of a very musical reading. Last place seemed a touch harsh however, given that there were many on the day that struggled with the basics of the test piece. We had them 14th, but they will need to sort out the communication problems for the future.
The two major European challengers were next up, and both really showed their quality with performances of stature, if delivered with differing thought processes.
Willebroek produced a superbly structured account that showed the audience (nice to report that a lot of rival bandsmen and women had come in to listen) all their qualities to the full. Stunning technical playing (especially in the bass end), great band sounds at both ends of the dynamic register and some wonderful individual contributions all seemed to suggest they were producing a winning performance.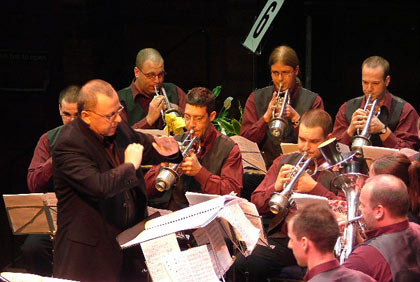 Belgian brilliance: Willebreok head for third place

However, a slightly idiosyncratic funeral section perhaps robbed them of the chance of victory. 3rd place was well deserved (we had them 4th), but it also showed that this is a band of the very highest class. They will get better and better still.
Treize Etoile's performance was one that was as efficient, clean and clear as the Swiss National Railway timetable. It was also perhaps, just as lacking in warmth.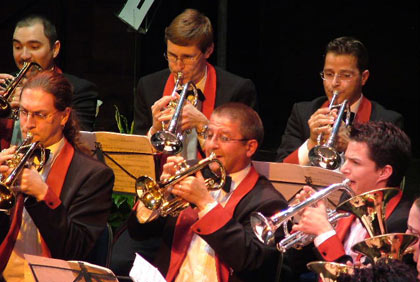 Swiss efficiency: Treize Etoile come clean and tidy in 5th place

Technically it was quite stunning at times, even at tempos that were quicker than a Paris to Berne TGV train. The tubas were breathtaking, and so was their little soprano player Manuel Carthoblaz, and whilst it just needed a touch more tenderness and feeling in the more lyrical sections, there was evidence a plenty that here is a band that wouldn't be out of place at any level of band contesting worldwide. We had them 2nd, the judges 5th, but they too will be even stronger for this experience. The UK bands should beware.
We have been critical of PolySteel on occasions, but it would be nigh on impossible to find fault with their performance here. They are a band that has a fine record of achievement at this contest over the years, and both Philip Harper and his players really know what it takes to carry off a top notch performance on this difficult stage.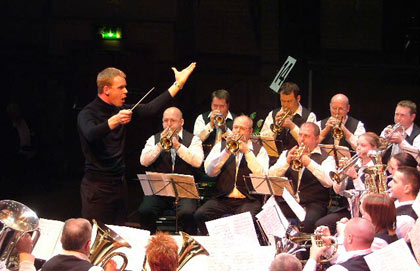 The man in black: Phillip Harper leads his band into the runners up spot

Here they produced a quite excellent performance that had much to do with the intelligent approach of the MD as it did the quality of the individual players themselves.
Philip Harper, rather sinisterly resplendent in black polo neck jumper laid out his reading with ample time and space, mixed it with nuance and subtlety and left the rest to his players to enjoy. They did. Each of the variations led easily and naturally into each other and the main solo lines were played with real feeling and understanding of the subject matter. By the time they delivered a rousing, but controlled finale, it was a performance that was right at the top of the pile, and deservedly so.
We had them 3rd, the judges runners up, but it was touch and go a winner too. On this form PolySteel are as good a band as any around, and it will disappoint the band that they couldn't have shown this type of form at the Regional or the Grand Shield to get to the Open or London. Here they showed that they could have been real contenders at both.
Not so Desford, who delivered a pretty non descript performance that although decent enough, was never going to make more of an impression in coming 13th than it did. We had them down for 9th, and there were tantalising glimpses of real class, especially in the flugel solo, but it never quite had enough musical nuance under Ian McElligott to make more of a mark.
Sellers International on the other hand certainly made you sit up and listen. This was a very individual interpretation to say the least, but one that you had to take your hat off to Philip McCann for trying. In the end it perhaps took too many liberties with the score (it was pulled about, and we had to question the need for the solo cornet and trombones to stand), but for all that, it always kept you interested. 11th place was bang on the mark for us, but if they had just gone for a plain digestive biscuit of a performance instead of a cream horn with cherries on, it may have come in the prizes.
Reg Vardy fell into the trap of going with the safety first approach for far too long, then, as if they knew they had to try something a bit different, just about went haywire in an attempt to make a final indelible impression on the mind. The result was a mish mash performance that was neither something nor nothing.
The opening third of the piece was OK, nothing more, and the middle section, led by a fine bit of flugel playing (a performance of real merit in her soon to be mother circumstances by Joanne Winspear) was also safe enough. That would have given them a possible top six place if it had carried on in the same vein, but some rather overblown and some inept percussion work that totally obliterated the final section robbed them. We said it was a top half of the prizes performance (we had them 10th) and we weren't far wrong when they came 9th. It could and should have been higher.
That just left the final band, Hepworth (Persimmon Homes), and for the first third of their performance they were on course for a podium place at least. There was a real sense of style about the approach and the louder dynamics suited their bright sound.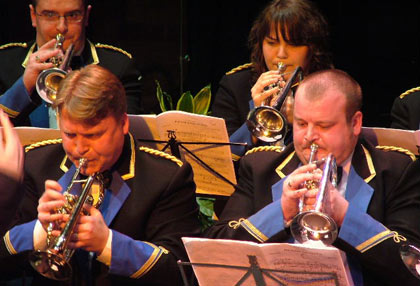 Pumping it out: Hepworth's cornet section give it their all to come in 6th

Once the dynamic level was in need of reduction though the quality wasn't the same and a very poor bass variation 12 led to a funeral section and 'sospirando' that was average in approach and execution. That was a pity as soon after that sense of classy swagger and assuredness flooded back and the performance was rounded off well in fine finish.
We said in our pre contest coverage that Hepworth are now a band that should be up there at major contests, and once again they showed us just why. 6th place was perhaps a couple of places higher than we thought it deserved (we had them 8th), but it does show how good a band they are, even when they are not on the very top of their form.
For many people the results would have been absolutely acceptable, but for two problems. The first was that the adjudicators were not asked to comment on what they had heard, and secondly, that meant that the audience was left rather dumbfounded when it was announced that Fodens was not in the prizes.
Whether or not this was an oversight on behalf of the organisers we do not know, but if they could take the time to ask Don Lusher to say a few words, then you would have thought they could have made sure David Read, John Berryman or Geoffrey Whitham did the same. It left a slightly bitter taste in the mouth for those leaving the hall and took away something of the deserved congratulations that should have been bestowed upon the winners.
The 2006 Masters though showed us many things. The good was the fine playing of the very best bands here; the bad, was the sometimes rather unintelligent approach to the piece by both conductors and players alike. Some made a pigs ear out of a dogs dinner and didn't bat an eyelid in the process. One wonders what they see in themselves when they looking the musical mirror every morning.
As for Rothwell though? Congratulations. For a band that on paper is no better than 95% of their competitors, they have now shown on the contest stage that they are very much in the top 5% tier of the very best bands in the banding world. Others should take note of how they have done it.
Iwan Fox.