2006 All England Masters International - Introduction and Predictions
24-May-2006
This weekend sees bands from all over the world converge on a tight corner of Cambridge to see who will become the Masters International Champions.
---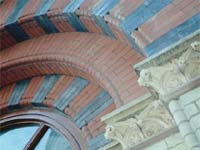 Introduction:

When Philip Biggs and Richard Franklin took the contentious step of opening out the Masters, many thought that it would herald the demise of an event that was seen to be a shining example of democratic brass band contesting at its very best.
The teething problems of making what was previously an 'All English' event into something approaching a realistic 'International' competition were painful. However, it is easy to forget that the Masters in its original form was gentrifying. Since its inception it had never obtained the seal of approval from those who had the power to integrate the contest fully into the wider European context. The winners were never allowed to compete at the European Championships as the 'official' English representative and as hard and as often that Biggs and Franklin put forward their case for making the Masters the English qualifier for the contest, the request was snubbed. The contest though was still in need of an overhaul.
That said, not all the fault lay with others and there were a number of clumsy decisions made at inappropriate times that lost the contest much of the excellent goodwill it had built up with its competing bands over the years. That is now history, and even though the contest would benefit if some leading English bands did take part, the event has reinvented itself and been given fresh impetus with the opening out to bands from mainland Europe, Ireland, and this year, Australia. The 2006 Masters is truly an international brass band competition and the event has an exciting future to look forward to.
This year 21 bands will take to the hot and somewhat stifling Corn Exchange stage (although if the current weather keeps up it won't be as half as bad as last year, when the hall was like a sauna) and it is a field that promises much.
The test piece is a classic: 'Paganini Variations' by Professor Wilby is as an enjoyable a set work you are ever likely to hear, and given that it is a piece that is well within the capabilities of every one of the bands, it should provide for a very high standard for the judges to ponder over. That said, it is also a piece that is due something of a reappraisal as it has suffered over the years through its popularity. Even though it has been played by bands from Championship to Youth and from Burry Port to Brisbane and back, the number of truly scintillating, hairs on the back of your neck performances have been pretty hard to find. It is a much more difficult test piece than it is given credit for, and it takes a very good band to really master it.
The line up is impressive.
The draw card is surely the appearance of the current European Champions, Brass Band Willebroek who will be keen to stamp their new found status as the 'Barcelona' of banding on this contest. Last year they were weakened somewhat by exams and problems for a number of their players getting time off work, but reports suggest that there are no such worries this time around and they are keen to add an International title to their European crown.
Not far behind though is the appearance of Brisbane Excelsior. The double Australian Champions are perhaps the strongest band in the Southern hemisphere and will be keen to show everyone exactly how good a band they are. Full of confidence and not without reason, they should give the audience a true indication of the standard of the best of antipodean banding.
Finally, to top them all in terms of titles we will hear the current 'World Champions' - Brass Band Treize Etoiles from Switzerland. Being tagged as such may be like wearing one of those heavyweight boxing belts, but make no mistake, they are a heavyweight brass band of the highest class. Repeated Swiss National Champions and European challengers, the Kerkrade win did see them beat some impressive bands from around the world. They will be a band to look out for here.
In addition there is also the very good Netherlands based Brassband Rijnmond, who have shown in the immediate past that they can compete at the highest level, coming 5th at the 2005 Europeans, whilst Northern Ireland sends arguably their finest band in 1st Old Boys Association Silver, fresh from winning their Spring Festival contest and taking an active part in the European Championships in Belfast.
So what of the home grown challengers?
The line up is impressive here too with the recently crowned Grand Shield winners and runners up, Aveley and Newham and Carlton Main Frickley, buzzing higher than a three day old corpse in a Alabama swamp. Neither will be short on confidence.
Meanwhile, PolySteel, the current Mineworkers Champions, and a band that invariably does well here, will be keen to show that their 6th place in Blackpool was not a true indication of their form. BTM are the only Welsh representatives this year, but they make the journey across the Severn Bridge with sky high confidence after securing the runners up spot at the Senior Cup. All these bands may not have had a great deal of rehearsal time on the piece, but each of them will be up for it more than a bloke who has overdosed on Viagra.
Two bands that didn't quite have the best of times in the Paris of the North were Redbridge and GUS, although both have done well here in the past couple of years. Blackpool was a more than a 'Whitsun Wake' for both and they will be keen to show better form in the more genteel surroundings of Cambridge than they did on the Golden Mile.
Much will be expected of the three Regional Champions on show; Fodens Richardson, Reg Vardy and Scottish Co-op. These are high class bands and showed that not only in winning their area titles in the last couple of months, but also here 12 months ago, where Co-op took the title under Nicholas Childs, Fodens came 3rd and Reg Vardy 6th. All three will be fancying their chances, and could provide the stiffest challenger to the overseas contingent.
The Scots in fact send down perhaps their three top claymore wielding challengers, and in addition to Scottish Co-op, both Whitburn and Kirkintilloch are more than capable of returning back to the musical glens of their homeland with silverware and prize money. Neither should be underestimated.
Finally, the group of proud English contenders, all keen to stick the flag of St George through the heart of any 'Johnny Foreigner' who thinks they can take the title away from their green and pleasant land for a second successive year.
These are strong contenders too, with Desford Colliery, Hepworth (Persimmon Homes), Rothwell Temperance, Sellers International and SWT Woodfalls all very high class bands. The Yorkshire trio in particular could well feature highly, whilst Desford and SWT Woodfalls will be keen to return to form after the disappointments of the recent Regional Championships.
It promises to be a fine contest then, with literally any of the bands more than capable of producing a winning performance.
4BR will be there again this year, perched in out little box like Stadler and Waldorf from the Muppets bringing you our live coverage. The Best Instrumentalist on the day will also pick up the 4BR award and £250 English pounds for their efforts too, although we won't be picking the winner ourselves.
So necks on the block time, and whom do we think will win?
If they play to form, then Willebroek are such a classy band they will be hard to beat, whilst we think the strongest challenge to them will come from Fodens Richardson who can push them all the way and perhaps pip them, and Carlton Main who are playing very well at the moment.
Treize Etoiles are a very strong band and could well come high in the prizes, whilst PolySteel are a fine outfit who seem to like it here more than just about anywhere else in the contest world. Hepworth should have more than enough about them to challenge for the highest places too, whilst our dark horse may well be Rothwell Temperance, who we have been accused of underestimating too often in the past. Hope that's not the kiss of death then…
4BR Prediction:
1. Willebroek
2. Fodens Richardson
3. Carlton Main
4. Trieze Etoiles
5. PolySteel
6. Hepworth (Persimmon Homes)
Dark Horse: Rothwell Temperance