2006 Spring Festival - Grand Shield retrospective
17-May-2006
Aveley and Newham certainly showed the rest of the banding world that London bands can win major brass band contests, even if they did have to celebrate without the aid of some jellied eels and a couple of Pearly kings in Blackpool.
---
Would you Adam and Eve it. Gawd luv a duck, slap me boat race and let's crack open a tub of jellied eels down the local pie and mash shop. A band south of the Watford Gap winning a major brass band contest?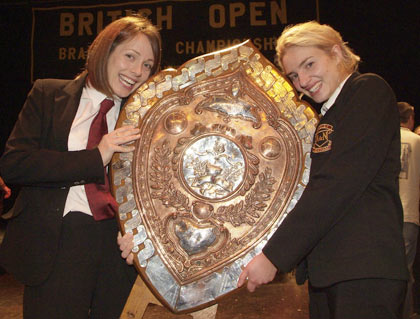 Smile girls please: You can't beat a couple of London gals showing off their wares

There are certain stereotypical responses to our regional heritage in the minds of even the most liberal brass band lover: Southern bands – or more readily, London bands, should not win competitions against the crack stormtroopers of the traditional heartlands of the banding movement. London bands it has been remarked in the pubs and clubs of Yorkshire and Lancashire (and elsewhere to be fair) lack the desire, the appetite for hard work and the ability to understand music based on Northern passion, to win big. It was an urban myth (just like soprano players don't always hang on to the last note of a concert piece or that northern folk believe Garlic bread to be an invention of Beelzebub).
Aveley and Newham became the first London based band to win the Grand Shield since 1971 and booked their place at the British Open in Birmingham in September. In doing so, they have finally laid to rest one of the banding worlds great bogeymen: London bands don't win anything of consequence.
They do now – and deservedly so. They may not have been quite doing the Lambeth Walk in the foyer of the Winter Gardens on Saturday night, but given the nature (and quantity of the local brew consumed) many of the band were doing a passable impression less than an hour after the results were announced. All that was missing was a couple of Pearly Kings and Peggy Mitchell.
To be fair, Aveley (as well as the likes of Redbridge in recent times) have flattered to deceive over the past few years. They have been a talented, yet inconsistent band who have at times performed well enough to ruffle a few feathers at the major contests, but had never had enough about them to truly make a significant mark on the collective consciousness. Given that even here, their winning performance was witnessed by the smallest audience of the day, the stereotypical 'northern' response to their victory, of being 'lucky' may not be quite yet silenced. It should be though.
Nigel Taken, the bands MD, was certainly of the thought that it was a well deserved victory. "It was a wonderful performance. We aimed to bring out the music and I felt we did just that. All the players were excellent, with the soloists in particular outstanding. We have worked exceptionally hard this year and that is now paying off. We have now got London and Birmingham to look forward to, as well as the French Open where we will also be playing at the Gala Concert. My only disappointment was that there were only a small number of people in the hall to listen to our performance."

Michael Ball's affectionate 'Whitsun Wakes' proved to be a very good test on the day, a day when only perhaps three or four bands really did the piece justice. Even Bram Gay in his programme notes had a potential dig at southerners, making the stereotypical point that they may not understand the musical inspiration of the Wakes inspired test piece.
Technically, there was a case to suggest perhaps six or seven fully overcame what was written in the intricate but transparent score, but when it came to making musical sense of bringing together the disparate elements of the clearly defined sections of the work, not many got really close at all.
The composer was being very generous in his remarks from the stage prior to the announcement of the results, when he stated that he felt "…there were several bands today that realised the intentions of my piece." As any good lawyer will tell you when it comes to GBH, intent is one thing, carry it off is quite another.
He was also a good Philadelphia lawyer too, in that he didn't give one iota of indication to whether or not there was a clear winner, or if it had been a close run thing for the two priceless qualification places on offer.
He congratulated the players, the conductors and the bands. He even congratulated the audience on its support for their efforts, although he would surely have noticed that Aveley, unlike some bands who brought in 'rent a crowd' were given a very respectful, if slightly muted ovation. He didn't really tell us though, exactly what both judges had been looking for. That was a pity, as it would have gone someway to shutting up the gormless brigade who reacted to the announcement of Leyland coming in fourth with the type of groan usually reserved for England missing a crucial World Cup penalty in extra time.
Michael Ball and Geoffrey Whitham (who was his usual vocal self in the box, much to the amusement of those sitting near who picked up on his robust remarks, good or bad) certainly enjoyed their prolonged stay in the tent. Both told 4BR afterwards that they felt the overall standard was good, and that it was a piece that did sort out the best bands from the rest. Michael, who gave very intelligent and considered written remarks to each band did say that they had little or no problem deciding the top places. The winners and runners up produced two wonderful accounts.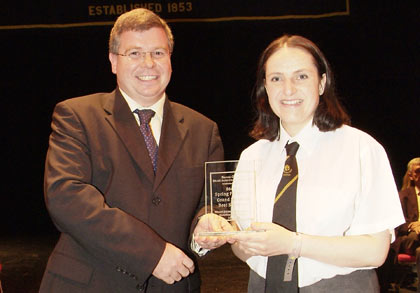 Supermum: Kirsty Abbotts takes the best instrumentalist prize for her fantastic playing

There will of course be those who will disagree with the judges, but on this occasion there was no performance that anyone could really say was overlooked in any way.
The 18 band field lined up in the Opera House (which was a much more performance friendly venue than the Empress Hall) for what proved to be an enjoyable day of music making, even if the overall standard didn't quite live up to pre match expectations. Beaumaris were initially drawn to play last, but due to a communication problem their withdrawal due to a tragic death within the band wasn't confirmed until the draw had been made.
Although that didn't impinge on the running of the contest, it does mean that a final decision to how many bands are relegated to the Senior Cup has to be delayed.

Many had tipped PolySteel to feature, both before and after they had played off the number 1 draw, but in reality their performance got what it deserved. Philip Harper brought his usual idiosyncratic touches to a powerfully delivered reandition, but the obvious lack of dynamic variance, especially in the solo lines meant that it too often lacked warmth and that sense of affection that so permeates the subject matter of the piece. We had them down in 9th place
PolySteel were not alone either in taking to the stage with bespoke 'Silent Brass' Practice mutes. Stick these in your bell and you can blast out a pianissimo to your hearts content without ever having to worry about balance or even sound, as no musical tone of any note comes from the instrument being played.
There were times throughout the day when it sounded as we were just listening to the air conditioning being run in the hall. Not only does it lack any musical relevance other than making an artificially quiet sound, it is also a reflection of paucity of musical thought and lack of ability and confidence in the players under the conductors command. Oh, and it is a cheat. Plain and simple.
PolySteel were still very much in the frame right up until Aveley and Newham took to the stage as band number 8.
BT off number 2 had given a rather lack lustre middle of the road performance which had its moments but never suggested that it would feature come the results (they eventually came 15th and narrowly missed the drop, whilst we had them 11th). Meanwhile Wooley Pritchard Sovereign Brass were very much the same and lived up to the apt description of 'A bit of a Curate's egg' of their conductor Stephen Roberts. They eventually came 14th. We had them 13th).
However, Burry Port did catch the ear of the two men in the box to come 9th. We had them way down in 16th, as we felt their approach was nervous and panicky. The judges though liked much more what they heard and placed them considerably higher. Guess which decision they will feel is more appropriate.
Redbridge meanwhile ended up in 12th place, a bit of a disappointment for them coming into the contest. It was a performance that although very musical and with some lovely little touches from the MD, did take the odd liberty with the score. We liked the approach though and had them 10th.
GUS was fancied by many before the contest to do well here, and resplendent in their new red and black waistcoat and shirts, they delivered a rather two toned performance to match. When it was good it was very classy indeed, but apart from those moments it never quite lived up to its initial promise. 10th from the judges and 11th from us was bang on the mark.
Freckleton perhaps needed a bit more daring do about them on the day, for Paul Dalton's safety first approach, although steady and deliberate in its intentions, just meant that the music lacked flow. So much so that it lacked any great musical interest and even though we had them in 14th , the judges were a bit harsher and gave them 17th and the potential drop through the relegation trap door.
Up until this point PolySteel were well ahead of the field, but their performance was put into proper perspective with the arrival of Aveley and Newham.
Here was a warm and balanced toned band, with fine soloists and a lovely sense of restrained musicality from the middle. Nothing was over done and in its way it was a very faithful reading of the score. Nigel Taken gave the music time and space, but didn't ever lose the flow, whilst his soloists (including the standing cornet and euph in the operatic duet) delivered finely nuanced performances which built on the accurate and secure ensemble foundation.
By the time it came to the final few bars, it was obvious to everyone in the hall (all 50 or so of us) that this was the clear leader. The judges awarded it 1st place, and we had it 2nd. It was though, confirmation that Londoners can play the northern game just as well as anyone on their day. Birmingham, Symphony Hall and Wilby's inspired Mozart homage await. It is just reward.
The band that we had first, actually followed Aveley onto the stage. Pennine Brass and Ian Porthouse had battled through a great deal in the 24 hours or so before they took to the stage. Ian had lost his mother, who died following a long illness on the Thursday night and understandably the bands thoughts were very much with their MD. Ian's mum was always a great supporter of her son though and had wished for Ian not to miss out on the chance of qualifying for the British Open, especially on a piece that he himself had won on there with YBS in 1998.
In Ian's understandable absence on the Friday night, his former mentor at YBS, David King stepped in to take the penultimate rehearsal. The band responded magnificently to his gesture and with Ian back for the Saturday they really did play out of their skins for him.
Emotion apart, this was a finely structured performance, and the one which we thought just pipped Aveley in terms of musicality. Both musically and technically it was a top class show. In the end though the judges felt differently and placed them 5th. In perspective, what does that matter.
There was now a sense that the real contest had begun with the next group of bands all fancied before hand to make a mark and claim a qualification place if they played to form.
Ransome very nearly did just that, but in the end couldn't quite ignite their performance under Major Parkes. It promised so much, but just when you thought it was going to take off, it shied away and never quite set the music alight with passion. 8th from the judges was for us a touch harsh though as we had it as high as 4th.
Much was also expected of Mount Charles, but on the day the current West of England Champions couldn't quite rid themselves of that sense of not quite hitting their very best form. It was all a little too steady and deliberate in places, and although there wasn't much to find fault technically, rather surprisingly for a performance directed by Nigel Weeks it perhaps needed a bit more Celtic passion. The judges had them 7th and we had them 6th. The West of England is now the only region of the country that is not represented at the British Open.
That was certainly the case with Cwmaman Institute who followed, as they delivered a rather hard and harsh performance that just cried out for a touch of delicacy and warmth. It did have its moments, but as with their performance at Swansea earlier in the year it never quite came off as they would have hoped. The judges agreed and placed them 16th, and possible relegation , whilst we had them in 15th.
Tredegar on the other hand had plenty of music flowing out from start to finish, but had an error count that contained more misplaced splashes than the mens urinal in the Winter Garden foyer. It did feature some fine playing in places, but it was blighted by nasty little blips and clips that in the end sunk its chances. We had them 7th and the judges 11th, but it was a performance of might have beens.
Tredegar's former MD, Steve Bastable then took to the stage with Staffordshire and produced a fine show that found favour in the box to come 3rd and just miss out on a third successive promotion that would have taken them to the British Open.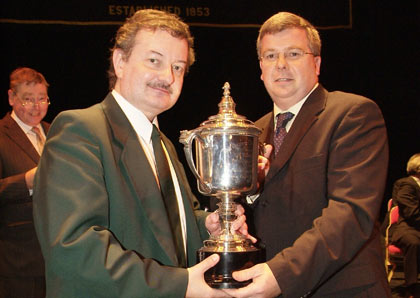 Nearly there: Staffordshire nearly make it to the Open in three easy steps

In the final analysis, they were a good couple of points from doing that, (we had them 8th) but it nevertheless showed once more that this is a fine band in the making and one to watch out for later in the year at Pontins.
The final band in this 'fancied' section was Carlton Main, directed with real authority and purpose by Allan Ramsey and welcoming back on principal cornet, Kirsty Abbotts after the birth of her first child.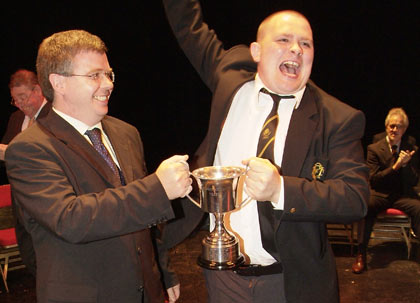 Who says you don't get anything for coming second: Carlton Main celebrate their return to the Open

Kirsty was on exemplary form; cultured and secure, and was a most deserving winner of the best instrumentalist award on the day. Her fellow players were not too far behind either. A security of ensemble was a real feature, whilst the MD gave just enough latitude for his main solo players to shine without losing musical flow. We thought it would make a real impression in the box, and for once we were not far wrong. 2nd place from Messers Ball and Whitham. We had them 5th .
One band in desperate need to make an impression for the right reasons is Besses. Here they sounded a band desperately short of confidence despite as hard as the players and short notice sub MD, John Hinckley tried. 18th place was unfortunately what they deserved, but if they can show the sort of commitment in future, we are sure things will turn around.
That just left the two bands, and the reigning National Champions, Leyland took to the stage determined to claim their place at the British Open just a fortnight after producing two fine accounts of themselves at the European Championships in Belfast.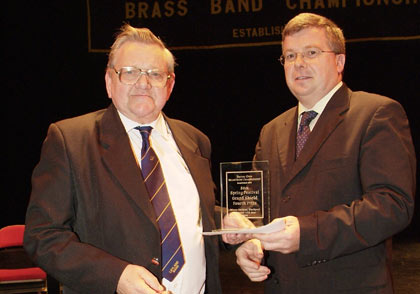 Not quite what we wanted: Leyland miss out after giving their all

They certainly did that again, but it was a performance that had the sheen of gloss that did hide some of the more detailed passages of ensemble work. The solo lines were very well handled and Russell Gary gave them plenty of time and space to show their class, but in the end it was a 90% performance rather than the 95% one required to gain them a place in Birmingham. Being successful can be a bit of a handicap at times. 4th place was greeted with some gormless groans, but overall it was a fair return, even if we did have them 3rd.
That just left Fishburn, but the North East challenges couldn't give the contest the breathtaking finale it cried out for and they just fell away somewhat with a performance that felt tired and lacking a degree of confidence. It was no surprise that they eventually came in the midfield at 13th, whilst we had them lower in 17th.
There was though no denying the celebrations both on and off the stage for Aveley and Newham. They knew they had played well and they knew they deserved to claim their place at the greatest northern show on earth (even if it is in Birmingham). Well done to them for showing the banding world that they are capable of breaking down the urban myths about regional stereotypes.
Now where is that leek and daffodil soup I made earlier…

Iwan Fox and Malcolm Wood