2006 Spring Festival - Senior Cup retrospective
17-May-2006
There was much discussion before the event to how the bands were going to cope with 'Harmony Music'. After it, they were still talking about it too, although the judges thought that one performance stood out from the rest.
---
Before the 20 bands took to the stage to perform amid the mock Edwardian splendour of the Pavilion Theatre at the Winter Gardens, there was a great deal of discussion over two main matters.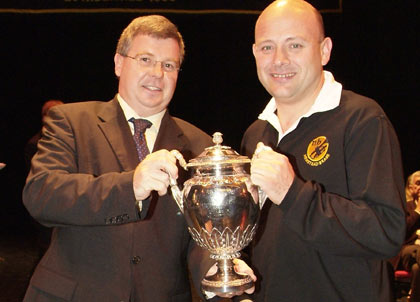 Another one on the bag: Newstead take top honours

The first was of course the test piece - Philip Sparke's dangerously severe 'Harmony Music'. First used as far back as 1987 as the set work for the National Finals in London, its public appearances had been as rare as those of Osama Bin Ladan ever since. The reason of course was simple. It is an exceptionally difficult test piece to master.
That led to the second discussion point. What on earth was it doing being picked as the set work for the Senior Cup then?
The reason for that was less easy to fathom out. Given the choice of 'Whitsun Wakes', a recent test piece at the British Open for the Grand Shield, it seems the organisers took the line that the next tier should be tested by a piece that may, or may not, have diminished in severity in just 19 years since its last really major contest appearance. You can just about understand their reasoning on paper, and to be fair, on the evidence of the 20 performances set before the adjudicators Frank Renton and Steven Mead, it was a decision that just about came off.
There was also much discussion prior to the contest to which bands people thought may overcome such a test and book themselves a place closer to the British Open. The general consensus appeared to be that it would be a close contest, given the nature of the field assembled to take part. The great unwashed, man on the Clapham omnibus, general public were not far wrong either.
The two adjudicators, Frank Renton and Steven Mead know this music inside out. Steven was especially well versed in its intricacies as one of the pioneer euphonium stars who broke virgin territory all those years ago by mastering the fiendish top E in the famous euphonium cadenza. Like climbing Everest though, once one has done it, so can everyone else, and although the cadenza still poses immense problems for players at this level, any decent euph player in a Championship Section band should (and on this evidence) could overcome it without too much strain to the nether regions.
Speaking to 4BR after the results both Steven and Frank reiterated their strong opinions about the piece and the standard of the bands on show. Steven had earlier in his witty address to the audience at the Opera House made the point that 'Harmony Music' was a wonderful piece, and even though there were one or two occasions on the day when it appeared to defeat the bands in question there were still five or six very good performances and one outstanding one that gave them little difficulty in picking the qualifiers and winner.
Frank also pointed out that he felt a number of bands overcame the technically difficulties imposed on them, but possibly fell away somewhat with their inability to change style and tone in the 'Homage to MR' section in particular. Both made the point that they tried as best they could to write constructive, yet realistic comments to the bands outlining both where they felt they had done well, and where they had not in their performance. Talking to many players and conductors after the results, this was born out, and seen as a welcome approach.
4BR had teamed up with our friends at themouthpiece.com to cover the Senior Cup, and with our intrepid reporters in the hall and ready to come back to the nerve center with their fresh comments hot off the press, it proved to be an enjoyable exercise.
The contest got off to a pretty good start too. Knottingley Silver conducted by Kevin Belcher put in a fine benchmark performance off the number one slot that caught the spirit of the music but just had a few too many wobbly moments (including a whooper of a split early doors from the troms) that cost it dearly. Still, it was a good marker for the men in the box and 13th place in the final results table was possibly a touch harsh.
Kibworth were next up, and the expectation level was also racked up too, as the Midlanders were under the experienced baton of John Berryman. In the event they built a solid enough performance, but one that was marred by a very poor start and just had too many annoying blemishes to make much more of a mark than their eventual 16th place. There will be a sigh of relief after this one though, as one place lower would have meant relegation.
In contrast, one place higher would have given BTM the title after they produced an excellent show under the baton of the Australian Jason Katsikaris.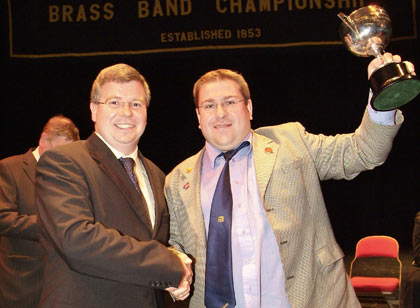 BTM raise a cheer and a cup for second place and promotion

We really did feel that this was a performance that could take some beating and even with the help of Australian yellow coloured dusters on the horns, it was a performance of real insight and cracking playing from soloists and ensemble. The runners up spot was very well deserved.
Lindley then followed, but somehow a good solid performance was spoilt by too many nerves and poor tuning and it came as no surprise that they eventually ended up in 14th place.
The first quarter of the contest was rounded off by Wingates under the direction Roy Newsome, and for us, this was a teriffic performance of real stature. There were a few struggles in some of the solo lines which may have taken the gloss off in places for those in the box, but for it to end up in 11th place seemed a tad harsh for us as the musical approach was one that was hardly bettered all day. That's contesting for you though and Roy Newsome must have had a wry smile when he heard where they had come.
Bands six and seven, Drighlington and Glossop Old did find the going tough and eventually found themselves occupying 19th and 20th places respectively. In hindsight that seemed to be about right as even though both gave a great deal of commitment to the cause, both were bedeviled with annoying errors in ensemble and solo lines. In the final analysis the high error count proved very costly indeed and they can only look to work on eradicating these lapses next year in the Senior Trophy.
Dalmellington on the other hand really did play to form, and perhaps the only thing that stopped them from gaining one of the four promotion places on offer to the Grand Shield was the lightness of their sound, which just lacked the depth of the bands that eventually beat them. There was some wonderful individual playing and at the end we thought it was to be a performance that could feature highly. Thankfully we were not wrong and 5th place was an excellent return.
Innovate Skelmanthorpe and Unison Kinneil rounded off the first half, and there was little to choose between them in the ears of the judges as they came home 8th and 9th respectively. For us though Unison Kinneil gave a super show, full of life and so well brought off by the MD Andrew Duncan. There were small blips in the main solo lines, but overall for us it really did capture the free flowing spirit of the music and 9th place was a touch harsh to say the least.
Skelmanthorpe meanwhile didn't quite reach the same heights and although it was a performance that grew in stature, it just lacked secure intonation and we thought that would have been more costly.
With half the bands out of the way, BTM were in pole position, with Wingates close behind with Dalmellington and Kinneil. The rest for us were already making up the numbers. The second half of the contest proved a cracker though.
Alliance Brass had to take to the stage with two members of Kinneil in the ranks due to sickness. However, John Clarke drew out a fine performance that gained momentum as it went on even though we felt it had a tendency to be overblow in too many places.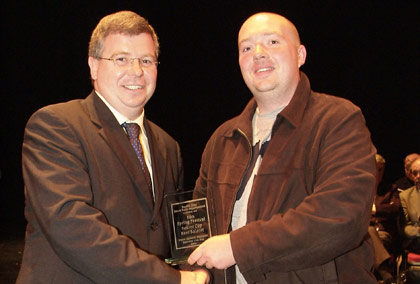 Thanks mate: Alliance take fourth spot and the solo award

Their solo cornet player though was excellent, very classy indeed, and deservedly took the best instrumentalist prize on the day. We didn't have them quite as high as 4th, but the two most important men on the day certainly did, and for the second successive year the Londoners gained promotion and are now one step away from the British Open just six years after they were formed.
Pemberton Old meanwhile produced a solid, decent show that like many on the day was marred by too many annoying errors that detracted from a nicely shaped reading from Mark Peacock. 12th place was about right come results time for a show that just didn't live up to expectations.
The same could certainly be said of Dobcross, who prior to the contest were fancied by many to do well given their recent form. On the day though it was an error strewn and scrappy performance with too many individual errors and it was doomed to be relegated. Better luck next year, for this time they certainly didn't play to form.
Newstead took to the stage with a real sense of calm authority about them and right from the opening chord it sounded confident, bold and very musical. A fine bit of euph playing sealed the opening section in style and then Duncan Beckley allowed just enough free rein for his band to play in an exciting but controlled manner (special mention to the super xylophone player) right through to a great dislocated 6/4 end section. It was a performance of real merit and style, and crucially it was a band playing to the top of their form.
The final band of the third quarter were Bo'ness and Carriden, but on the day they just couldn't quite rid themselves of the inherent problems of poor ensemble and tuning, and by the time they started to wane in stamina it was a performance destined for the relegation zone and 18th place was about right.
At this stage the contest was still very much up for grabs, even though there had been a good handful of performances that had made a real mark. Even though we had heard the eventual winners and runners up, we felt that it was still a contest that was there for the taking if a band could really play out of their skins. A couple of the next five certainly did that.
First up was Tongwynlais Temperance, who although they haven't been enjoying the best of form so far in 2006, seem to come alive here in Blackpool.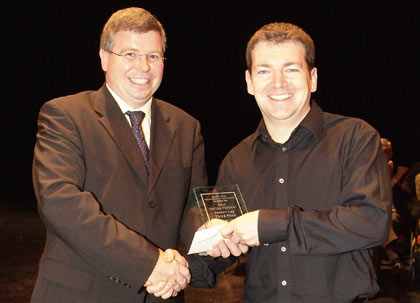 Ting Tong: Tongwynlais head for the Grand Shield

Here they were again and under Gareth Pritchard's direction they produced a fine performance that was tightly controlled and reeked of self confidence from both soloists and ensemble. It came as no surprise that they eventually came as high as it did, as it was as we said, a performance to be proud of.
Jaguar (Coventry) meanwhile couldn't quite repeat the form they showed earlier in the year at the Regionals and although Dave Lea tried manfully to get things on track it was a performance that was let down by a poor middle section. 15th place was about right.
Bournemouth meanwhile decided to go with a bold and brave approach right from the word go, and their performance was considerably enhanced by some quite superb euphonium playing throughout. Others though were not quite up to the mark and the trombones in particular seemed to have the kind of off day they would rather forget about in the comforts of the bar. It all proved costly and in the end 10th place was their reward. It could have been so much higher.
That just left the last two bands, and two cracking performances they were too.
First up was EYMS and they produced a little snorter of a show that had so many classy touches about it that it was for us a wonderful bit of playing that deserved higher than their eventual 6th place. For a band that has gone through some hard times of late this was playing of a high quality indeed. Jim Davies deserves a great deal of credit for the way he has literally dragged the band around in the last few months whilst the players deserve a huge amount of credit too. They may be a touch disappointed at coming 6th, but they shouldn't be. On this form the future looks bright indeed.
Finally Aldbourne under Steve Sykes. This was a slam dunk performance too and we even thought it might be the winner such was the excitement and the sense of musicality that rang through from the first note to the last. It was bright, controlled and very articulate and with a huge final climax it brought the whole contest to a resounding end. We had it right up there, so 7th place was perhaps a touch harsh.
Overall it was a contest that more than lived up to expectations. As we said, there had been much to discuss beforehand, and that was certainly the case after the announcement of the results. The two men in the box were absolutely 100% certain that they had made the right decisions, all the way down the prize list. The one thing you can agree with is though, is that both Frank Renton and Steven Mead know their stuff and know what they wanted to hear.
For them it was Newstead and who are we to disagree. Congratulations then to the band and to Duncan Beckley.
John Burns, Roger Thorne, Iwan Fox