British Federation of Brass Bands - AGM
17-May-2006
John James was welcomed to the Annual General Meeting of the BFBB this year and heard an upbeat, but realistic assessment of their work and future plans.
---
The spirit of this meeting was clearly one of optimism and of fostering progression.
As with any AGM the agenda was a formal and constitutionally planned affair, but Robert Morgan used the meeting to generate a spirit for forward thinking and was returned unanimously as Chairman of the Federation.
One of the most welcome decisions to come form this AGM was the positive move to liase more closely with the brass band media in a spirit of openness that should see the BFBB logo appear much more frequently not only on the pages of 4BR but also in the other brass band media forums.
Nigel Morgan is a regular name on our comments page. In April 2005 he wrote, "I am in the West of England and if they (BFBB) want some new blood then please send me an invitation as I can no longer stand seeing what is being done to our movement."
He certainly put his money where his mouth is and took on the very important task as Treasurer when the personal commitments of David Shaw, the previous incumbent, saw him having to step down.
The resolute and insightful report he delivered was quite exceptional and his progressive and honest appraisal of the BFBB financial and business planning was 'music to the ears'.
If the tone and resolution of the 2006 AGM, as it was laid out, comes to fruition then one has to conclude that a corner has all but been turned.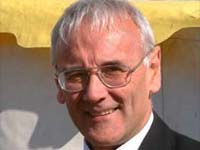 Robert Morgan:
Report of the Executive Committee
Robert Morgan has a very warm and open manner and here we publish his report in full.
Report of the Executive Committee
BFBB AGM - 6th May 2006
I am pleased and proud to report another very good year for the British Federation of Brass Bands. The members of the Executive Committee have committed themselves 100% to the organisation and have given countless hours of time and dedication to the Federation and to brass bands generally.
Registry:
Colin Johnson, our Office and Registry Manager, has again provided bands with a first class service. Colin's dedication to the registry can only be admired; his first thought is to helping bands and many long days are put in to achieve this goal. Thanks are once again due to Frank Hodges (Registry Line Manager) for ensuring, on behalf of the Executive, that all runs smoothly and, of course, to the part time staff who assist Colin.
Development Officer:
Philip Watson has been in position now for 12 months as our Development Officer. During that time Philip has gained the respect of the Executive and member bands.
He has attended a number of events, contests and concerts during the 12 months, introducing himself to as many band people as possible. He has also attended Arts Council meetings and projects and has now established our relationship even further with Arts Council Yorkshire, our funding body.
Philip has worked with Gary Walczak, our Youth Development Officer, to produce our Child Protection Policy document which has been accessed by hundreds of people and bands on the BFBB's website.
A number of projects are being dealt with at present, to include fund raising and youth development. Philip, like Colin, is a great asset to our movement and I thank him personally for his contribution to the Federation.
Directory:
BFBB have just produced another edition of our directory. Thanks are due to Shirley Woodward for her efforts in producing this booklet. I think that this will probably be the last paper edition of the directory; the next being an online production, providing data protection problems can be overcome.
B.B.I.S.:
Thanks are again due to John and Janet Beeston of BBIS for helping to maintain the successful partnership with the Federation. Member bands receive a substantial discount for their insurance and this in turn brings a financial return to the BFBB.
Membership:
This holds steady at around the 300 mark and thanks are due to Ken Hirst for his sterling work in this direction. The next 12 months will see a marketing strategy develop with Philip and Ken targeting certain areas of the country in the drive to increase membership.
English National Brass Band Championships:
We are now all getting very excited about the launch of the first English Championships on 1st July.
Many new ideas will be introduced at the contest to encourage bands and audience alike, to have a fresh approach to contesting:
Only 14 bands; a 3/4 hour break after number 7; a chance for the adjudicators to have a second listen if required from a recording of each performance; big screen; a national personality (Melanie Sykes) to compere the Gala Concert and Award Ceremony; a Gala Concert approximately 1 hour long about 1'/2 hours after the conclusion of the contest; a new venue, `The Lowry'.
The winning band will of course be invited to represent England at the 2007 European Championships in Birmingham, hosted by the Federation.
We have many new sponsors on board for the event to help our financial position. These include Timeline Vision, our main sponsor; Bridge McFarland Solicitors, Traders' Association, Roger Handley, Fred Rhodes Ltd., British Bandsman, Lancashire Contests and S. P. & S. Thanks are due to Dave Dobson and Derek Atkinson for their work on this project. We look forward to an exciting day with an excellent new composition from Philip Sparke, `Dances & Alleluias'.
This is perhaps the only national event in England where any profits will be ploughed back into the brass band movement.
Euro 2007:
We are very pleased and privileged to be hosting the 2007 European Championships. Every European country now wants to be part of this fantastic gathering of European Brass Bands. Funding is a major problem for this event, but many projects and grant applications are now being put in place to finance this week long festival of brass. More information will be forthcoming in the next few months. Very many thanks are due to Dave Dobson for his hard work and commitment to EBBA.
European Funding:
The BFBB, led by Robert Morgan, has worked long and hard in partnership with other countries to gain European Funding. The partners are Belgium, Netherlands, Norway and Lithuania.
EBBA is making a bid to the European Parliament for €300,000 to help develop brass bands and record their heritage.
The bid has to be presented by October this year and a decision will be forthcoming in about April 2007.
Youth Championships:
The BFBB will move forward again next year with this flagship event. Despite losing the Besson funding we have decided to continue with this event and underwrite any losses from the BFBB funds.
To be part of the event, with up to 1,600 young people taking part is a massive privilege for us all. The enthusiasm is second to none and the playing is of the highest standard. Thanks to Gary Walczak and
Arnold Tattersfield in particular and to the rest of the team for the many hours of hard work put into this event.
The Future:
The BFBB will strive to help all bands whenever possible. There have been many comments in the band press just recently with regard to the National Championships, adjudicating, declining band audiences and falling numbers of players. We at the BFBB are happy to work with all sections of our movement. We will offer to help and finance seminars and conferences to discuss the problems that we all face, but we all know that there is no easy solution.
It will be interesting to see if the regional committees, led by Kapitol Promotions, bring forward any proposals on the regional competitions. I'm sure that we would all like to see a better spread of dates to give us the opportunity to visit other regional events and maybe it is time to re-examine how the regions are shaped.
ABBA is working hard to move adjudication forward. Alan Morrison's articles have been interesting to us all I'm sure. Adjudicators have a difficult task we know, especially with modern communication and instant criticism on the internet, but I urge bands to win and lose with dignity. Sportsmanship is very important and I hope we can keep an old fashioned sense of dignity at contests. 11 a ,
I would like to thank all my colleagues on the Executive Committee of the BFBB. A special mention to our secretary, Carol Tattersfield, who has done a splendid job for us during the past 12 months and Nigel Morgan, who was co-opted onto our Executive 6 months ago to assist with the financial running of the Federation.
To our President, Peter Parkes and Vice President, David Stanley, thank you gentlemen for your support. Peter very rarely misses a Federation meeting and it's a great honour to have him as President of our organisation.
To our colleagues from the press; British Bandsman, Brass Band World, 4 Bars Rest and The Mouthpiece. com, thank you for your support and coverage of the BFBB's work.
Ladies and Gentlemen, the BFBB is run by band people for the benefit of all bands and over the next 12 months we will strive to look at some of the problems that affect us all. If they can be solved we will try our best to do so, but what we need is the co-operation and will of everyone to achieve these goals. 'Our key word is partnership and we look forward to working with all sections of the brass band fraternity.
This concludes the report of the BFBB for the 2006 AGM.
Robert Morgan Chairman B.F.B.B.
6th May, 2006

As stated in the header of this report Nigel Morgan gave most progressive and honest appraisal of BFBB financial and business planning and we include a summary of his financial report:
Statement of Accounts for the year ended 31st December 2005
Presented by Nigel Morgan
Treasurer – BFBB &
Conductor – Tewkesbury Town Band
During the year the Federation's current Treasurer, Mr David Shaw, was unable to continue his involvement due to increasing personal work commitments and I was co-opted onto the Executive in November last year to specifically focus on the financial affairs of the Federation and bring them up to date.

They are presented to the members on behalf of the Executive who are the trustees of the charity and in a form that satisfies the Federation's legal requirements to the Charity Commission.
The accounts, whilst not requiring an audit, have been subject to an examination by an Independent Examiner, as required by the Charity Commission.
The Statement of Financial Activities summarises the incoming resources of, and resources expended by, the charity.
The two main areas of income are the annual grant from the Arts Council that is approximately 40% of the total income of £48,428. A further 45% comes from members' subscriptions and the balance from commissions earned from BBIS and other fund raising income.
Expenditure in the year now includes the costs associated with our Development Officer who joined in May 2005.
Total expenditure, including salaries, amounted to £39,526 leaving net incoming resources of £8,902 for the year. However it should be borne in mind that next year the accounts will include a full year's charge in respect of the Development Officer's salary and not just 8 months.
Adding to the funds brought forward at the beginning of the year, left the Federation with funds for future activities of £34,873.
The Federation does not have a formal policy to determine the level of income reserves held.
This will be examined by the trustees in the coming year as it is important that, should we lose a major item of income, such as the Arts Council funding, we have sufficient reserves to carry on whilst alternative funding is sought.
At current levels this could be expected to be approximately £40,000.
Additionally the Federation needs to examine and formulate a policy for how the income of the charity is applied in furthering its objects.
This, in part, is in place in the commitments made to EBBA, the English Nationals and the National Youth Championships, and other specific member services already in place such as the Directory and band policy documents being generated by the Development Officer.
However I would like to see a formalisation of additional policies and associated funding being made available for other projects, for all member bands, so that specific funding requests from member bands can be considered and, where appropriate, met as part of the overall charitable objects of the Federation.
The Federation has two subsidiary undertakings and these are B.F.B.B. Contests Limited and The British Brass Band Registry.
Contests Limited is set up to specifically control the contest activities of the Federation and in the year ended 31 December 2005 resulted in a small deficit of £545. This may be increased in the current year as the Federation has underwritten the 2006 National Youth Championships following the loss of sponsorship from Besson. It is estimated that the funding shortfall for the 2006 Youth Championships maybe about £4,000.
The Registry, through Colin Johnson and his team, has again provided a superb level of service to bands. However, for a second year the costs borne by the Registry have been greater than its income.
The charging structure of the service will be reviewed during 2006, as any commercial activity would be, and, if found necessary, may result in a higher fee structure in the future.
These two organisations should run on a no profit/no loss basis and it is important to keep these goals on target in future years for the financial stability of the Federation.
To summarise, the Federation is financially healthy today but additional sponsorship of major events such as Euro 2007, the English Championships and the National Youth Championships will always be required, so that policies and funding for other Federation services and projects can be developed for, and enjoyed by, all our member bands.
The 2006 AGM received its first report from Philip Watson, BFBB Development Officer and he was able to deliver some quite positive news namely the funding agreement with the Arts Council for 2006/07/08 has been signed and sent to the BFBB, together with all the relevant documents.
Work is all well under way with the Arts Council with regard to proposals and grants for the BFBB Youth Development Conference and the European Youth Brass Band.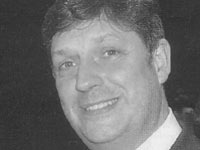 Philip Watson
Development Officer – BFBB
The PRS Foundation have been approached regarding a grant towards a commission for the Test Pieces to be written for the 2007 European Brass Band Championships and a response is expected in mid-June.
A number of development programmes are in preparation and almost complete including a Marketing Strategy Information Pack, Equal Opportunities policy and Action Plan and a specific BFBB Information Leaflet that will receive wide-distribution.
A large number of quite diverse requests from member bands had been received. The development and introduction of CPP and Code of Conduct questions had been the most frequently request in this term.
As part of the Development and training activities highlighted in particular was the workshops presented by the North Region covering Cumbria, Durham and South Tyneside.
In conclusion this was a refreshingly open AGM and the full Executive Committee (Trustees) is set out below
President - Major Peter Parkes
Chairman – Robert Morgan
Secretary – Carol Tattersfield
Treasurer – Nigel Morgan
"The Trustees"
Derek Atkinson
Ken Hirst
Mike James
Colin Morrison
Gary Walczak
George Bramfitt
David Dobson
Frank Hodges
Arnold Tattersfield
Shirley Woodward

Beside the bold move to be more proactive with regard to media interests a number of interesting points were added to dialogue and supplemented the formal reports that will surely stimulate a good deal of interesting discussion to come.
A chance for the adjudicators to have a second listen if required from a CD recording of each performance taken at a point a close possible to the actual adjudicators box.

The adjudicators of the inaugural English National Championships have received a recording of Philip Sparke's 'Dances and Alleluias' performed by the ISB to support their preparation for the EN contest.
Belgium will send 2 bands to the 2007 EBBC Brass Band Willebroek as defending Champion plus another National representative and it was acknowledged that that English representation in Birmingham next year will be confined to just the one band. At present that band will be the winners of the forthcoming English National Championships that are to be held at the Lowry Centre in July. It was acknowledged that this did raise issues regarding the contest promotion, planning and management that could not be overlooked.
There is to be a concerted effort to encourage a healthy participation of British Soloists competing in the 2007 EBBC Soloist Competition.

Jappie Dijkstra EBBA will be heading a discussion regarding European Funding on the same day (14th May 2006) that coincides with the appearance of Reg Vardy Band + Scottish Co-op Band at The Sage, Gateshead.

Nigel Morgan urged the BFBB to be bold and look further afield to seek far greater sponsorship opportunities i.e. a daily newspaper for the NYBB Contest.
John James
6th May 2006