4BR Interview - Philip Sparke
12-May-2006
Chris Thomas speaks to the man who has brought us some of the most memorable works for brass band, and whose next major work will feature at the forthcoming English National Championships.
---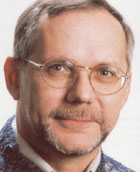 It was in 1979 that 'The Land of the Long White Cloud', Philip Sparke's first major piece for brass band, made an impression that was to cement his future as one of the brass band world's leading compositional figures. By the time 'The Land of the Long White Cloud' appeared, several of his earliest arrangements and lighter concert pieces had already been published, including the 'Concert Prelude' of 1975, his first published piece for band.
Thirty years on it's easy to look back to those dark years of the late 70's, a time when band music had become stuck in something of a time warp as far as new music was concerned. The great, though reactionary Eric Ball was still writing actively in a style that harked back to Elgar and the early twentieth century, whilst Brighouse had only just enjoyed the public adoration brought about by their by their chart success with 'The Floral Dance', a feat that gave bands a much needed boost in public profile at the time.
Yet although a new generation of composers such as Edward Gregson were about to make their mark, the movement desperately needed someone who could inject fresh vigour into the repertoire, both on the contest platform and the concert stage.
In this respect Philip Sparke is almost unique. Suddenly there appeared a composer who fulfilled both elements of the equation. Attractive, audience pleasing concert pieces that were as enjoyable to play as they were to listen to and contest works that had a breath of fresh air about them, technically challenging whilst packed with exciting melodies that were often more American than British in their flavour.
It's not surprising then that Philip Sparke soon found himself to be a man in great demand. Arrangements and originals followed in plentiful numbers although it was in 1984, with 'The Year of the Dragon', that he penned the work that many of us would still rank as his finest. The now familiar blend of American (or more specifically in the case of 'The Year of the Dragon', Coplandesque) excitement, coupled with a wonderfully bluesy slow movement and headlong finale proved a knock out combination and paved the way for a string of further winning test pieces, amongst them 'Variations on an Enigma', 'Harmony Music' and 'Partita'.
Fortunately for the band movement the flow of inspiration has never faltered and recent works such as 'Music of the Spheres' still retain the essential Sparke ingredients that have kept him at the top of his game for nearly thirty years.
2006 heralds a new era for top level banding with the inauguration of the English National Championships and it is entirely fitting that Philip Sparke is the man to provide the test piece. Few have contributed as much to brass bands over the last quarter of a century and 'Dances and Alleluias' potentially proves to be an equally fitting way in which to open a new chapter in banding history.


Christopher Thomas:
Could you tell us something of your earliest musical experiences and influences?
Philip Sparke:
My parents weren't musical but my dad had a collection of classical 78's and I clearly remember Beethoven's 5th. I learned recorder and then violin at school, later teaching myself the trumpet. We inherited a piano when I was about 11 which I picked out tunes on and wrote a few simple pieces.

Christopher Thomas:
How was it that your interest in the brass band developed?
Philip Sparke:
I didn't know anything about brass bands until I was about 20. I played in a pit orchestra with a percussionist from the Hendon Band. He took me along to a rehearsal (under Don Morrison) and I wrote a piece which they tried out. About that time the publishers R. Smith and Co. were advertising for 'new talent'. I went to see them and wrote Concert Prelude, which was my first published piece. This was about 1975 I guess.

Christopher Thomas:
American music has clearly been important to you over the years but which composers in particular do you feel have been a particular influence on your music?
Philip Sparke:
I think I've been influenced a bit by many, but Brahms, Mahler, Copland, Stravinsky, Ravel and John Williams stand out.

Christopher Thomas:
Having written for bands at various levels of technical ability do you find writing for lower section bands a greater or lesser challenge than having free technical rein?
Philip Sparke:
There is no doubt that writing interesting music for the lower sections is the harder of the two options. I once heard it likened to writing a poem but not being able to use E, R, and T! It's quite easy to write simple music but it's hard to make it exciting without stretching technique and range. That's how it is for me anyway – I'm sure other composers may find things different.

Christopher Thomas:
Have you ever felt that you would like to extend your output in other directions, possibly into the field of orchestral music for instance?
Philip Sparke:
Well, I'm writing mostly for concert band these days. Orchestras don't really appeal as they have enough good music already and don't need new music as much as bands seem to. I rarely listen to band music though – always orchestral music; not that I have much time to do either!

Christopher Thomas:
Have you ever felt the desire to return to conducting on the brass band stage?
Philip Sparke:
Well, I spent 12 happy years with the Hillingdon Band (now Denham Brass). We spent some years in the top section and managed a few prizes, as well as a 3rd in the top section area. I've also won in Norway and regularly conduct brass bands in Japan and wind bands worldwide, mostly on my own music. But I don't want a career as a conductor. I'm a composer/conductor in that order!

Christopher Thomas:
The issue of adjudication has been a subject of particular debate in recent years. Do you feel that the current system could be improved and if so in what way?
Philip Sparke:
I've read with interest Alan Morrison's recent articles. They make a lot of sense, although I don't agree with all he says. Whenever I've been in the box in the big contests the job has been done well and diligently. Even so, I'm still hearing horror stories. Just last year Bengt Eklund was reported as saying he wouldn't give a band 1st prize if they played a Sparke piece! I mean, these people shouldn't be allowed near a box. In own choice contests judges preferences about pieces shouldn't be a factor. They are there to judge the performance not the piece. As long as judges realize they are there to pick the best performance (and not the best piece or the best band) then it's quite a simple process!!

Christopher Thomas:
How do you feel about adjudicating on your own music?
Philip Sparke:
It's irrelevant who wrote the piece. The judge's job is to evaluate the performance and remember it.

Christopher Thomas:
Do you tend to sit through all of the performances if you are present at a contest where one of your pieces is being played?

Philip Sparke:
I do try and listen as much as possible, but I don't think I've ever sat all the way through (unless I was in the box!!)

Christopher Thomas:
What generally are your working methods when writing a major piece? Do you tend to through compose from beginning to end and do you work at the computer or keyboard?
Philip Sparke:
I work straight onto computer and always start at the beginning and work through whether the piece is major or not. The only exception would be a piece in movements, as I may not write the movements in order. But generally I start at A and end at Z.

Christopher Thomas:
Do you tend to carry ideas for new pieces around for a long time before committing them to paper?
Philip Sparke:
It varies. My new piece for the English Nationals (Dances and Alleluias) was with me for a year before I put any notes down. I'd be thinking about shape, content and length etc. More often than not though, I just get on with it.

Christopher Thomas:
Which of your own works do you consider to be your best and for what reasons?
Philip Sparke:
Well, it depends what you mean by 'best'. Composers' own favorites are not necessarily their most popular pieces. Cambridge Variations and Diversions stand out in the memory, because they finished up exactly how I wanted them to when I started. But bands aren't really interested in the compositional process, quite rightly. At the moment Music of the Spheres is still fresh with me and I like the piece as it doesn't have any dull bits (!) and the emotional journey is really well organized. I can't judge the new piece really, till hear it live.

Christopher Thomas:
What are your favorite works for brass band by other composers?
Philip Sparke:
Pageantry, Journey into Freedom, A Moorside Suite, Paganini Variations, In Memoriam RK, Contest Music, A Disney Fantasy. They are all brilliant in their own ways.

Christopher Thomas:
Having written extensively for wind band as well as brass do you feel that the wind band offers you any greater flexibility given the tonal restrictions and rigid instrumentation of the brass band?
Philip Sparke:
Well it does, but I don't find the brass band tonally restrictive. The secret is not to write music that depends entirely on colour. That is not a disadvantage, merely a discipline. The brass band has its own advantages too – fixed instrumentation being the greatest, as well as balanced tonal power top to bottom, which is unique in the musical world, apart perhaps from the piano and the string quartet.

Christopher Thomas:
Looking back to your early pieces such as The Land of the Long White Cloud do you feel that your music has undergone any essential stylistic or technical changes over the years?
Philip Sparke:
I haven't got a clue! I know it's different but I've never stopped to analyse how or why. Nor do I want to. Analysis is bunk, to misquote Henry Ford! Does a bar of chocolate taste better if you know the ingredients? No. It's the same with music. The sooner they stop teaching analysis the better as far as I'm concerned. I'm sure it's no coincidence that the word starts with anal!

Christopher Thomas:
Do you feel that boundaries of technique and virtuosity can be pushed still further in the brass band?
Philip Sparke:
It's hard to see how much farther it can or needs to go. Unfortunately there are many who argue that a difficult own-choice piece should warrant more points than an easier one. This is leading to bands choosing pieces that are too hard for them. I fully understand this point of view but don't agree with it. Surely it's the quality of performance we have to measure, not the technical achievement? If you follow that argument through to its logical conclusion, then test pieces will have to be graded like dives in the Olympics.

That seems ridiculous to me – Three Figures is worth 5 points more than Pageantry? How do you measure that? Unfortunately I still feel that bands think judges are looking for the best bands and therefore have to show what they can do technically to stand out. Whilst technique is of course important, we are not impressed by the number of notes. In fact we take that rather for granted these days. We're looking for line and expression and musical integrity. Aren't we???

Christopher Thomas:
Are you positive about the future of brass banding in the UK and are there any ways in which you would like to see bands develop in the coming years?
Philip Sparke:
I'm not sure. In terms of contesting I think we still need more dialogue between judges and bands. There seems to be a misunderstanding between the two, judging from the sort of playing I regularly hear. In terms of concerts, there does seem to be some innovation but we do tend to see the same old warhorses don't we?

Christopher Thomas:
Could you tell us about your new piece to be heard at the inaugural English National Championships, "Dances and Alleluias".
Philip Sparke:
Well, I've only just finished it, so maybe I'm still too close. But it's fairly conservative in that it doesn't need any standing or unusual seating arrangements and players can stick to their own instruments (!). It's a series of Alleluias, by which I mean slow ecstatic music, with faster episodes in between. It tests quiet playing quite a lot but there are still some powerful bits and the corner men are all featured to various extents. It's not dramatically difficult but will sort the bands out I hope. We'll have to see!