2006 Spring Festival - Grand Shield - Introduction and Predictions
9-May-2006
19 top class bands line up to try and win a place at Birmingham's Symphony Hall in September. Only two places up for grabs so its like trying to win a Willy Wonka golden ticket.
---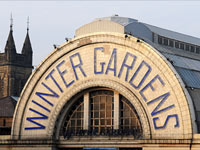 It may have been said a thousand times before, but never has a truer word been spoken about a brass band contest when the Grand Shield is described as 'the hardest contest to win in the world."
2006 reinforces that bold statement once more with 19 top class bands taking to the stage at the crumbling edifice to the long forgotten days of seaside entertainment that is the Winter Gardens in Blackpool. Everyone of them will come with the belief that they can at least gain one of the two priceless qualification tickets to the British Open; only two will leave successful. This is brass bands meet Willy Wonka.
Of the 19 bands on show this weekend, there are two Area champions, two other qualifiers for the National Finals, the top three bands from the Butlins Mineworkers Championships and the winners of the high quality Yeovil and Buxton contests. Oh – and there is the small matter of the reigning National Champions of Great Britain who just spent last weekend battling it out against the very best bands in Europe in Belfast. All these and more are chasing two places at British Open. No wonder it is such a bloody hard contest to win.
The Grand Shield can literally make or break a band. Last year Ashton under Lyne qualified for the Open beating a whole host of top class bands into the bargain. It has taken some bands a twelve month to recover from missing out. Where Ashton could celebrate long into the Blackpool night, the likes of Flowers who came 3rd or GUS who came 4th had to make the long trek back home knowing that they had given their all and had literally nothing to show for their efforts. At any other contest, a podium place would be celebrated, but not at the Grand Shield. It is like losing a FA Cup semi final.
Who this year then will be celebrating and who will be crying into their beer?
Much will depend on how they tackle the difficult set work, Michael Ball's enjoyable 'Whitsun Wakes'. It is a most appropriate work; an affectionate piece that reflects on the past as well as the future of the British Open contest. It celebrates the traditional strengths of the British brass band; the ability to play warm, balanced, lyrical hymn tunes allied to the sporting element of 'jumping through hoops' – in this case, the series of very difficult quasi cadenzas that will tighten the buttocks of all of the corner players of the bands.
It would be easy to suggest that these set pieces could very well decide the contest, but counting the splits shouldn't be the only criteria of picking bands who have ambitions to play at the most famous brass band contest in the world come September. Hopefully, the judges will take into account much, much more and reward those bands who really take the risk to bring out the music in the detailed Michael Ball score. There are certainly enough talented players on show this weekend, and more than enough good conductors to showcase their bands talents if they are brave enough. The question is: Are they are really brave enough to risk music making before errors and little slips?
The form guide would possibly suggest a group of about seven or eight bands that should, if they play to form, have enough about them to challenge.
The most obvious candidates are of course the National Champions, Leyland, who showed in Belfast just a week ago that they are a very classy band indeed, led by a top notch conductor and packed with high quality solo players. Much will depend on how much that weekend took out of them and how much real detailed preparation work they have been able to put in on this piece. They may well be relying on a touch of adrenalin and the ability of Russell Gray to bring his usual musical reading from the score, but if they click they should be there or thereabouts come the results.
The same should also go for the likes of Butlins Champions PolySteel, who on their day could blow away the opposition. They have won here before in 1998, and have come close to qualifying again since, but they also have the unhappy knack at times of not playing to form. It could be their Achilles heel once more.
The two Regional Champions, Mount Charles and Aveley and Newham should also travel with confidence, but they too are bands that can blow hot and cold. The Cornish band is not quite the impressive force when not conducted by Nicholas Childs, whilst the Londoners can at times flatter to deceive. The other London based band, Redbridge are headed by one of the canniest MDs around and will be looking to put the disappointment of Stevenage well and truly behind them.
Two bands to possibly look out for are Carlton Main Frickley Colliery and Staffordshire. The Yorkshire outfit has been making significant progress over the last year or so and could be on the verge of winning the Grand Shield for the third time in eight years, whilst the Midlanders have teamed up with the conductor who seems to bring the very best out of them and have just put in an impressive winning performance on this piece in Buxton.
Wales has a strong presence this year, and each of their bands should fancy their chances of making a mark. Tredegar are still rebuilding after losing their Open place last year, and although they have notched some impressive wins this year they may be a year or two off a return to Birmingham. Cwmaman find themselves in the same position, whilst Beaumaris are a young band who may just need a few more outings under their belt at this level. Burry Port, who qualified for London in such impressive fashion at Swansea may well head the Welsh assault this year and could well be a good dark horse.
The other Midland bands could feature, with WP Sovereign and Ransome headed by experienced conductors who could draw something out of the score, whilst GUS will once more put in a strong challenge and will be hoping for a bit of change of luck here. They have come very close in the last two years.
The North West challengers are predictably strong and BT, Besses and Freckleton should travel with varying degrees of confidence. One or more of them may well feature come results time, whilst the other Yorkshire challengers, Pennine Brass are a band that cannot be discounted even though they are currently playing in the National First Section.
That just leaves the reigning Scottish Open Champions, Fishburn who took that good end of year form into 2006 when they qualified for London from the North East Regional Championships. They too will be looking to join their traditional rivals, Reg Vardy at Symphony Hall.
With everyone getting a mention then, time to put our heads on the block.
We go for Carlton Main and Staffordshire to pick up the two most important prizes, but we think they will be very hard pushed by the likes of PolySteel, Leyland, Mount Charles and GUS. Our dark horse are Aveley and Newham.
At the other end of the table, the fight to stay in the Garnd Shield should be equally as fascinating, with the bottom four bands facing the dreaded drop. There could well be some famous names leaving Blackpool on Saturday night heading for a real 'Wake' on Sunday morning.
4BR Predictions:
1. Carlton Main Frickley
2. Staffordshire
3. PolySteel
4. Leyland
5. Mount Charles
6. GUS
Dark Horse:
Aveley and Newham