2006 European Brass Band Championships - Postcard from Belfast
4-May-2006
Belfast may have had its fair share of troubles in the past, but it gave the European Championships the warmest of welcomes.
---
Belfast is a city with a past; a past that is colourful and troubled perhaps, but one that has helped make it into such a great place to come and visit.
The welcome is warm and genuine – from the taxi driver at the airport who knew more about brass bands than was healthy to the organisers of the European Championships from the Northern Ireland Brass Band Association who produced a wonderful week long festival in such splendid fashion.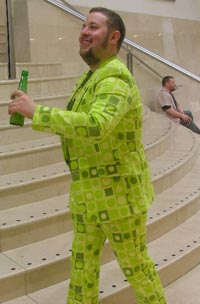 Feeling a touch green - Eikanger's percussionist should sue his tailor...

The city welcomed the bands from all over Europe with open arms and we are sure everyone enjoyed the experience. The formal reception amid the marble and majesty of Belfast City Hall was great, whilst the Waterfront Hall provided as good a venue for these championships as at any time in its 29 year history.
Belfast is regenerating itself quicker and more spectacularly than the latest Doctor Who and although the signs of its troubled recent past are still very visible in places there is a real sense of optimism amid the building works and smart shops that are springing up. The acceptance of that troubled past does give a somewhat strange air to the city at times though. The famous Europa Hotel is always referred to as 'The most bombed hotel in the world' whenever it is mentioned, and even in the hotel we stayed at the walls were adorned with slick collages of the murals found on the side of the terraced houses in parts of Belfast that expose the virtues (if that is the right word to describe them) of such paramilitary organisations as the UFF and the IRA. 'The Tourist Troubles Trail' someone called it without a hint of irony. It says a lot of a city and it people that it can so readily accept its past in such a way, but it is still a rather uncomfortable feeling that this 'Disneyfication' process of such acute civil strife is now being so actively promoted.
The nightlife in Belfast is great; good restaurants and great pubs give a real intimate feel to your enjoyment. 4BR ended up supping a few jars in the famous Crown Pub near the Europa 'the most bombed hotel in the world' hotel, and it was there that we rubbed shoulders with no less than James Nesbitt, the actor who has appeared in 'Murphy's Law', 'Cold Feet' and those crap 'Yellow Pages' adverts. Suffice to say he knew nothing about brass bands, although he seemed to have the very happy knack of gaining telephone numbers of women without asking for them. Seemed a nice chap although he was wearing a funny moustache.

The pubs here has those little snug boxes that used to house Irish Ena Sharples types with milk stout moustaches and dodgy hairnets. They were also roughly the same size as the box used by the organisers to house the judges. This was in fact a bespoke Shaker inspired white and beech wood enclosure, Habitat could sell at 10 grand a shot and get customers digging deep into their pockets for. Whether or not it was any use as an adjudiators box though was another matter. It looked hermetically sealed.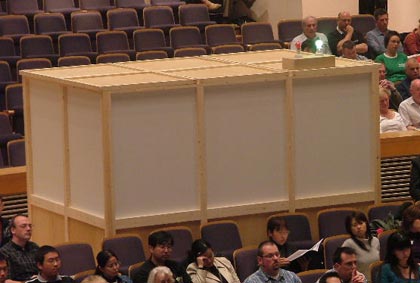 The judges are sealed into the box...

Back to the contests though and once again the European threw up its fair share of controversy. Why for instance do Eikanger persist on walking onto the stage as if they are heading a funeral cortege? Is it a Norwegian thing, or what? For that matter, why do the top bands still think it is their God given right to milk every last drop of the applause in a fashion that makes the audience appear like performing seals flapping their flippers until their become red raw, just to thank the bottom 3rd cornet player for his particular efforts. It is so, so amateurish.
Still, the bands do provide us with great entertainment; from the bonkers soprano player of Soli Brass, o the percussionist from Eikanger who took the Irish theme possibly a bit too far (and maybe dangerously so if he had done it in certain parts of the city) by wearing an all green suit that made him look like a gay leprechaun.
There was also Ray Farr on inspired form with the baton (he looked as if he was dancing to the theme song YMCA at one point during Lygnby's account of 'Music of the Spheres') and Frank Renton who was on good sharp form all weekend (despite his rather clumsy attempt of humour when Black Dyke where preparing to take the stage on the Saturday) and who certainly earned his fee with his conducting at the Gala Concert and Composers Competition. It is not often you see Frankie Boy sweat like a fat bloke in a sauna, but by heck he was losing a few pounds on that Thursday night.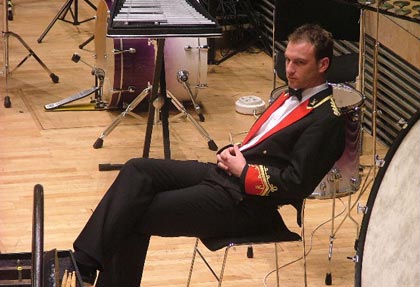 Dyke's Paul Lovatt-Cooper waits for Frank Renton to finish his comedy slot...

In addition there was David King sporting a new hairdo that allegedly may have been enhanced from its natural colour shall we say, Russell Gary sporting a tie that made your eyes water and the players of Willebroek celebrating their win by imitating the hair cuts of long term inmates at a Belgian high security prison.
There was also the company 4BR enjoyed of the composer Elaine Agnew and her sister, although we will never ever reveal the source of the wonderful story of the Radio 3 presenter Petroc Trelawny until our dying days and of the people we bumped into, enjoyed a chat and a pint with as well.
The sights and sounds of Belfast were truly memorable in oh so many ways!
It all made for a great weekend. Congratulations to EBBA and especially Joe Cassals and his team for the way in which Euro 2006 was organised and presented. Birmingham 2007 has a very hard act to follow.
Iwan Fox.