2006 European Brass Band Championships - EBBA Forum
4-May-2006
4BR was at the EEBA Forum to find out what plans EBBA has for the future and what the BFBB had to say for itself ahead of Birmingham next year.
---
One of the most enjoyable fringe events of the European Championships is the chance to hear what EBBA as a generic organisational body has been up to in the past twelve months, and what it intends to achieve in the immediate future.
EBBA has many progressive aims and objectives as well as some that are more fanciful, but nevertheless attractive, whilst its member countries also have their own agendas to follow.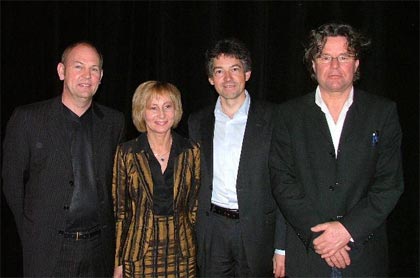 Forum line up: EBBA's line up to discuss the future

The Forum, expertly chaired gave the chance for EBBA and each of the members to state publicly what they had been up to, and what they intended to get up to. Although not packed out, there was a fair sprinkling of interested parties, including the press, all of whom were invited to ask questions about the various presentations and informal discussions.
EBBA's most progressive long term aim is to try and secure European Funding of around 300,000 Euro a year for a three year period to underpin their work and development in five core countries. This mixed funding proposal is ambitious, but has been approached in a realistic and professional fashion and there is a real chance that by next year the application could well be accepted, although much will depend on whether member countries can come up with their share of the funding pot, and also whether EBBA can attract private funding initiatives much like British style PFI to supplement what the EU will be prepared to put in. It has cost around 40,000 Euro so far in preparation, but with a possible 1 million Euro prize, it seems to be an undertaking that should be supported wholeheartedly.
There was also a most encouraging presentation given by Lithuania, which outlined the progress the country has made in the past twelve months in particular in bringing a community based brass band culture to the Panevezy City area of the country which has around 120,000 in habitants. Fantastic ground work has been put in place, and with the link to the greater EBBA EU Funding objective, Lithuania promises much. The little acorns of brass banding have been planted here in very fertile ground and they seen to be growing with strength.
There was also good news to report from Germany where last year their delegation presented their aims and objectives for 2006 amid much enthusiasm. Even though they couldn't make it to Belfast this year, it was reported that a proposed National Brass Band Championship of up to 12 bands could well take place this year, allied to workshops and masterclasses.
Although France didn't have a representative it was also reported that their National Championships should also take place once more in November, with hopefully the winning band accepting the invitation to compete at Birmingham in 2007. France being France, there were some problems with organisation, but it seems things are back on track and the movement is growing in strength.
Norway has long been the lead taker in progressive initiatives, and Ulf Rosenberg informed the Forum that plans were well underway for the European Championships in Stavanger in 2008. So much so that it was hoped that a joint working association with the city would be signed in the next few weeks whereby sponsorship of many of the events for the whole festival will be put in place encouraging the participation of literally hundreds of schools and voluntary organisations to take an active part in the promotion of Euro 2008.
As for the English?
Well the input of the BFBB at the Forum was nothing short of pathetic. We do not know whether anyone had done any preparation work to inform the Forum of what the BFBB has been doing to promote either Euro 2007 or brass banding in the UK in the past year, but there was no information, written or oral given on the day.
Poor Philip Watson, the BFBB Development Officer was left high, dry and totally out of his depth at the Forum and when challenged to inform everyone of what the BFBB had been doing to help banding in the UK become more organised, he had literally nothing to say on the matter. He wasn't just asked once, but twice by the Editor of the British Bandsman and the Managing Director of SP&S, and twice he was unable to give any sort of coherent answer.
This was the chance for the BFBB to shout off the rooftops in Belfast of how great Birmingham 2007 was going to be; to present with handouts or even a small presentation what progress had been made in putting on next year's event; the exciting development of the English National Championships; of what work Philip himself has been undertaking to help bands. You name it, the BFBB could and should have shown what they were up to. Did they then? Did they heck as like.
This was embarrassing. Embarrassing for Philip Watson, embarrassing for the BFBB and embarrassing for EBBA that the organisation that will be hosting the European Championships in 2007 couldn't even put together the simplest of documents to show their fellow members what they were doing. Oh, our mistake. They did actually do something – a A5 printed flyer for the English National Championships that looked as if it had been run off on someone's home PC and which was about the same quality of a sixth form disco invitation.
It came as no surprise that when 4BR put forward the opinion that the Forum reminded them of Jacques Delores famous quip of Europe resembling trains from different countries going at different speeds to reach the same destination, Norway appeared to be the Eurostar, Wales and others an Intercity 125 and England Geroge Stephenson's Rocket. The point raised a wry smile on the delegates faces to say the least.
This really was an interesting meeting. EBBA has its faults, but it is always prepared to air them in public and face stiff questioning about its plans and actions. They should be congratulated for doing so.
Iwan Fox