2006 National Youth Brass Band Championships - Premier Championship
12-Apr-2006
The Premier Championships may have only the two bands taking part, but it still made for an exciting contest.
---
The only real disappointment at the Premier Championship was that there were only the two competitors for the National title.
There have been well documented problems this year, but just to have the two bands for what is the 'Blue Ribbon' Youth contest of the year should alert the organizers that not all local authority music services see it as such though. There is some hard work ahead for the BFBB in the next few months to ensure a better turn out in 2007.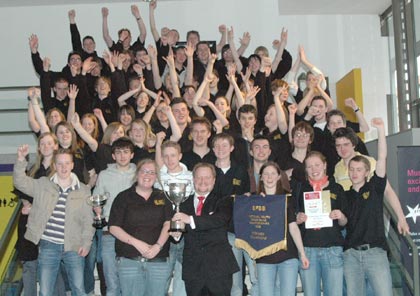 We are the Champions! Greater Gwent celebrate with their MD Russell Gary

Hopefully they will be successful, as on the evidence of the two bands that did take to the stage here need to be tested by other competitors.
Greater Gwent Youth and Rochdale both performed well, although it would be stretching things a bit to suggest that the gold awards that they were both ultimately given by adjudicators James Scott and John Berryman were of the 24 carat variety – more a well polished 18 carat bit of work.
James Scott was generous in his remarks at the end of the contest. "We have enjoyed the playing. I was taken back to not too long ago when youth bands couldn't play items such as these and it was nice to hear two wonderful performances. Some top bands at major contests could have been taught a lesson here today with regard to 'blowing the roof off'. There was some excellent dynamic playing and it was also a joy to hear splendid percussion and timpani playing, which contributed so much to the performances. Please keep going as you are the heart of the brass band movement."
It was hard to disagree with his general observations, but you do wonder (and this was not made clear by any judge during the entire contest), of what actually constitutes a 'Gold Award' performance. Both were good – but were both really of that standard, whatever it may have been?
Greater Gwent were deserved winners at the end of the day under the direction of Russell Gray. Backed by a well run Music Service provider for a group of local authorities in South East Wales, the band represents the top tier ensemble of player development and as such comprises of youngsters who have come up through the ranks so to speak. They are well tutored by a backroom staff of teachers and also benefit from the experience of enjoyable run courses each year that are directed by the likes of Russell Gray, and earlier this year, Nicholas Childs. The experience of playing under such respected conductors has certainly rubbed off on them.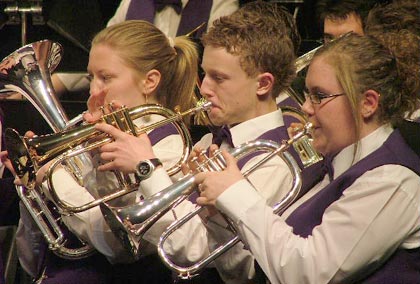 Time to make our mark: Greater Gwent's flugels lead the way to victory

That was certainly evident with their opening piece, Thomas Wilson's 'Sinfonietta', written over 30 years ago and first used at National level as the test piece for the Second Section National Finals in London in 1973.
This opaque and somewhat morose work still sounds quite challenging even by today's standards and although it is not exactly thrilling fare one suspects for young players to enjoy, it certainly presents the with enough of a challenge. It may make Morrissey sound like Julie Andrews, but that isn't always a bad thing is it now?
The angular rhythmic writing of the first movement gives way to a more elegiac second section, whilst this returns to the fractured feel of the first in the closing movement.
The technical aspects of the music were overcome by Great Gwent in fine style (no doubt helped by the fact that the piece formed the center piece of their annual course earlier in the year) whilst the somber moods of introspection in the middle section were also well captured, helped by a very broad and spacious reading from Russell Gray. Individual players took the opportunity to shine whilst the general ensemble had a security, especially in the lower brass.
They followed it with an intelligent bit of musical planning and Philip Wilby's 'Partita', a much lighter and warmer work that allowed for much more expression and a sense of vibrancy to become apparent. There was further excellent work on show from all the main soloists, especially in the horn in the second movement and the trombone playing of Aled Williams throughout which brought him the prize as 'Best Instrumentalist' on the day.
Russell Gray carefully ensured that his band had something in reserve to keep them on track to the very end, and although there were evident signs of fatigue in the closing sections it was rounded off in fine style.
Rochdale Borough Youth were the other challengers on the day under the direction of Ian Porthouse, and they started in excellent fashion with a cracking account of the test piece that was well balanced and had plenty of attention to detail throughout.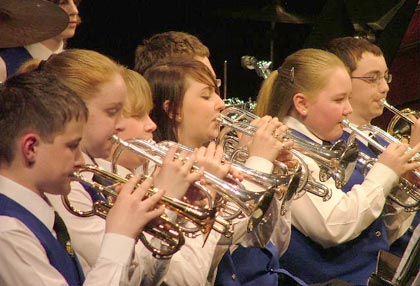 All together now... Rochdale's back row give it their all

The opening movement was slightly more up tempo than their rivals and as a result it had a better flow and a less fractured feel. There was also some splendid individual work from the solo cornet and soprano, whilst the other main lines were well handled and the general ensemble supported with clarity and style.
The darker more somber second movement was also well played with a warm tone and although the trombones were a touch weak an excellent euphonium contribution and a neat soprano were real highlights. A more robust approach to the third movement also worked well and although it just got a little harsh to end it was a well crafted performance, intelligently led from the MD and which for us was a couple of points ahead of Greater Gwent.
The difficulty of playing two quite demanding test pieces for young players was evident however with their choice of James Curnow's 'Trittico' as their second piece.
Full of rhythmic and technical difficulties it was perhaps a slightly too ambitious choice to perform for the band. A weak start lacked detail and although once more there were fine efforts from the leading individual players, the lack of bass led foundation and weaknesses in certain sections meant that it soon became something of a struggle. Ian Porthouse kept a tight rein on the dynamics and the tempos to help maintain his resources, but the one thing he could not do was stop the stamina banks from being depleted way before the end and it all came to a rather weak conclusion.
Did the Premier Championship give us an indication to whether or not the future of our movement is rosy or not then? Not really. Having just the two bands on show told us nothing we already knew. There are plenty of talented youngsters out there, perhaps technically more advanced than ever, but musically still very naïve and still prone to playing with a distinct lack of warmth to their tone.
Greater Gwent fully deserved their first place, although it certainly wasn't a 24 carat gold performance. Meanwhile Rochdale should also be proud of their efforts, although perhaps on this occasion ambition outstretched ability with their second piece. Theirs perhaps more readily deserved a Silver, award, but a sterling silver one at that.
Iwan Fox.