2006 National Youth Brass Band Championships - County Championship
12-Apr-2006
10 bands took to the Bruntwood Theatre stage in a bid to become County Champions, and it was one of the smaller outfits that finally emerged triumphant.
---
The County Championship featured 10 bands from around the country in a competition that although varied in quality was still very enjoyable and entertaining.
Much of the credit for that must go to the MD's who picked sensible programmes for their bands to perform. Likewise the organisers who picked Simon Dobson's wonderfully evocative 'Lydian Pictures' as the set work. Young Mr Dobson, as adjudicator Major Peter Parkes cleverly remarked, is only a few years older than many of the performers here, but his music has a maturity that sets it apart and makes it so interesting to both perform and listen to. He is, as the Major noted, a talent who could easily write test pieces for the very best bands (or posh bands as he humoursly called them) in the country.
Each of the bands brought something to the contest, from the victors and gold award winners to the bronze awardees.
Peter Parkes was full of praise for all their efforts, and quite rightly so. "It is always a great pleasure to come and listen to the bands here. There is a lot of laughter and genuine appreciation of everyone's efforts, and it is something the 'posh bands' in the Championship contests never manage or understand."
He went on to add: "The set work is a marvelous test piece and one which suits young players so well. It does though cause one or two problems. Sometimes the tuning was out today, especially when mutes were used, whilst a pet hate of mine is the way some bands failed to play the dotted quaver/semi quaver rhythm correctly. It is not 6/8. Tempo's too could have been just a bit quicker in places. Don't be afraid to up them at times as making the slower robs the music."
These were superbly observed points by the Major and he was also spot on when he said that there were 'three or four really outstanding performances today." He was a pains to point out that he hoped the bands would find the comments made by both he and Goff Richards as 'constructive and helpful' too. We are sure everyone did.
There was little in fact to choose between the top four bands that Peter identified.
The winners, Gwynedd Mon Senior Youth may have surprised a few people who felt their lack of numbers and light sound may not have impressed as much as others who were full to the brim with players and produced a bigger sound. However, on a day when the one major weakness of just about every band in every section was the lack of warmth in their sound, both with individual and ensemble playing, Gwynedd shone like a beacon of control and genuine true brass band tonality.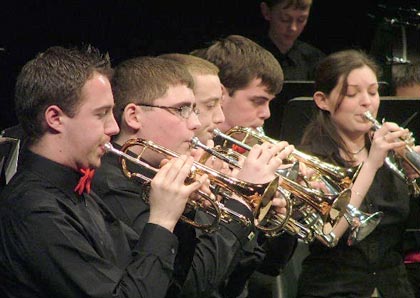 Leading the line to victory: Gwynedd's impressive cornet section do their stuff

Playing off the number 2 draw, they opened with a neat account of the 'Olympic Fanfare' with two choirs of players either side of the band, and followed it with a well controlled and very balanced account of the test piece that featured some wonderful individual playing as well as superbly balanced ensemble work, even with just the three basses. Gwyn Evans deserves great credit for that bold, yet intelligent approach and showed just why he is held in such high regard as a brass teacher in North Wales and the Principality as a whole.
The real highlight though was with their next item, a super arrangement by the MD of the Welsh lullaby 'Si hei lwli mabi' that was delivered with a beautiful sense of style and genuine warmth. The cornet playing of both Cai Isfryn and Nicholas Hughes was not just the best of the section, but the best we heard all day, whilst 16 year old Graham Bushell showed himself to be a real star in the making on soprano as he won the 'Best Instrumentalist' award. It was high class playing indeed.
That just left a romp through 'The Circle of Life' complete with accents more at home in the mountains of Snowdonia than on the dry plains of the Serengeti, but which was nevertheless enjoyable and so well controlled. It rounded off an exemplary performance, expertly directed and well worthy of a Gold Award.
Second place was awarded to Stockport Schools Brass conducted by Colin Duxbury, who may have felt a little disappointed not to have won, but can be very proud of their efforts nonetheless.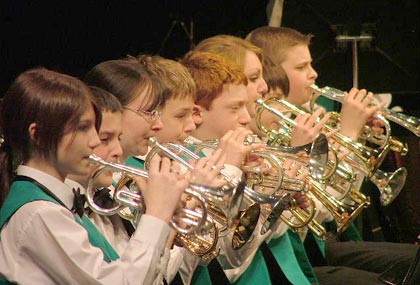 Eight in a line: Stockport's back row give it the unison treatment

They were a big band in numbers and produced a big sound as a result, although it tended to become very harsh when they really went for it. Colin Duxbury directed with real authority, and they gave a fine performance of the set work that had detail and a nice sense of style. It was big and bold when required and featured a fine soprano cornet as well as excellent cornet, flugel and euphonium.
That was followed by Ray Farr's 'Adventures in Brass', which was again bold and powerful but perhaps didn't quite have enough dynamic variance. When the volume was up it was great, but when it needed to be cooled off it didn't quite have the same quality. It was a Gold standard show though.
Third place was awarded to Hampshire County Youth conducted by Jock McKenzie who were very slickly rehearsed and highly polished throughout their two pieces. 'Lydian Pictures' was bold and confident with some fine cornet and euphonium playing particular and it was perhaps the best rendition of the day.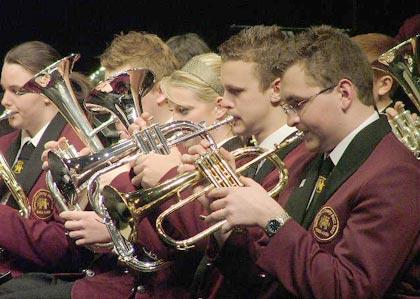 Smart playing: Hampshire Youth look and play the part in coming third

Alan Fernie's clever 'Arias and Dances' however wasn't quite in the same league, and although each of the three movements was well played (including the slightly dodgy start to the third) it just the gloss off what could have been a winner. Another Gold though was more than well deserved.
Fourth spot and the final Gold Award went to Bolton Youth conducted by Helen Minshall. With the hall packed to the gunnels they produced a vibrant and enjoyable series of performances that perhaps didn't quite stretch them as they could have. The test piece was well handled, solid and secure with some neat cornet playing and very good trombone section, whilst they also had a top notch timp player too.
It was the other two items though that just cost them. 'Dear Lord and Father of Mankind' didn't quite come off and was a bit strained, whilst the finale, the trombone trio from 'Sister Act' was slick and very well played by the soloists and the band, but was perhaps a touch 'lightweight' as a finisher. Slick and enjoyable though, like the rest of their programme.
Behind these four came the Silver Awards.
Wigan Youth, Aberystwyth Youth and Oldham Music Centre all displayed a great deal of quality throughout their programmes, but didn't quite have the overall security of technique or the ability to control the dynamics and warm the tone as the bands above them.
Wigan started off the contest with a nicely mixed programme that included a slightly ragged 'Lets Face the Music and Dance' and a rousing 'Batman the Movie' as a finisher. In between they gave a well managed account of the test piece that really did have its moents, but just suffered a touch too much with a harshness to the overall band sound.
Aberystwyth with seven trombones in the ranks started with a very well proportioned March from the 'Little Suite in F' by Gustav Holst before their solo cornet player Jason Lewis gave a brave rendition of 'Weber's Last Waltz' that just suffered a touch in the opening lyrical section with a few too many clipped notes as he tried manfully to overcome the obvious technical difficulties in solo. The test piece just found the band out at the end and just like Wigan was perhaps a touch too harsh in tone.
Oldham too suffered with many of the same problems. Grieg's 'Triumphant March' was an excellent opener, very well handled and in just the right style before the test piece just caught them out especially in the second movement which was hampered by some poor tuning. Their finale was music from 'Pirates of the Caribbean' that was well played, if a little boring as an arrangement for brass. One thing we did wonder though was what type of make of cornets were the youngsters playing on – they seemed a strange colour of finish and didn't always produce the best of sounds?
The Bronze Award winners showed plenty of character a great deal of enthusiasm and no little amount of talent in each of their performances.
Gloucestershire Youth have only been going less than a year and conductor Steve Legg has put in place some excellent foundations to build on for the future. Malcolm Arnold's 'Little Suite' with its strong opening and beautiful second movement were just about overcome, but the test piece did cause them problems. This may have been a first appearance, but it was one that they should be very proud of and we think they will return a much stronger outfit next year.
The same can also be said of Birmingham Schools under the rather flamboyant direction of James Cunningham. They started with 'Fest Musik de Stadt Wien' before a well handled 'Irish Blessing' brought the best out of their playing. The test piece was perhaps a touch beyond them at present but was given a robust account whilst their finisher 'A Closer Walk' was delivered with a real swagger even if it did struggle a little in places. Lots to work on, but lots to admire too with their performance.
Finally, Milton Keynes Intermediate directed by a very youthful looking Mark Green. Like the other Bronze Award winners they found the test piece in particular to be just beyond their development at present, but they showed that all the basics were in place with a neat account of Gregson's 'March Prelude' and their finisher 'O Happy Day' which featured a cracking percussionist on the drums, some really good soloists and a wicked bit of soprano playing. Plenty of good stuff to work on then for next year.
Iwan Fox