2006 National Youth Brass Band Championships - Junior Championship
12-Apr-2006
Just the four bands made it to the stage for the Junior Championships, but the standard was good and the winners were simply brilliant.
---
Adjudicator Geoffrey Whitham summed it up perfectly when he said 'What a pleasant way to spend a Sunday Morning'. The Junior Section might have only had four bands in it but on more than one occasion, the judges and the audience were left to wonder '…are these performers really under sixteen years of age?'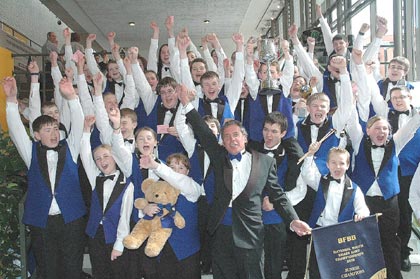 The winners wave: Camborne show off their Mexican wave impression as winners

As with the Youth Entertainment contest in February, this was another contest where you can only sit back and marvel at the level of commitment, let alone the quality of performance that is produced. It mattered to each and every one of them, but what also came across was how much enjoyment they were having, and whilst it was a competition, the enjoyment factor is perhaps the most important thing of all.
In praising the bands for their performances, adjudicators John Roberts and Geoffrey Whitham also made the point that they didn't hear too much quiet playing overall whereas the bands seemed far more at home with louder music. They did encourage them to look at the quieter aspects of playing as well in future.
Camborne Youth and Alan Pope certainly enjoyed themselves and in doing so brought a smile to everyone's faces. Camborne's overall level of performance throughout was superb and you had sympathy for the other three bands because in making it a hat-trick of victories in this section they showed they were simply too good for the section and worthy of competing at a higher level.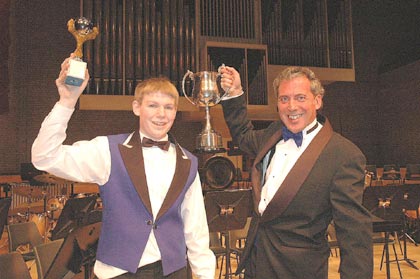 The spoils of battle: Camborne display their cups

The bands winning performance opened up with a convincing rendition of 'Fest Musik Der Stadt Wein' before the band completely relaxed into 'Slipstream' by Philip Sparke taken by the conductor at a nice steady tempo. The MD was smiling, full of positive body language and the band responded throughout.
Then everybody was treated to something that was nothing short of brilliant; a virtuoso performance that if it had come from Wayne Rooney, it would be repeated time after time on the television. It came from percussionist Jeremy Taylor.
Jeremy stepped forward to perform Helter Skelter on the xylophone, and his communication with the audience, the way he interacted with the band was superb. This was note perfect and the best bit of all, he loved it; smiling away to people in the front rows. Like Mr Rooney with a ball at his feet, Jeremy seems to be a young man who enjoys nothing better than playing tuned percussion. One thing for sure, his temperament is outstanding.
It was here last year that Jeremy took the Best Instrumentalist prize for his performance of Czardas and he took it again this time. Originally Jeremy was a trombonist and fell into percussion by accident, but he now plays not just with the youth band, but Camborne's Championship Section Band as well. He is a real star.
As the audience attempted to get its breath back, Camborne confirmed their victory with An American Trilogy that featured some fine playing from the various sections although it did it seem unnecessary for sections to be stood at every opportunity.
Not surprisingly, Alan Pope was a delighted man afterwards in conversation with 4BR 'I'm delighted, the band were magnificent today and after performing with Brighouse last night, it rounds off a fantastic weekend. We've been working on the programme since the Autumn and I can't praise the band enough'.
Wardle High School had opened up the day's contesting in the Haden Freeman Concert Hall, and fully deserved to be recognised with a Gold Certificate, and as has been eluded to previously can consider themselves unlucky to have competed against a band that was truly outstanding.
Conducted by Lee Rigg, Wardle opted for music that has served them well in previous competitions, The Great Escape and Hymn to the Fallen. Once again, the enjoyment factor came across along with some good playing.
Finally, Wardle performed Paul Lovatt-Cooper's 'Solar Eclipse' in the presence of the composer. Written for Stockport Schools originally, the music of around eight minutes isn't dissimilar to other compositions from the Black Dyke percussionist, descriptive, and as the title suggests a musical impression of the impact of a 'Solar Eclipse' and this was a commendable performance and one that Paul enjoyed very much.
Wardle's performance on the day was even more commendable considering that some of the players had to leave the Lake District very early on Sunday where they were on a school field trip; the trip meant that they didn't pick up their instruments again until contest day itself and they were back on the coach up to the lakes not long after their performance had finished.
Valley Brass (Haydock) led by David Chadwick didn't have the same level of impact as Camborne or Wardle, but nevertheless gave a commendable show that benefited from some fine individual performances, most notably from Heather Darwin on soprano and Joshua Jones on Principal Cornet.
The march 'The Howitzer' was taken a steady tempo before Heather performed the solo, 'Summertime'. It was during 'Hot Toddy' that Joshua stood up to give perform his solo passage and he wasn't short of confidence either. Having performed 'Honey Suckle', the band was awarded a Bronze Certificate of merit for their efforts and whilst this is a young band, on this evidence, they're going in the right direction. The band is part of the Valley Brass set-up with the Senior band taking the National title in the Fourth Section last September - they've got good solid foundations with David Chadwick at the helm and are moving in the right direction, hopefully not being too downhearted with their placing.
Macclesfield Youth made their contesting debut here and they can't be praised enough for their efforts. The average age is around 12 ½ and they only started out last September.
What was impressive was their commitment and desire that was so visible on the faces of the youngsters. Collectively, they will have gained so much experience from playing at a competition such as this.
The highlight was three movements from Anglian Dances by Alan Fernie and this came after flugel Rachel Lovatt performed Concerto D'Aranjeuz and the band, the march Cross of Honour.
Led by a very proud Louise Renshaw, this was just as an enjoyable experience as every other band in the section. Yes there had to be a winner, but everybody enjoyed what they were doing and that came across.
It was Camborne's day once again though and Alan Pope can't be praised enough for the way he brings the best out of his young players. Three wins on the spin here and plenty of success awaits them if they maintain the standard produced here.

Malcolm Wood