2006 BBC Radio 2 Young Brass Soloist of the Year - Retrospective
5-Apr-2006
Malcolm Wood was at the RNCM to witness some real star quality on display and hear some wonderful performances from four potential stars of the future.
---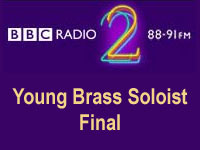 2006 BBC Radio 2 Yougn Brass Soloist of the Year
Royal Northern College of Music
Manchester
Sunday April 2nd

Featuring:
Kate Eggleshaw, Steven Haynes, Daniel Powell, Ben Thomson
Accompanied by the Black Dyke Band
Conductor: Dr Nicholas Childs
Presented by Frank Renton
---
Katrina Marzella had it, so did Brenden Wheeler - and now Ben Thomson has it in spades. Has what you might ask? Not only have they all been declared the winners of this prestigious solo event but all of them have got that one little extra thing that the judges (and audiences for that matter) are always looking for: Star Quality - and the means of communicating it during their performance to everyone in the hall.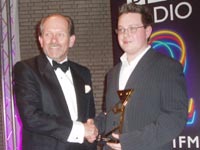 It is a rare thing indeed to find in any player, let alone a young player and it most readily identifies itself through that almost mystical bridge of musical communication that links the performers to their audience. Without it, the performer can put up a hidden barrier, an invisible wall of exclusion that precludes any intimate experience of dragging together the protagonist and their host. Without it, a performance can, and invariably will, sound detached, academic and cold. With it, a performance can sound inclusive, personal and full of musical warmth.
All three performers on the night had that star quality all, but only the one really reached out and grabbed the audience by the throat with it – and that was the winner.
The choice of repertoire allied to communication with the band, audience and most important of all (as this is a competition), the judges are the essential ingredients to winning this competition. Ben Thomson displayed all those ingredients so wonderfully on the night.

The nineteen year old bass player who studies at the RNCM gave judges Lynda Nicholson and Jamie Prophet exactly what they were looking for, and just like Katrina and Brenden before him, Ben had that 'Star Quality' presence about him. He was nerveless and confident and from the moment he walked into the hall he literally drew the audience into his performance of Rodney Newton's 'Capriccio'.
All of the finalists had performed with confidence to get through to the final and each one of them will have gone away from the night having gained immense experience from the occasion. It is safe to say that all of them will become exceptionally fine performers in whatever brass field they choose to follow.
Each of them played very well, and Lynda and Jamie praised the competitors for their efforts, acknowledging that it wasn't easy to come out and perform with a top class band and in front of a live audience. With encouragement came the advice for the competitors to look at how they communicate with their audience to improve their performance. However, they had to find a winner, and in their eyes, Ben Thomson was that and more on the night.
Ben performed third out of four on the night and his choice of Rodney Newton's work served him well. His projection of sound, the quality of secure technique, the overall control of the instrument and the way he blended in with Black Dyke was superb; whether he felt nervous or not, the performance had a real sense of authority and purpose about it.
Yes there was the odd wobble, but Ben put those behind him and carried on regardless. In conversation with 4BR afterwards, he did admit that playing the piece from memory was in many ways a risk, but he wanted to make a real impression on the judges'. He certainly did that both for them and the audience.
The other contenders on the night also gave fine accounts of themselves and can be very proud of their performances. They were nervous, but they will all be better for the experience and it will hold them in good stead in their future playing careers for certain.
Trombonist, Steven Haynes was the first competitor of the night and he opened with another composition from the pen of Rodney Newton, the technically difficult 'Dick Turpin's Ride to York' of which the twenty year old gave an impressively atmospheric account. Here was another performers with an amazing technical facility and impressive true tone.
In complete contrast, Steven's final offering was 'Walk with Thee' by Ray Steadman-Allen, a performance full of warmth and giving a demonstration of the talent of the Royal College of Music student.
Kate Eggleshaw is 16 and was the youngest of the competitors on the night. As principal horn of the NYBBGB and Carlton Main she has already achieved a great deal in her short playing career, and the audience got a real musical insight into why she holds those positions, with some excellent playing.
Kate chose three pieces with the opening fun piece, 'Concert Etude' by Alexandre Goedicke being her most confident offering. Kate also opted to perform the second movements' from two works by leading composers Philip Wilby and Martin Ellerby. Firstly, Wilby's 'Fantasie Concertante' and then Ellerby's 'Horn Concerto' both given fine interpretations with the minute slips not detracting from two very committed performances.
Here is a young player with a huge future ahead of her. The foundations of her future playing are very much in place: a wonderful true tenor horn sound, a secure technique and a lovely sense of musicality. These will be further enhanced in years to come, and we are sure we have not heard the last of this very talented performer.
Finally, Brighouse & Rastrick's first horn player, Daniel Powell. Daniel also opted for Wilby's 'Fantasie Concertante' choosing to perform the second, fourth and fifth movements. Once again, this was another fine display, confident, bright, but possibly a touch too bold (if not a little loud at times) in the overall delivery.
Of all the performers Daniel was the one who projected his confidence to the audience the most and it made for an appealing recital as a result. At times he tried just a bit too hard to force his personality through the music, but that cannot be a bad thing. Again, the foundations of future playing success where there for all to see and on the night he could justifiably be proud of his contribution.
As Radio 2 hosted the competition, the whole evening was recorded for transmission this forthcoming Friday evening. Black Dyke, fresh from their previous evenings concert in Perth (not too mention a very early departure to be back in Manchester for the afternoon) top-and-tailed the broadcast in fine style.
Having opened up the night's entertainment with George Wilcocks' 'The Pondashers March', Dyke entertained the audience whilst the judges decided upon a winner. Glinka's 'Russlan and Ludmilla', 'Mack the Knife', 'Soul Bossa Nova' and John Miles' 'Music' were all polished off in the blink of an eye.
Ben's prize will be to perform with a (un-named as yet) Championship Band that will be broadcast on Radio 2 later in the year.
One thing for sure, the event is growing immensely stature and Val Simmonds and Dave Barber from the BBC seemed delighted with how everything had gone in recent weeks both at the semi-finals and on finals night itself with a large audience once again in attendance.
The complete broadcast will be aired on BBC Radio 2 on Friday 7th April at 9.30pm and afterwards via http://www.bbc.co.uk/radio2/events/brasssoloistcomp/ - whether you were there on the night or not, its worth listening too and as Ben Thomson will happily declare, the event is worth entering as well!
He was the brightest star on a night when all four shone with a luminosity that promises them all great futures.

Malcolm Wood