2006 Tameside Open Brass Band Championships - Contest retrospective
30-Mar-2006
Tameside provided the backdrop for the bands to keep on contesting on the weekend, and it also provided the chance for some to make a point (or several according to the judges)in winning their respective sections.
---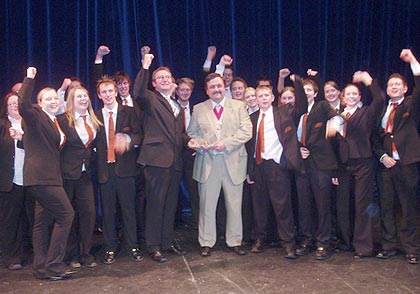 Ian Porthouse and Pennine Brass celebrate their win
Twenty-eight bands did battle across four sections at this year's Tameside Open Championships held at Ashton-Under-Lyne's Tameside Hippodrome. With the contest taking place not too long after the Regionals, only twelve bands opted for the same piece, the rest freshening things up with different material, hoping that it make the right impression on the adjudicator.
From the four sections both Dodworth Colliery and Blackpool Brass had success once again on 'Anglian Dances' and 'Images of the Millennium' respectively and even adjudicator David Horsfield hinted that after listening to the same piece time and time again, that it was nice to hear something different!
Pennine Brass gained consolation for missing out at the Yorkshire Area by winning the Championship Section and Trinity Girls (with a sole man on sop – lucky chap) continued to impress taking the Third Section. There were certainly a few raised eyebrows at the points awarded by adjudicator Trevor Halliwell in the Third and Fourth Sections; a seven point gap between first and second in the Third Section and five in the fourth when splitting the top two. Both were winning shows but to award them by the margins they got seemed to many as being a little on the generous side – even if it was nice to see a judge marking exactly how he felt fit.

Once again, the contest wouldn't have been possible without the financial support of Tameside Council. The authority continues to support banding through Whit Friday, the British Open Solo & Quartet Championships and the Youth Contest and without its help, banding in the North West would be very much the poorer.
It was just a shame that three local bands, Carrbrook, Stalybridge and Mossley weren't able to compete despite planning too – mind you the Deputy Mayor made a speech acknowledging their presence which just goes to show that its always worth double checking that what is being read is 100% correct.

---
Championship Section:

Pennine's victory on Sunday reinforced the point that if you do play well on a consistent basis, you do get the rub of the green. 4BR made its point on what we thought on their performance at Bradford and they played equally as well here and thoroughly deserved their victory.
Ian Porthouse's band managed to capture plenty of drama in one of the most dramatic test pieces for band that has been written, and their 'Blitz' was a cracking effort, full of character and that hint of menace that many miss when this is played. It also had that ad pathos as well, especially in the opening section that was particularly well handled.

The opening depicting conflict was nicely done and the band captured the various mood changes very well. Throughout the ensemble playing was tight and the soloists all played their part. Having been drawn to play last band of the section, Pennine certainly grabbed the opportunity to take victory in a contest where there had been some fine playing. They took home with them the £600 top prize.

Timperley opted for Wilby's Paganini Variations and it certainly paid dividends for them as they took home with them the £400 prize as runners up. Under the direction of David Evans, this was the first chance the reviewer has had to hear the band and they gave a very good account of themselves. The start wasn't the best, and it was a bit 'hit and miss' at times but they did recover to produce a very commendable performance that benefited from a fine flugel voice who stood out throughout. This performance was also a timely reminder that at the forthcoming All-England International Masters, the test piece is going to be a tough nut to crack.

Marsden (Riverhead Brewery) and Glyn Williams opted for repeat of Voyage of Discovery that gained them second place at Bradford three weeks previously. This was a better all-round show on the day than then though, even if the ultimate prize wasn't as great – although £300 will come in handy for Harrogate. A good start with a nice euphonium, the soprano hitting top 'C' and an impressive horn cadenza were highlights of a well shaped and delivered performance. Third on the day may have been a disappointment to them, but it didn't convince the adjudicator that it merited a higher placing on the day against two possibly 'fresher' pieces.

Phil Chalk and Ashton were unlucky not to have got into the top three after a performance of Epic Symphony that benefited from a fine reading by the MD. This is one of those test pieces where there is no real hiding place for any of the players and whilst there was glitches, Claire Chalk in the principal cornet seat, Neil Hewson on flugel and Thomas Humphrey on euphonium enhanced the bands overall performance.

United Co-op Milnrow and Besses both opted for Journey to the Centre of the Earth and having drawn one and two on the day finished fifth and sixth respectively. Both bands didn't have the best of results at Blackpool a couple of weeks ago but performed much better here than two weekends previously even if the inherent flaws that blighted their performance there were not altogether overcome here. Neither band on the day had that winning touch in their performances that David Horsfield was looking for and like Ashton they had to be content to finish outside the prizes.

Tintwistle opted for Voyage of Discovery and after not having the best of openings it did take a while to settle down. Overall it was very bland performance, possibly due to the band having to play it again in so short a space a time since the areas and as a result it didn't really shine.
Congratulations though to Pennine. This victory was sweet and fully deserved, but we are sure they would have swapped it for a place at Harrogate instead.
---

Second Section:

Two contest wins in a row for Blackpool Brass and Andrew Warriner on 'Images of the Millennium'. That said, the overall performance for us wasn't anything as convincing as victory in their home town a fortnight earlier with some loose playing around the stand, but it was enough to persuade David Horsfield to give them victory. It gave them a deserved win though and the £600 added to the £200 they won at Blackpool will keep everyone happy.
With the exception of Middleton, every other band opted for a different set work than the Areas and in hindsight many might have wished they had stuck with the same piece.
Flixton led by Kevin Gibbs opted for Peter Graham's Prisms came runners up and whilst it took time to settle with intonation in the horns, after that, they produced a performance that had more than enough about it to take second place and the £400 on offer. It wasn't blemish free at all (and if there had been better performances from other bands, they could have finished out of the prizes) but they coped well with the challenge of the work and will have enjoyed getting one over Rainford after they had been beaten into second place on Entertainments.
David Hebb's Boarshurst opted for Land of the Long White Cloud and on the evidence of the performance it stretched them just a bit too far and they never really sounded at ease with the work. The opening was steady and when you started to think it would settle it didn't and as the tempos increased, the detail of this fine work never really came through.
With victory in Blackpool at the Second Section, much was expected of Rainford and Neil Samuel, but their choice of Shine as the Light wasn't convincing at all and was something of a brave choice. It started off ok, but in the slower exposed parts it never gelled together and perhaps (as difficult as it is) Entertainments might have been the better choice on the day.
Greenalls never really got to grips with Downie's Music of the Thanksgiving in what was one of those frustrating hit and miss shows. Just when you thought it was going along well, errors kept creeping in and the untidiness cost them on the day. Meanwhile Middleton was another band who never really sounded a happy bunch as they tackled Entertainments. The opening Caprice taking a while to settle with their finest moments coming in the middle movement, the Elegy. The final section was just a little overdone and lost its witty character.
---
Third Section:
Only four bands competed in the Third Section with three of the bands opting for Entertainments whilst the winners Trinity Girls went for Variations on Ladaute Dominum by Gregson, which in the event proved to be an inspired choice and won them the £600 first prize.
Stuart Barton's band tackled music that was in their grasp so well and this perhaps was in the thoughts of adjudicator Trevor Halliwell as he gave a winning margin of seven points on the day. The overall sound was impressive and the odd clips never really affected what was a very solid performance.
Despite Entertainments being a real challenge for Elland Silver, Whitworth Vake & Healy and Pemberton Old JJB Wigan 'B' all of them opted for the piece that they had all worked so hard on in the preparation for the Regional Championships and was therefore familiar to them.
In the end there wasn't an awful lot to choose between them on the day. Elland played from number one, settled well and coped with all before them, showing that they had taken on board the faults that bedeviled their Bradford performance, but it was Whitworth who followed Trinity on stage that had that little bit more consistency about them to take second place. All three movements of their performance had a sense of solidity about them, even though there were errors and slips.
Pemberton meanwhile never really got going which was a shame because they've impressed when we've heard them previously, but Vinter's piece was tough going for them on this occasion.
---
Fourth Section:
On paper this was going to be an intriguing contest with the winners of the Yorkshire and Northwest areas battling it out. Sadly though, Oldham Band (Lees) withdrew so the battle of the Roses didn't happen.
Dodworth Colliery played last in this section of twelve competitors and whilst they won here, you wouldn't mind betting they knew they didn't perform anywhere as well as they had in winning at Bradford.
Strangely it didn't sound like the same band at all. Loose playing was in evidence around the stand and it took time to settle with a plethora of unforced errors that were totally missing at St George's Hall. That said, they had enough about them on the day to take victory here, even though they knew the performance wasn't as convincing as it could have been. The £400 though will certainly help towards their fundraising efforts for Harrogate.
Second place went to Arnfield Brass from Tintwistle in Derbyshire who gave a fine performance of Music From Kantara by Kenneth Downie. The band had drawn seven and was the first one of the day to display any real quality about them with some fine ensemble playing. From the looks on their faces at the announcement of the results, they seemed ecstatic to have taken £400, and you couldn't blame them for what was a thoroughly entertaining performance of a fine piece of music.
Formby chose Peter Graham's Haslemere Suite and seemed very at home with the piece producing some tight playing that benefited from good solo and ensemble work. Although they came in third, the result comes on the back of qualification for Harrogate two weeks previously and demonstrates they're in good form and absolutely full of confidence.
Eatons Farnworth & Walkden, Besses Boys and St Johns Mossley came in fourth, fifth and sixth respectively, each of them playing different test pieces. Eatons Farnworth gave a very good performance of Salford Sinfonietta, which had a neat sense of style and some wonderful contributions from a good solid group of soloists, whilst Besses opted for the familiar territory of Anglian Dances and more than did it justice with some equally good ensemble work, just blighted by tuning problems in places. St Johns Mossley couldn't quite find the form that brought them victory here last year though with Gregson's Partita, which did have a lot of good points but was just too uneven in places to have featured any higher.
Denton, Uppermill, Port Sunlight, Thurcroft and Blackley never really settled down on the day. Denton and Uppermill both opted for Anglian Dances and just didn't quite manage to give their performances the consistency it needed. Both showed promise and quality in a couple of the sections, but it was the fourth (which caught so many bands out at the Regionals which saw them struggle once more). Plenty to work on though for both bands.
Port Sunlight suffered from tuning problems throughout Ball's Impromptu which was a shame really as they had plenty of good players in the ranks and a neat stylish approach. Thurcroft Welfare meanwhile never really got to grips with Ian Raynor's Cavendish Suite and it became harsh and error strewn whilst although Blackley's soprano showed some nice touches, they didn't get too much luck with Peter Graham's Haslemere Suite, which just sounded a touch under rehearsed in too many places.

Malcolm Wood