2006 North of England Regional Championships - Postcard from Darlington
24-Mar-2006
Our man Jack was at the Dolphin Centre (or what remained of it from last year)to enjoy the delights of the North of England Championships...
---
In those far off golden days of Saturday afternoons and evenings when Des Lynam presented Grandstand and Match of the Day, the one regular who was often referred to in glowing terms was 'Albert'. He was Albert Sewell, king of the statistics, master of the useful / useless bit of information for Des or Motty to throw into the mix. Be it football, athletics, horse racing or pro-celebrity dwarf throwing from America. If there was a stat to be had, Albert knew it.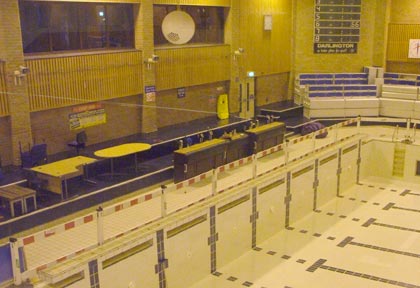 In at the deep end: Next year bring your swimming trunks for after you have played

Well, I wonder what he would have made of these stats from Darlington. Over the last ten years the number of registered bands to compete has dropped from 64 to 57. Of those original numbers back in 1996 ten are no longer registered or even exist and in those years some have come and gone in even shorter spaces of time. On paper the outlook is not good especially when you consider that only 43 entered this years contests, the lowest for many a year.
The arguments over the reasons why have been discussed and debated over the past weeks. One can imagine the words from John Laurie in 'Dad's Army' – 'We're doomed. All doomed!' And yet it is not all bad news. The number of bands in the area is actually quite healthy, and we still produce top world class players. It's just that they choose not to compete or prefer to go Yorkshire / North West Region bands where the chances of winning major titles are better. There has to be some incentive for bands to compete and stay competing, as a number of bands over the last few years have tried once, and then are never seen again.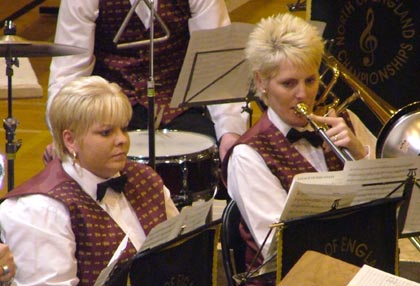 Not all the blondes are in Essex...

The North does try. Certainly the folk are friendly and have the patience of saints. They at present come in two verities of patience: Sunderland supporters and those who braved the Dolphin Centre's building site that is undergoing current renovations. No lifts, no ceilings, walls blocked off and rooms closed, it certainly could have spelt disaster for the event. Having to grapple with BBb basses up three or four flights of stairs and when you're either not well or in the first flush of youth, doesn't bode well. But everyone seemed to take it in their stride and good grace and were rewarded with canteen facilities and bar being re-opened for the weekend by the Dolphin Centre staff. A smaller trade stand area was set up in the bar area so at least some new instruments, cd's and valve oil could be purchased and yes, they all were still standing after being so close to the amber nectar.
The North also has a very good organising team. Now whatever you think of him, and I've nearly always got on well with him, Alan Hope does run a pretty smooth operation up here. Yes, we grumble about the acoustics of the hall, the fact there's no warm up room etc.. but it's very rare Alan blows his top and things go wrong. So praise where it's due to him and the backroom boys and girls including little Sarah Messenger and Derek the dog. The pair were very good at moving stands, chairs and getting in Dads way on the stage during the weekend but for the press boys. It's not Darlington without trying to get her photo.
Don't think that judges don't work hard either, and they deserve their breaks within the contest. Alan Fernie charged out of the 'box' sleeves rolled up, ready for action, a quick break, and back to the box and then asked for a couple more packets of biscuits to keep him going. Poor Peter Dalby had to scarper off to the canteen to get the extra supplies, returning in double quick time and receive a request to fly to Melbourne for the sprint relay. Meanwhile Mr Buckley made sure his sartorial elegance was not to be impaired by producing a clothes hanger to rest his jacket upon from the top of the box.
There is plenty of laughter, plenty of banter between bands and a general respect for each others band and its efforts, especially in the lower sections. There is also an abundance of young people and kids on view, which is good for the future. There are also the fan clubs, the supporters and families that come in and stay. Indeed, I don't know if the renovations had anything to do with it but it seemed that a lot more bands and supporters stayed in the hall to listen to the opposition than in the past.
The antics of conductors are as wild as anywhere else. Be it singing the percussion part to a clearly lost player in a loud voice, to directing the band to pray above for help and guidance, (although some ignored the fact and seemed to have spotted something altogether funnier, what we don't know) they clearly take their art (?) seriously enough to either instil confidence or the fear of God into their charges.
The players are not much better. There is one member of a band who wins regularly a trophy who does not let it out of his sight and keeps it by his bed all year. His missus thinks it's wrong that others don't get a share of this trophy and when we left on Sunday she was planning how to steal it away to the other players without him knowing it had gone until it was too late. Now I thought this was clearly a one-off case of loving a trophy more than the wife, until 'McDougal of the Police' turned up at practice on Wednesday and said he had got home late celebrating and kept the trophy next to him all night.
And at the end of it all, there's the clearing up, the left cases, jackets, mutes, water bottles, spare shoes, trousers, skirts(!) handbags and other assorted items of apparel and equipment. The banners are taken down, the seats are taken away, the clearly surprised Mayor who wasn't expecting her photo to be taken is packed off back to the town hall, and then home to plan for Harrogate and next year's championships.
And meanwhile the Dolphin Centre will continue its restructuring, and by what was seen it's going all continental. Next year as well as walking out jackets, uniforms and party clothes, swimming costumes will be the order of the day. As our photo proves, the swimming pool when finished is going to have not one but two bars next to it, so the pool will have on tap beer or will even be filled with the stuff on special occasions like the areas!!
You never know…
Steve Jack