2006 North of England Regional Championships - Fourth Section retrospective
24-Mar-2006
No one could complain at the result here could they, as the composer himself was in the box to award the honours to Barton Town and Barnard Castle.
---
What better than to have Alan Fernie, the composer, in the box to adjudicate this section.
Eleven bands lined up here and Alan began his remarks by saying this was his first visit to the North East and that he had enjoyed it, whilst he was shocked initially to find this had been chosen as a test piece as he thought it was too easy. Some of the bands didn't find it so and he remarked that if he had written all five movements as semi-quaver exercises there would have been lots of first places. That may tell you a lot about the modern approach to banding, even at this level.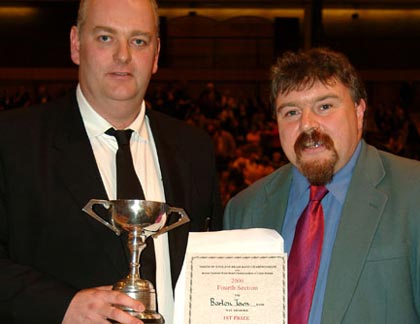 No disagreeing with the result: Barton take first prize from the composer himself
He did remark that the particular section of the piece where the trombone trio makes its presence felt was perhaps the place where nobody got anywhere near it. "Come on guys…. where were you?", he said. Quite right too, and 4BR had comments of a similar nature written down. He did also say that there had been an excellent standard so much so in fact, that some of the lower placed bands may have qualified if they had given their performances in other regions. Quite right too as well!

Barton Town Band took the title, making the long trip worthwhile, with a well balanced opening movement full of good sounds and plenty of detailed playing. The solo cornet and euph performed well in second movement but the trombone trio was just ok. Euph shined again in the opening of the third movment but there was just a hint of tuning on the last chord that grated.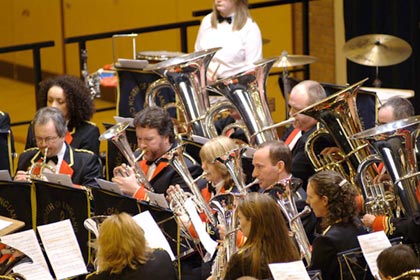 Barton's Special Agents: Barton head for Harrogate - Where's Snowy!!

There was a nice recovery in the last movement though with some neat intricate playing and nice bass theme, and overall it was a rich and well directed performance by Mark Bentham, complete with his trademark right hand flicks. His class certainly permeted its way to the band and they were deserved winners. Well done to everyone for such a fine effort and Harrogate will be approached with confidence we are sure.
Second place went to Barnard Castle with a glorious opening movment, but just a touch of intonation problems between trom and cornets in the fanfare. The second movement was also nice with the lilting cornet solo well handled and some nice euphonium work also on display.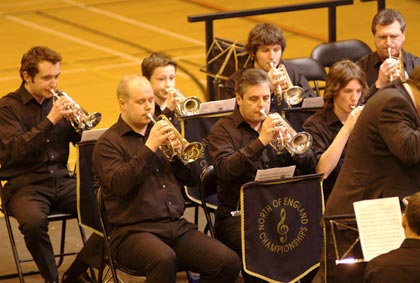 Black to winning ways: Barnard Castle return to the big time in Harrogate

The trombone trio again disappointed and even though there was a nervy solo cornet in movement four it did feature a wonderful flugel solo leading into the key change. The last movement was very detailed with good bass end, playful horns and a nice bass theme with prominent trombones and Bass towards the close and overall it was a touch unlucky not to have just won. It really was nip and tuck between the top two.

Marske Brass took third place (a little luckily in the writers view) with a nice opening movement. There was some good sop and flugel playing but the trombone trio was weak in the second movement (three tenors –no bass). Just the odd tuning problems in the third movement detracted but once again there was some really good euph playing. In the fourth movement the middle of the band had tuning problems, and a missed soprano entry and tuning problems at the key change with the flugel just robbed the feel of the piece here. A rhythmic lively finish brought things back on track and with just three basses it was a fine effort. We had them in 5th position, but the composer and judge had them 3rd and that is what counts.
Barrow Concert finished in fourth place but 4BR had them 6th. They had a nice start but the main theme in the horns and tuning problems in the middle of the band just took the gloss off a bit. They produced a nice lilting second movement but again the trombone trio is weak, whist a confident opening to third movement just had tuning problems again and the final chord was out of tune at the close. In the fourth movement there was some lovely playing between the cornet and euph but there appeared to be sop entry in the wrong place as well. The last movement was rhythmical with lots of grand detail in the cornets and horns, nice bass theme and 'Keel Row'to end a pretty good show overall.

Bearpark and Esh and Stanhope Silver can consider themselves robbed of a higher position, having a good general band sound and being well balanced throughout. Both really did try and bring the music out of the score, but it was those little errors (although all bands had these) that seemed to perhaps have been a bit more pronounced for Alan in the box. Lots of good promising stuff to work on though in both ensembles and they can be proud of their efforts.
The solo cornets were very good for Stanhope Silver and Victoria Buddin was outstanding and deservedly won the best cornet prize. As with all the bands on the day, the trombones weak in the trio, but there was some fine euph playing in the third movement and they finished strongly after a decent fourth section too. The same could be said of Bearpark too, although they did have a fuller, broader bass led sound. Not so many individual errors for certain, but just a few too mnay sloppy mistakes in what was a good and promising account.
Dunston Silver, Kirby Lonsdale, Craghead Colliery (7th, 8th 9th) all suffered the same fate. Good in parts but tuning problems again detracting from the good solo cornet playing and melodic lines from these three performances. The trombones were weak in the trios again and suffered tuning problems and the fourth movements of each of the bands suffered with poor tuning in too many places. The last movement's though were always sprightly and playful, but again the trombones should have been a bit more positive towards the end.
Lots of promise though on display from all three performances and they can all take something positive back with them from this experience. All will return the stronger we are sure.
Finally, the bottom couple of bands, Trimdon Concert and Dalton Town, both of whom to be honest found it a bit tough going. It wasn't all bad though and there were plenty of little moments when you could tell that some excellent hard practice had paid off. Both had their tuning problems though and both just need a bit more work on the basics. Both though will take a great deal of positives back with them after their performances.
Erik Strodl


Trimdon Concert coming from a village close to the famous Fishburn band you would think this would give them some encouragement to do particularly well here. They were desperately unlucky to finish so far down the order. 4BR had them in 7th position. A full band sound was well balanced in the opening. Nice cornet in movement two but again a weak trombone trio. Odd tuning problems occurred in the third movement nice cornet, flugel and Euph in movement four and the key change very good at the flugel solo. Neat and rhythmic in detail in the last movement, although trombones could have been stronger at the close. Unlucky to finish in 10th.

Dalton Town like so many of the lower order bands some rather good playing was spoilt by tuning problems evident in the middle of the band. Again a weak trombone trio. Nice flowing in movement three but tuning again. Nice solo cornet in movement four a little scrappy at the close. Some nice balanced work is shown in sections plus good Euph's, cornet and horns in last movement.

Probably on reflection the right result, Barton, although not flawless, were a richer sounding band and Barnard Castle just a little light with three front bench Cornets. Stanhope can count themselves really unlucky, when your cornet player plays supremely well and the band as a whole gave a good account of the piece with minor lapses and a little bit of intonation trouble, they were worthy of a higher place.
As Alan so rightly pointed out, the problem with this piece was not going to be the quicker moving passages, but the slow balanced tuning of the inner parts and the hymn like motifs. After the flurry of the opening bars the band had to remain in tune….many didn't. Where have all the trombone players gone? We had a couple of good attempts at the trio…none were outstanding. Some bands had only three basses and Craghead only two. Tuning was always going to be problem at the end of the third movement a couple of the bands getting the fifth of the chord really out of tune on the final pause. Quick movements were very well played on whole. An enjoyable piece of music…..take heart competitors….. there were no disastrous performances!!

Erik Strodl