2006 West of England Regional Championships - Postcard from Torquay
23-Mar-2006
It may have been a long way to travel to Torquay, but a great welcome, some great performances and even a good Indian take away made it all worthwhile for the 4BR Proton boys.
---
It may have been a 560 mile round trip to Torquay, but 4BR had a cracking time at the West of England Championships. Before going, we didn't know an awful lot about the area and still don't as we spent most of it in The Riviera Centre.
Not being natives we were puzzled to see these yellow signs all over the place, later discovering that 'DR-TO' indicates 'Diversion Route, Torquay' in case there is a problem when the tide comes in along the sea-front. Frustrated by our internet instructions we were helped by a charming lady, who pointed us in the right direction, before we got some much needed (liquid) refreshment in an American Bar complete with brass band instruments on the wall!
We knew Torquay was the home of Fawlty Towers and a football team who it seemed in the 1980s battled to stay in the Football League year in, year out. We also knew weren't going to be short of anywhere to stay the night, as even on cold March evenings the town is a hive of activity with people enjoying themselves (ie. Getting drunk and rolling back to their cheap B&B with a kebab and bottle of alcopop under their arms). When the holiday season kicks in and there's a change in the weather, you can see why so many people descend upon Torquay: It's safe to say the town is full of hotels and guest houses vying for your trade and they welcome you with open arms - just like going to your favourite aunties for the weekend and getting fed like a king!
That friendly welcome stretches into the Riviera Centre itself and the West of England Committee. What delightful people and what a refreshing change to go to a venue where the staff is happy to help and they don't constantly ask to see your ticket everytime you walk in and out of the hall. The regional committee made us feel welcome and we got the results very quickly as well helping us between the sections.
You've got everything you could wish for within the Riviera Centre. Two halls that enabled 79 bands over the weekend (and yes we did hear them all) to perform and its all done without any fuss. Brian Elliott's team gets things done slickly and smoothly and with such large numbers, that's a commendable job.
On the recommendation of Philip Hunt, the local press in Cornwall was in touch on Monday in the hope of using some of the pictures taken on stage – we have no idea if anything has been printed but it's more than possible.
For the first time the West of England utilised two adjudicators in the box. Alan Morrison, Steve Pritchard-Jones, Geoffrey Whitham and Denis Wilby shared the five sections between them. Everything went well and in what were not always the shortest of judging sessions; they seemed to enjoy themselves.
Saturday saw the Third and First Sections take place in The Forum, whilst the Second did battle in The Arena.
Once again, the Third Section found it tough going with Geoffrey Whitham declaring that 'Entertainments' was too hard for the bands both here and around the country. St Pinnock and Gillingham Imperial Silver won't worry too much about that now after surviving the challenge, and they'll head off to Harrogate in September.
In the Second Section, the West made a decent crack at 'Images of the Millennium' with Alan Morrison once again giving a terrific appraisal of the piece and the contest as a whole. It doesn't matter whether you agree or disagree with Alan's decisions, he knows what the players and audience want to hear at the end of a contest - and that's what he does. St Dennis continued their good form here and will be joined on the long journey to North Yorkshire by Lympestone South West Telecom.
Going to Harrogate will be a dream come true for the Helston Town Band winners of the First Section, who entered the contest knowing they needed a good result not to go back into Section Two. The scenes on stage were amazing as the band with players in their ranks of thirty; forty and sixty year's service celebrated what was a cracking performance of 'Voyage of Discovery'.
John Berryman for the second weekend in a row conducted a band into a qualification position, guaranteeing that Robert Morgan will be at Harrogate in the autumn both in his role with the BFBB and Lybrook – he was a very happy man.
Saturday wasn't just contest day it was Frances Calver's birthday. A stalwart of the Regional Committee, Frances was on her feet all day but her family and friends acknowledged the day in fine style with flowers in the hall and surprises back at the hotel.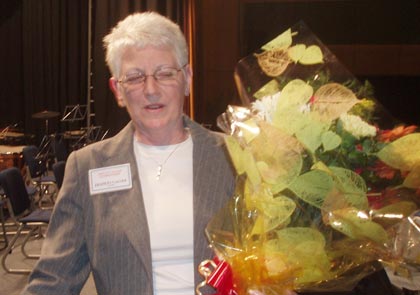 What a handful! Francis Calver enjoys her birthday celebrations

Having had a pleasant Saturday evening (we discovered that the English and Scottish rugby teams had won again with Wales losing to France) in an Indian curry house where the waiter seemed as challenged as Manuel in Fawlty Towers, attempting to cope with over twenty people at once, Sunday was a long, long day, starting with a 9.00am start in the 4th section. The Championship ended the day late at night and we were left with a long drive back, not arriving in Manchester until the early hours of Monday.
Alan Morrison, with tongue firmly in cheek thanked the one band who withdrew and was wondering if it was Tuesday after a marathon seven hour stint in the box listening to twenty six fourth section bands in what it has to be said was the contest of the weekend.
The level of performance here was excellent, reinforcing the point that lower section and youth banding in this area is extremely strong. What really stood out though was the attendance; people who'd played wanted to go in and listen. The scene at the end was a fabulous sight with a packed hall.
One of the stars of the weekend was ten year old cornet player, Caitlin Strike from Porthleven who was fabulous. Not once did she take her eyes of the conductor, displaying a fabulous sound and terrific technique. Verwood took the honours in this section in convincing fashion and joining them at the Finals will be Sidmouth, Wincanton and Bream.
Polysteel can consider themselves unlucky once again not to have qualified with a cracking performance of 'Journey to the Centre of the Earth' only to be pipped at the post by the late shows of Mount Charles and Camborne. Somebody though (and we don't know if they were connected to a band or just a member of the audience) decided to shout 'rubbish' when Polysteel were announced in third place – whatever happened to accepting decisions with humility?
Travelling to Torquay might have been a long way, but we made it, and it was well worthwhile. Whether we would make it or not seemed to be a topic of discussion amongst the friends of 4BR's newest recruit, Rob Richardson. For some unknown reason, Rob's motor car (a Proton) means he gets his leg pulled on a regular basis. Ok, the car might have had more petrol in it than at any time under Rob's ownership, but it got there and back without any problems whatsoever, and he will admit if asked that anyone involved at 4BR has to be a bit of a masochist to do what we have to do for our Regionals coverage.
Brilliant weekend though and thanks to the good folk of Torquay, the Regional committee, the West of England bands and a Proton for making sure it was a cracker.
Malcolm Wood