2006 West of England Regional Championships - First Section retrospective
23-Mar-2006
A great old contest saw Helston take the top honours and indulge in a bit of Furry Dance celebrations.
---
It wouldn't be the biggest shock in the world if the good folk of Helston Town Band were singing the Furry Dance (of which an explanation will be given later) all the way home on Saturday night. Twelve months ago they finished last in this section, so the number one priority was to get a good result and stave off relegation. Winning the contest? Come off it? On the evidence of the on-stage celebrations on Saturday night, they never gave it a second thought – until they actually played that is.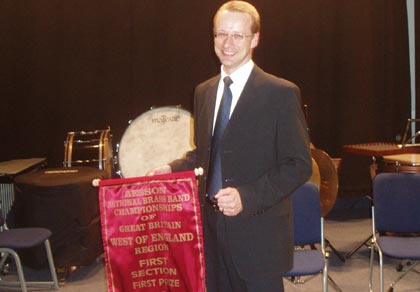 Read all about it! No shield, but Helston have the banner to prove that they won!

Chatting with conductor John Hitchens afterwards though, there was more than a strong hint that he knew what the band was capable of, but like everyone else, he was a little shell-shocked. A bit like Shaun Murphy after he won the World Snooker Championship in last year – stunned to be the winner, but with a cracking smile to go with it.
The MD also knew how important the win was to the band, commenting that "We've got people involved here with thirty and forty years service; Russell Harvey has been here for sixty! How can you try putting into words what this victory means to them".
Unfortunately, the band couldn't celebrate with the winning shield on Saturday night as it hadn't been returned in time by last year's winners, but it made its entrance to the tune of 'We are the Champions' on Sunday night.
The most southerly town in the UK has really had one hell of a party in celebration. The aforementioned Furry Dance – the authentic version of what became the Floral Dance (and its all on the bands website – www.helstontownband.co.uk if you think our info is wrong) will have been sung time and time again - and why not?
Very humbly though, John deflected any praise away from himself and onto the band, and former MD of 35 years, Edward Ashton. John was also at pains to point out just how hard the band has worked on the test piece in recent weeks and how much they'd enjoyed the work as a whole.
Swindon Pegasus apart, the opening salvos of the First Section weren't overly impressive. In fact, Lydbrook MD John Berryman had been in the hall to listen to the first few bands before going off to prepare his troops having not heard too much that would give him something to ponder – and then came Helston.
Helston put in one of those performances that would always be at the back of the mind after they'd played, and you knew it wouldn't be far away come the announcement of the results.
It was a right little cracker; a brilliant opening, very tight, very musical, some fabulous ensemble work with a lovely horn cadenza, coupled with some fine euphonium playing. They were really the first band of the day to communicate with the adjudicators and audience.
It wasn't without its clips, but the overall sound of the band was tremendous, full of warmth, musicality and poise, and you suspect on stage it couldn't have gone better.
For the second time in a week, John Berryman conducted a band into a qualification spot for Harrogate. Lydbrook played number ten on the day (a cracking draw for them) and never really sounded in trouble.
John Berryman engineered more energy into the performance than any other MD and the quality of sound was superb with dynamic contrast and a real sense of mystery about the performance as well. All of the soloists played well, in particular the soprano who was one of just five sops that hit the top 'C' cleanly, whilst the horn cadenza was the best of the day. The principal trombone drafted in late during the week also did a fine job, whilst the basses were also in good form.
Come the end of the performance, it was as clear as crystal that it would be in the frame and should qualify and whilst they may have been a touch of disappointment to finish second, qualification for the finals was the number one priority.
The reigning National Champions of the Second Section, St Keverne played last and under Derek Greenwood produced a performance that must have given Geoffrey Whitham and Denis Wilby plenty to ponder.
St Keverne is a band with a number of fine young players, many of whom have grown up with Derek at the helm and once again, the MD coerced a fine performance out of his band. The soloists were a touch nervy, but the interpretation, sound projection and overall execution of the whole work stood out. We thought it had sneaked in at the death, but third place was still a cracking result.
Swindon Pegasus was the first band who brought the work to life but it wasn't in the same league as Helston, Lydbrook or St Keverne. It did seem a touch nervy to begin with, but after a nice horn cadenza and the performance began to build. If they had started as they had finished, then it could have been a serious challenger.
Having been relegated from the Championship Section last year, 5th for Hyde and Jonathan Camps was a fine result. The band followed Helston on stage and whilst they didn't produce a performance as impressive on the day as the winners it did have plenty admire about it, in particular, the ensemble playing.
Poole Borough finished in sixth place and if it had benefited from more security within the solo lines, it could have pushed for a higher placing. It just had that feeling that it could go somewhere but then you got unforced errors that proved costly. That was a real shame in a way because they produced a nice sound, and a fine understanding of the work which was just effected by those clips that took them out of the top four.
Chalford, Cinderford and Otterbourne all gave contrasting performances.

Chalford under Steve Tubb was a consistent show and it's easy to see why they've held their own in this section since being promoted in 2003. The overall sound was excellent, with some nice solo work. (horn in particular) It was more a safety first performance than one that was going to challenge for the title though.
Cinderford wasn't the greatest show by any means and after not having the best of openings it took a while to settle, and by the time it did, any thoughts of victory, let alone qualification were long gone. One of those performances where the band knew it didn't do itself justice on the day.
Meanwhile, Otterbourne's placing of ninth was a surprise to us as we had it in the top six. Chris Davies brought all his experience to the fore with a well thought out interpretation that wasn't completely error free, but certainly had enough about it to challenge on the day. After a good opening featuring some fine euphonium and horn playing, it was perhaps in the middle section where they fell down a little bit, with some uncertainties around the stand. The ending was one of the best of the day though.
Lydmet Lydney, Woodfalls, Solent and Forest of Dean all had their moments, but each of them didn't have enough consistency on the day to challenge for honours.
Lydmet Lydney drew early and it seemed the piece never really suited them. We did suggest in our preview that how they'd fair on the day was a mystery to us having not competed in 2005. It just sounded like they were still in the practice hall as opposed to the contesting arena, as it missed that sharpness and that cutting edge that was required.
Woodfalls competed in this section for the first time since 2002 and they found it tough going. They too found the set work a piece that just didn't suit them as a band, and they never really got to grips with the technical or musical challenges that it posed.
Both Solent and Forest of Dean were both not at their best either. Wes Garner has done a cracking job in recent years with Solent but they were another band who never really sounded comfortable with the work and playing first didn't help them either as they drifted away with an error strewn performance.
Forest of Dean had put some solid results together in the Second Section over the last few years, but life like Woodfalls they found it tough going in a higher division. The ensemble and solo work wasn't the best, but they soldered on and although they looked tired at the end, gave it their all.
The day though belonged to Helston Town Band, John Hitchens and all the players who've given un-devoted services for years and years. When they've read this, and read about their success in the local papers, they'll be singing that Furry Dance once again!
Malcolm Wood