2006 Welsh Regional Championships - Fourth Section retrospective
23-Mar-2006
It was a question of young and old in the Fourth Section as a great contest was made all the better by a great test piece, great playing and a great bunch of players.
---
As always with the Fourth Section, it is a delightful question of young and old: Young bands, old bands, young players, old players, young test pieces, old test pieces.
The young came with the award to Casey Young appropriately enough, aged just 9 who was the youngest player to take to the stage for the contest and who played for the Ebbw Vale Band. The old was the story of Valmai Davies, mother of Richard Davies, repiano of the BAYV Band, who made her brass band debut at the contest aged (and we have been given special permission to say this, 66). Her story is a real delight, and if you go to our postcard report you will find out why.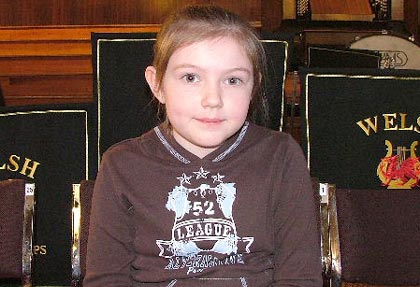 When I grow up I want to be Principal Cornet of Black Dyke: Casey Young aged 9

When it came to the bands, it was the young players and relative newcomers Llwydcoed who took top honours, whilst the considerably older (in terms of history) but no less youthful Cross Keys Band will join them in Harrogate in September.

Finally the test piece; Alan Fernie's brilliant 'Anglian Dances' which is only a couple of years old, but celebrates one of the oldest and most historical part of the country – a place that has been invaded, ransacked and rebuilt more times than a council estate in Merthyr Tydfil.
There has of course been more said about the test piece for the Second Section this year than any other one, but where that has been an unmitigated disaster, 'Anglian Dances' has been an unmitigated success.
The five movements are a jewel of the art of composition for this level of banding: full of good tunes, technically within the scope of all the bands, musically interesting and with tests for individual and ensemble alike. It is not too long, retains the interest of the listener and the performer right to the last note, and gives the adjudicator the opportunity to dissect each performance for its faults whilst also allowing them to encourage the bands in a considered manner on how to improve.
The piece is great for young and old players alike. It has snippets of great tunes from 'Whilst Shepherds Watched' to 'God Save the Queen', 'Keel Row' and even parts of 'Harry Enfield's Television Programme' salted away in it, whilst the lovely fourth movement has an extended passage of pianissimo playing that requires real control of the true basics of brass band playing that any 'old head' would recognise and enjoy. What more can you ask for in fact.
It meant that the contest here was also up for grabs from band number 1 right through to band number 15.
And it was band number 1, Cross Keys Silver who set the standard for the other bands to beat on the day with a fine performance under the baton of Keri Bowden, whilst also under the temporary arc lights set up by the organisers to offset the gloom in the hall when someone forgot to put fifty pence in the Brangwyn Hall meter.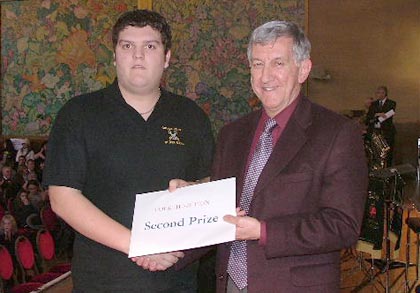 Don't look so shocked! Cross Keys take second place

The band came on stage, had a quick sit down, got their light meters out, shrugged their shoulders and just got on with it. Good on 'em for they then proceeded to give a splendid account of themselves and the music that really got the contest off to a cracking start. Full of vim and vigour in the quicker sections and a nice rounded balanced sound in the quieter stuff it was a corker that fully deserved its runner up spot.
In the end it took until band number 13 for it to be beaten. Llwydcoed, directed by Alan Davies are based in the small just outside Merthyr Tydfil and they have been building their band back up in the last few years with an emphasis on good local talent and the occasional 'find' such as the delightful Mrs Davies.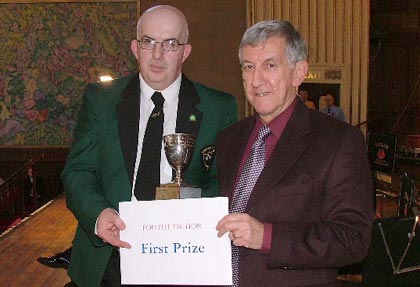 A winning smile! Llwydcoed's rep is delighted by the win

Theirs was a well rounded performance that had control and a great degree of finesse about it. It didn't quite have the full rounded sounds of Cross Keys, but it did have some splendid individual players and it was perhaps the most consistent performance of the day right through the five movements. It also deservedly took top honours and both bands will head to Harrogate confident of doing well.
Malcolm Brownbill was very complimentary of all the bands on the day in fact – and he wasn't just issuing platitudes either, although he did play to the crowd a touch with his tongue in cheek idea of the Welsh playing their own National anthem rather than 'The Queen' (although in a strange way each band did on the day) to start the contest off. The notion was well received of course, but it may cause problems if a Welsh band is drawn number 1 at Harrogate – won't it just give the game away a touch? Still, Malcolm said it with a grin on his face.
He was serious though with his assertion that there were at least half a dozen really good performances here on the day, with one or two, very good indeed. He also commented that every band brought something from the piece.
Malcolm was precise and constructive in his synopsis, which précised as: "This is a great piece and each of the movements test different aspects of band playing. The first must be majestic and imposing; the second sweet and melting; the third agile and bright; the fourth cultured and with rubato; the fifth a nice romp home."
All of those aspects were on show in the top six performances and the likes of third placed Glyneath, Goodwick in fourth, Gwaun Cae Gurwen in fifth and Pontypool in sixth could count themselves a little unlucky that their fine efforts didn't quite hit the mark on the day. All were very fine accounts.
Glyneath under the astute baton of Jane Thomas (one of three female conductors in the day) brought a lively atmosphere to their performance which brought huge applause from the hall which was well over half full throughout the contest (and that meant about 500 people in to listen).



Shake on it then: Glyneath's rep seems happy enough with third place

Neat and solid with a very good young cornet player on the end chair it just had a few dodgy moment in the 4th section that cost it. A young band with a big future though.
The same for Goodwick Brass conducted in fine style by Gareth Ritter. They too had a whole host of good young players, most notably the two teenage lads on solo cornet and a very sweet, if rather shy young girl on soprano. Again, just little clips and blobs and a tendency to rush the last section cost them
Gwaun Cae Gurwen conducted very well by Rhys Davies put in a neat and purposeful account that built as it went along with the outer movements in particular their best. They too found tuning a bit of a problem in the 4th movement but once again it was a performance of merit and promise.
Pontypool conducted by Jonathan Pippen meanwhile just lost it in the last movement when perhaps the contest was theirs for the taking. Up until then they had displayed admirable control and a fine sound, but the realisation that Harrogate beckoned just got the better of them and they rather went AWOL in the final section just to lose out. Another band with plenty of promise though.
The next group of bands from 7th down to 10th also brought a great deal out of the piece, but perhaps lacked the consistency to really make more of an impression.
Upper Rhondda, chock full of young players and elegantly directed by Jin Tanaka also displayed a lot of good basic playing. They too had a fine young solo cornet player and good solid troms and basses, but a touch of youthful exuberance just got the better of them at times. Another decent show though.
The same went for Newport Borough too, directed by Mark Davies who were big and bold in the louder movements but also managed the others wel with excellent percussion. It was the 4th movement that really cost them though with a wrong pick up causing a bit of panic and discomfort.
Ebbw Vale meanwhile came to the stage with perhaps the smallest band (in size) rather than numbers. Julie Rook was an excellent MD, with clear and precise direction from the middle and a simple non nonsense approach to the music. Her players (including two percussionists who were knee high to a timp) really did try to make something from the music, and although they had difficulties they showed an immense amount of promise.
Finally Abergynolwen, who were every bit as young (and small). They too tried their best to bring life to the music with the MD, A. Williams giving real encouragement to the players. They had a smashing young soprano player, and although a couple of others just sounded a touch nervous, it was a performance that was bright and alive right to the last note.
That left the bottom five bands, who each in their way brought something out of the music, but lacked that consistency and experience to have made more of a mark. There was a great deal of promise on show though, and each can take a great deal of credit for their efforts.
Gwenaffield from North Wales were confident and bright, but just had too many tuning problems. A bit of work on that aspect will bring huge dividends we are sure as the rest of the basic stuff was well in place and can be honed further in the coming months.
Oakdale Silver too, conducted by the great stalwart of Welsh banding Ron Probyn. Again it was the tuning that robbed them of a chance to come higher up the prize list, but the MD has done a great job here getting the band back on its feet and there is also a great deal of promise in the ranks too.
Sue Massey meanwhile continues to develop her Dyffryn Nantlle Band very much in the right way. Her back row cornet section was as small as the emerging daffodils on the beach road coming into Swansea, but just like them they will soon come into splendid bloom. They were a touch nervous in places, but Sue has a lovely fluid style to her baton work and her young band certainly tried to respond in each of the movements. There is such promise here that we are sure in the coming years they will rise up the prize table – the band deserve it.
The same goes for Crwbin directed in uniform as always by A. Jones. This is another young band that is moving in the right direction. The MD encourages his players at every point and there is a real sense of brightness and eagerness about them on stage. It doesn't always come off for certain, but there are real signs that it won't be long before it does.
Finally, Loughor who made it to the contest here this year to make their debuts. They may have come last, but so what. We are sure they enjoyed the experience (although we did wonder why the MD wore a different uniform to the players) and they did really try to make music rather than just blow their way through the piece. On this occasion it just beat them, but as we have said, so what. Let's hope they return because on this evidence they have much to be happy about.
That wrapped the Fourth Section up for the day. 15 bands is a great turn out here – the best in fact for a number of years. Well done for the organisers for that and to the Music Panel for picking a piece that allows the bands to come here and enjoy the contesting experience. Let's hope they can do it again next year.
Iwan Fox.