2006 Scottish Regional Championships - Championship Section retrospective
17-Mar-2006
It was a day of records at Motherwell as Scottish Cop-op regained their title and booked themselves a place at Eruo 2007, whilst the MD took his 16th Regional title to boot.
---
With a performance of real character, fortitude and more than a dollop of class, Scottish Co-op directed by Dr. Nicholas Childs regained the Scottish Championships, booked their place at the 2007 European and re-affirmed their position as the top band in Scotland at the weekend.

Record breakers - numbers 17 and 16 off number a number 8 draw for Co-op and Dr Childs

In addition it gave the band its 17th Scottish Championship title and in the process gave Dr Childs his 16th regional success. The Welshman is now joint second in the all time list of winning conductors, neck and neck with the greats of Harry Mortimer and Walter Hargreaves. If he can bring his special brand of musicianship on this piece to Mount Charles at the West of England Championships this week he will only have the iconic figure of Major Peter Parkes ahead of him.
Scottish Co-op were good value for their win here. Although not a flawless performance by any means it still had that touch of intuitiveness about it that was lacking in the more manufactured performances of the other contenders. Their one point victory, although close on paper over a thrilling but sometimes over enthusiastic Kirkintilloch was more clear cut than it looks. It wasn't really in much doubt.
Theirs was also a performance of considerable merit however, and was at times quite thrilling. That was in contrast to the winners more measured approach, and it was a performance that really captured the vibrant colours and imagination of the Jules Verne story. Third place went to a slightly disappointing Whitburn who started so well but who fell prey to a host of expensive individual errors that took the shine off a well shaped performance.
These three bands were by some margin ahead of the rest of the field here and it came as no surprise that Alan Morrison and Stephen Roberts picked them out. Alan and Stephen were in no doubt about what they wanted to hear and Alan's remarks indicated a clear thought process and a coherent approach by both men to the judgement process.
The overall standard was pretty good, with the likes of Co-op and Kirkintilloch playing to a level that wouldn't have been out of place at the other venues on the weekend. As someone who had been in Yorkshire the week before remarked though – they wouldn't have qualified in Bradford.
That may or may not have been an accurate remark, but there is enough quality about these two bands for them to make the trip to the Royal Albert Hall with a high degree of confidence. It is worth noting however that Co-op do sound a totally different class of band when Nicholas Childs is at the helm, and they will have to find a top class replacement in time for October. Kirky meanwhile continue to improve and if they are still at times a little inconsistent, they are always well worth the ticket price to come and listen to.
The contest was in a little doubt due to the severe weather that struck the region the night before, but the excellent and eminently sensible approach by the Scottish organisers meant that any band who had any problems were accommodated with a flexible regard to the rules and the well being of the bands. There was no point in causing heartache and distress over a few inches of snow and the whole of the Executive Committee, led for the last time by Alan McLaren deserves congratulations for their efforts.
Bo'ness and Carriden started off proceedings under the direction of Ian McElligott, whose elegant style of direction brought out a fine amount of lyrical playing from his charges.
A good start promised much, and only the occasional blips and little errors took the gloss off what was becoming a good quality marker. The cadenza section went well, but the ensemble started to creak in too many place at the quieter dynamic levels and it all started to sound a bit insecure. A good recovery put them back on the road (or the ascent to the surface) but tiredness and stamina saw a harsh ending. Overall it was a decent show, but the more obvious flaws just detracted. 7th place was about right though.
Newtongrange came to the contest as the reigning champions, but on this occasion under Allan Ramsay they couldn't really mount a strong enough challenge. Tuning issues at the beginning robbed the musical picture and although there was some spirited playing in other areas (the sop certainly enjoyed himself) it never quite sounded in control.
The cadenzas were OK (with a fine cornet especially) but the ensemble tuning once more grated. A robust ride for home via the big fight scene lacked depth and clarity, but it recovered right at the death for a big finish. This was not Newtongrange at their very best though and 6th place was again round about right on the day.
Kirkintilloch Kelvin were certainly keen to make their mark under Alistair Orr but some nervous and lumpy cornet sounds at the beginning didn't get things off as they would have hoped. It did settle down thereafter, but the rather slow tempo robbed the music of flow and it appeared to be on the tentative side.
A weak tolling bell heralded a decent set of cadenzas, although we wonder if the soprano missed the accidental running through the bar? A good close and a super bass trom brought things back on track, but the lack of real depth of sound in the big fight scene was a little too obvious at this level and may have cost. Overall it ended well enough, but the lack of sound in places and the more obvious weaknesses in the ensemble were picked up in the box and 9th place was justified.
Johnstone Silver were next up, and after they had played there was some thought to whether or not the contest as a whole would really come to life.
This was an error strewn performance that lacked balance at the beginning and took time to recover. The lower tuba was more than unlucky to lose a tuning slide in the duet and there should be a great deal of sympathy for the soprano who worked so very hard only to appear to suffer from every sop players nightmare scenario – seeing stars after pumping out the volume and failed to complete what was shaping up to be a good cadenza.
Well done to Ray Tennant for keeping things on track after this (and for giving a comforting smile to his player) and it says a great deal about the band that they recovered somewhat to put in a decent show and finish off with a flourish. It wasn't a great show by any means and 10th place was justified, but there were signs that the band could well make a mark here in future.
Andy Berryman took to the stage with Kinneil in the type of billowing black shirt that made him bear a passing resemblance to a large fruit bat, but as always with him, sartorial appearances can be deceptive.
His band did try to capture the atmosphere at the beginning of the music, but a lack of precision in the balance of the ensemble was obvious – as was the poor tuning that grated at times. There was plenty of good quality playing from the soloists however with a fine soprano and good baritone duet, but just when you thought it was going to turn into some very good the cadenza section just let them down. It recovered its poise and the MD did a splendid job in driving the band on in the final section, but the ascent passage was very messy. 8th place was again about just right.
Bon Accord didn't start to well with poor tuning, but all of a sudden it clicked and John Roberts brought out a great deal of the detail and especially the colour in the atmospheric score. The young soprano player was a real star and it was neat and tidy in both the other main solo lines and the ensemble.
In relation to the bands who eventually came above it, the performance didn't quite have the bite and precision in the louder passages, but there was a classiness about the quiet playing that not too many had on the day.
The cadenzas were well handled and if the ride for home just lacked that depth of sound, the MD kept enough in reserve to ensure that they finished off in style. This was a triumph of intelligent direction and a band who really understood what the man in the middle wanted of them. 4th was well deserved.
In many ways that for the aperitif for the main course to come and a very heavy main course it was too, starting with a real thriller of a performance from Kirkintilloch under Steve Bastable.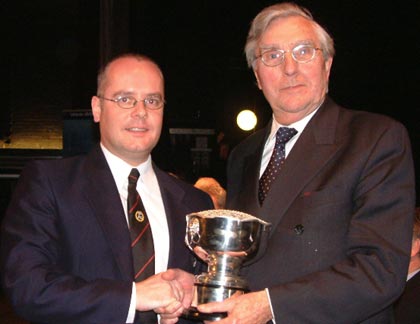 Jim will fix it - Kirky take the runners up spot from guest of honour, the great James Scott

At his best the MD is one of the most musical readers of a score around, at his worse he can over conduct. On this occasion it was the former very much than the latter and as a result Kirky sounded a classy band indeed.
All the main players responded in excellent fashion with tremendous work from the soprano, cornet and trombone as well as the euphs and basses (who took the hard fought best bass section award). It didn't have the cleanest of starts but thereafter the musical content flowed out – at times in quite thrilling fashion as we have said.
The main cadenzas were excellent in style if not quite 100% accurate whilst the ride for home was high paced, detailed and edge of your seat stuff. It just bubbled over in places when the enthusiasm got the better of them and there was a strange moment of unease in the big fight scene in the basses when it temporarily lost focus. A huge end with a real balanced fortissimo sound brought things to a stunning conclusion and there was little doubt that it was a class apart from what had gone before. It was an eminently beatable performance though – the errors saw to that, but musically it was as good as you would hear anywhere this year.
In the end it was only beaten by the security of Scottish Co-op's effort, but Kirky will have enjoyed this one and they will head for London confident of doing well if they can repeat this form there.
Scottish Co-op must have known they had a lot to do given the rapturous applause that greeted Kirkintilloch's effort, but on the day and with the calming influence of the MD at the helm, they responded quite brilliantly.
A superb opening statement (the quietest of the day) soon developed in exciting fashion with just that hint of a tight rein being kept both on the tempo and the dynamics by the conductor. A super tuba duet led into some splendid cadenza work with Paul Kiernan on trombone quite outstanding to take the 'Best Trombone' award for the umpteenth time in his long career, whilst the other solo lines were very nearly his equal. (Not even a mobile phone going off could detract them)
It was this area of their playing plus the ability to show their class in the quietest sections that did mark them out however and even though they too had a moment of unease in the bass led fight scene it soon found its feet again on the ascent passage and it was rounded off in spirited and almost glorious fashion.
The win was very well deserved for a classy performance indeed.
Graham O'Connor brought his usual touches and ability to make the most of his resources from Kingdom Brass.
It wasn't balanced to start but soon recovered its shape and poise as it went on with a lively tempo, which unfortunately seemed to catch out the percussion section. It did get a bit clippy in places, but it was a driven performance that a great deal of excitement. A fine soprano seemed to herald an even better section of playing as they moved to the cadenzas, but the baritone duet just fell away. The cadenzas themselves were decent efforts with a very good trom, classy cornet and soprano, but each had costly little clips, whilst the horn and flugel just lacked security too.
The run for home had its moments too and it ended in fine fashion, but those errors just left the impression on the mind and 5th place behind Bon Accord was a fair return.
That just left the final band, Whitburn who have been something of a perpetual bridesmaid here in recent years. This though wasn't to be one of those occasions, and unfortunately that didn't meant that they were finally going to be the bride either. No, this one was a maid of honour performance – lots to commend, but not quite ready to be the main attraction on the day.
It started so well and the lively tempo in the following section revealed detail and precision. Again the classy playing from the tubas and the baritones promised so much, but just as they seemed to be heading for the qualification alter, it all fell apart somewhat with a litany of costly errors and slips that at first cold be excused but then robbed of points and final a place at London.
There could be no excuses from the band as the clips came thick and fast in the cadenza section in particular and even though the ensemble work had a stamp of classy authority and security it was not matched by the main solo lines. A huge and very impressive run for home put things back on track and showed the class of the band, but those errors were major stumbling blocks and they could have not cause for complaint when they were announced as coming in third.
The top three bands here did sound very competent outfits indeed, but it would have been quite easy for the judges to separate them out. Co-op had the consistent quality to win the day – deservedly so, whilst Kirkintilloch once again showed that when they click they are a match for just about anyone. Whitburn will of course be disappointed, but at this level mistakes cost places at Finals, and they just had too many of them.
London will therefore see Co-op and Kirky on stage and it will be interesting to hear whether or not they can just up their form from here to Kensington. If they do, then next year there may be an additional qualification place on offer for the third placed band.
David Crookston